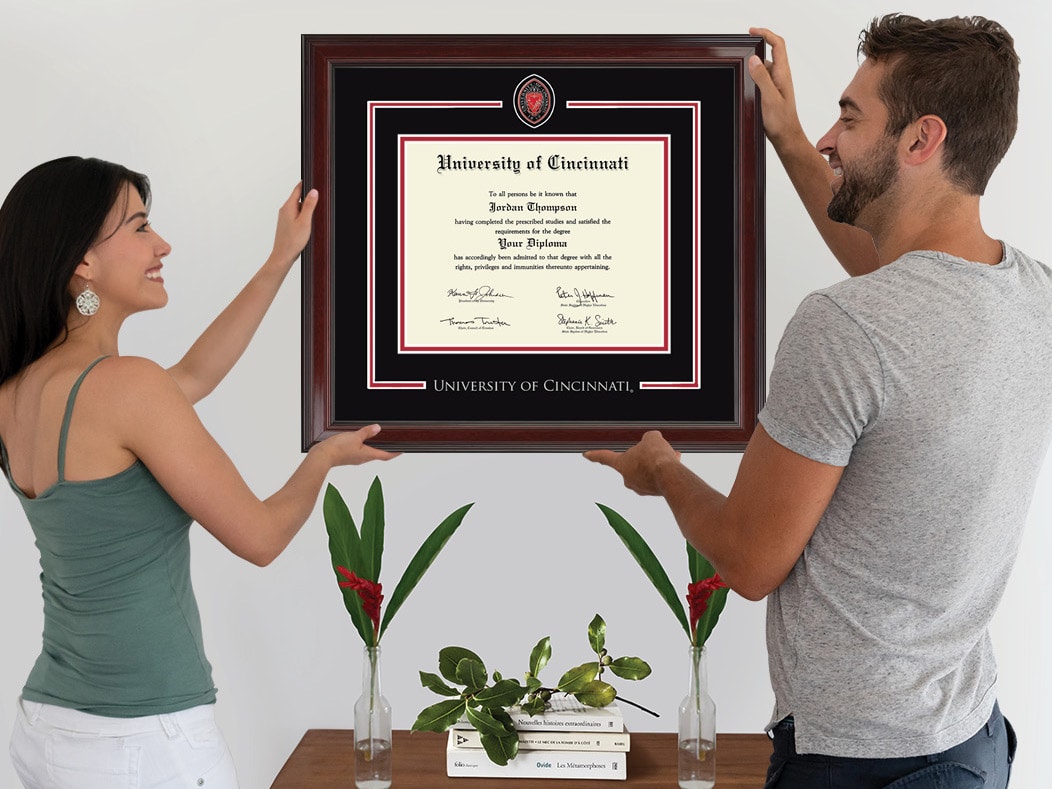 Every academic achievement deserves to be celebrated. It takes a lot of hard work to hit these milestones, and they should be displayed proudly, preferably at places where other people are likely to see them. That's why knowing how to frame your diploma correctly is so important.
The way you choose to hang your diploma varies, but experts agree that custom framing with archival-quality matting, mounting, and backing materials is the best way to go. There are so many considerations that go into deciding the best frame styles, picture frame glazing, and where to hang the framed diploma. In this guide, we will look at how you can do this and look at some other related questions you may have.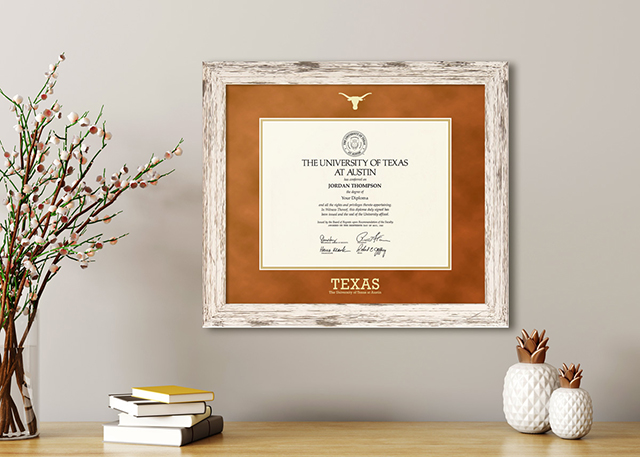 Choosing the Right Frame
You worked hard to earn that degree so take the time to select the right diploma frame. Product details matter, from mat board to picture frame glass. It's also key to shop from United States manufacturers to ensure top-notch quality.
Church Hill Classics offers UV protection and acid-free matting for your degree. Plus, they know what size frame you need simply based on your graduation year, so there's nothing to measure.
Selecting Frame Moulding
The moulding you choose really sets the stage for the style of your frame. Considering the cost of your tuition, you want the highest-quality materials to protect your investment, so never settle for cheap, plastic frame mouldings. Always start with Church Hill Classics' 100% recycled or solid hardwood frame mouldings.
When selecting the right finish for your moulding, you should make your decision based on how you want the diploma display to be perceived. Gold, silver, or black finishes will give it a modern look, while mahogany, walnut, or cherry will give it a traditional, academic feel. Remember to choose the moulding based on the decor of the room where the frame will hang. Barnwood mouldings, for example, are perfect for rooms with a rustic, vintage, or beach-inspired feel.
Mahogany and cherry are the most popular moulding finishes, because the calligraphy used on diplomas goes very well with their wood hues. They look best in homes and offices that have upholstered furniture, curved lines, and patterns. Mouldings with gold, black, or silver finishes provide a contrast to the document and can help the diploma stand out. These frames look best in modern homes and offices where they can complement a contemporary decor.
If you have multiple diplomas to frame, ensure they all follow the same style so that some do not look out of place. If you have one diploma to frame, choose a frame with elaborate faces and accent colors because these add character to the diploma and can make the diploma a focal point.
Preparing Your Diploma
Once your diploma arrives, it's time to frame it. While some diplomas are delivered flat, it is likely that yours will be presented or delivered rolled up. If you want to frame older diplomas, you should first flatten them to undo the curls on their edges and corners.
New diplomas don't have this problem because they can easily be unrolled and made to lie flat with little effort. When flattening the diploma, the first thing you should do is lay it on a clean, flat, hard surface. Ensure there is nothing on the surface because if there is, you will tear the diploma when you try to unroll it. A table or piece of acrylic works best.
Next, place some weights on the corners. When placing the weights, you can use a piece of paper between the diploma and the weight to further protect it. You should now leave the diploma undisturbed for a day.
If you remove the weights and find out that the diploma still curls, leave it under the weights for longer, perhaps one more day. You can also use heavier weights if you have them.
Most importantly, never iron your diploma. The last thing you want to do is cause irreversible damage to the most expensive piece of paper you'll ever own! Many diplomas (especially older ones) are made from delicate materials. These may include parchment paper or sheepskin, so don't take any risks by exposing them to high heat.
How to Frame a Diploma
To frame your document, you'll need the following materials available: a towel, a butter knife, scissors, glass cleaner, and paper towels or a soft cloth.

1️⃣ Lay your frame facedown on a towel. Bend the black flexible tabs up using a knife. Remove the black backboard, mounting board, and paper insert, leaving the glass in place inside of the frame. (Recycle the paper insert.)
2️⃣ Using the ruler, center the diploma facedown in the mat opening. Remove the strip of archival-quality tape included with your frame. Cut the tape in half with a pair of scissors. Peel and place tape approximately 4″ apart at the top of the document only

3️⃣ To prevent buckling and allow for natural document expansion, do not place tape on the sides or bottom of the diploma. Next, carefully layer the mat with taped diploma, mounting board, and black backboard and set aside.
4️⃣ If needed, clean frame glass with ammonia-free glass cleaner and a soft cloth. (For Plexiglass, UV Acrylic, or UVRC Acrylic, use water only and a soft cloth.) When dry, set diploma and boards in frame. Push down flexible tabs to secure the backboard.
Displaying Your Tassel Diploma Frame
What better way to commemorate the day you wore your graduation cap and gown than with tassel degree shadow box? If you've purchased a diploma tassel frame, make sure you attach your graduation tassel before you mount your diploma frame.

1️⃣ First, remove the backboard and mat from your tassel document frame. Next, gently push the tassel shadow box through the backboard.
2️⃣ Turn over the shadow box and gently insert the tassel loop into the slit at the top of the shadow box. Make sure your graduation year charm is facing out. Using a ruler, pull the tassel down 1 ½ inches.

3️⃣ Turn the shadow box over and use a strip of acid-free tape to secure the tassel loop to the back of the shadow box.
4️⃣ Place the tassel shadow box and backboard back in place before securing the tabs on the back of the frame.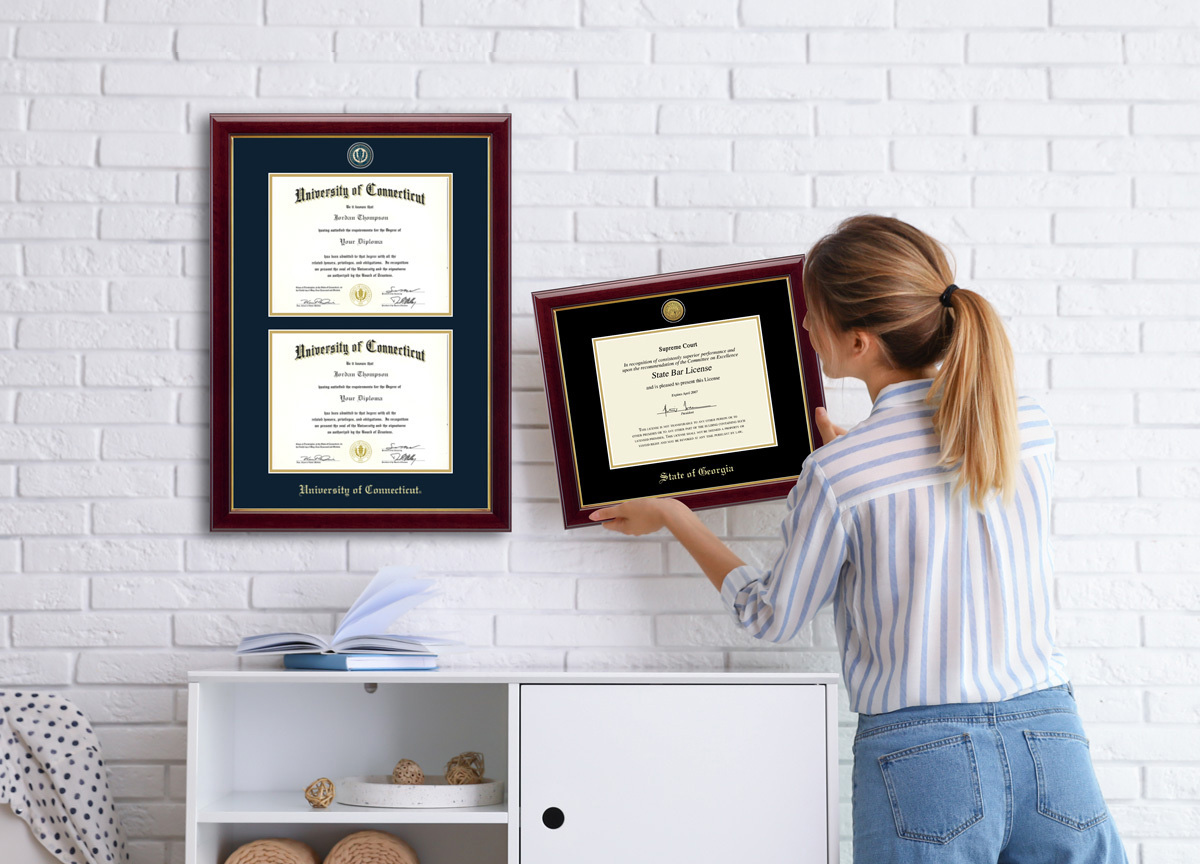 Where Should You Hang Your Diploma?
Probably the best place to display your diploma is at work. A diploma display lets clients, coworkers, and your employer know that you have the right degree and are qualified for the job you are performing. If you can't hang your diploma at your workplace, you can always display it in your home office or in your living room.
Wherever you hang it, make sure it is out of direct sunlight. This is because prolonged sun exposure can bleach or discolor your degree. Be mindful of hanging your frame in an area with dramatic temperature shifts. This is because the delicate fibers in paper document will expand in humidity and then contract in dry conditions. These temperature fluctuations can lead to deterioration.
You also want to avoid damp basements or steam from bathrooms, which can contribute to mold growth. For best results, hang your frame in an area that has 50 percent humidity and is around 70 degrees Fahrenheit.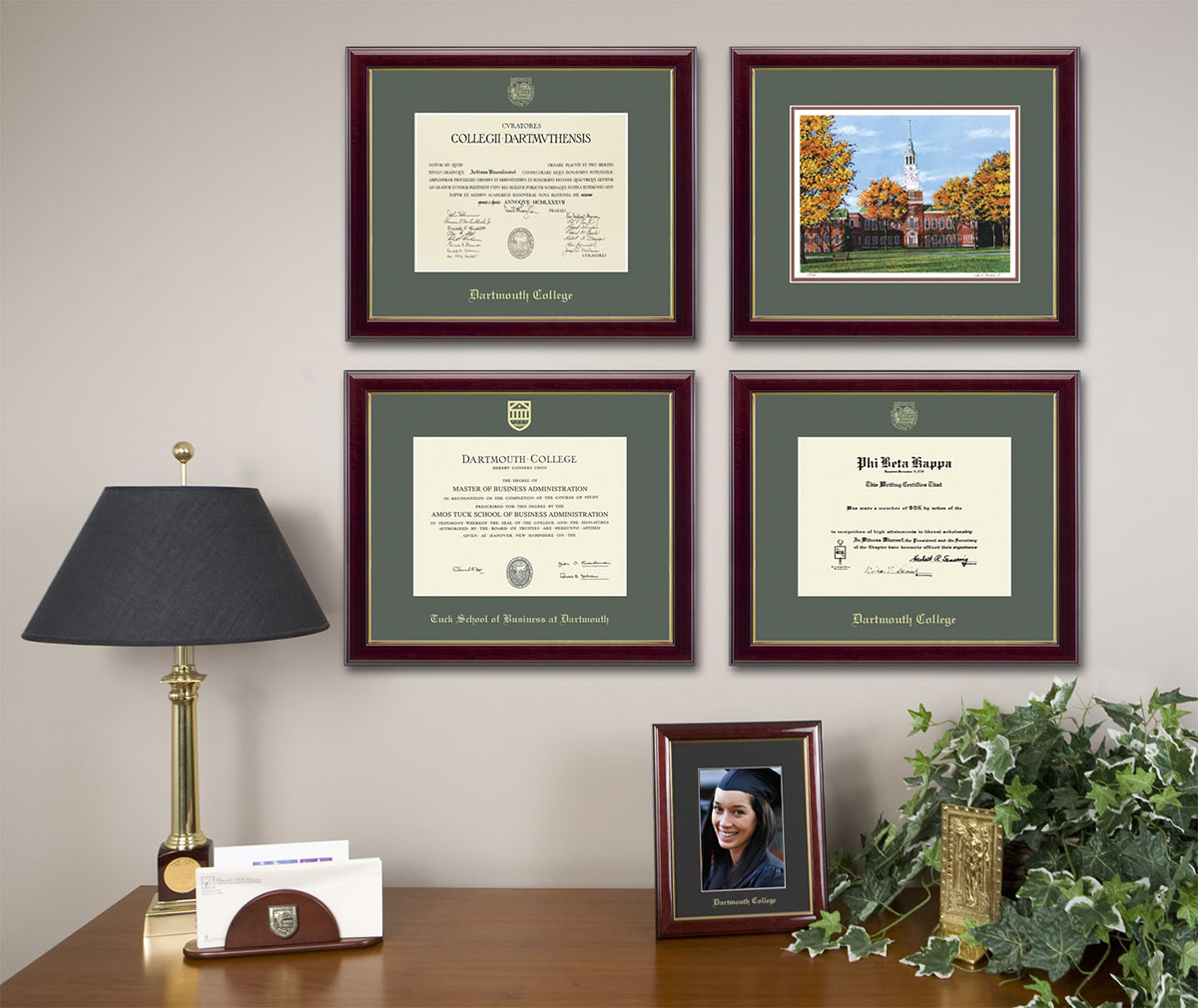 How to Hang Your Diploma Frame
For best results, hang your diploma at eye level, which is typically about 60 inches above the floor. If you're not completely sure about the wall placement, hang it on the high side. It'll be more noticeable if placed slightly above eye level rather than hanging it too low on the wall.
With our Level-Lock® Hanging System, it's easy to align multiple frames on a wall for an impressive display. There are no unnecessary wall holes, no crooked mistakes, and no measurements to take. To use the Level-Lock® system, simply follow these easy steps.

1️⃣ Place the frame facedown on a towel. Insert a marker into each mounting bracket. Rotate the marker so that the indicator lines are pointing to 3 and 9 o'clock to lock into place. Attach level to top of frame using enclosed foam tape.
2️⃣ Position the frame on the wall in the desired location. Make sure the bubble inside the level is centered. When happy with position, press frame once firmly against wall to create dimple marks as nail position indicators.

3️⃣ Rotate markers so that the indicator lines point to 12 and 6 o'clock to unlock. Slide markers down brackets and remove. Insert tip of nail just barely into marker (nail should NOT protrude through other side of marker).
4️⃣ Place marker and nail into dimple mark with indicators running vertically (up/down). With the nail head pointing toward the ceiling, hammer until nail is flush against the marker. Tap the flat part of the marker until flush to the wall. Repeat for the other marker.

5️⃣ Align and insert the markers into the larger frame bracket holes and then push down to complete frame installation.
6️⃣ The frame will lock securely and safely in place and will not tilt or fall down. For multiple frame displays, you can easily order more Level-Lock® kits.
Having your degrees framed is one of the best ways to celebrate and showcase your achievements. Choose the right frame for the diploma and the room decor and hang it somewhere prominent. If you cannot do this at the office, place it in your home where others will see it and celebrate your successes with you.
RELATED BLOGS YOU MAY ALSO LIKE