Browse our high school graduation shop to find the perfect present for their bright future.
Find Your High School Diploma Frame
Shop Diploma Frames for High School Graduation
1. Licensed High School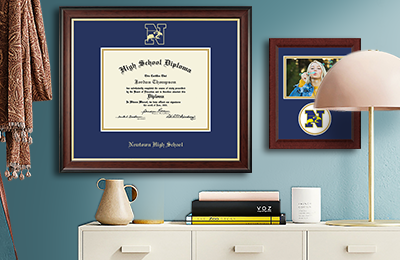 Branded logo frames make ideal high school graduation gifts.
Use our high school diploma online tools to design your own frame.
3. Prep Schools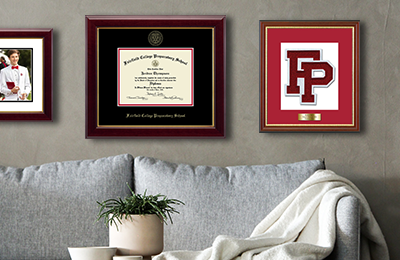 Browse our official diploma frame line for preparatory schools.
High School Graduation Frame FAQs
1. Do I need to know my son's high school diploma size?
If we carry branded frames with his specific high school diploma name then we already know the size frame you need based on graduation year. Otherwise, to determine frame dimensions, diploma size high school measurements must be provided upfront. Either way, we guarantee you'll love our custom-made high school graduation gifts for him.
2. Do you carry frames for preparatory schools near me?
Enter the name of your preparatory academy or private school in our search bar. If you don't see your specific preparatory school listed, simply use our Create-A-Frame tools to custom-design your own diploma holder. It's easy to create a custom diploma frame for your high school or college student with us. If you don't know where to start, get in touch with our customer service team. As the experts in all things framing.
3. Can I buy a high school diploma and tassel frame?
Yes, if you want a diploma frame with tassel holder, you can design it yourself with our Create-A-Frame tools. Our deep-profile holder is the perfect size for displaying high school tassels.
4. Could you suggest high school senior gift ideas for daughters?
Sure! Did she decorate her mortarboard with high school graduation quotes or photos? Consider giving her our graduation cap keepsake box to put it on display. No matter what you choose, you're sure to find the best high school graduation gift ideas for her at Church Hill Classics.
5. Can you recommend good high school graduation gifts from parents?
Absolutely! We carry a wide array of gift options and high school graduation party ideas. Every senior at high school graduation wishes for a special way to commemorate the big day. From weighted blankets to noise-canceling headphones, we know there are an endless variety of gift options for grads out there. The best gifts for high school students? You can't go wrong with a school years photo frame showcasing their K-12 photos, a keepsake shadow box to preserve special memories, or high school degree frame they'll treasure. Or, consider giving your grad a gift card to Church Hill Classics. This way, your graduate can customize their very own degree frame after they receive their diploma. This thoughtful and practical gift ensures they can create a frame that fits their personal style and decor.
6. Do you sell high school diploma picture frames?
Yes, we do! Whether you want to showcase several high school graduation pictures in one frame or a dual photo certificate frame combination, we can bring any high school graduation gift ideas you have to life.
7. Do you carry unique high school graduation gifts?
There's no better gift for a high school grad heading off to college than a custom diploma frame. Our high-quality frames make a great gift that your grad will cherish for years to come. They'll never forget the day they wore their high school graduation cap and gown. Walking across the stage to get their diploma is one of their biggest accomplishments to date, so it's important to honor it with one of our HS diploma frames! Help them celebrate this major milestone for a lifetime with a unique high school graduation gift. Don't know where to start when browsing through our selection of high school frames? Try one of our customer favorites! Our high school picture frames with an oval opening for their senior portrait along with an opening for their diploma. This specialty high school graduation frame is a perfect way to capture your graduate's big moment for a lifetime.
8. Do you sell prep school frames with licensed school seals?
we carry high school frames for some of the best prep schools in the country. Simply type in your preparatory high school name to see if we carry the licensing rights for your academy. Then, you can further customize our HS diploma frames with their preparatory school logo and colors. A rigorous curriculum, lifelong friendships, and a strong, tight-knit community define prep school years. That's why you can shop confidently knowing that our prep school USA-made frames are built by hand in our Connecticut facility with a keen eye for craftsmanship. Whether prep school vs. high school vs. unimprinted HS diploma frames, we guarantee you'll love the finished product—and so will your high school graduate! The ability to customize high school frames allows you to create a truly one-of-a-kind gift. While school colors and pride may be at the forefront of our HS diploma frames, you can also customize it to match your graduate's personality. This way, your HS grad is sure to showcase their high school frames in their bedroom or college dorm room!
9. What are your best-selling gifts for graduating high school seniors?
Need high school graduation gifts for son's commencement or graduation party? Along with our specialty high school graduation frames, we also offer a variety of unique high school graduation gifts. We carry shadow boxes, photo frames, and degree frames that make for extra-special senior high school gifts and holiday presents. What's our most high school graduation gift ideas for him? If your son is a sports star or captain of a school club, he'll love our high school varsity letter frame. This specialty frame will proudly display his letter while protecting it from dust, dirt, and even UV rays. Or perhaps your daughter is a senior and you're looking for the best high school graduation gifts for her? Look no further! When it comes to perfect gifts for high school graduates going to college, your daughter will love taking a piece of home with her in our high school memories shadow box. Filled with her favorite pictures and keepsakes from graduation, it will make the perfect addition to her dorm! Best of all, our easily removable frame backs mean she can add favorite freshmen mementos and then continue to change the display each semester in college.
10. Can I get help designing high school graduation gifts for friends and family?
Get in touch with the team at Church Hill Classics today! Our customer service team and framing experts are happy to answer any questions you may have while helping you choose the perfect high school diploma frame for your graduate. Call us toll-free Monday through Friday 8:30am-5:00pm EST at 800-477-9005. From high school frames to house their diploma to other specialty frames and more, you're sure to find a special something for the HS graduate who has everything!
Specialty High School Graduation Frames and Gifts