Top FAQs
1. Do I need to send my document?
There's no need to send your valuable documents or treasured keepsakes in the mail! Featuring easy-open backs, our frames allow you to readily insert your document, sash, award, or varsity letter and position to your liking. Your shipment will include simple step-by-step instructions along with our toll-free telephone number, in case you have any questions during the framing process.
2. Is it easy to insert the document?
Yes, each frame is designed with a removable back and is shipped with archival-quality mounting materials and simple step-by-step instructions for how to insert your document.
3. How can I customize my frame?
Looking for a college diploma frame?
Search for your school to view a selection of popular frame styles featuring official school seals, logos, and wordmarks. Most of our frames include additional customization options, such as moulding, matting, and/or glass upgrades, so that you can tailor your frame to suit your personal style and home or office decor.
Looking to create a custom document frame?
Visit our Create-A-Frame page to build a custom frame to your exact specifications. To ensure a perfect fit, follow our instructions for measuring your document. Next, choose your document size, favorite moulding, matting, custom insignias, and more!
Don't see what you're looking for?
We custom-build each one of our frames, so we're experts when it comes to designing and handcrafting the perfect product! Our friendly staff is available to assist you Monday–Friday, 8:30 am–5:00 pm EST. Don't hesitate to contact us at 800-477-9005 or info@diplomaframe.com.
4. Do I need to provide a graduation year to order a diploma frame?
This information is only required if you're ordering for a previous graduation year. Many schools change their diploma size over time, so we ask for this to be sure that we correctly size the frame based on the year in which you graduated.
5. Should I measure my document?
No measuring required for our officially licensed frames—we already know the frame size you need for your Bachelor's, Master's, and PhD degrees! We've built an extensive database containing the exact diploma and degree and certificate dimensions for thousands of colleges, universities, honor societies, Greek organizations, professional associations, and academic institutions across the nation. The only thing we do require is the year in which your diploma or certificate was issued, since institutions may change document sizes over time.
If, however, you don't see your institution listed or want to design your own frame, you will need to provide your actual document size and the printed area size to help us configure the frame dimensions. 'Actual document size' is the overall physical size of your document, while 'printed area size' is where the printed text or image begins to where it ends. To get the printed size area, you must measure from the top of the highest lettering to the bottom of the lowest image (usually the seal or signature) and the same applies to the lettering from left to right. This ensures a perfect fit for your document.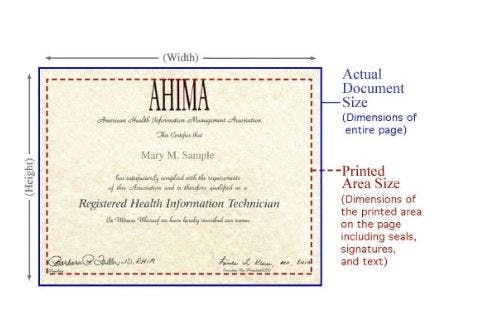 6. How long does it take to get my frame?
Since each one of our frames is built by hand, please allow 5-7 business days for the production of your order, plus UPS Ground transit time from our facility in Connecticut. As a general rule, you can expect to have your order 'in hand' in approximately 10-12 business days. You can track the status of your order with our Order Lookup Tool. We thank you for your patience and your support of our family-owned business!
Not in a rush for your frame? As a courtesy to our guests, we offer a free ground transit shipping option at the checkout with longer lead times. By granting extra time, we provide you with extra savings! Free shipping is only applicable on orders shipped within the contiguous US. This super saver shipping option does not require a coupon code and is not linked to a current promotion.
7. Can I expedite an order for earlier delivery?
Unfortunately, expedited delivery is not available directly on our site at this time. If you desire your frame faster, please reach out to our Customer Service team at 1-800-477-9005 or info@diplomaframe.zendesk.com.
8. Is there a promo code that I can use?
Please enjoy $5 off your custom frame purchase of $99+ with code NY2NY. Minimum purchase excludes shipping and tax and offer is redeemable through 12/31/22 11:59 pm ET. Offer not applicable on previous orders, gift cards or in combination with other offers.
Our egift cards are also on sale. Now through 12/31/22 11:59 pm ET, enjoy $10 off eGift cards purchases $150+ with code: Bonus10.