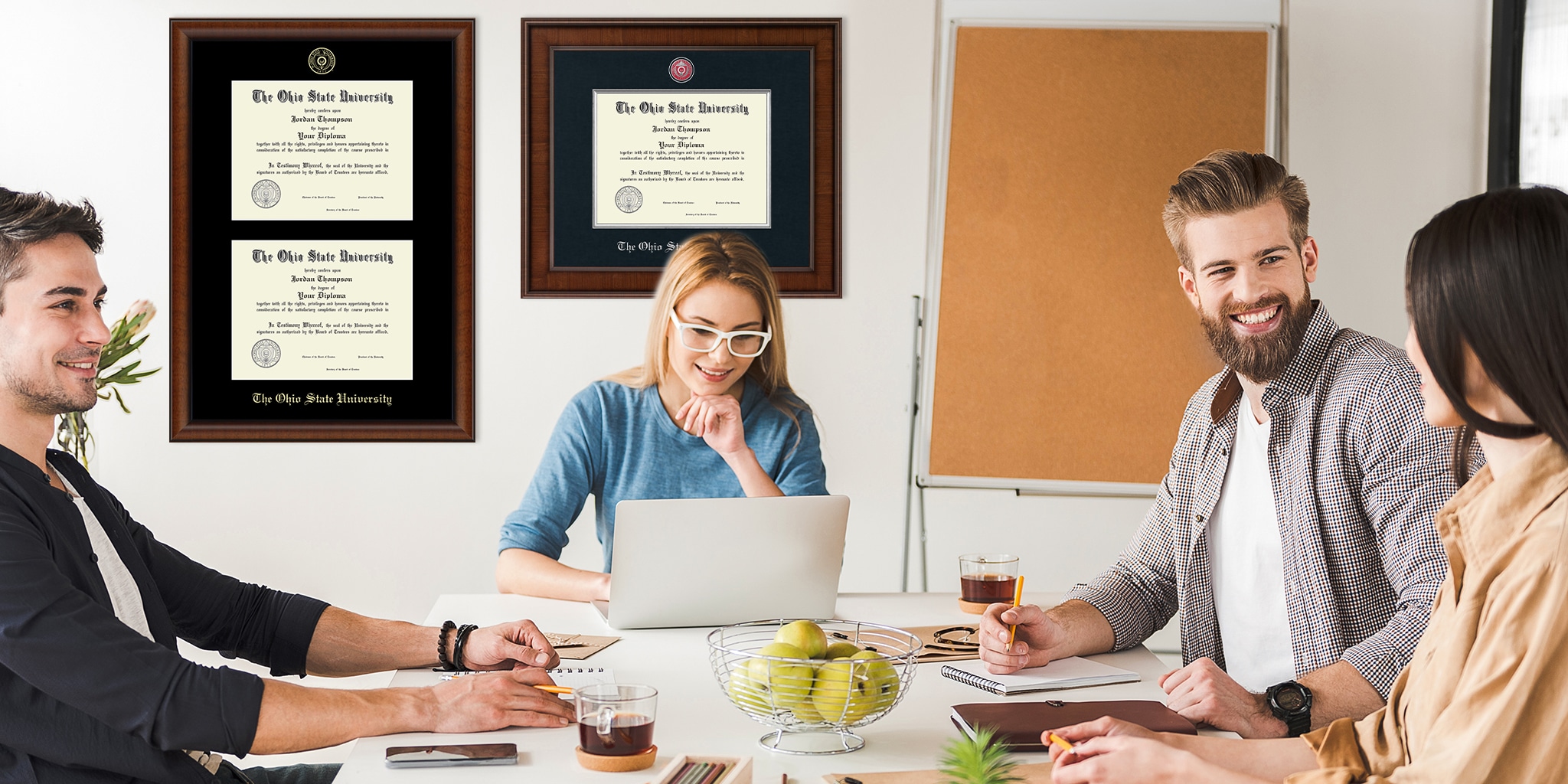 There's nothing more frustrating than ordering or being given a beautiful custom frame and the moulding doesn't end up matching the space where it's hung. You don't want to go through the work of purchasing a frame just to end up hiding your diploma away in a box! That's why when it comes to the art of custom framing, it's important to have a wide variety of moulding options available. We believe a statement piece like a diploma frame deserves a wood frame moulding that complements its surroundings and draws attention to the important document it holds!
Moulding is the wood that creates the outside border of your frame and keeps the mat, backing, and your precious document, safe and secure. When it comes to choosing the right frame moulding, there are a handful of things to consider. First, where are you planning to hang it? A frame for a business professional that's displayed in a busy office will likely look different than one hung in a casual family living room.
Second, what's the furniture color and decor style in the space it'll be hung? Choosing a moulding style that complements any surrounding fabrics, furniture pieces, and wall accessories is a great way to make sure it'll match.

Lastly, who is it for? Each frame recipient has a personal style, and their custom diploma frame should reflect them! Do you have a graduate who attended a prestigious college or university? Browse our college store pages to find a frame that reflects their alma mater. We want to help you choose the right diploma and picture frame mouldings for your special graduate! Church Hill Classics is proud to offer a vast amount of wood picture frame moulding profiles and styles.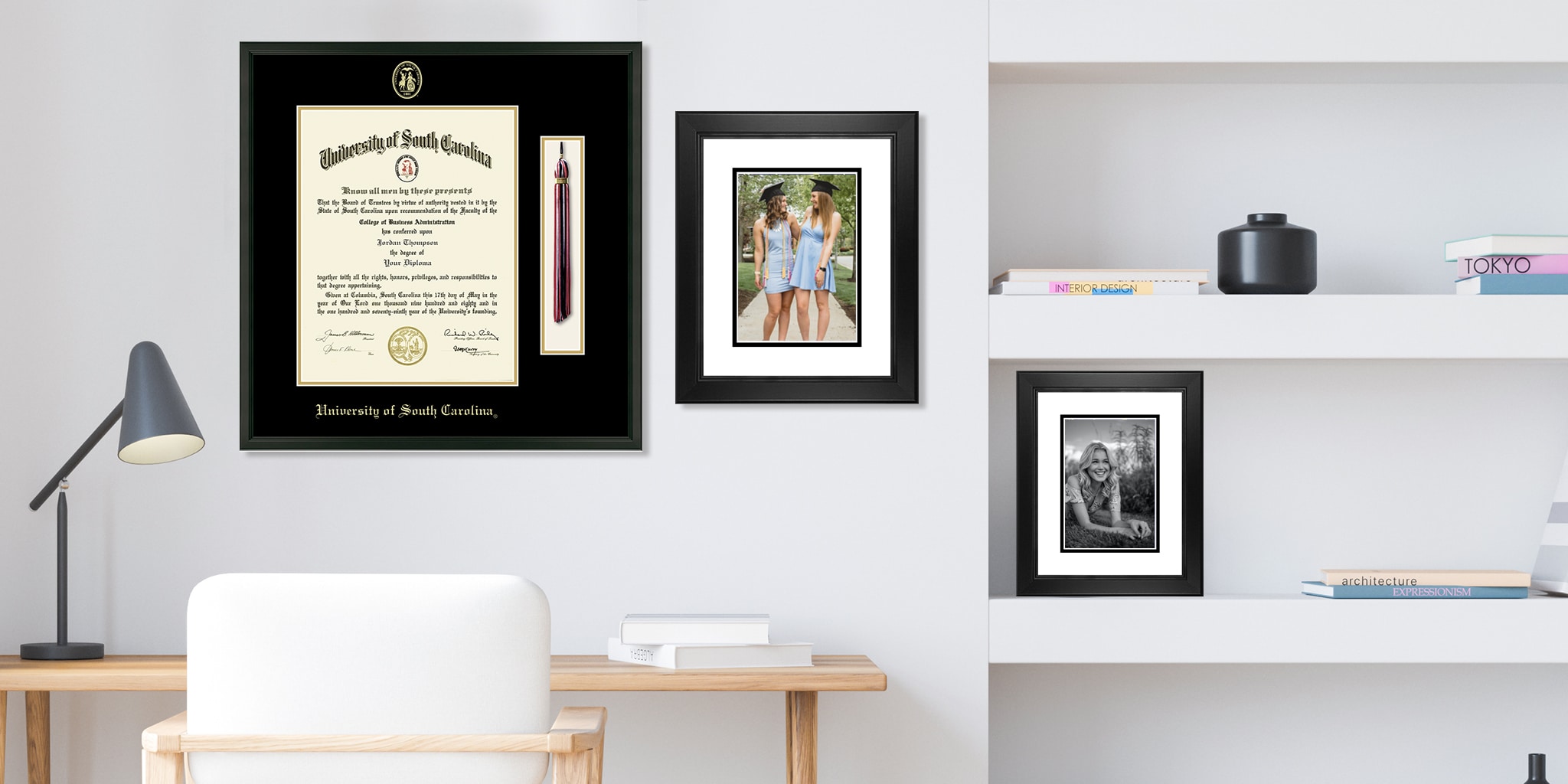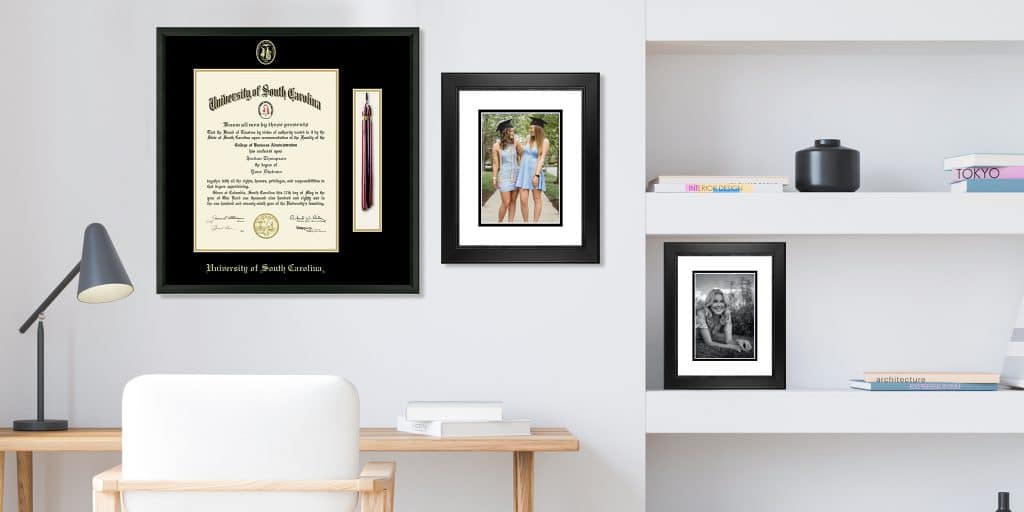 Modern Moulding Styles
Our modern diploma frame moulding styles are by far the most versatile options in our extensive collection. From our Eclipse black frame moulding that features a high-gloss inner lip to our cherry-finished Cordova moulding, these premium mouldings are sure to highlight your degree but not distract from the scene where it's placed. Looking to make your degree part of a gallery wall? A modern frame pairs well with any contemporary art piece and frame mouldings of the same or similar colors.
Classic Moulding Styles
Classic wood moulding styles are used in frame designs colleagues and industry professionals are sure to admire. Did you attend a prestigious college institution? Then these framing styles are for you. Our popular Kensington moulding is crafted with the option of gold or silver beaded detail, to give your degree some extra shine. Our Regency Gold moulding frame is another timeless selection that features a mahogany furniture finish and a gold inner lip. Gold and silver accents communicate and give your degree an added aura of sophistication. If you're trying to match your frame to your space, these make great additions to home libraries or as wall decor in dining spaces. They also look professional and sleek hanging in your office for coworkers and colleagues to see.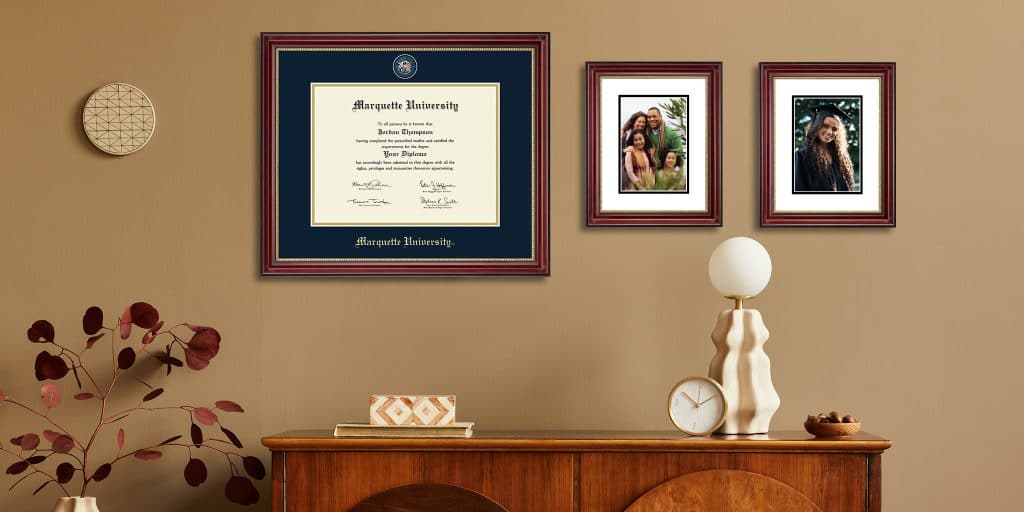 Presidential Moulding Styles
Our most impressive wood frame designs include our Premier, Madison, and Jefferson mouldings.Thicker than other mouldings, these select options are reserved specifically for our Presidential frame design: the top-tier framing option when it comes to storing your cherished degree! Crafted with dark walnut, English chestnut, and mahogany finishes, our Presidential frames sit in the presence of scholars, world-changers, and significant leaders. Customers choose a Presidential diploma frame moulding for their biggest accomplishments.
Trendy Moulding Styles
Whether you're decking out a beach cottage or putting together a shabby chic living space, our barnwood frames are sure to fit your unique style! With gray and white options, this natural wood picture frame moulding has a distressed look that adds style to any space. Barnwood moulding is versatile because it can incorporate Southern charm or add a coastal flare depending on how you style it. You can also customize your own farmhouse picture frame to store any special memories. Best of all, our Barnwood mouldings are made with 100% recycled wood.
In fact, our collection of recycled wood mouldings are also all the rage! Caring about your impact on the environment is cool, so why not invest in fashionable frames that are also eco-friendly? "Green" picture frame moulding profiles like our mahogany-finished Rainier are just as professional and classy as our solid hardwood styles. Purchasing a conservation-conscious moulding makes a positive investment into our environment and allows you to shop with a clear conscience. 
Shadow Box Moulding Styles
Looking to store some of your college graduation regalia or customize a shadow box frame from scratch? We have specific deep-profile mouldings manufactured just for our shadow boxes, like our popular tassel diploma frame collection. Our Southport wood moulding features a high-gloss cherry lacquer finish and black accents and easily draws eyes to any brightly painted wall space. On the other hand, our Omega moulding is our most popular shadow box option with its simple and classic black satin finish. Our custom shadow box frames are sure to keep your keepsakes safe!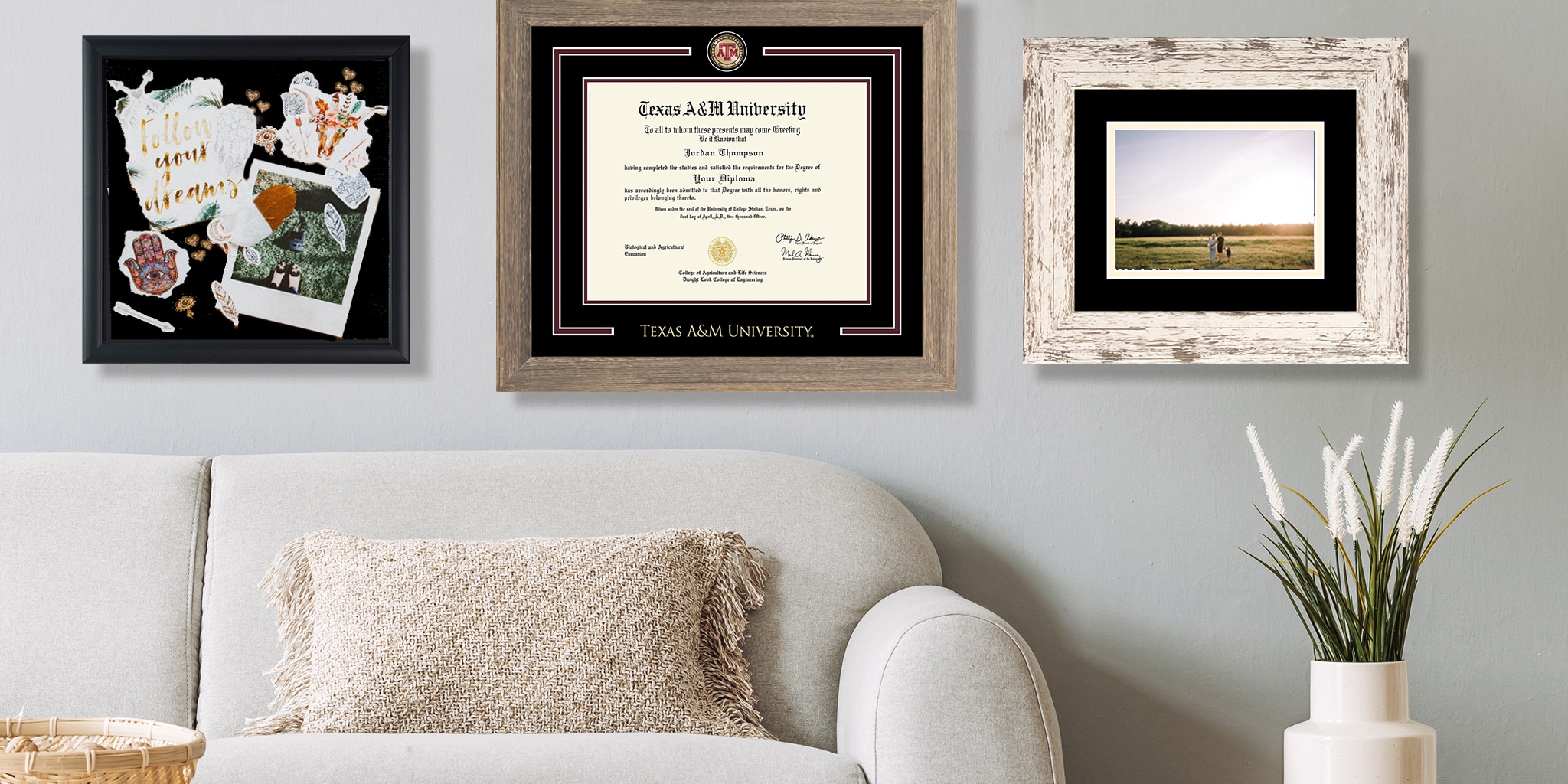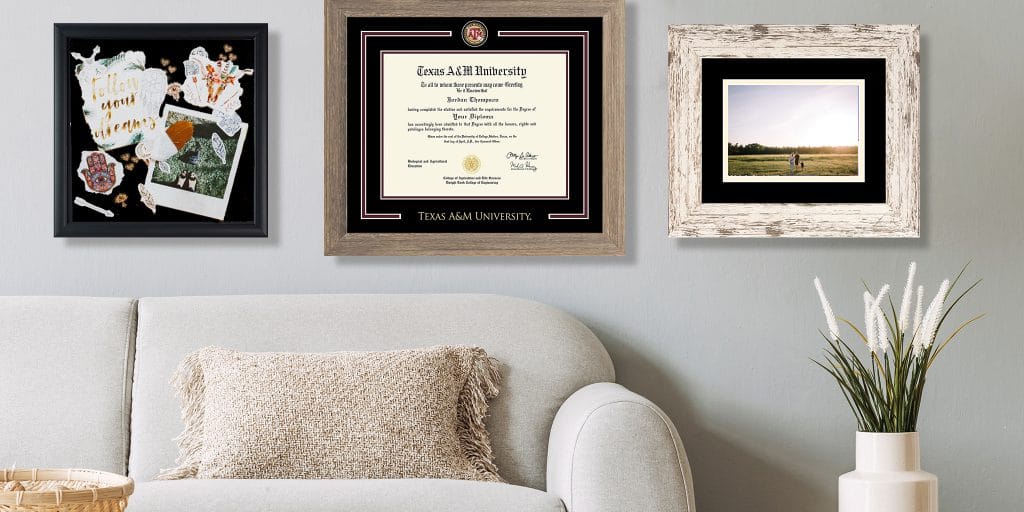 Picture Frame Moulding Styles
Trying to find the right moulding for picture frames can be a hassle. That's why we make sure that all our styles apart from our Presidential and shadow box mouldings are available as picture frame mouldings! Create your own modern picture frames that match your custom diploma frame moulding and pair them together to create a gallery wall that features achievements as well as cherished memories. Design rustic picture frames with one of our distressed Barnwood mouldings to capture all of your favorite college memories then hang each rustic frame next to your prized diploma. The quality of our picture frame material and mouldings is simply unmatched.
These frame features barely scratch the surface of the frame design styles Church Hill Classics has to offer! Shopping for the perfect picture frame wood moulding or finding the right frame moulding for diploma frame options can be difficult, but we're here to help. Still have questions? Feel free to call our toll-free number at 1-800-477-9005 or chat online with our stellar customer service team. We care about our customers and want to make the frame design, selection, and purchasing process as easy as possible for you!