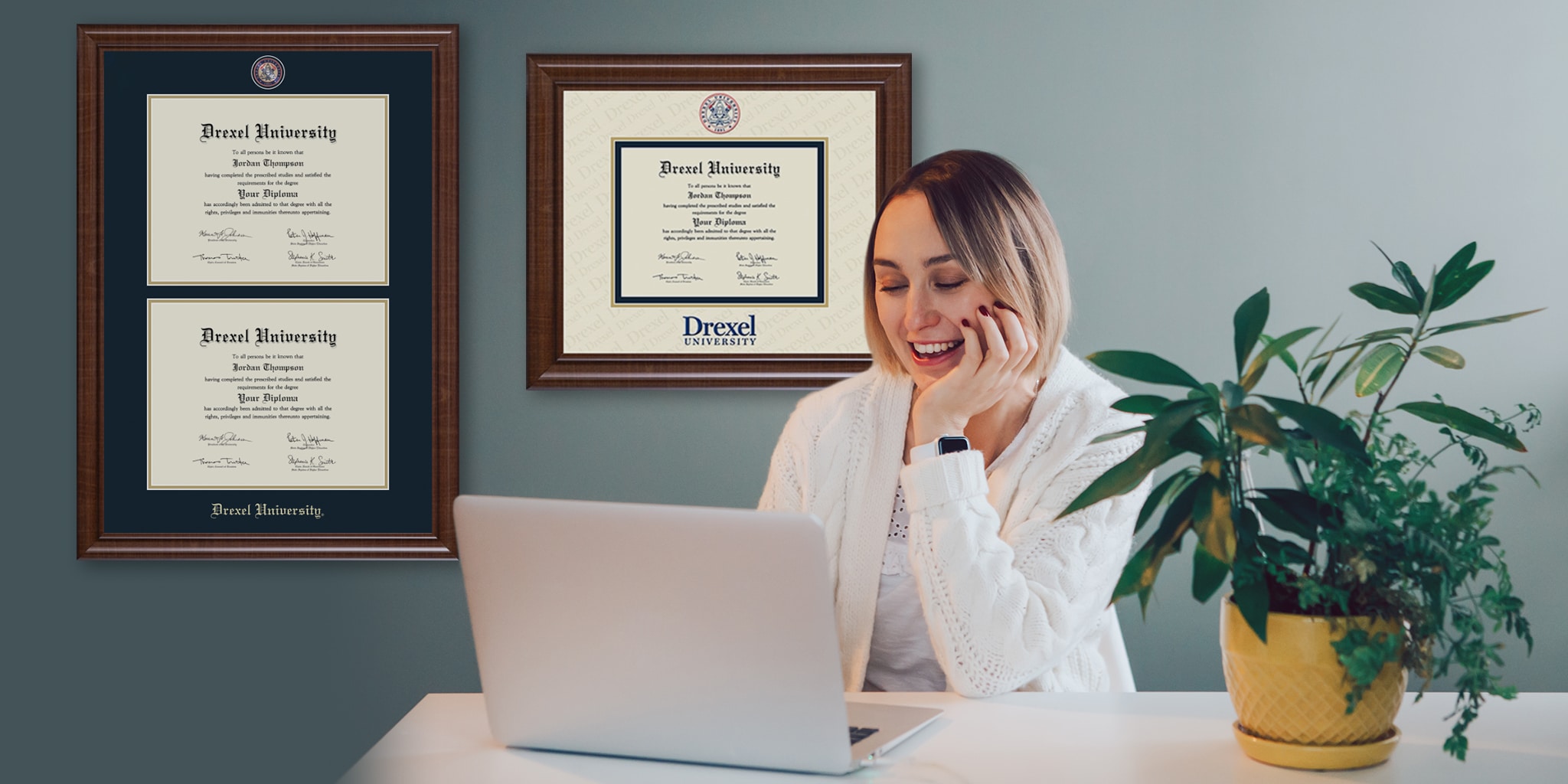 There's one question we often get: How do I choose a diploma frame? First off, don't trust your hard-earned degrees to cheap certificate frames from a hobby shop. If you're wondering, do diplomas need special frames? Yes, they do! So don't settle for anything less than an archival-quality frame that's beautifully and intentionally handcrafted to preserve the integrity and quality of your most valuable documents. When it comes to choosing the best frames for diplomas, trust Church Hill Classics—the #1 industry leader of made-to-order custom diploma frames.
While we carry a wide variety of unique diploma frames, the certificate frame style that you ultimately choose will be based on a number of factors. Here are just a few style considerations for a framed diploma.
How much should you spend on a diploma frame?
Luckily, we carry a wide assortment of collegiate diploma frames at varying price points, so you can choose just how much you spend when choosing a frame for diploma certificates. If you have a specific budget in mind, simply search your school and then use our drop-down menu in the left-hand navigation bar to sort our college diploma frames by price.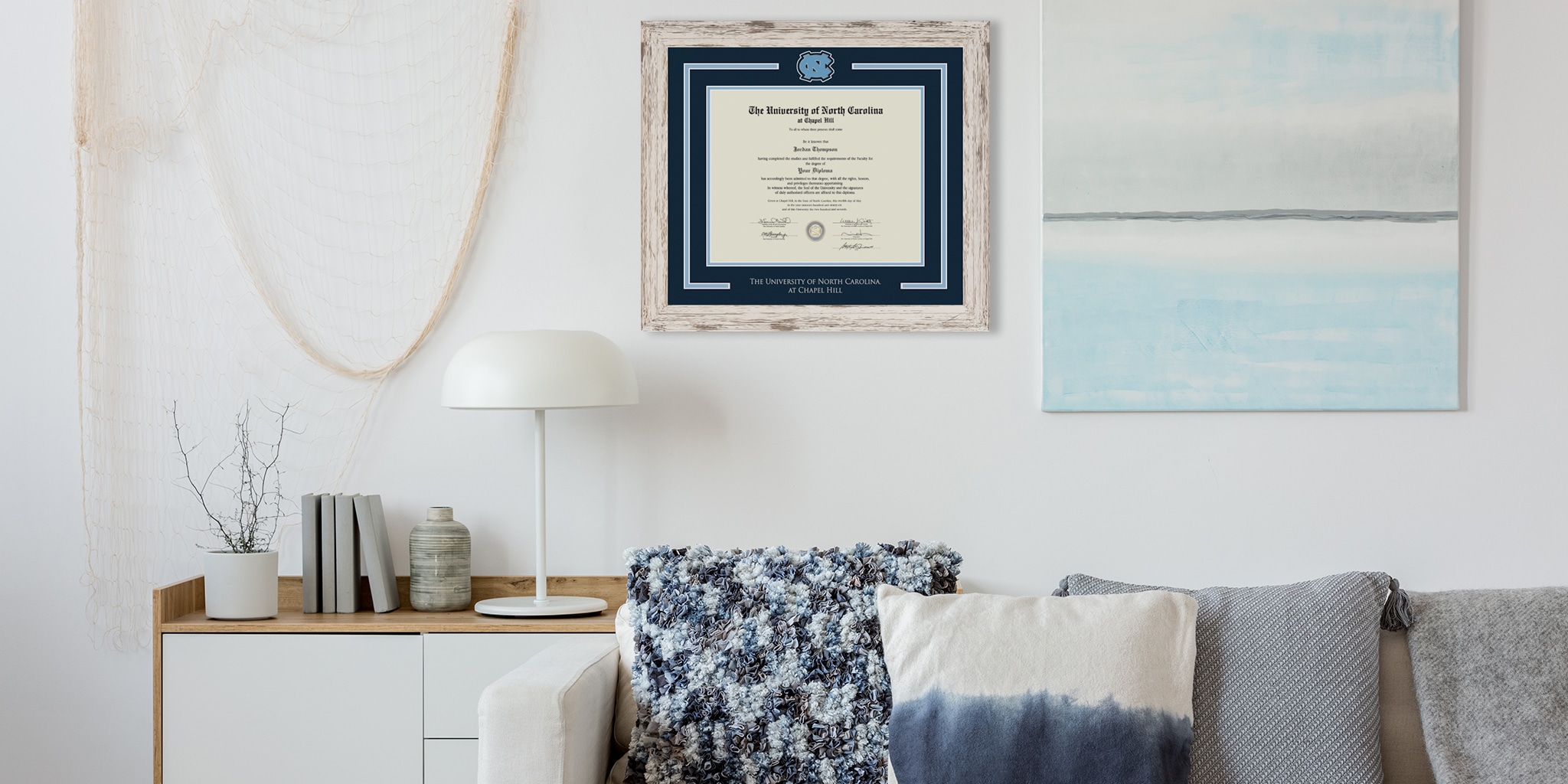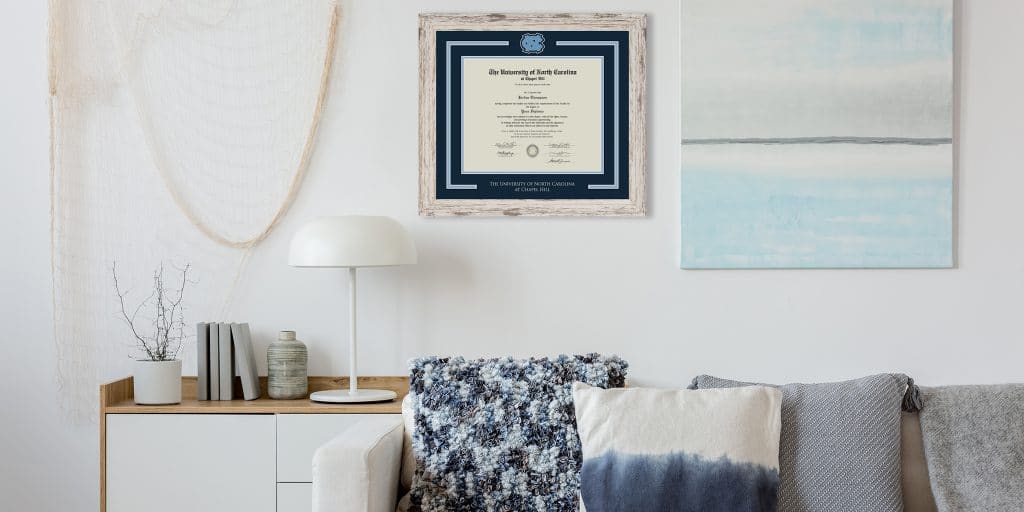 What color should the diploma frame be?
Think about the furniture and colors of the room in which you plan to hang your college diploma frame. You'll want to choose a frame moulding that complements the finish of the wooden components of the room, whether that be ceiling beams, wainscoting, or furniture. Next, select mat colors that pair well with the patterns and hues of the room's curtains, pillows, upholstered chairs, and other decorative fabric accents. No matter what style frame you select, you can customize the wood moulding and mat colors to suit any and every decor style and your personal taste.
How big should a diploma frame be?
Your diploma frame size will depend on the size and type of degree you earned, the width of the moulding you select, the number of mats you choose, and whether you want one or two lines of embossing. However, based on your school and the year you graduated, we already know the specific frame size for college diploma documents needed. In fact, we've built an extensive database of thousands of frame diploma dimensions in our 30+ years of business. There's nothing to measure or guesstimate, because we include the approximate overall frame dimensions in every product description. So whether it's a vertical 11×14 diploma frame, a horizontal 14 x17 diploma frame, or a standard 8.5×11 certificate frame, you'll know the wall space needed to hang your single or multiple custom diploma frames
The 5
Best Diploma Frames
Keeping color, cost, and size in mind as you choose your favorite style, check out the most popular graduation diploma frames with our Church Hill Classics customers.
1.) Presidential
Diploma Frames
Presidential university diploma frames exude stately elegance. As our most upscale offering, this edition features the widest-profile wood mouldings and a luxurious linen or suede mat offset with brilliant gold or silver fillets. Hand-set into the bevel-cut matting is an exquisite color-enamel Masterpiece medallion or a gold or silver Engraved medallion of your school seal. Crafted of solid hardwood, Presidential mouldings include Jefferson's rich mahogany finish, Premier's English chestnut hues, and Madison's dark walnut finish. As our customers will attest, the impressive size and unparalleled quality of Church Hill Classics' Presidential diploma frame commands attention no matter where it's displayed.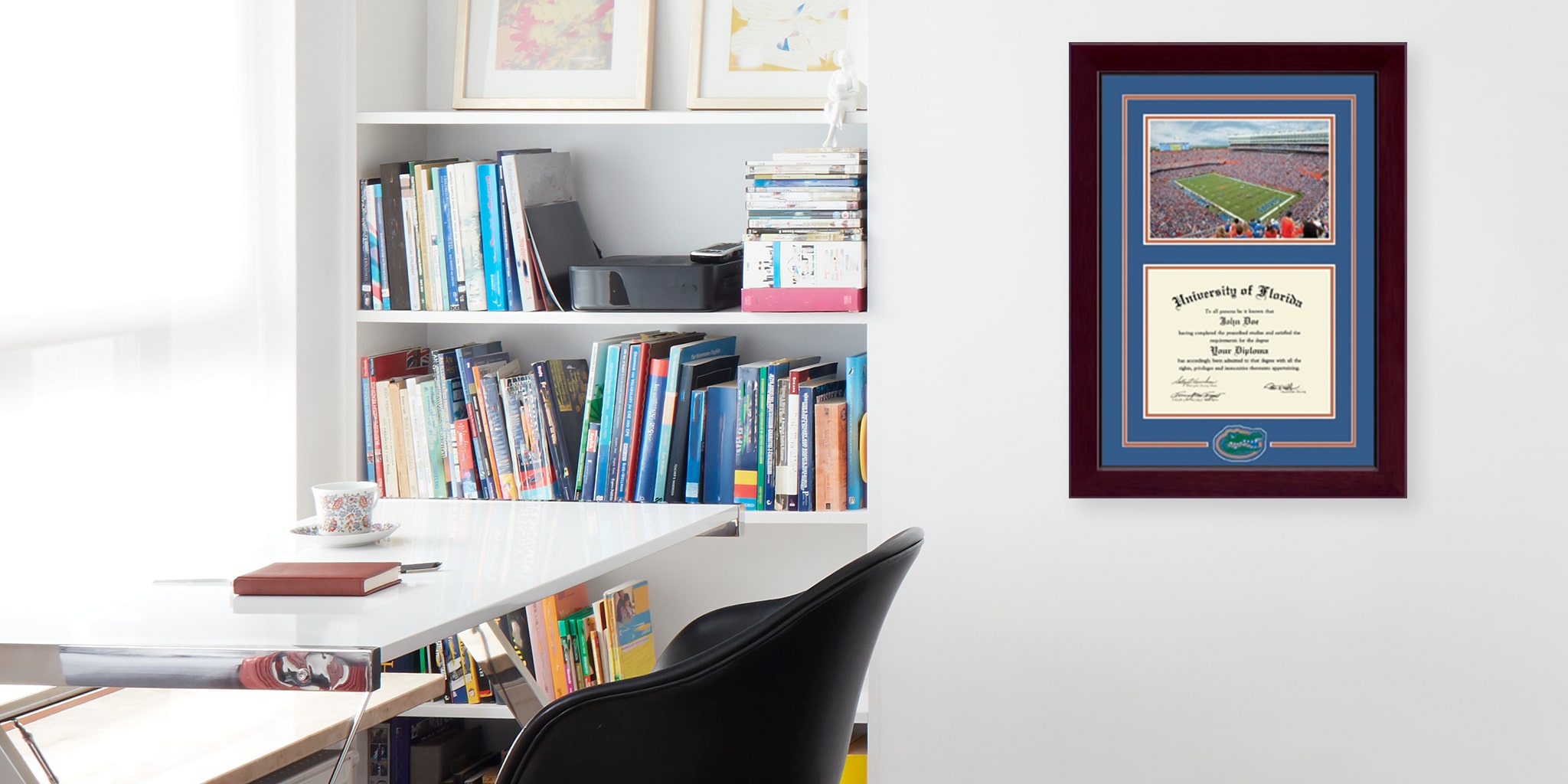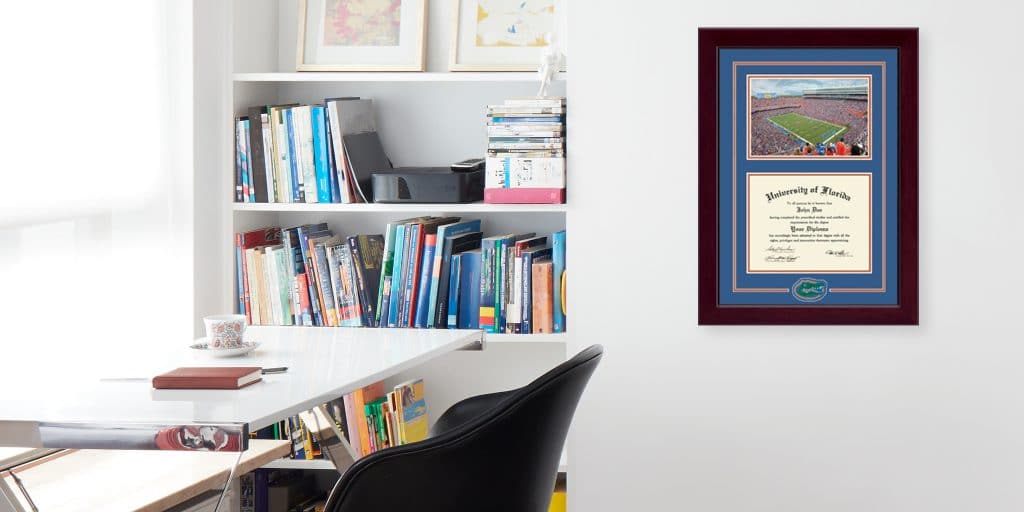 2.) Spirit Medallion
Degree Frames
If you're looking for a game-changer that exudes alumni pride, look no further than the clean and classic athletic borders and sporty wordmarks of our Spirit Medallion frames. The MVP of this stylish frame? The dynamic mascot or logo medallion that's expertly hand-set into bevel-cut double mats in your college colors. Our top-selling Spirit Medallion edition has to be Church Hill Classics' popular UF diploma frame, which features a custom-designed Florida Gator medallion. And for an unbeatable mash-up of two of our favorite styles from our University of Florida diploma frame shop, our Campus Scene Spirit Medallion includes a full-color photo of the Ben Hill Griffin Stadium.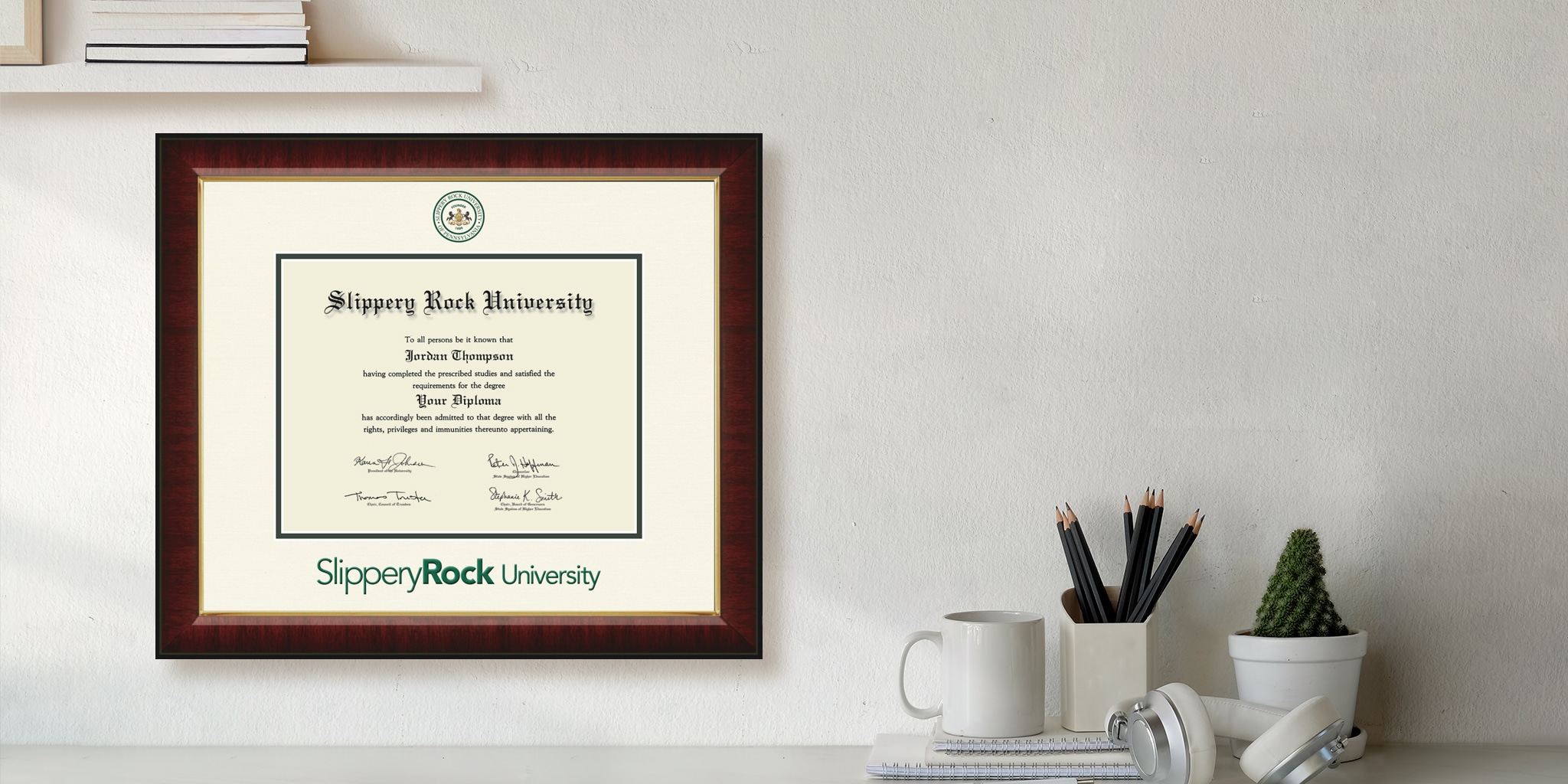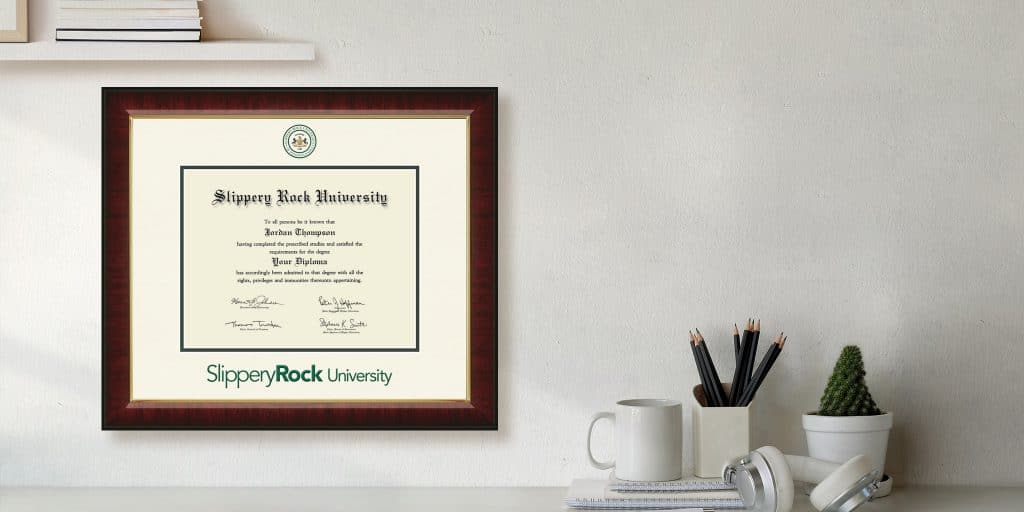 3.) Dimensions
Graduation Frames
Looking for an eye-catching modern diploma frame that's unlike any other custom frame on the market today? Our Dimensions collection melds dynamic pops of color with crisp, professional details. With industry-exclusive dimensional printing technology, Dimensions frames boast striking raised school logos and elegantly textured mats. They're a unique way to create a high-end look in your home or office for an affordable price.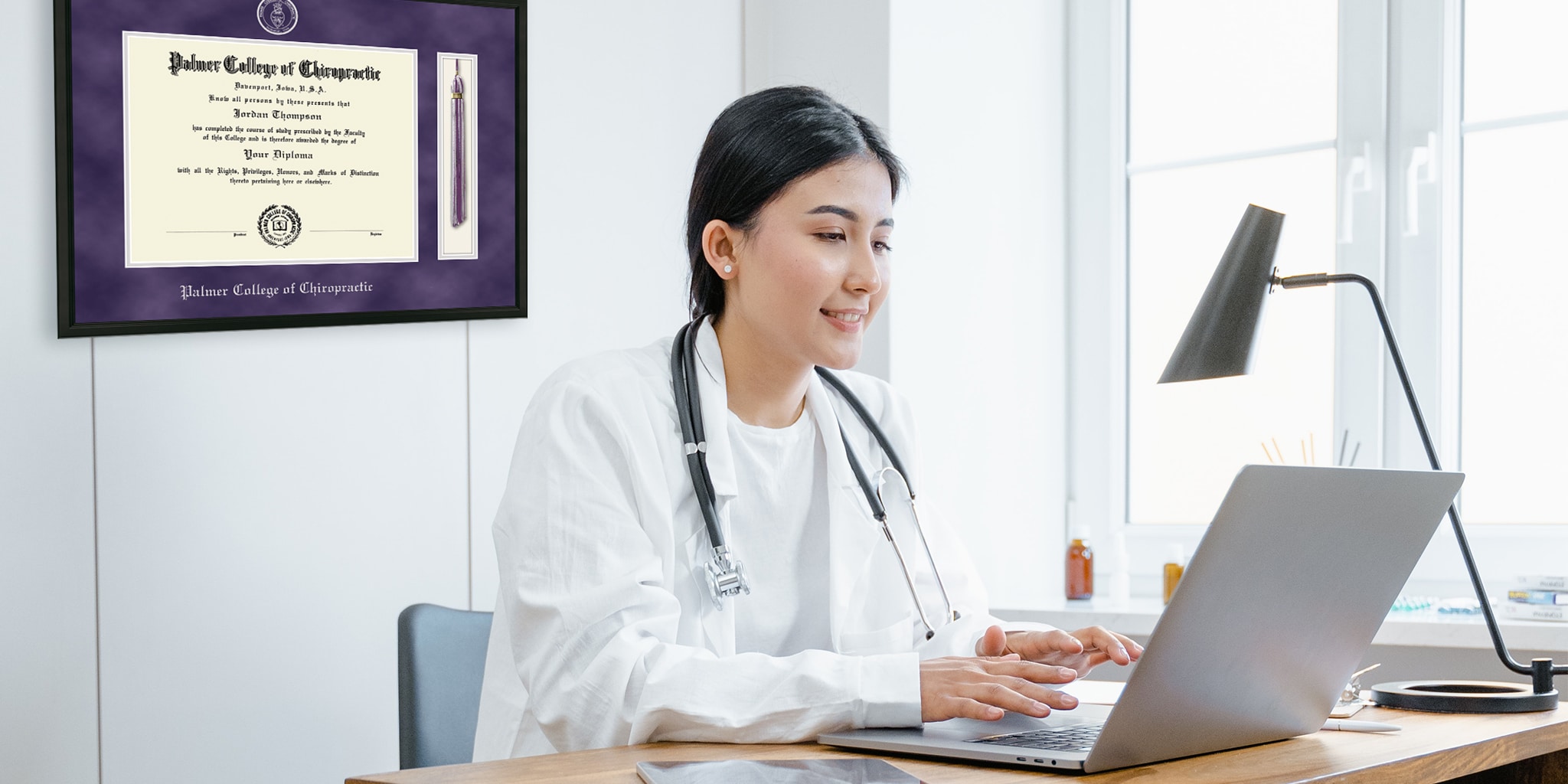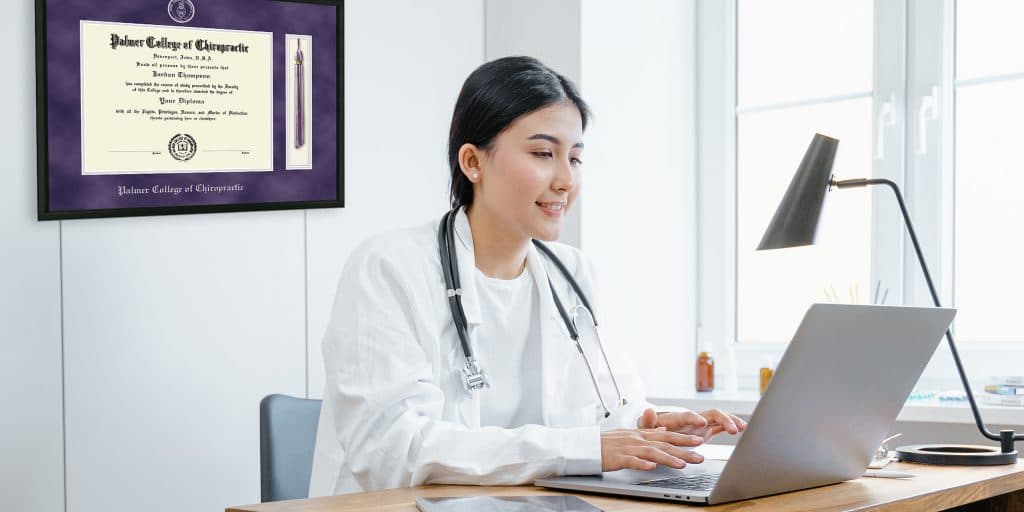 4.)
Diploma Frame with Tassel
Donning your college's official graduation regalia is a meaningful part of your school's rich commencement traditions. So don't hang your graduation tassel on your rearview mirror and expose it to direct sunlight. That tassel was worth the hassle, so give it a place of prominence in our popular graduation frame with tassel holder. It's a great way to show off your school spirit and your signature college colors.

Flanked by solid hardwood or 100% recycled wood mouldings, elegant foil embossing, and bevel-cut premium mats, our diploma and tassel frame edition commands attention in any home or office decor. Search for your school's officially licensed diploma tassel frame, featuring branded college logos and wordmarks, or create your very own tassel diploma frame and choose your own mat colors, moulding, and insignia and embossing options. Plus, if you decorated your mortarboard, our frames for graduation caps make perfect tassel frame companions!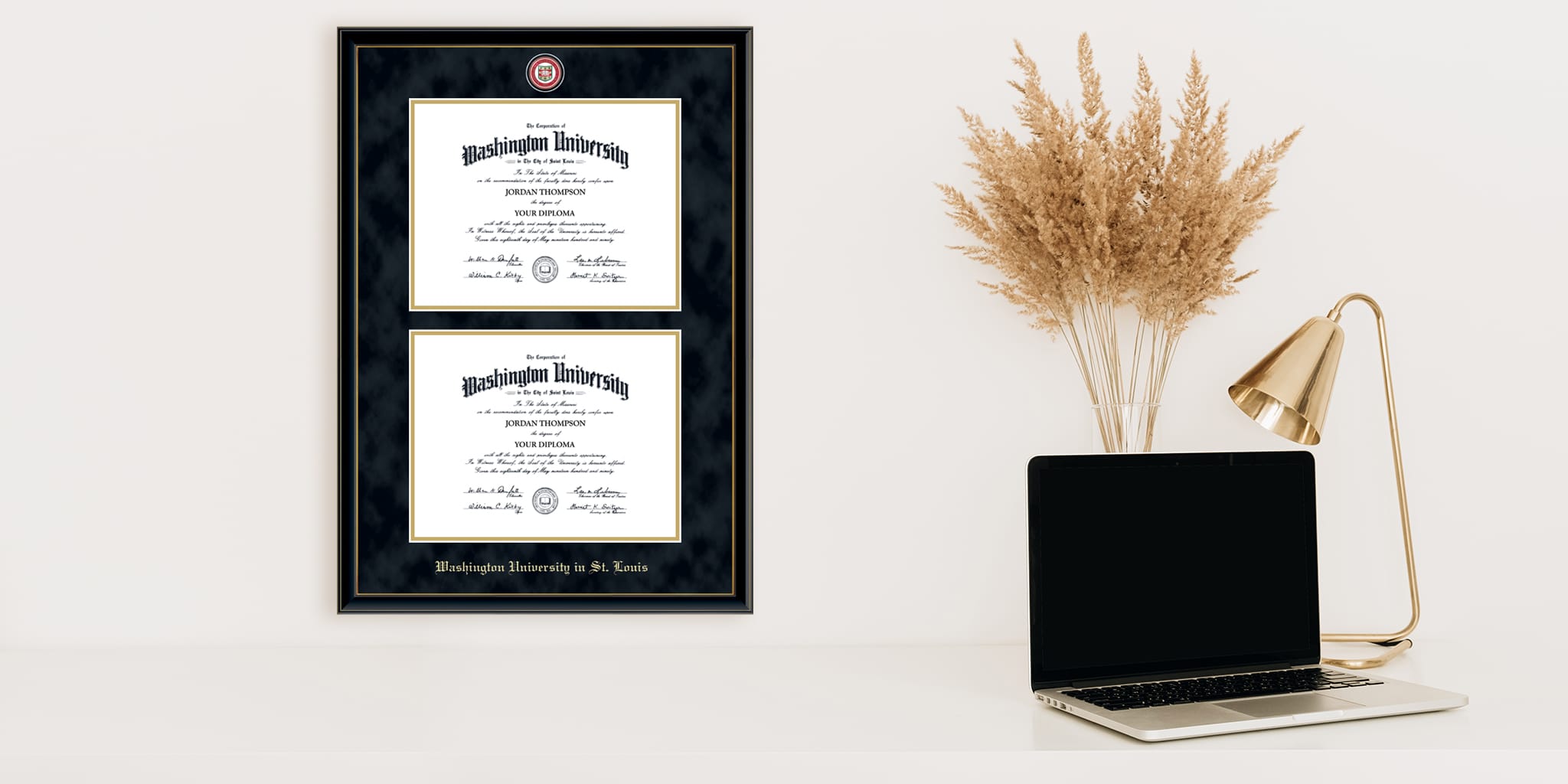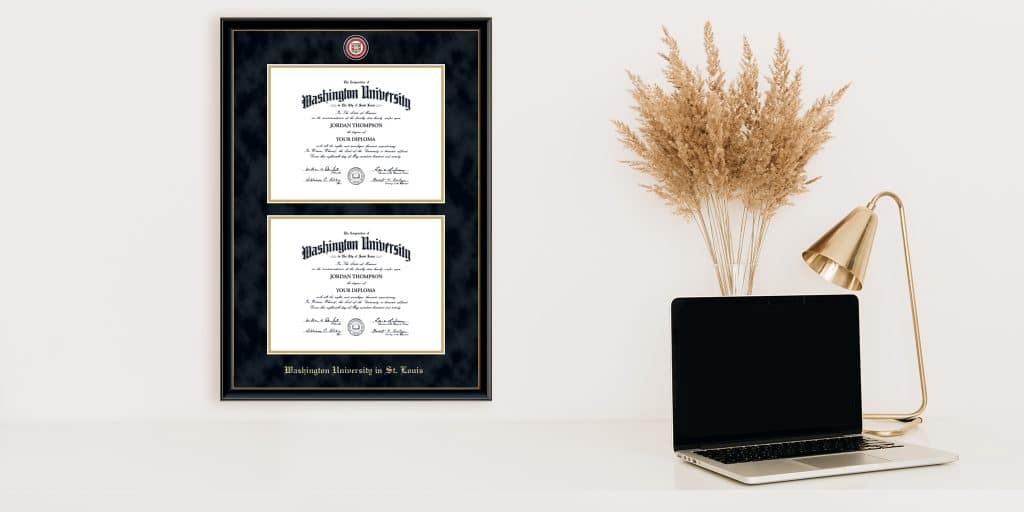 5.) Double Diploma Frame
If you earned two diplomas, then framing them together is twice as nice in our double degree frame! Consider framing your bachelor's with your master's, two professional certifications, or a business license with an award certificate. The display possibilities are endless, thanks to our diploma frame dual mat openings, which you can customize to suit the dimensions you need. Favorite options among our customers include displaying a graduation photo in one of the openings and a degree in the other for a stunning diploma picture frame combo. Painting and photography majors who've worked hard on their senior portfolios will appreciate hanging their favorite pieces side-by-side in the diploma frame double openings.
When it comes to frames for diplomas, no one crafts them better than the expert artisans at Church Hill Classics. Whether you're looking for a black diploma frame, mid-century modern looks, shabby chic mouldings, or shadow box diploma frames with tassel holders, you're sure to find the perfect graduation diploma frames for everyone on your gift-giving list!