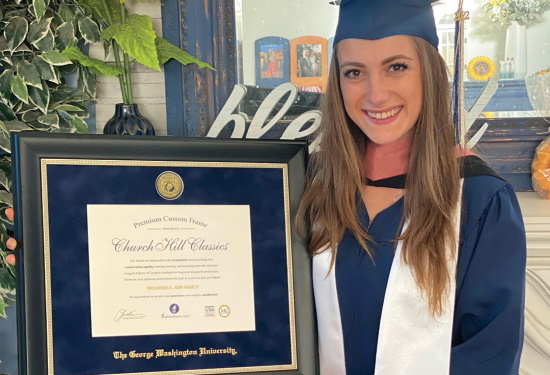 Diploma Frames for Colleges and Universities
Officially licensed custom college diploma frames handcrafted in the USA
Find Your College Diploma Frame
Finding your perfect diploma frame is as easy as 1-2-3
1. Find Your School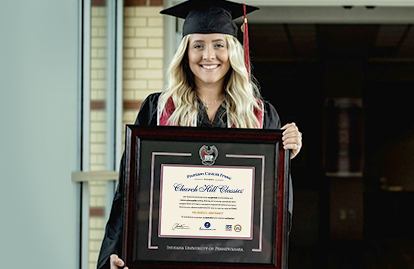 We carry thousands of university frames in any and every college diploma size.
2. Pick Your Favorite Frame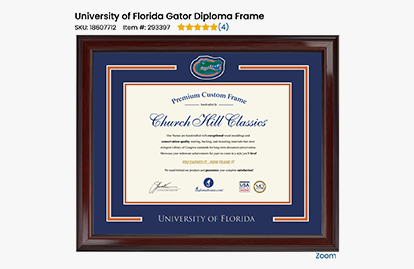 Select a style, from classic or elegant frames to sporty or modern diploma displays.
3. Customize Your Design
Create personalized graduation frames with our online custom framing tools.
Custom Diploma Frames for Every Style
Congrats! You've worked hard for your degree, and not just any college diploma frame will do. When it comes to showcasing one of your biggest accomplishments, our archival-quality college degree frames are guaranteed to protect and preserve your hard-earned achievement for years to come. Our officially licensed university degree frames are designed to suit any and every decor! Select your favorite style, like our graduation frame with tassel, which allows you to display your commencement tassel alongside your degree. Or opt for one of our signature double degree frames to showcase dual diplomas. Select your favorite style then customize your moulding, mat colors, and glass options to design the best college diploma frames. When colleagues and clients see your college degree frame on display, it instills confidence and pride in your hard work.
College & University Frames FAQs
1. Do I need to mail you my diploma?
No, we would never ask you to send your precious documents in the mail. We know that the best way to protect your prized diploma is to keep it in safe hands and not send it in the mail, due to potential loss or damage to your degree. Our system already knows the correct diploma frame size you need based on the school and Graduation Year, so our customers never have to worry about sending their important documents off to receive their framed college diploma (no matter if it's for a gift or personal use).
2. How long does it take to get a custom college diploma frame?
All of our university frames are made-to-order and built onsite in our Connecticut facility. Once we know your address, shipping needs, and level of customization your product requires, our data entry system will automatically calculate your arrival date at checkout! Knowing when the university frame will arrive allows you to better plan for gifting it or keeping your diploma safe in the meantime.
3. If I buy my custom frames online, can I return them?
Rest assured, you can order worry-free! Our custom diploma frames have a 120-day return policy, so if you aren't 100% satisfied with your college frame, then you can return or replace it with no questions asked and no restocking fees! We completely understand that sometimes the vision in your head doesn't look the same in person, or perhaps your home decor or office is changing. No matter the case, you can have the peace of mind that we accept returns on all university frames within this time period.
4. What size frame do I need for a college diploma?
After 30+ years in business, we are experts in custom frame solutions and sizing. We routinely update our database of university diploma sizes, so there's no need to measure. Whether you need a 11X14 diploma frame or a 14x17 diploma frame, we already know the proper frame size for your degree. At checkout be sure to include your Graduation Year to enable our system to do its work. Dual degree frames are also available, so if you receive two diplomas at graduation (or go on to receive your Masters degree) you can display them side by side for the ultimate impact.
5. Do you sell wood diploma frames?
Yes, we carry frame mouldings crafted from solid American hardwood as well as an array of 100% recycled wood options. We source these raw materials from suppliers dedicated to reforestation efforts and environmentally conscious practices. We also donate annually to nonprofit organizations devoted to replenishing American forests. There's something about wood frames that just exudes sophistication, and we carry mouldings to match any decor, whether displaying your degree in your bedroom, home office, or at work. And not only do our frames look good, they also stand the test of time as they continue to protect your precious degree from damage. Knowing your wood frame is handcrafted by a manufacturer that complies with the U.S. Environmental Protection Agency's (EPA) voluntary Waste Wise program can give you peace of mind that your university diploma frame is built in accordance with eco-friendly practices.
College Degree Frames
We offer a wide range of official and custom college diploma frames and graduate school frames to help you protect and professionally display your Bachelor's, Master's, or Doctorate degree. Whether you're looking for an embellished diploma frame with tassel or a simple, classic black diploma frame from Church Hill Classics, our varied selection of college diploma frames and unique design options make for distinctive, one-of-a-kind graduation gifts. But don't wait until it's too late! Order your college degree frame before graduation so you can begin showing off and protecting your diploma right when you get home. Wondering how to frame a diploma? Search your school above for the best custom college diploma frames online.
Why Custom College Diploma Frames?
A custom college diploma frame can make your degree stand out or perfectly blend in with your existing home or office decor. You can customize your diploma frame with embossed logos, school colors, and even an engraved nameplate to showcase your school pride or accent your favorite memories or college location. Customizations mean you don't have to sacrifice your style to have your degree on display. Dual college degree frames and different mat styles, colors, and frames are also available for the ultimate personalized touch. Say goodbye to boring frames and encase your diploma in the protection it deserves. See our collection of college diploma frames today to find one that catches your eye, or customize your very own frame to fit your style.