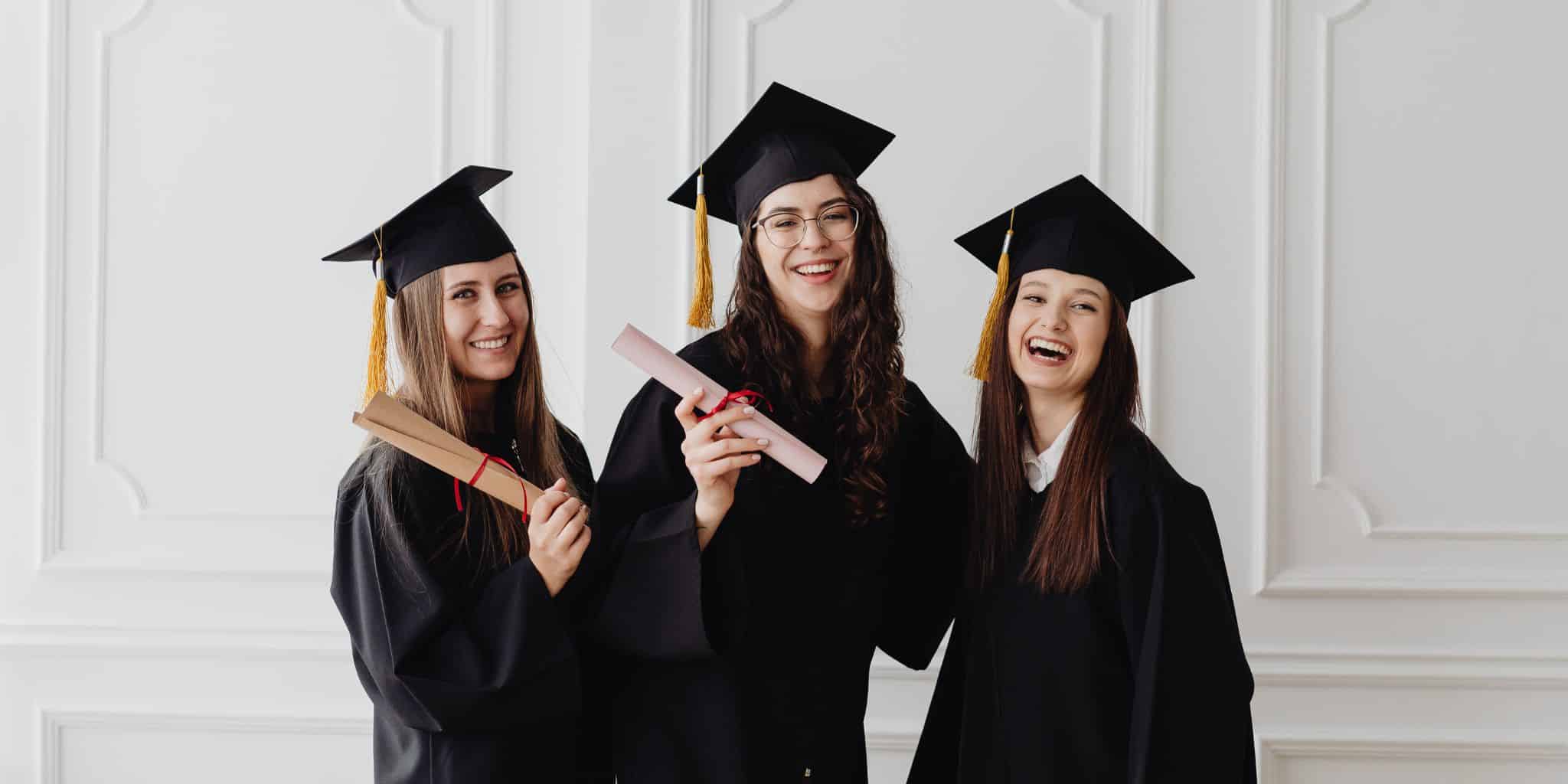 Congratulations! You've walked the stage at graduation and thrown your mortar board in the air with the rest of your class. You may have received a diploma with red ribbon for show during the ceremony, but most colleges don't hand out your actual diploma until after this day.
Many colleges and universities will mail your diploma scroll home in a cardboard tube to protect it from bending and getting damaged while in transit. While it does a good job protecting your degree from the elements, it often causes your diploma to become curled.
Luckily, you can frame your diploma after it's been rolled-up; just follow these easy steps to flatten curled paper gently.
How to Flatten Rolled Paper
When it comes to de-curling your diploma, you want to be extremely careful not to damage it. These steps are best for flattening rolled paper in a gentle, safe way.
1.) Find a dry, clean flat surface (like a table) and carefully unroll your diploma facedown.
2.) Place some weight on each corner of the diploma. If you don't have paperweights, use household items like heavy books, coffee mugs, or salt and pepper shakers. Most heavy objects will do the trick, just make sure they're clean and not too heavy that they would crush the paper.
3.) Before putting a weighted item on each corner, place a cloth, napkin, or towel on top of the diploma to protect it from damage. Tissue paper can also be used for this step.
4.) If you have a large diploma that's over 11″ x 14″, also add weight to the center and the middle of each side to help the diploma lay flat.
5.) Check on the diploma's progress every few hours and adjust the weights as necessary. It shouldn't take more than 24 hours to flatten your diploma.
6.) Remove the weights and pick up your diploma. If it doesn't roll up, it's done flattening. And if  the corners roll a bit, that's okay too. They will lay flat once framed.
Important tip: Do not iron your diploma. Many diplomas are made of sensitive materials, such as sheepskin or parchment paper, and could be damaged by the heat.
The best part of this method for flattening a rolled diploma is that you can also use it for other papers. Whether you had an art print that arrived rolled up with a rubber band or wonky stock photos, you can help them lay flat with these easy steps.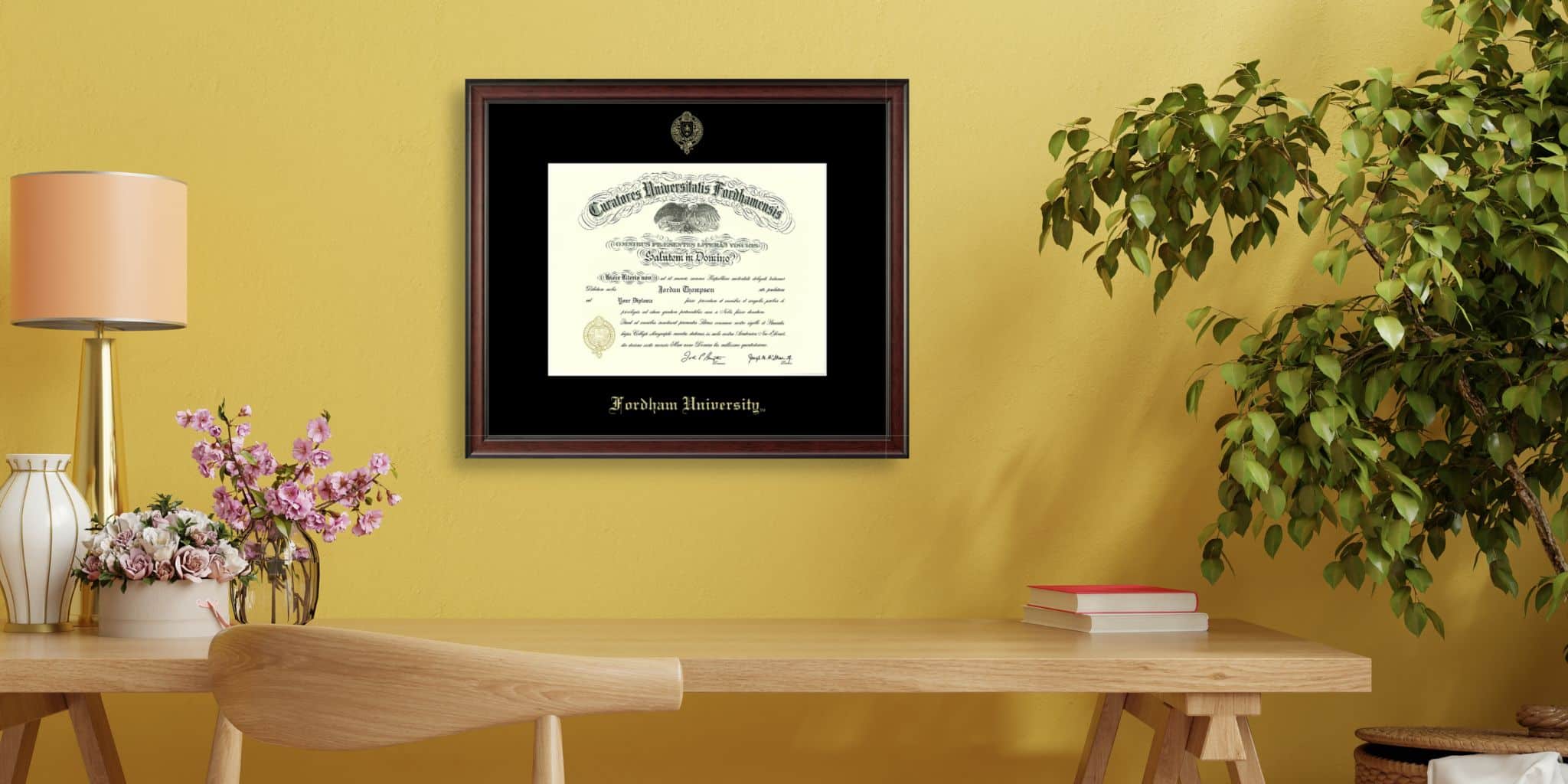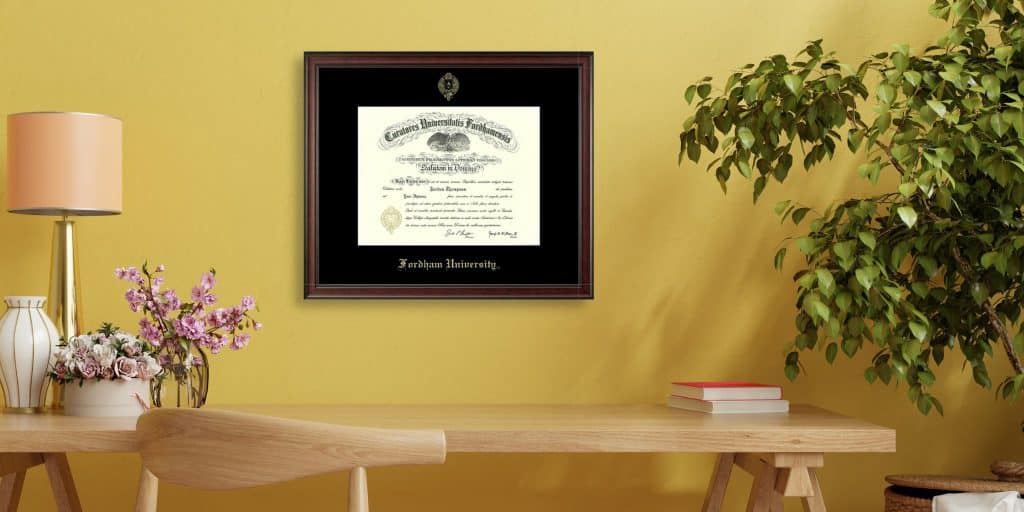 Invest in a Frame!
Your diploma will stay flat once it is inserted into a diploma frame. Search for your college or university to view the different frame options available.
We even have options to display your mortarboard and diploma side by side in cohesive frames.
Don't see your school? That's okay. You can design your own frame.
Framing your diploma will preserve and protect it for a lifetime. And having the option to customize your own diploma frame with unique matting, molding, and engraving makes it all the more special.
Shop our diploma and graduation hat frames today!