Design vertical double diploma frames or horizontal double diploma frames in the sizes you need.
Search for Your Perfect Dual Diploma Frame
How Others Styled Their Double Diploma Frames
Benefits of a Church Hill Classics Double Diploma Frame

Handcrafted
Each dual degree frame is handcrafted in our Monroe, CT facility.

Sustainable Mouldings
Choose from one of several 100% recycled wood mouldings.

Conservation-Quality
Our mats are museum-worthy to prevent document damage.
Shop for Your Double Document Frame
Choose from several distinctive mouldings to elegantly display your dual degrees.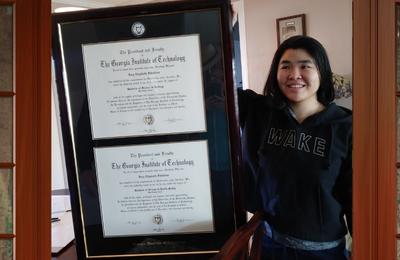 We offer double diploma frames for 1k+ officially licensed institutions.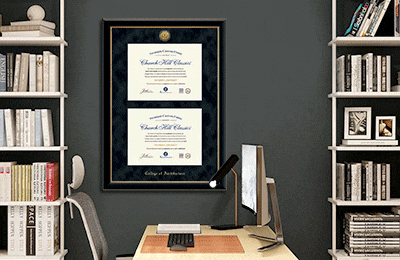 Design your ultimate two-diploma frame with double matting, mouldings, and more.
Frequently Asked Questions About Dual Degree Frames
1. Do you offer a double 8.5 x 11 certificate frame?
Sure, even if you need double diploma frame 11x14 openings, we can customize to your liking. Simply enter your document size and orientation when using our Create-A-Frame tools. We'll make sure your custom frame is built to fit diploma documents for masters degrees or bachelor degree programs.
2. Can I purchase a double diploma frame with tassel for my graduate student?
Unfortunately we do not offer a double degree frame with tassel at this time. But you can order a single tassel frame for undergraduate programs or with graduate school embossing. Regardless, we can work with you to create your dream frame! Feel free to contact our stellar Customer Service team at 1-800-477-9005 to inquire about having a specialty frame designed and built.
3. How do I hang my double graduation frame?
Each shipment of a Church Hill Classics frame includes step-by-step instructions to make your hanging process quick and simple. Also included is a ready-to-hang system to make sure your frame is straight and secure on the first try. With these helpful hanging tools, your double diploma frame will be on your wall in no time!
4. Do you make a vertical double diploma frame?
Yes, our online design tools allow you to build your own vertical or horizontal double diploma frame! Our Create-A-Frame tools are second to none. They allow you to select the size of your documents and the desired orientation. Plus, select from a multitude of matboard colors for your frame.
5. Do you guarantee your diploma frame for two degrees?
At Church Hill Classics, we deliver perfect cases and frames with 100% protection and conservation glass to prevent warping. Not happy with your Penn State Diploma Frames for bachelor's degrees or doctoral degrees? We have a 100% happiness guarantee. Our aim is to ensure that we deliver awesomeness, so we'll work to make it right.
6. Do you sell a single diploma frame for two degrees?
Whether you're an undergraduate student pursuing a bachelor's degree in two majors or want to hang certificates from graduate programs, choose a custom double diploma frame. It's one frame for two documents, making it a unique and convenient choice for undergraduate and graduate degrees. And when it comes to a Church Hill Classics double document frame, the pairing possibilities are endless!
7. Can I display other items in a double-degree certificate frame?
Display dual degrees, a bachelor's with a graduate degree, or a high school diploma with a certificate. Have special college memories you'd like to showcase? Add a favorite graduation or campus photograph to fill the space above your cherished document. Other customizations, like adding UV protective glass, ensure your priceless documents will be protected from the elements for years to come.
8. Do multiple degree holders make good graduation gifts?
These dual diploma frames make the perfect gift for recent graduates. They're also great for established professionals wanting to showcase and protect their multiple degrees. Ideal for fitting your degrees into any existing décor in your bedroom, home, or office. Easily search for your school or university to find the perfect double frame for your degrees. There's no better way to showcase your documents while keeping them safe than with a double diploma frame. It's never been easier to display your degrees in a cohesive way. Choose a frame that is ready-fitted for two.
Double Document Diploma Frame Reviews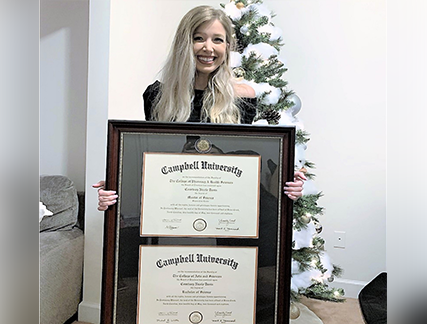 Mackenzie F.
Verified Purchase
The diploma frame turned out amazing my wife loves it! We couldn't have asked for a more amazing product.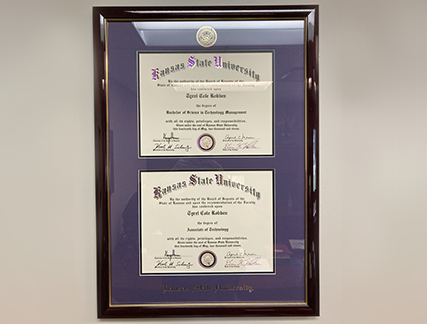 Tyrel R.
Verified Purchase
My diploma frame came excellently packaged & well built. The accompanying hanging hardware made hanging the frame much easier than how I traditionally hang frames! I would suggest the anti-glare glass.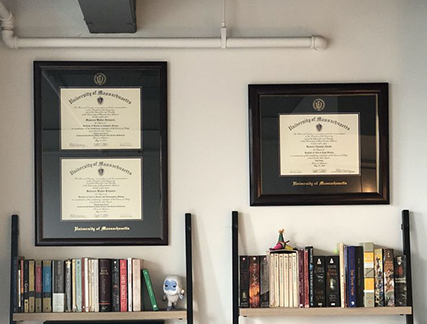 The frame is well made and looks beautiful. It came packaged well and the instructions were very clear and helpful for inserting the diplomas as well as hanging. A+ purchase would be recommended!
Find the Perfect Dual Degree Frame
Are you a high school student wanting to frame recent awards? A college alum looking to consolidate wall space for multiple graduate degrees? Or maybe you recently completed a special certification to enhance a specific type of undergraduate degree? We have a customizable dual certificate frame for everyone! Perhaps you're a recent UPenn graduate and you're looking for our most popular Penn State double diploma frame? Search your college or university to find all of your school's dual diploma frame options.
Use our Create-A-Frame option to design the perfect double certificate frame to complement your new office space. We carry eco-friendly hardwood mouldings. We boast premium mats and customizable engravings. Basically, we have all the resources you need to create the double-degree certificate frame of your dreams. Other customizations, like adding UV protective glass, ensure your priceless documents will be protected from the elements for years to come. There's no better way to showcase your documents while keeping them safe than with a double diploma frame.