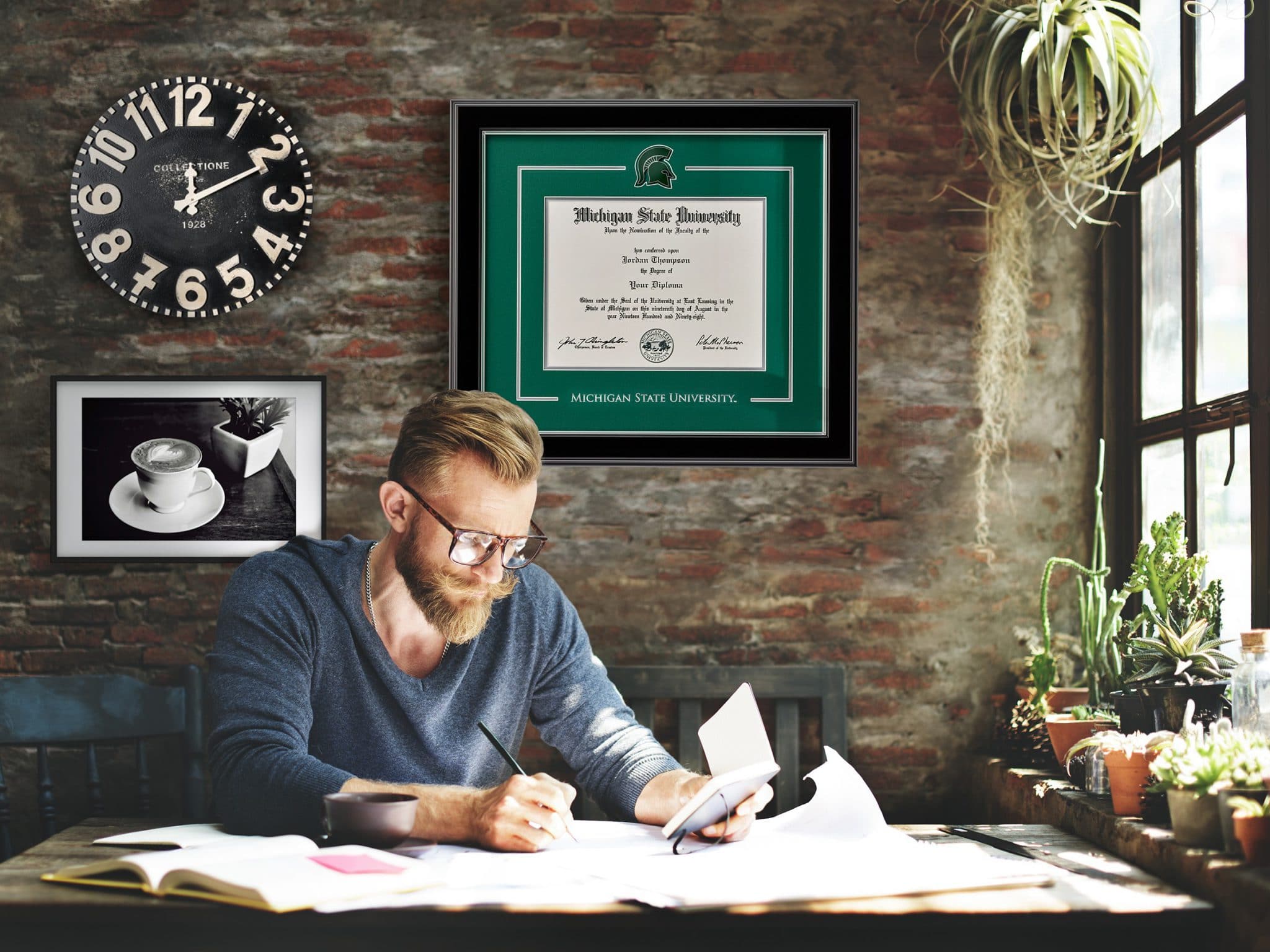 Once you finally earn your long-awaited college or university diploma, don't keep it rolled up in a tube or filed away in a drawer. After all, the tube or folder that you may use for storage is likely not acid-free and will, in and of itself, contribute to damage over time. Your diploma is one of the most expensive and valuable credentials you will ever earn, and it's never too soon to put this "personal marketing tool" to work in your home or office. Showcasing your diploma is a great way to put your school pride on display, remind customers and clients that you have the credentials to back up your expertise, and safely preserve what will certainly become a treasured family heirloom.
When considering framing a diploma, only one of the three primary choices is recommended and considered the ideal way to preserve your document: custom framing it in the very best diploma frame. Trust us, we know that the thought of framing a diploma can seem intimidating, but with Church Hill Classics it's easy! Read on for some of our favorite diploma framing ideas and tips for how to frame a diploma like a professional.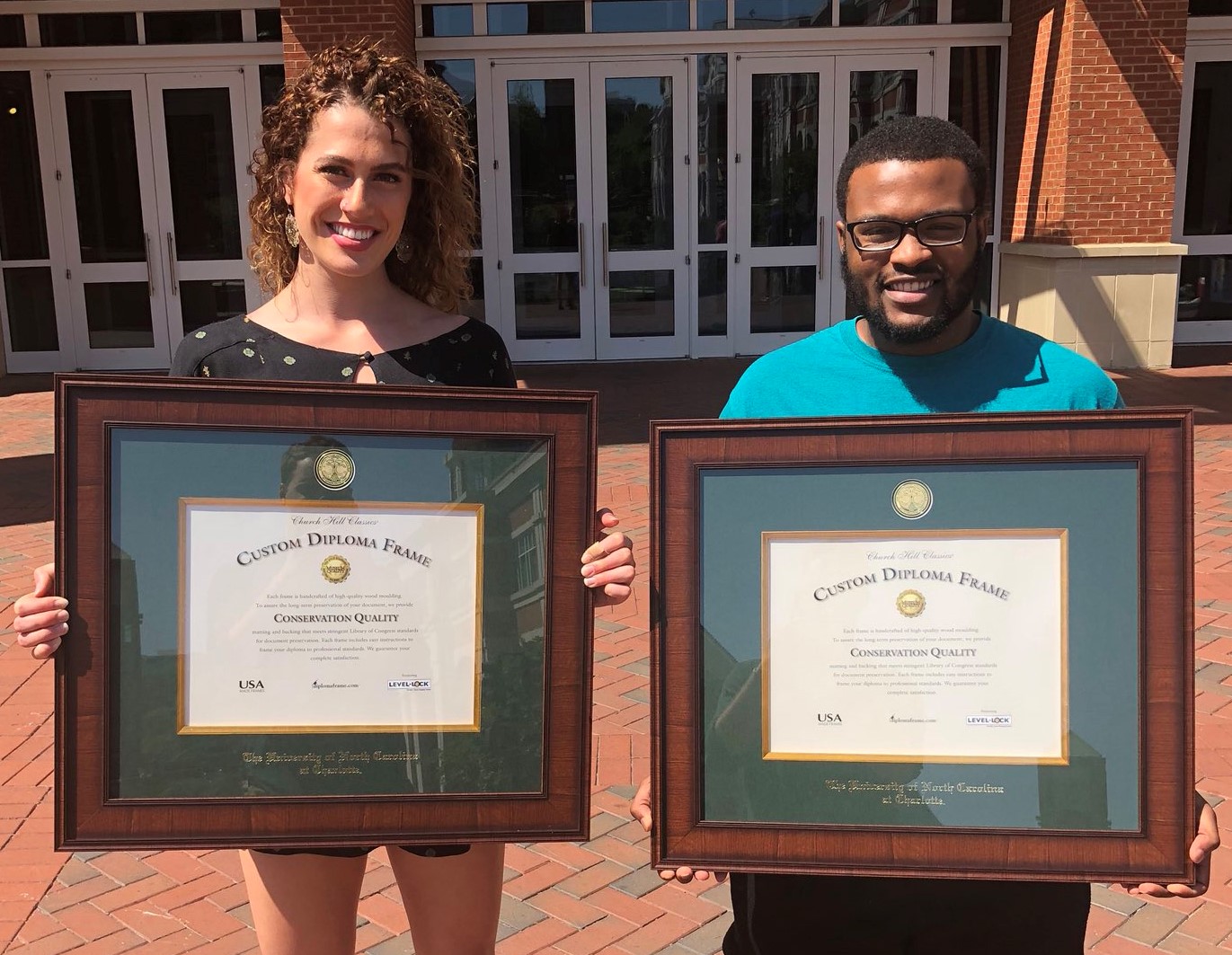 1.) Custom Framing
This option is highly recommended because quality custom framing is completely reversible, meaning that you can remove the document at a later date without damaging it. This approach affords some unique advantages:
Advantages of Custom Framing
Easy to change the style or colors, should the need arise : If you end up moving or redecorating your home or office, you may find that your original mat colors don't mesh well with your new decor. In that case, you can easily switch out your original mats and replace them with standard, linen, or suede mat options in more complementary colors. Just be sure to choose museum-quality matting, backing, and mounting materials to preserve your document.
Safe removal of your diploma to be reproduced, if necessary : Should you need to take a photocopy of your diploma for a prospective employer, grad school, or professional association, you can easily remove the degree from its frame and then reinsert it after you've made a copy.
Document is safely "isolated" away from the glass to greatly reduce the risk of humidity damage: Housed behind archival-quality matting in a custom frame, your diploma will not come in direct contact with the glass. Make sure, however, that you select UV-protective glass to prevent your diploma from yellowing, cracking, and disintegrating over time.
Framing your degree in a custom frame is not only a great way to protect your priceless document, but it also makes it easy to create a display that matches your existing decor or personal style. So no matter if you're framing your degree in your bedroom or office, you can find an option you love but can also change with your style.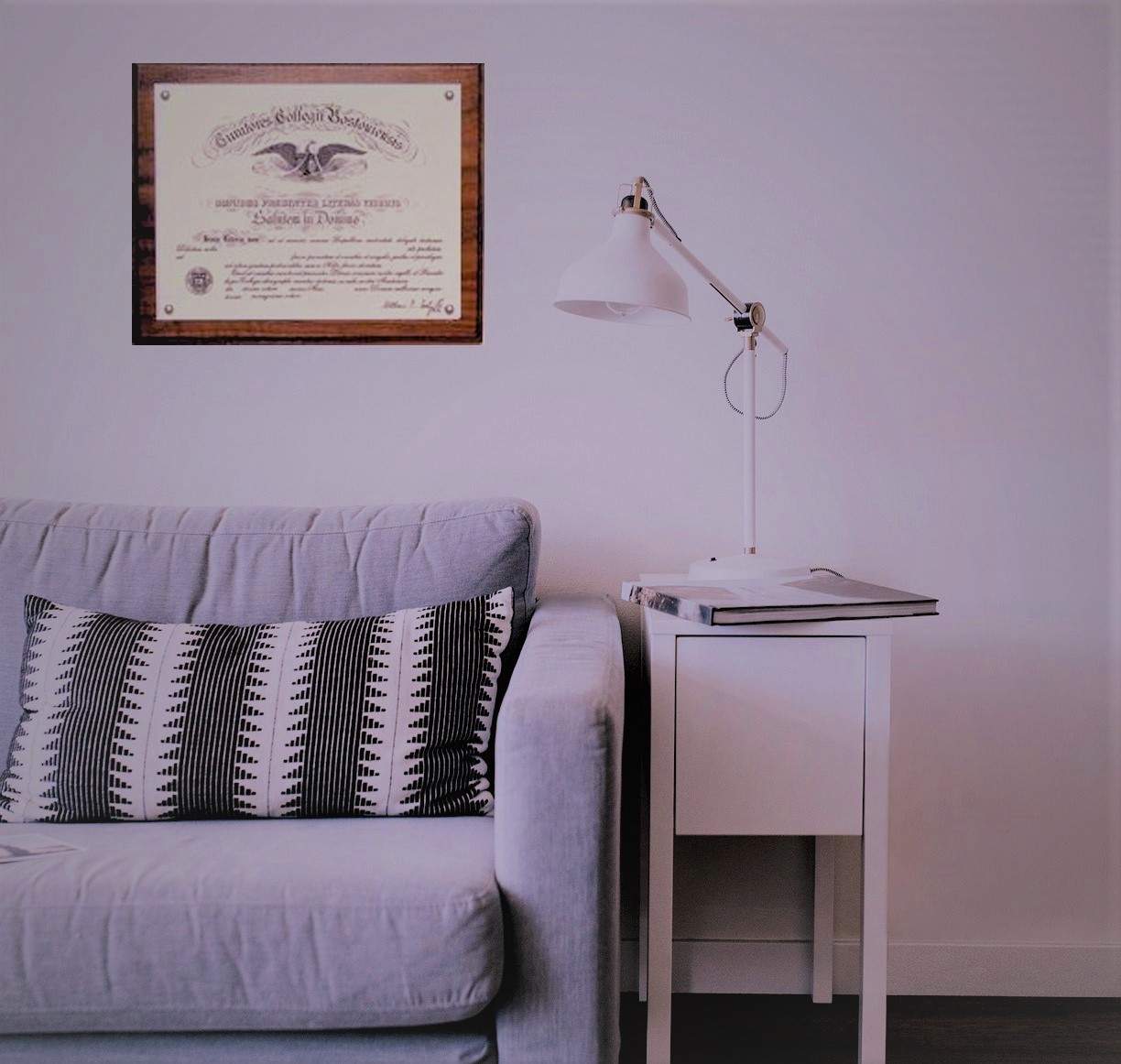 2.) Using a Plaque for Your Diploma
The least expensive option (which is not recommended) is to place your diploma on a plaque. With the plaque, the diploma is showcased on a wooden board with an acrylic sheet over the document for protection. Some styles do allow you to easily slip in the document behind the acrylic, while others use four brads that may require poking holes in the document.
Obviously, the latter is unacceptable for a diploma. From a conservation perspective, even the "slip-in" plaque style is not ideal because the document is in direct contact with the acrylic. The problem is that if moisture builds up or if the plaque is exposed to high humidity, the document can stick to the acrylic and tear upon removal. In some cases, this lack of "breathing room" for the document can contribute to staining or even mold and mildew growth.
Should you frame your degree with this method? It may be a good temporary solution as you wait for your custom frame to arrive, but it's not recommended for long-term storage for the above mentioned reasons.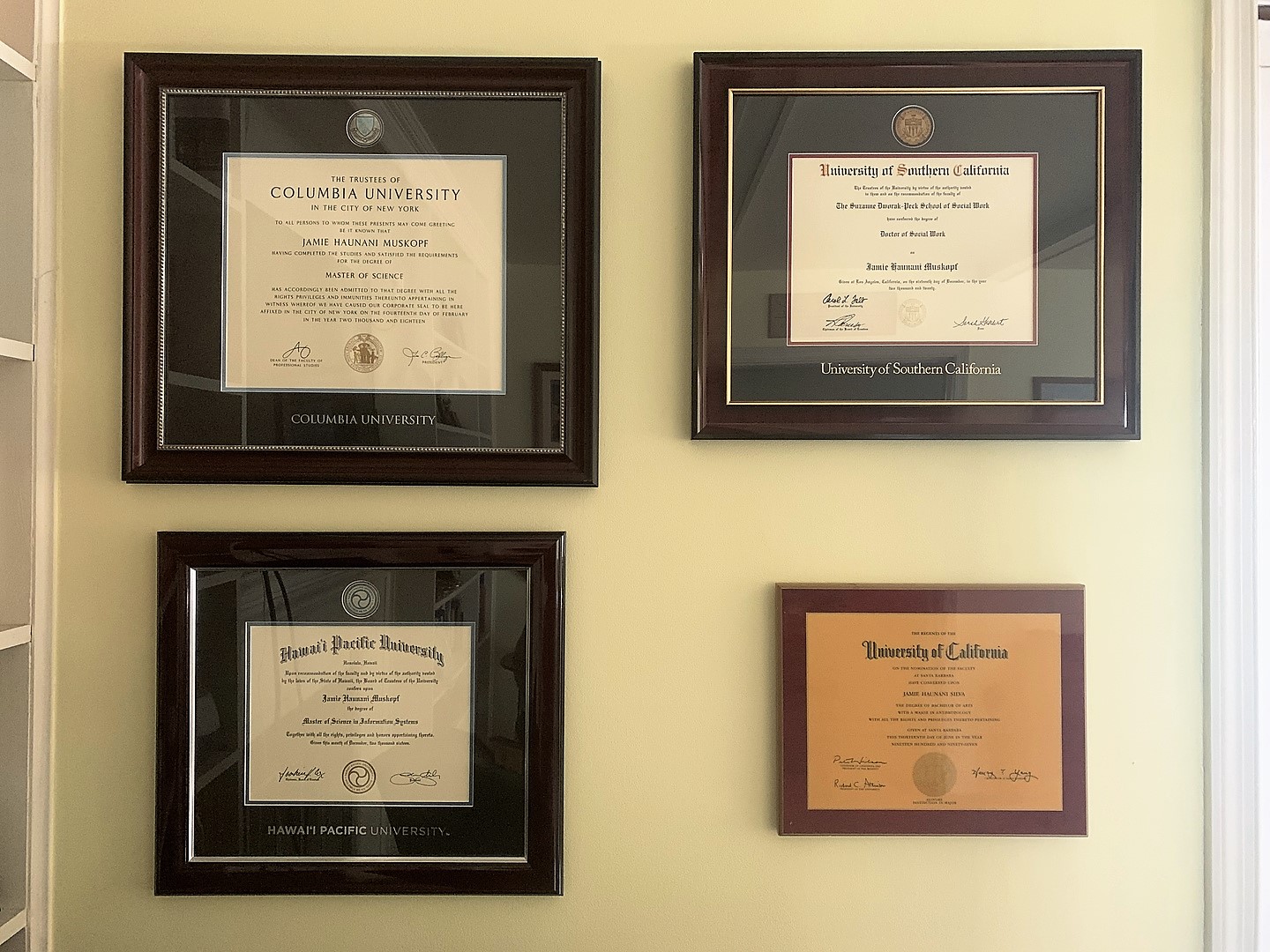 You can also choose to have your diploma permanently laminated to a cherry or other finish wood board, but it's totally irreversible. Because your diploma is permanently encased, you can never change or update its look. Over time, the low-quality plastic and glue involved in the lamination process will deteriorate, turn cloudy, and eat away at your document. Plus, if a diploma has a gold seal or honors sticker, such as Cum Laude, lamination completely flattens the embossed wording on the seal so that you can no longer read the honors inscription! Why would you take a chance with one of the most valuable documents you'll ever own?
How to frame a diploma this way may seem easy and aesthetically pleasing, but it's not good for your precious degree in the long run.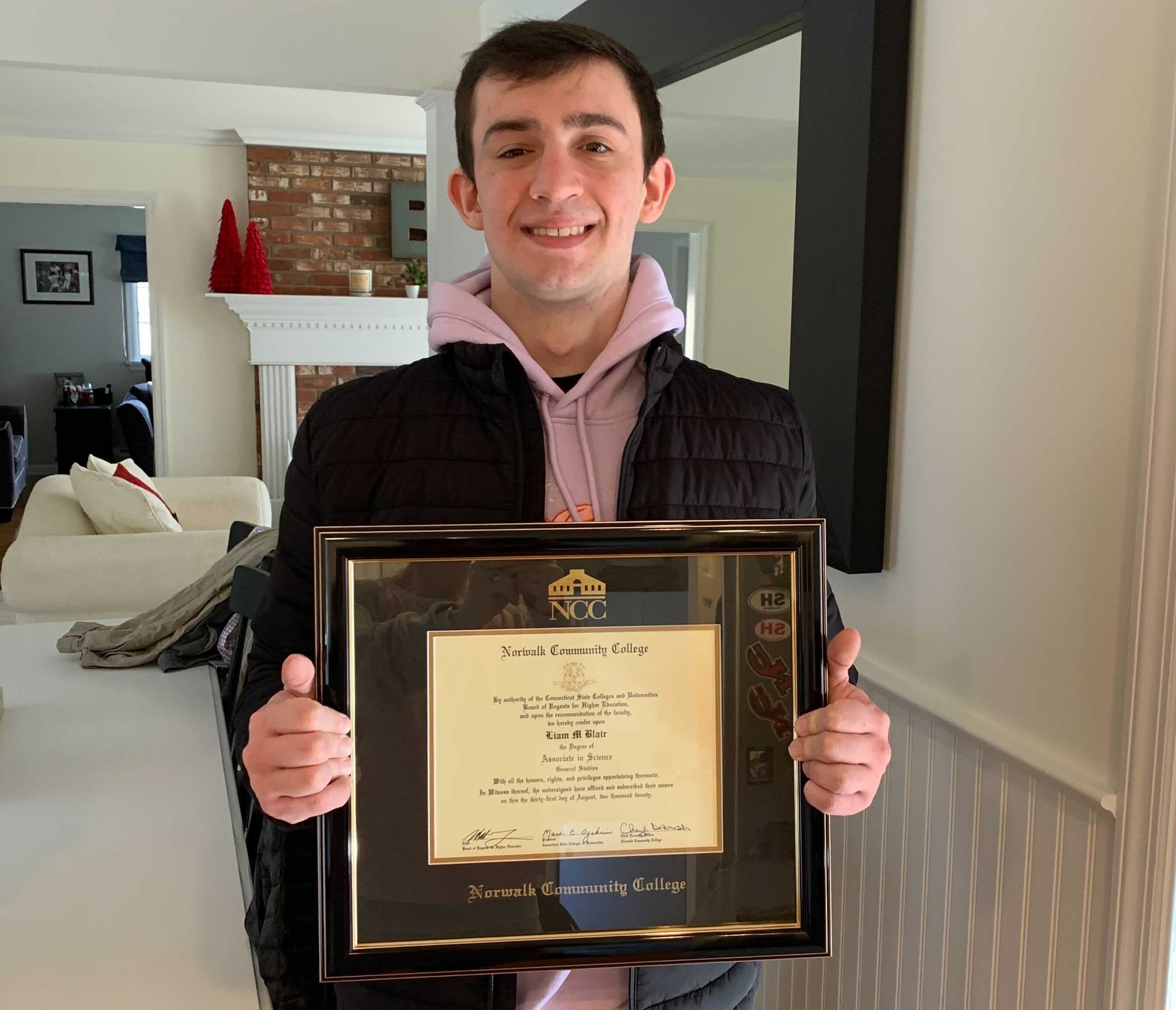 When it comes time to choose a diploma frame and actually framing your degree, these tips can help:
Your diploma should never be dry mounted, spray mounted, or otherwise permanently adhered to a board for framing.
As with any important document, it should be hung within a mat opening, either from the top with archival tape or hinged to a conservation-quality backing board using archival mounting corners. It is best for the document to have room to expand and contract with changing temperatures, and even a slight "wobble" in the document is preferable to permanently and irreversibly pressing it flat.
Your diploma should be custom-framed using a high-quality mat that both showcases the document and keeps it away from the glass.
You'll want to ensure that the matting and backing materials are not just buffered to be acid-free but are designed for conservation-quality document preservation. This will be indicated in the documentation for the frame or on the mat board samples and specification sheets. Depending on the size of your document, the mat should typically be 2.25″ to 3″ wide.
You'll want to choose an attractive frame that coordinates with your home or office environment. Why not splurge for something you really love, since you'll be looking at your diploma for many years to come? For a handcrafted frame that you can customize to your heart's content, check out the many styles and options that Church Hill Classics has to offer. You'll 100% love your frame, that's a guarantee you won't find elsewhere! Plus, with an amazing 120-day return policy, you can shop with confidence.
Choose a location for your diploma that is out of direct sunlight and make sure your custom frame is built with UV-protective glass.
If you're a soon-to-be college graduate, now is the time to start thinking about preserving your diploma to maximize its career-building value. Even if you graduated a few years ago, it's never too late to give your diploma the showcase that it deserves. For parents seeking the ideal graduation gift, a custom frame for your degree is a great idea, what better tribute to your child's many years of hard work and dedication?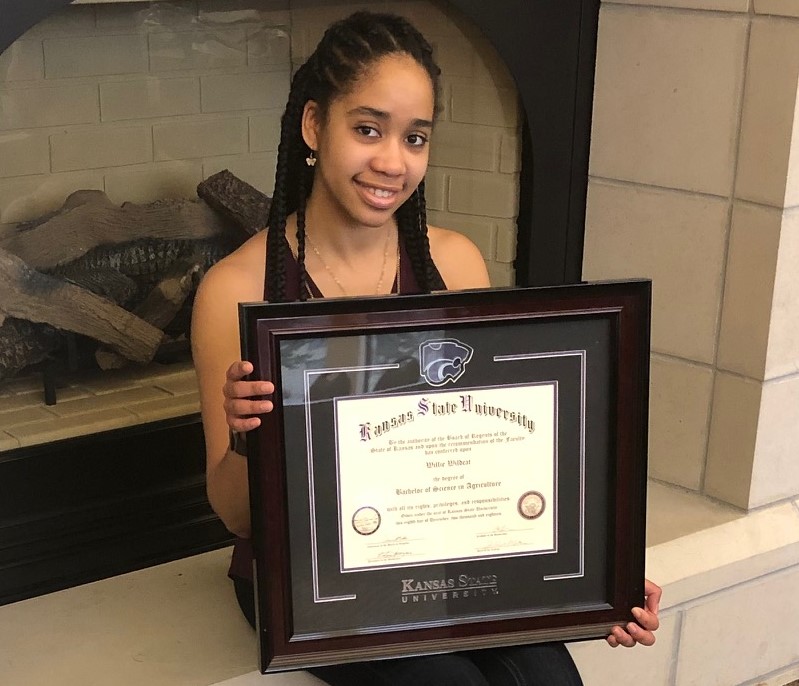 Our Custom Diploma Frames
Just what sets Church Hill Classics' diploma frames apart from the rest? We don't sell pre-assembled products, each frame is designed and built according to our customers' specifications by a team of skilled artisans and framing experts. Not only is a made-to-order frame the safest and best option for showcasing your diploma, it's really the only option when it comes to protecting, preserving, and displaying this truly priceless document you worked so hard to earn:
We can help you display your diploma, tassel, awards, professional certificates, photographs, artwork, and any other special documents you may have. Best of all, we have all of the user-friendly, online customization tools to design and coordinate frames to suit your personal style and decor. This way you can visualize every possible combination before you buy! If you need assistance, our customer service specialists are available Monday through Friday, from 8:30AM to 5:00PM, Eastern Standard Time, to answer any framing, shipping, or ordering questions you may have.
And the best part? How to frame a diploma from Church Hill Classics is a breeze! Our custom frames come with everything you need for easy and secure installation so you can frame your diploma in no time and showcase it for everyone to see. Never let the thought of how to frame a degree intimidate you again. What are you waiting for? Start framing today!