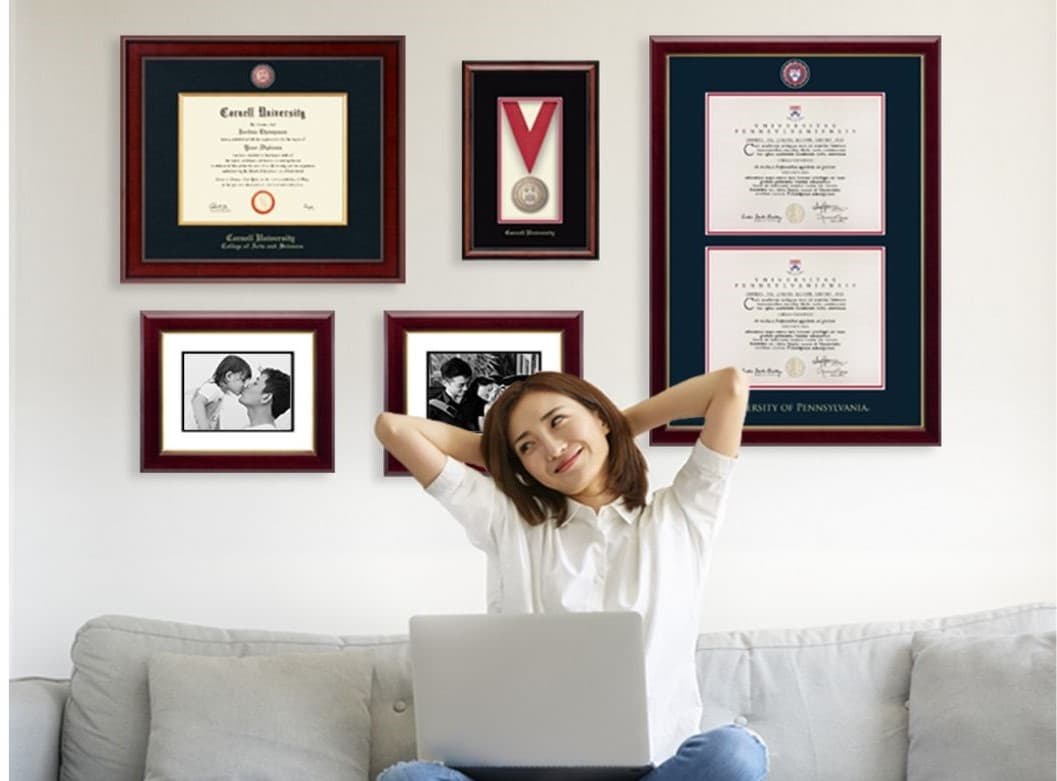 Earning several different diplomas is a very notable achievement. It speaks to your time management, problem solving, data analysis, and soft skill acquisitions. These credentials translate into valuable skills on your resume and cover letter. After all that hard work, you want to make sure they are each placed somewhere that gives your accomplishments the proper recognition. But most people aren't sure how to arrange multiple diplomas on a wall.
Completing degree programs is a significant source of pride, and hanging your diplomas on the wall can add purpose, wisdom, formality, and elegance to your home or office. Putting your professional skills on display instills trust and confidence in coworkers and employers. Here are three tips for how to arrange diplomas on your wall.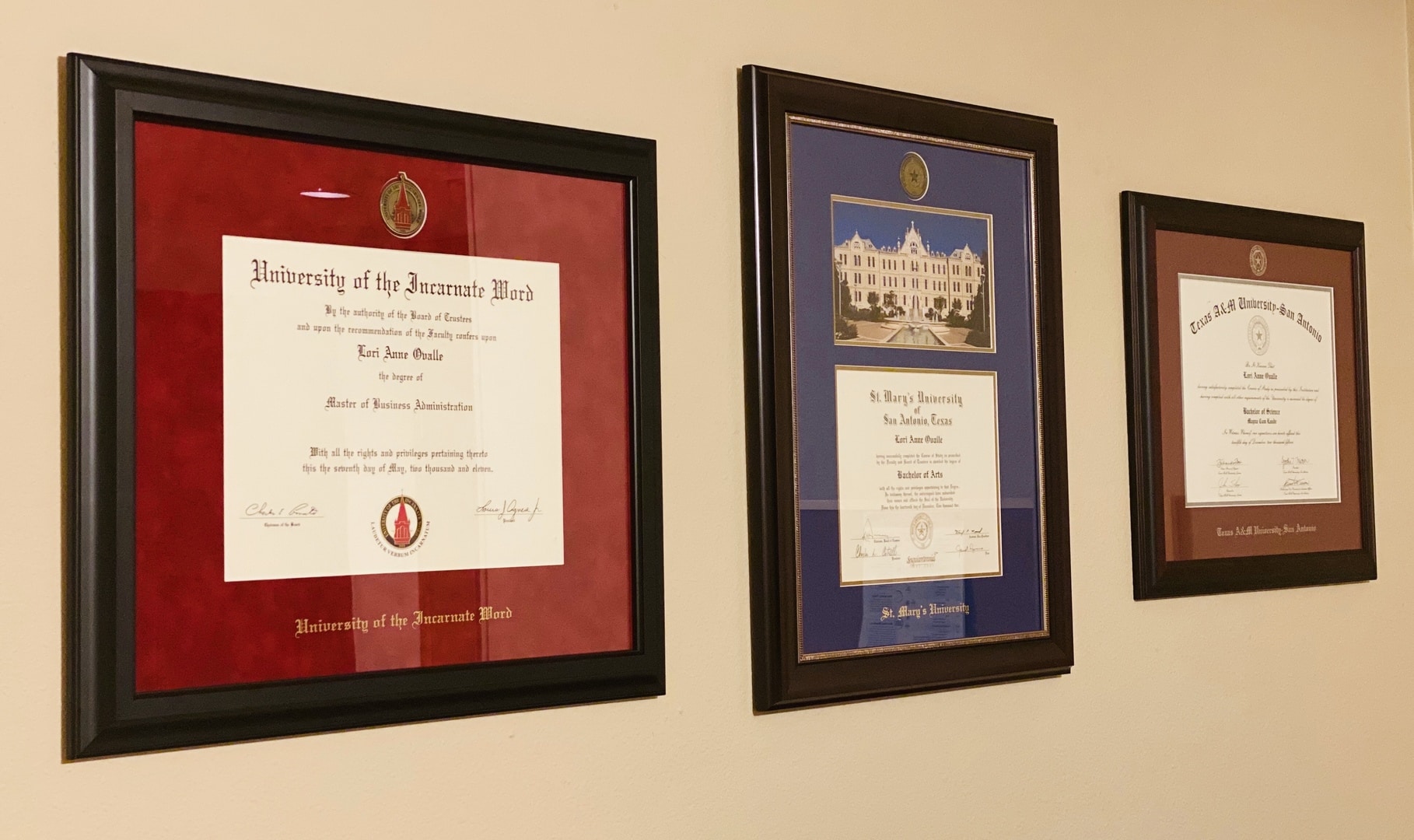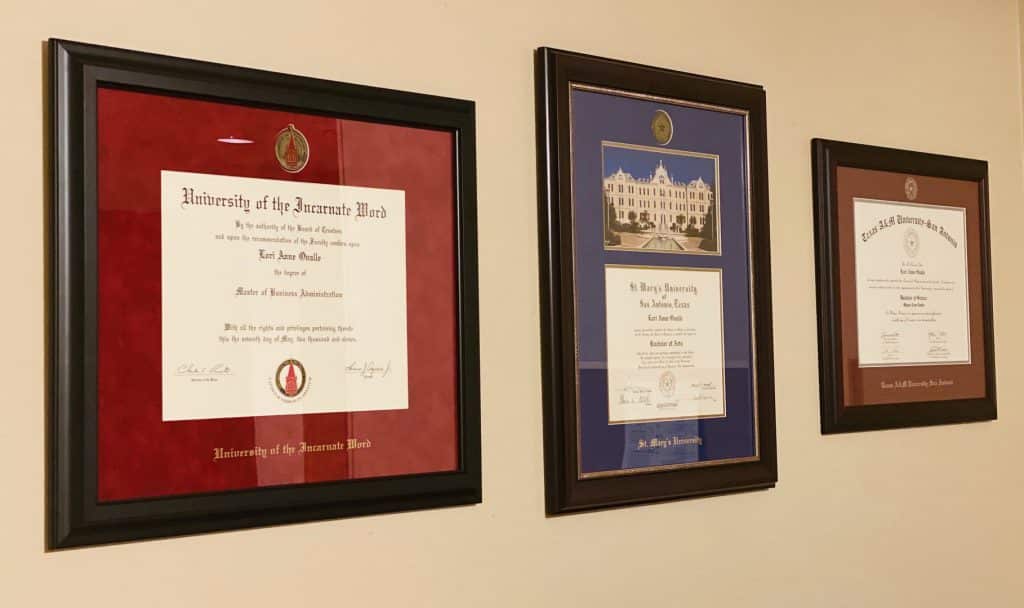 1. Displaying Diplomas Etiquette
If you're wondering how to hang multiple diplomas, it's crucial to hang them in order of college degree importance. For example, if you are working from top to bottom, a doctorate degree should be placed on top, followed by a master's, and then a bachelor's degree frame. Similarly, if you are hanging your diplomas horizontally, work left to right starting with your doctorate.
If you have four degrees, consider hanging them in a square, using the same top-to-bottom and left-to-right order. If you don't have space to hang all of them, choose the most significant one. This could be your Ph.D. or highest degree earned.
Then, if you have remaining space, hang your professional training and certificate frames. If you have other accreditations or membership certificates to professional associations, you should consider hanging those too. Additionally, if you have a state license or a state bar certificate, frame those as well. Although these are not degrees, they still reflect your professional development and capabilities and contribute positively to your home or office. Hang them all with pride right next to your college diploma frame collection.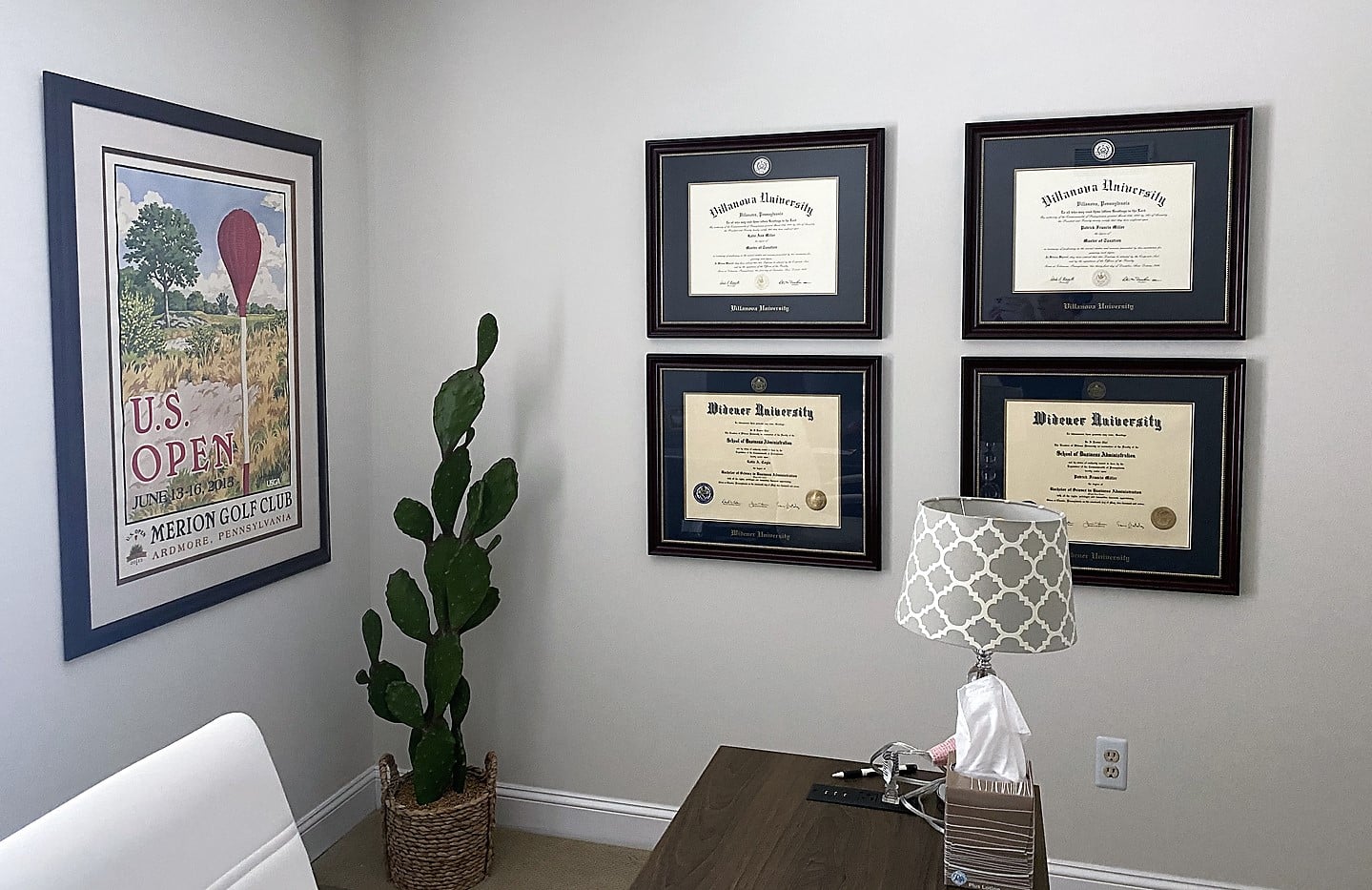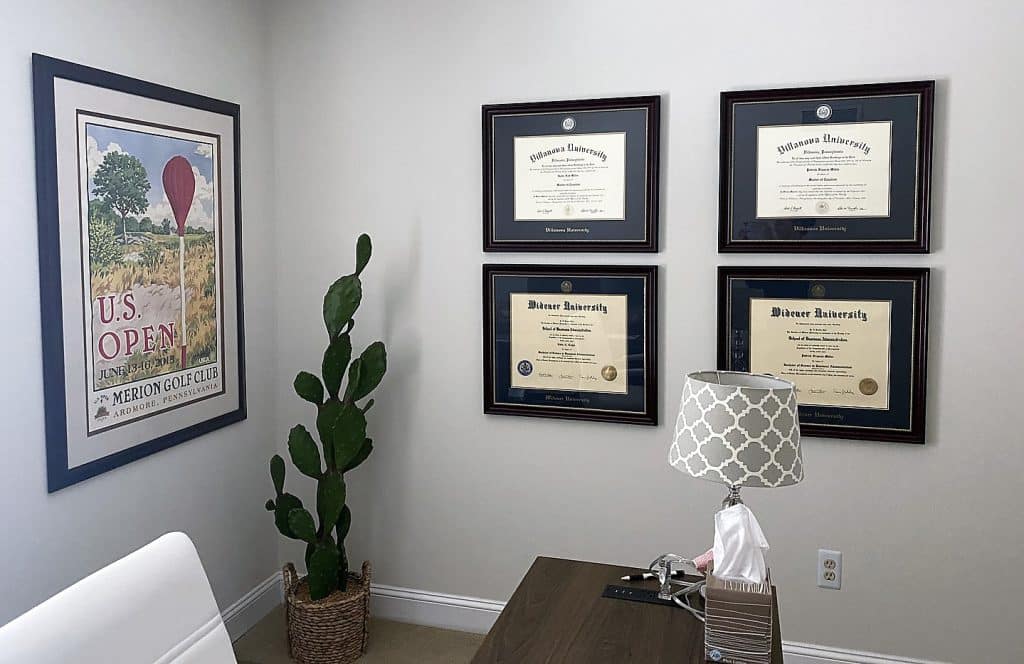 2. Select the Right Location
Next, you'll want to make sure you select the right location. You can test out different settings by holding your diplomas up at different areas in your home or office until you find the spot on the wall that you like best. Working with someone else to hold up your diplomas while you take a step back and look can make this process much easier.
Ideally, your diplomas would be in a highly visible area so that people can take note of your skill set easily. It's also important to choose a wall with little to no glare, so your guests will be able to take note of all the details in your custom diploma frames. Consider a place where you interact with customers or guests to hang your diplomas, like behind your desk. This way, everyone has a full view of your qualifications when they interact with you.
When interviewing via a video conference call, having your framed credentials on camera solidifies that the skills section on your resume matches up with their current job description. Having your technical skills and communication skills in a framed wall display may even give you the confidence to apply for a job listing you might otherwise not consider.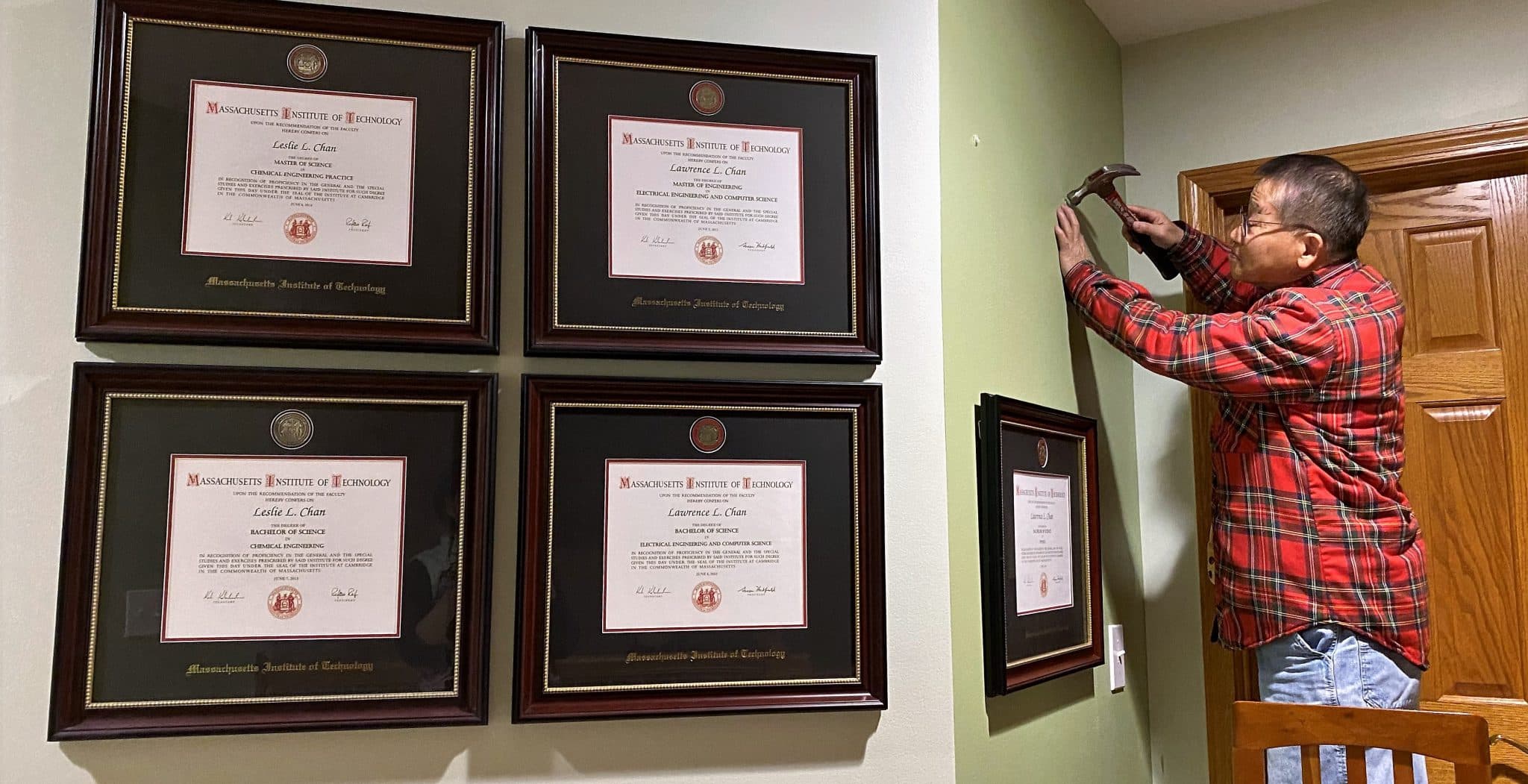 3. Use the Proper Tools
Finally, be sure to use the proper tools when hanging multiple diplomas. You've worked hard to earn each and every one, so you want to be sure that they are safe and secure. Attention to detail is key, because a crooked or smooshed diploma can seem less professional to hiring managers.
Keep in mind that not all diplomas are the same size or orientation. While most degrees are 8½ by 11 inches, some can be as big as 11 by 14 inches or longer, because each school determines the size and layout of their diploma. For example, typically Harvard degrees are horizontal, but their business school degrees are vertical.
Hanging kits can help you make sure you have all the tools you need. Church Hill Classics' diploma frames come with a hanging system called Level-Lock, which includes a small level that helps you get a perfectly straight frame and then locks it in place on your wall.
If you're using a leveler, rest it on the top of each diploma frame and make sure the small bubble in the middle comes to rest directly in the center. Make adjustments to each diploma so they are all level with each other. A level and straight diploma frame on your wall speaks volumes about your organizational skills.
Choosing the Right Diploma Frames
When it comes to hanging multiple diplomas, choosing the right diploma frame for each is essential. Each diploma represents one of your biggest accomplishments, and it deserves an archival-quality frame with tailor-made dimensions.
Choose the style, size, molding and trim to create the perfect frame that commemorates the milestone you worked so hard to achieve. Explore your options and aim for consistency with each diploma, whether you select classic or elegant frames to sporty or modern diploma displays. Plus, you can distinguish each one with thousands of officially licensed custom college diploma frames in all sizes. Start framing your diploma today!