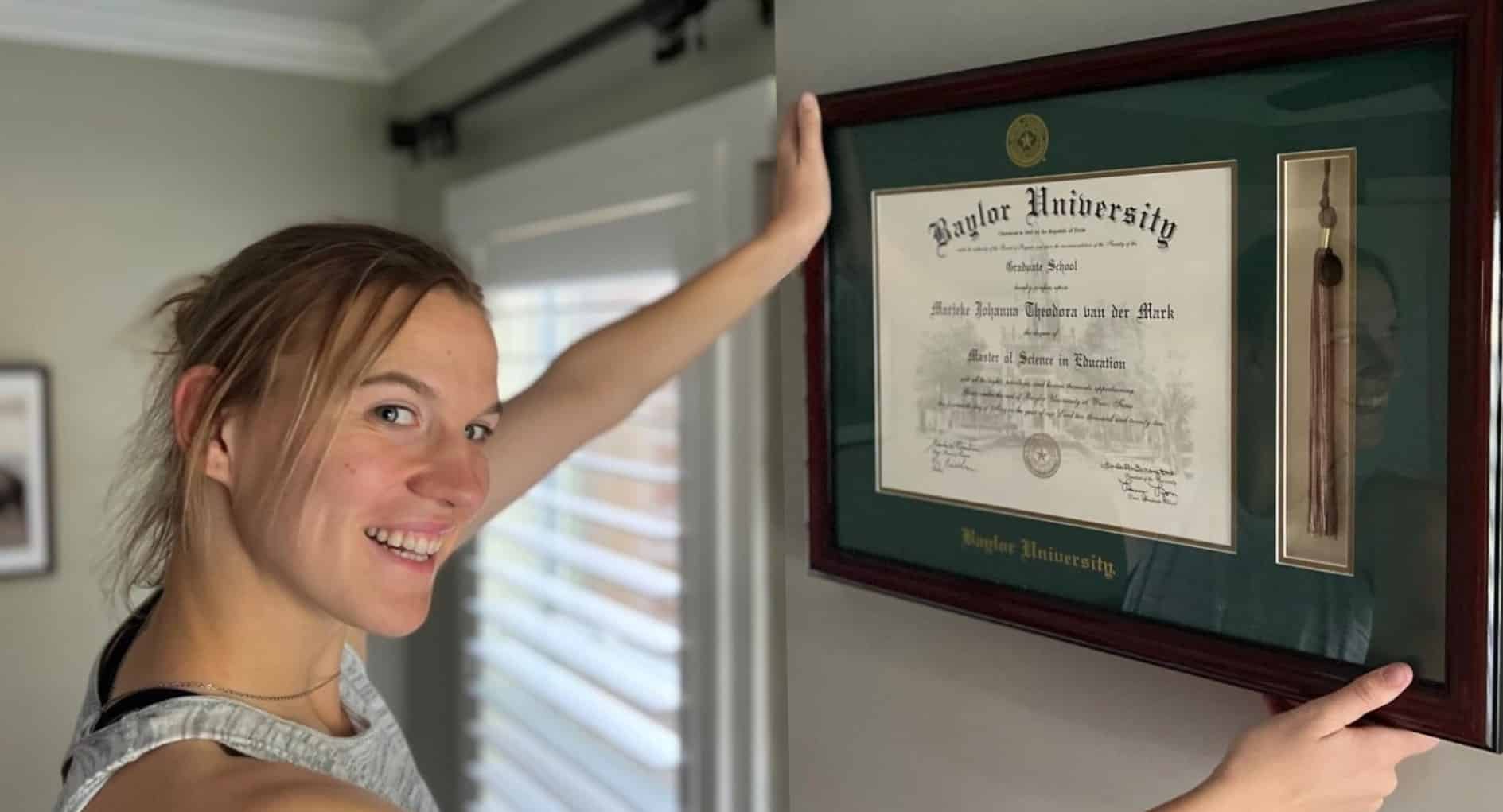 Graduating from college is a huge achievement that took years of hard work and dedication. Finally, you've made it through the tough classes and long nights and you're opening new doors for great career opportunities. Your diploma means a lot to you and your family, so it's important you show it off properly! But where to hang diplomas can be tricky.
From traditional to modern, there are many frames you can pick from. When it comes to displaying one of your biggest achievements for everyone to see, not just any diploma frame will do. Select archival-quality college diploma frames that will protect and preserve your hard-earned accomplishments for years to come.
There are many places you can hang your diploma, from your office space to your family room. To help you get started, here are six ideas for where to hang diplomas in your home.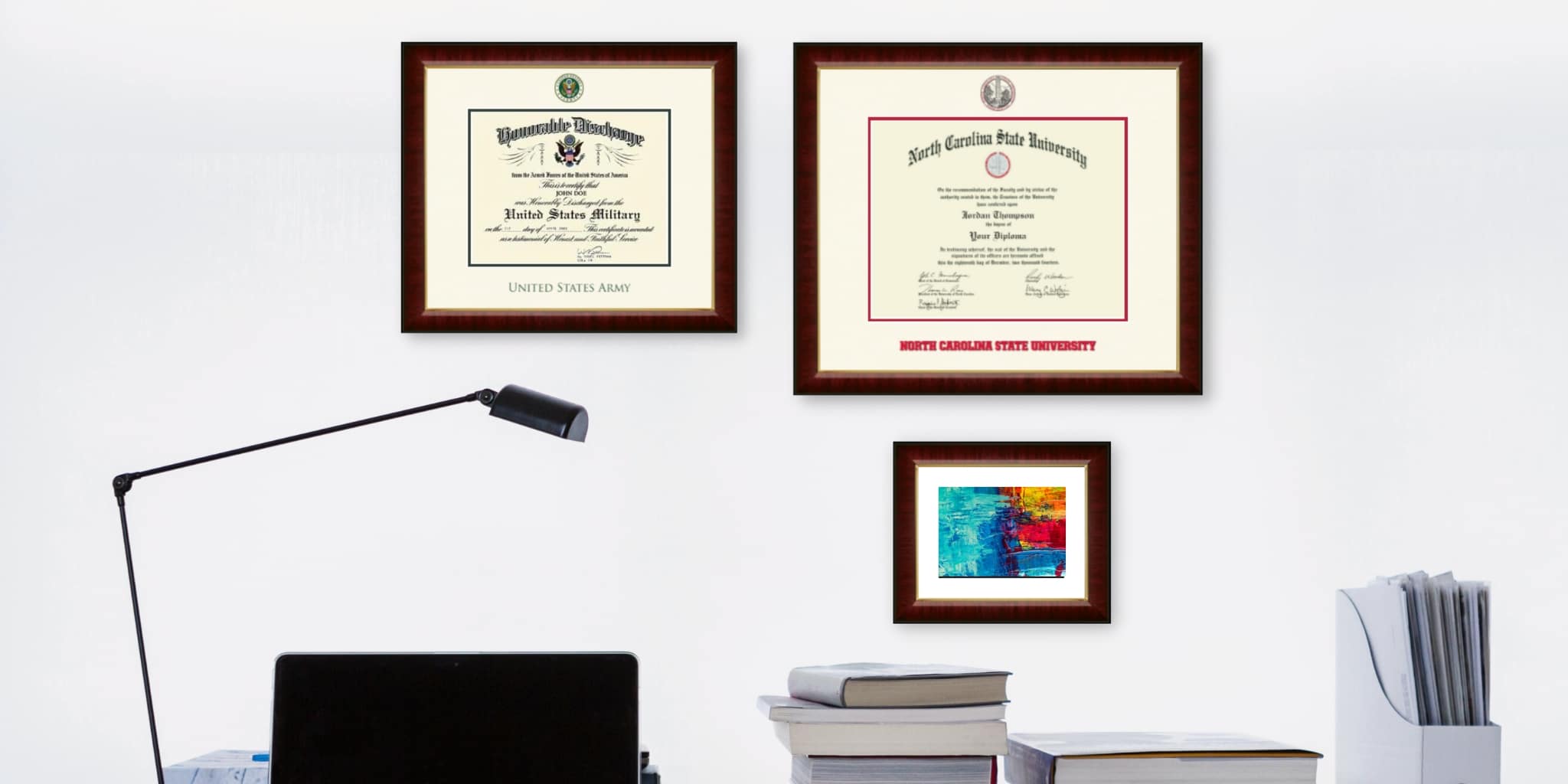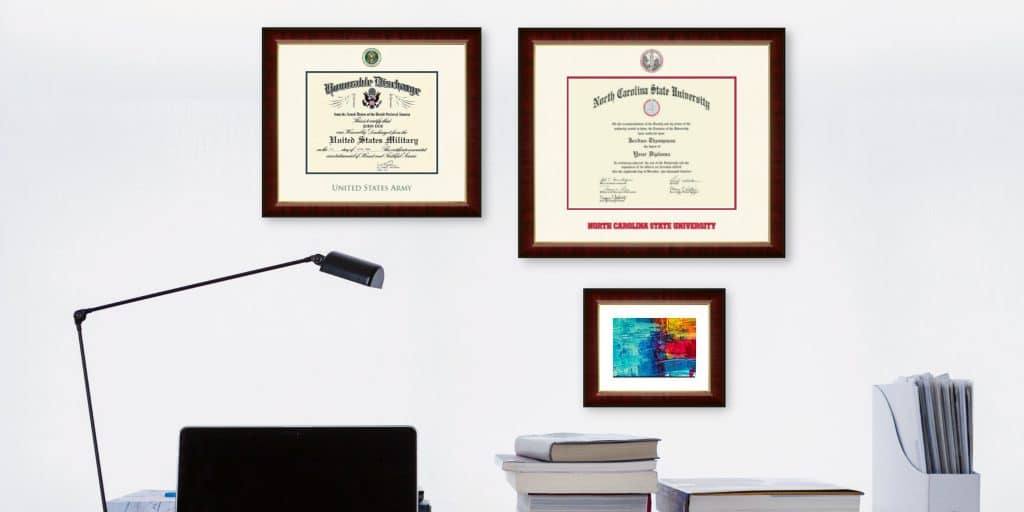 1.) Your Office
The office is probably the most popular place to display your diploma. It's a perfect place to add a frame. Hanging your diploma over your desk can help you make a big statement and bring purpose to your everyday work. Try to hang your diploma away from your computer monitor or other large item that could get in the way—you want your hard work to stand out!
More people are working remotely from their home office. Adding your diploma to this space lets your personality shine while creating a productive work environment. For example, if you're shopping for a modern-looking NCSU diploma frame, add a piece of contemporary art alongside it. Mix and match the display with a professional license, company award, certificates from other degree programs, or even a US military frame.
Question: "Where should I hang my diploma in my office?"
Answer: You can choose a location by the entrance or somewhere that all your clients, patients, or customers can see. This is especially important for doctors and physicians who need to hang medical diploma frames in their offices. Putting your credentials on display for clients creates instant confidence in your qualifications. Along with degrees, include a framed Hippocratic Oath and personalize with an engraved gold nameplate.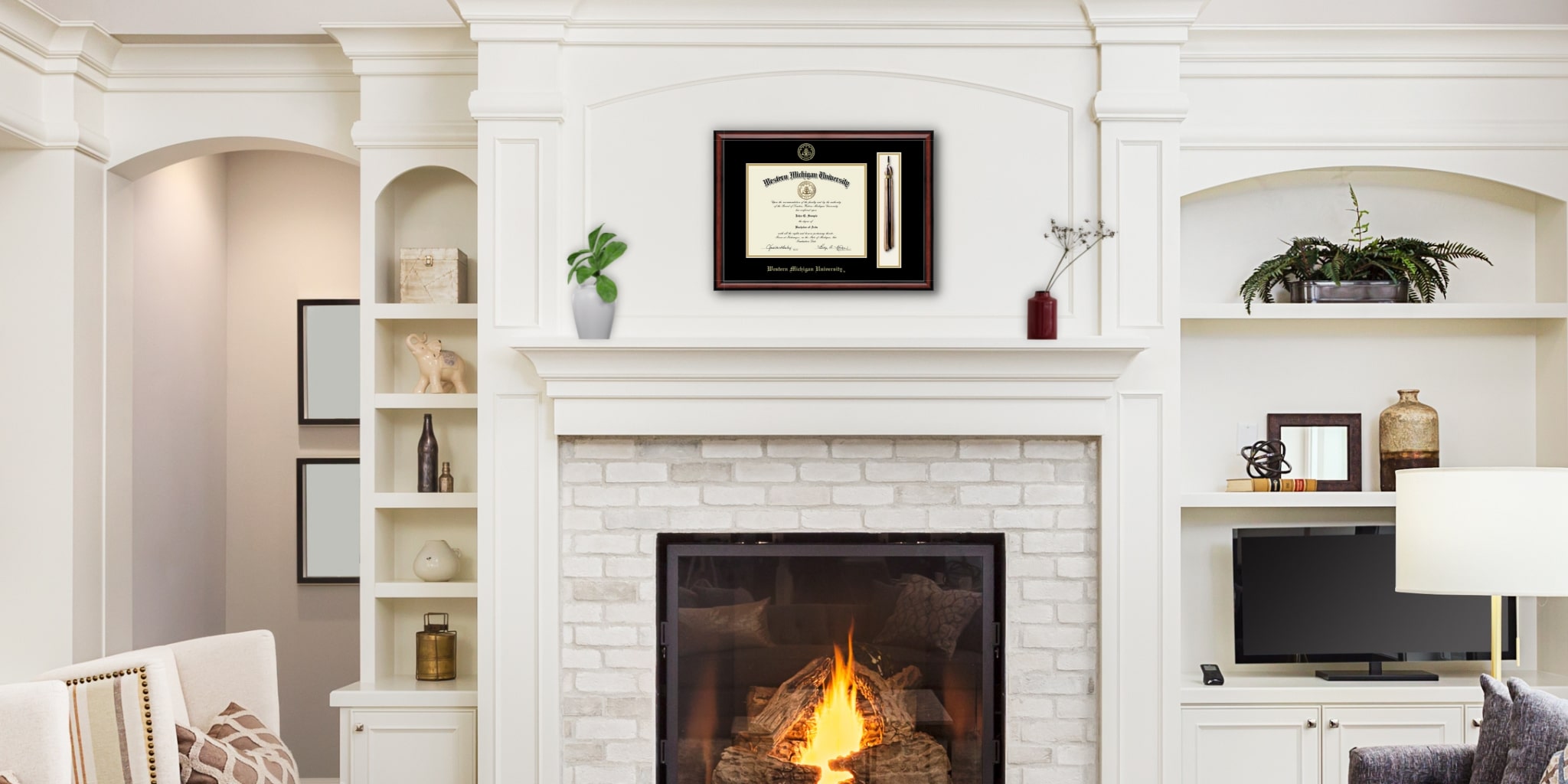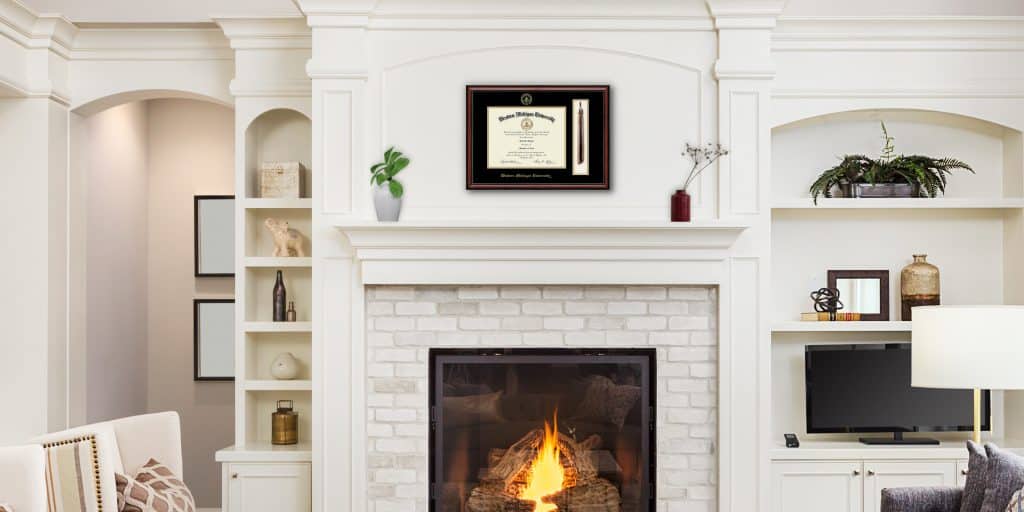 2.) Your Living Room
Another idea for where to hang your diploma in your home is your living room. Frame displays in your living room can serve as the perfect centerpiece. Consider hanging your diploma over the fireplace or couch, or anywhere on the way that you need to fill the space.
Your living room is an area where you share experiences with family and friends, and your diploma will add a treasured memory to the space. It can help the room feel more cozy and personal, and reflect your style. Plus, it'll serve as a nice reminder of how hard you worked to get here. When choosing a frame, be mindful of selecting a frame moulding that will complement wooden furniture in your formal living room like your coffee table and shelves.
Question: "When it comes to formal living room ideas for walls, which frames are best?"
Answer: For elegant and formal settings, you can't go wrong with a Presidential Masterpiece diploma frame. No matter the color scheme of your decor, the frame's rich suede matting, ornate gold or silver inner accents, and handpainted school medallion will dazzle.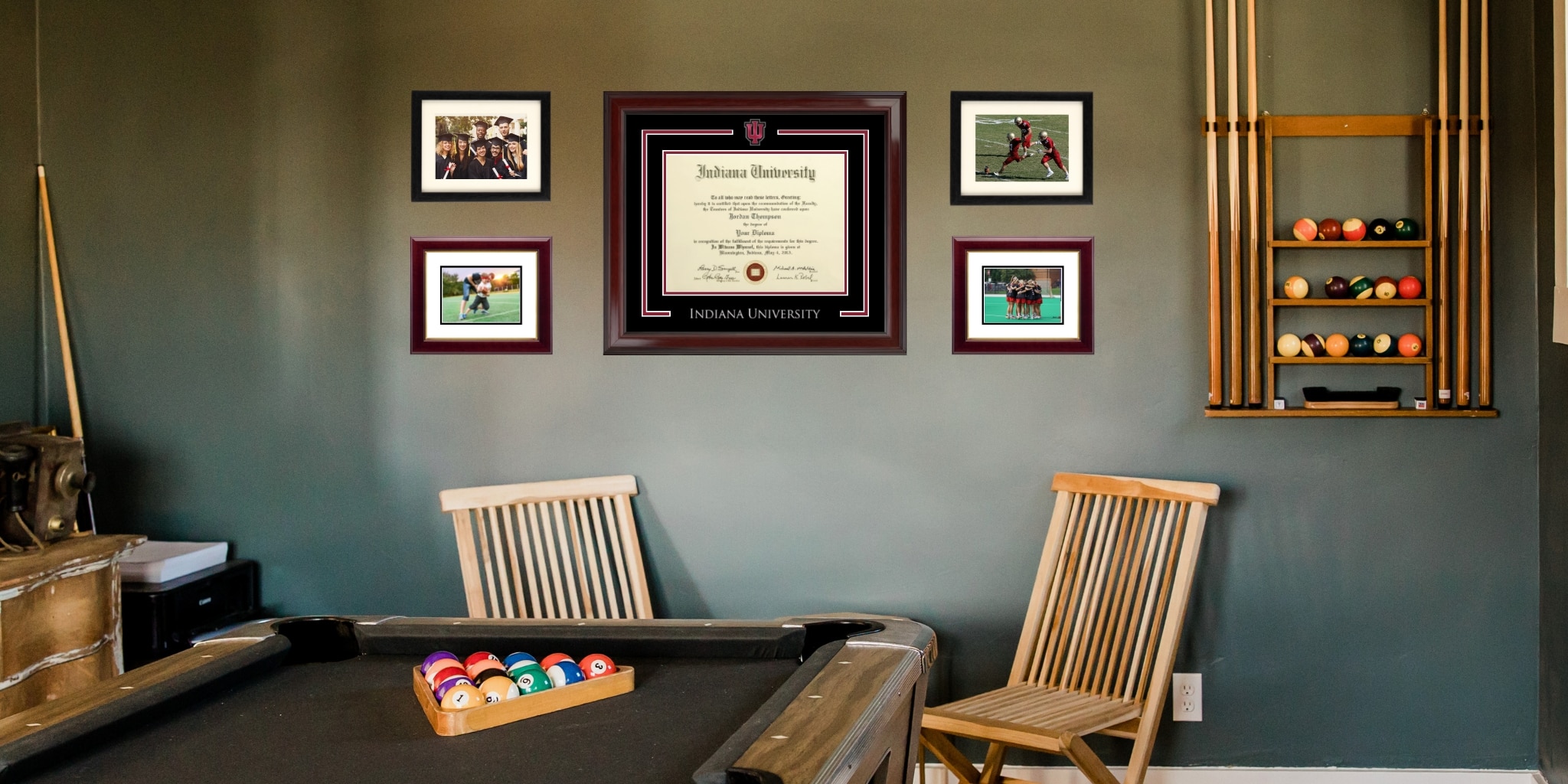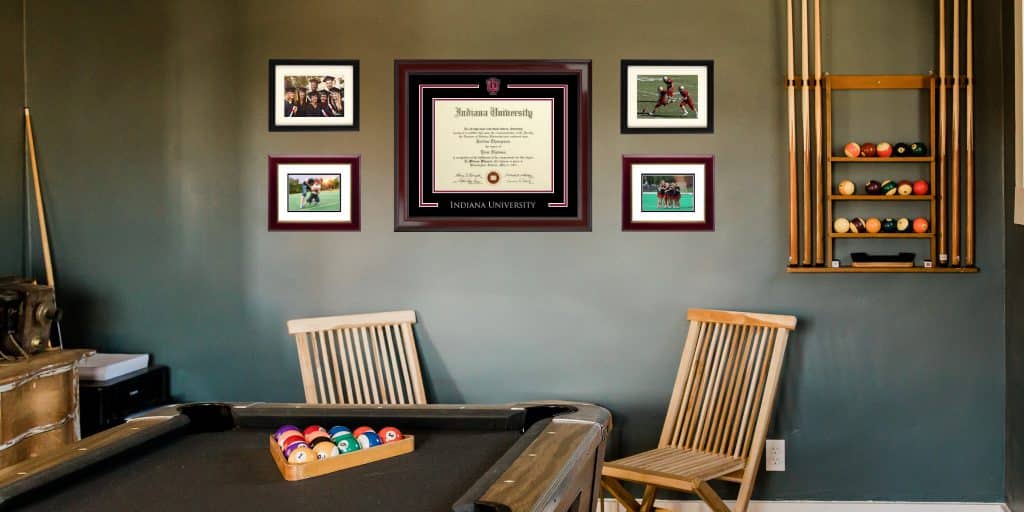 3.) A Photo Wall
A photo wall is a great place to showcase personal frames and accent pieces. Why not hang your diploma alongside favorite photographs? A photo wall can be displayed in your family room, game room, or wherever you like to gather with friends and family.
If you're a Hoosiers fan, you'll love our Indiana University diploma frame featuring an officially licensed IU Spirit Medallion and black and crimson mats with sporty bevel-cut borders. Design companion photo frames in mouldings to match your degree frame for a winning look!
One of the most popular diploma wall display ideas is a college memory collection. Consider a mix of treasured memories: college team photos, candids from a wedding, vacation shots, family portraits, and any images that bring a smile to your face. Whether or not these photos are connected to your college degree, it is a collection of memories that have significance to you, which is the most important part.
Question: "How do I present my diploma alongside a photo?"
Answer: A double document frame is a beautiful way to show off your college education alongside a color or black-and-white photo. These large wall accents look equally impressive above a pool table or in a formal living space.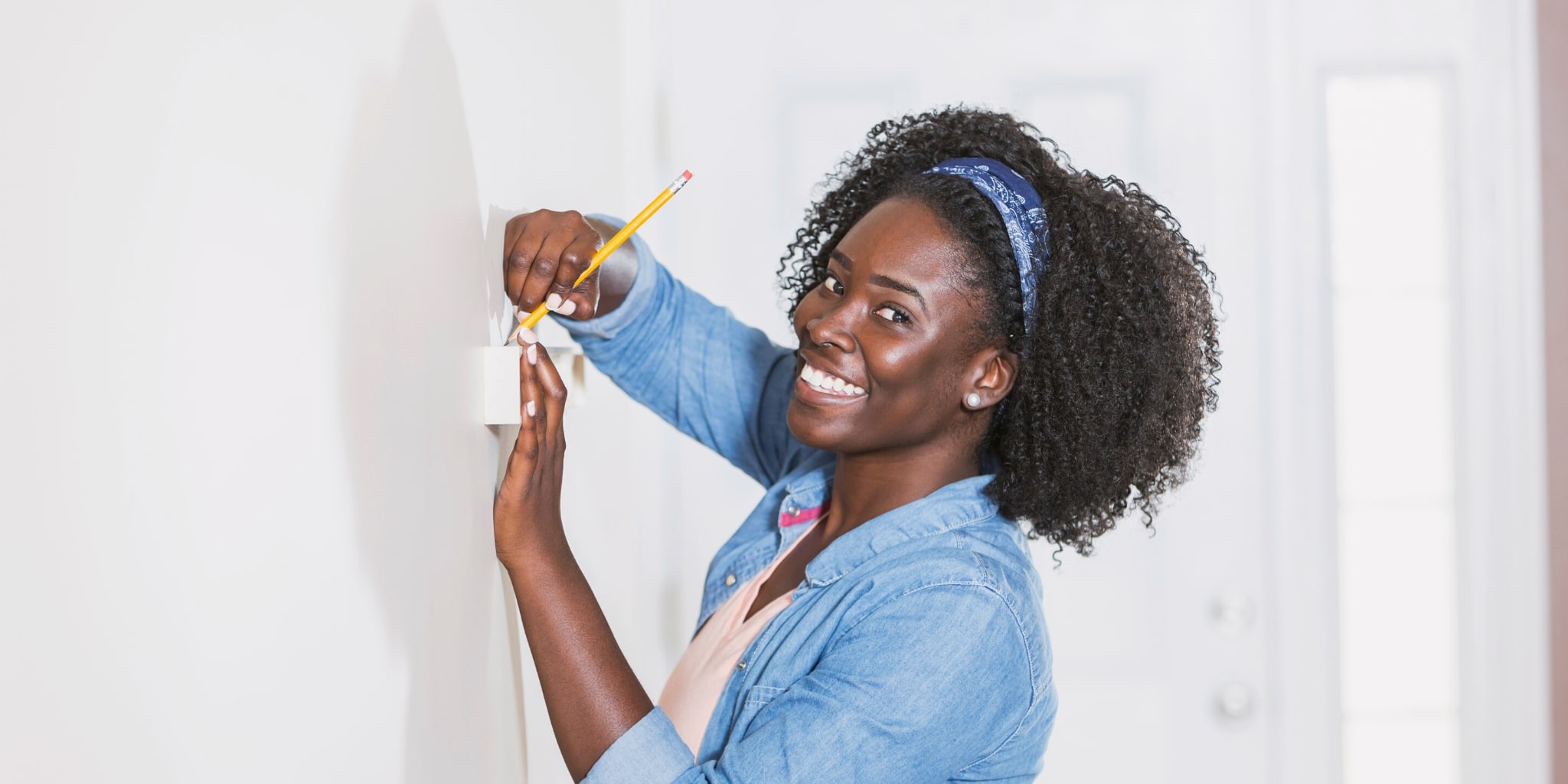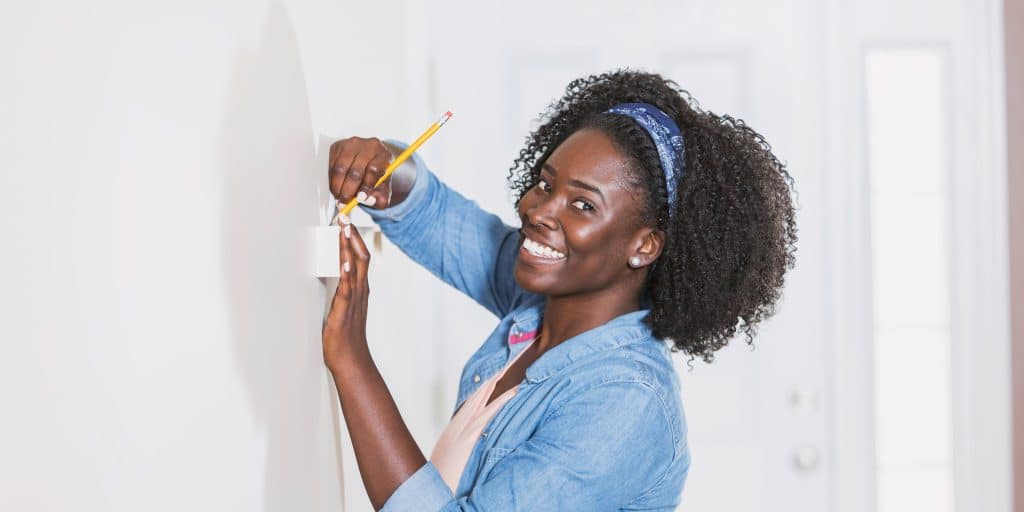 4.) Your Main Hallway
Not sure how to frame your diploma or where? Empty walls in entryways and hallways can often be overlooked, but they are an excellent place to make a great first impression. College diploma frames along hallways can create a welcoming environment for all of your guests that pass through. You can also set the tone for your interior design and decorating style by placing a high-quality frame here.
Question: "How high should I hang my diploma?"
Answer: Be sure to hang your diploma at the right height to get the most benefits out of transforming your space. Keeping your diploma frame at eye level makes it effortless for all who pass by to view your achievement. This placement will ensure they don't have to crane their necks and look up or down to find it on the wall. As a helpful tip, hang pictures around 60 inches from the floor in the rooms that get a lot of foot traffic.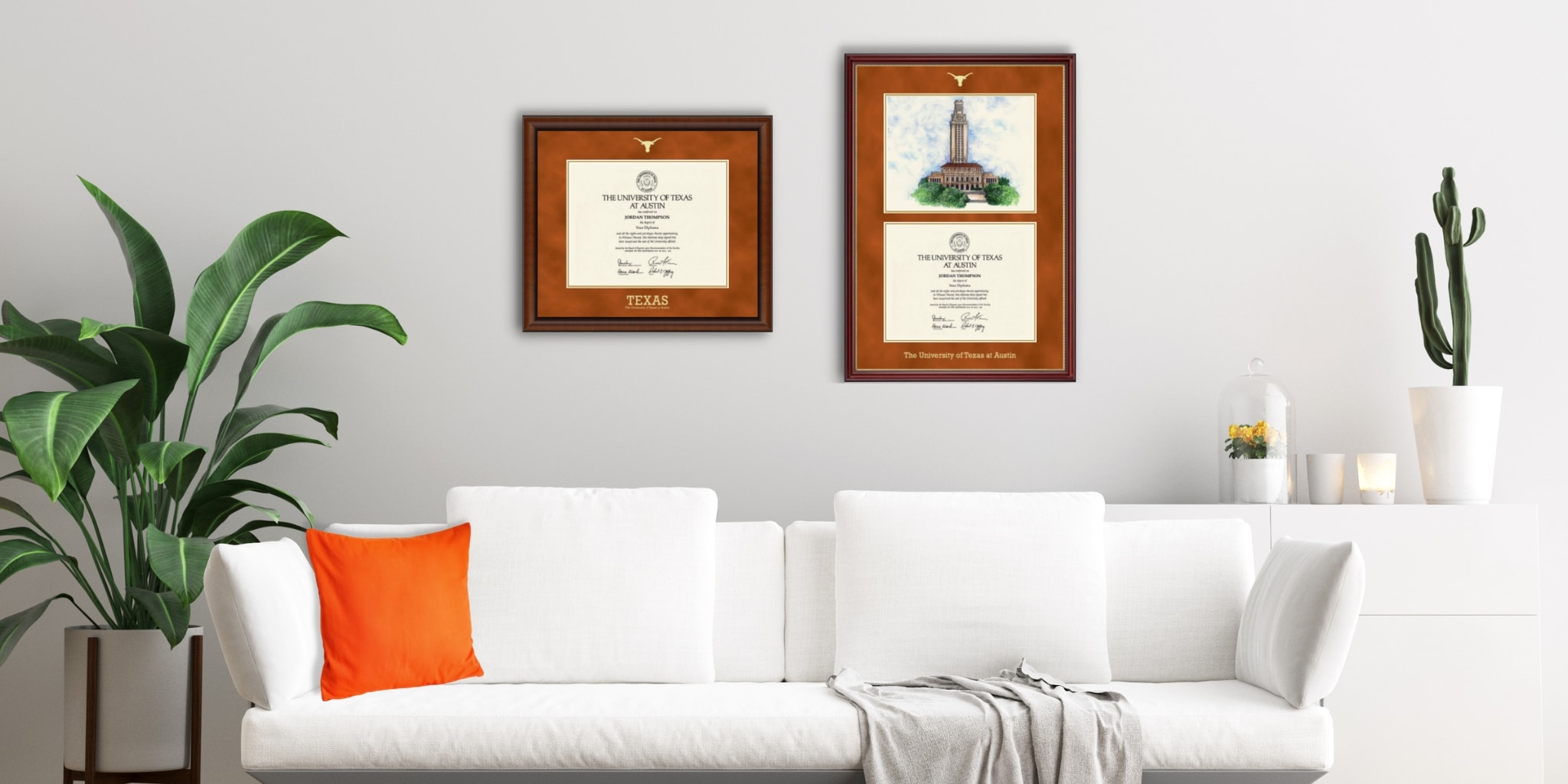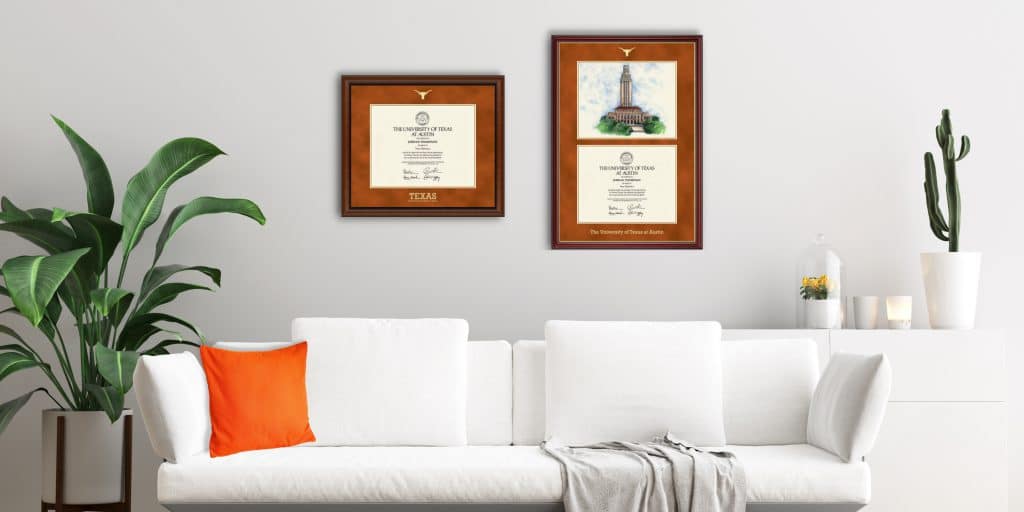 5.) Above Furniture
Another idea to hang your diploma is above furniture in any room. Custom frames featuring vibrant suede mats, like our UT Austin diploma frame, can add exciting and colorful counterpoints to the decor. Sit in a chair nearby and get someone to hold the diploma frame in place on the wall to get a feel for where the best spot is.
In living room and family room areas, diplomas on the wall above a couch are ideal. However, make sure your graduate degree is not competing with a large flat-screen television or other large electronics. You'll also want to choose an acid-free mat board color that won't compete with or clash with furniture fabrics.
Question: "How do you hang diplomas on the wall above furniture?"
Answer: In rooms where you tend to sit down, you'll have a lower viewing angle, so it's best to try to hang your diploma about a foot above the piece of furniture. It's best to center in the middle of the wall instead of centering above a couch or side tables. That way, it's still centered even if you move or change furniture.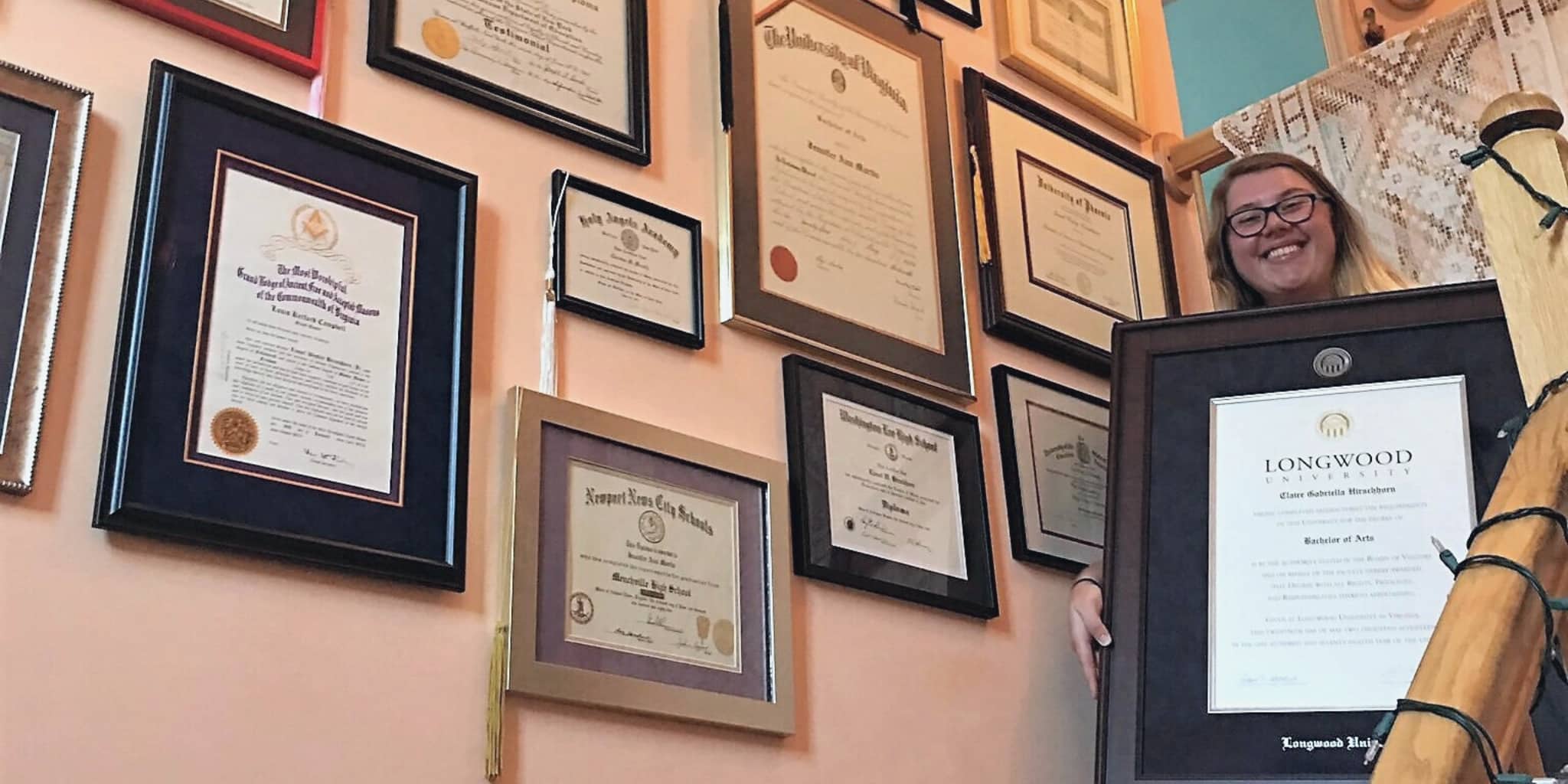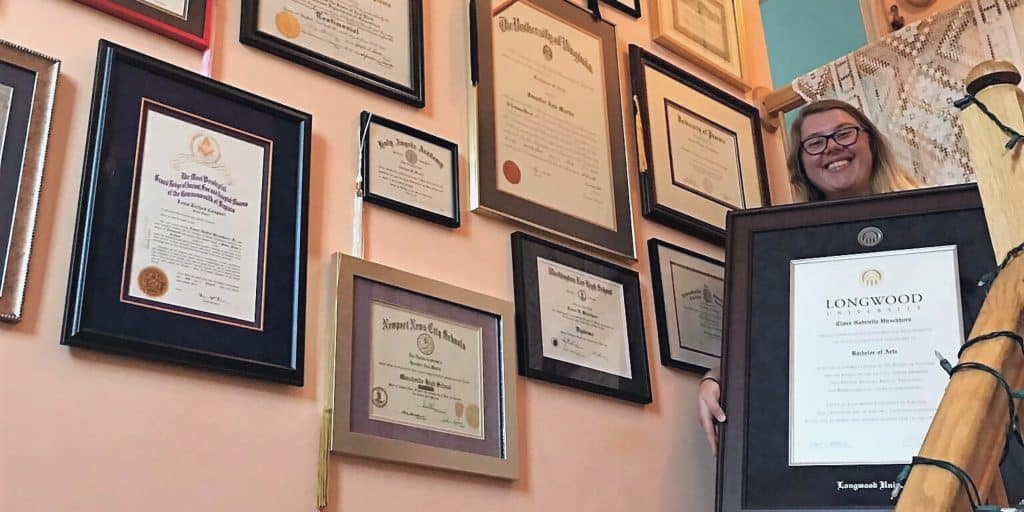 6.) Along a Staircase Wall
Lastly, consider hanging your diploma along a staircase wall in your home. The stairway is the perfect place for hanging a college diploma frame because it's a plain wall that's typically overlooked in terms of decoration space. This location is also perfect for personal photo frames, your favorite artwork, or other decorative elements. It's also ideal for families with many higher education certificates.
As mentioned above, it's best to hang the diploma frame about 60 inches from the floor, since the staircase is a place where you tend to stand. This may seem more complicated than other walls in your home. Many people find it helpful to make a small mark on the wall at the midpoint of the handrail at the desired height. By doing this, you can easily create a cohesive look for your staircase wall.
Question: "Which diploma goes on top, and how do i display my high school diploma?"
Answer: As a general rule for diploma display ideas, the highest degree earned should appear at the top. Therefore, your high school diploma (or middle school diploma) should appear at the bottom. For left-to-right diploma hanging ideas, the highest degree earned should be on the left.
Start Framing Your Diploma Today!
If you've put in the credit hours for your bachelor degree program or a competitive graduate program, be sure you display your work. Our custom frames are built with archival-quality matting and mounting board materials, so your business administration MBA, for example, won't fade over time. Best of all, we carry frames embossed with your graduate school or school-specific major, so you showcase your master of business administration with your actual business school name in ornate foil embossing.
Explore officially licensed university diploma frames handcrafted in the USA to find the style that fits you in just three simple steps. First, search for your school or institution. We carry frames for thousands of institutions in every college diploma size, including Yale diploma frames. Next, pick your favorite style, from elegant and stately to shabby chic or modern diploma displays.
The last step is the most fun—customize your design! Create personalized graduation frames with our online custom framing tools.