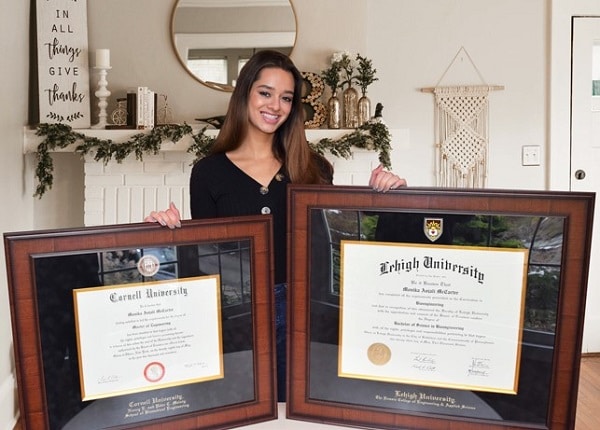 First things first, congratulations on the successful completion of your degree! Regardless of whether you're graduating this spring or perhaps just received your degree this winter, you're preparing to frame your diploma, which has taken you time and effort to complete. You'll soon find that there are several factors worth considering such as the style, color, framing materials, and size.
Finding just the right diploma frame can present quite a challenge, whether you're shopping for yourself or looking for a gift for the proud graduate in your life. Although there was a time when many schools had diplomas and certificates printed on stock-size vellum, those days are long gone.
Today, diplomas are printed on different types of paper, in different colors, and yes, even in different sizes. Then you must also consider the difference between a college diploma size and a master's degree diploma size. So, the long and the short of it is there really is no simple answer when it comes to a "standard" diploma size.
However, you may be asking: What size diploma frame do I need? We already know the answer!
Local Hobby Shops Aren't the Answer
Unless you're prepared to measure the diploma with painstaking precision, there isn't really much to be accomplished by going to your local hobby or craft store. Yes, some of them do custom framing, but the amount of effort involved can be more taxing than you imagine. While you could drop off your diploma to be measured by their workers, do you really want to leave something so valuable at a craft store? And what are the chances that a craft store has a certified picture framer on staff? Not very likely. After the thousands of dollars and years of hard work you put into getting that education, you want to guard and protect that degree for all it's worth. That's why you are going the extra mile to find just the right college diploma frame size.
Standard Diploma Frame Sizes
As we said, there's, unfortunately, no universal diploma size and therefore there's no one-size-fits-all frame size for a college diploma. However, there are some average diploma sizes depending on your degree type.
You can choose a size that works best for you, depending on your personal preferences. Or you can opt for a standard size that correlates to the type of your degree. For your quick reference, here are some standard sizes based on the diploma type:
Doctoral degrees (except MD): 11″ x 14″
Medical School (MD): 15 3/4″ x 22″
Bachelor's and other types of diplomas: 8 1/2″ x 11″
Additionally, some colleges and universities have their own sizes. So check out our College and University Frames page to find your school's licensed frame collection. We have thousands to choose from to make sure you can find your perfect fit!
Sizing a Frame the Easy Way
There are many things to consider when selecting the perfect degree frame. The first thing to bear in mind is that you don't need to have a frame the exact size of the diploma. You can opt for various size graduation frames with stylish, archival-quality single or double mats surrounding the degree in complementary colors.
Of course, what concerns you is the actual size of the diploma and that's where we, Church Hill Classics, make life easy for you. We know the exact diploma dimensions for thousands of universities and academic institutions across the nation. You name the school, we know exactly what size diploma frame you'll need. This takes the guesswork out of gifting or finding the diploma frame size you need.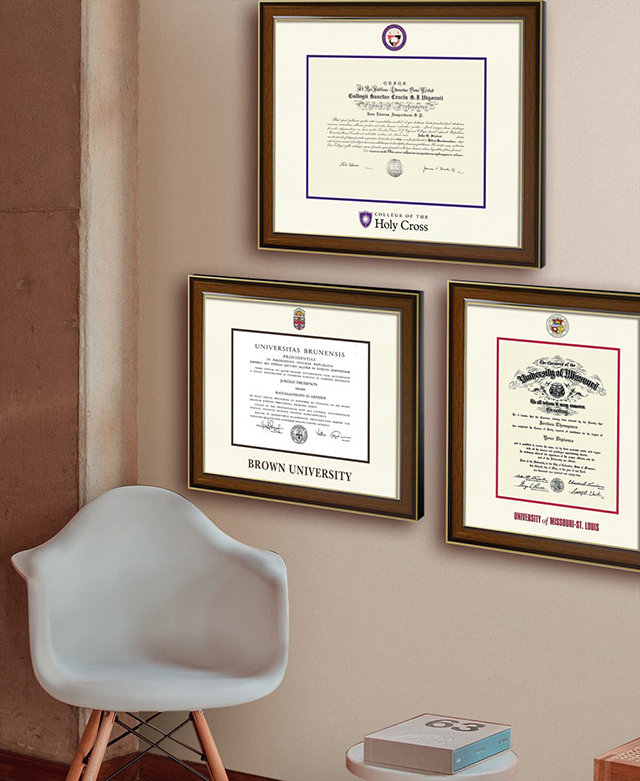 Custom Frames by University
Church Hill Frames has a user-friendly search engine to help you quickly find your school's diploma frames or certificate frames. Our licensed frames feature exclusive college insignias like mascots, logos, and school seals. It's amazing what a difference a custom frame can make when it offers official emblems to highlight the pride you take in your university, something you can't find at your local hobby shop!
Whether you're looking for a double diploma frame, graduation frame with tassel box, or a modern diploma frame, we have an assortment of carefully handcrafted degree frames to choose from for each school. And, if you have different-sized degrees you want to display, you can easily coordinate frame styles from different schools for a unified look. Whether it's an associate's, bachelor's, master's or even a Doctoral degree, we can help you display your accomplishments to perfection.
Design Your Frame Online
Nothing is in stock, every frame is made-to-order, which means we don't start building your frame until your order is placed. This is why we're able to offer customization options to make your frame uniquely your own.
Our online custom framing tools let you mix and match moulding styles and mat colors and textures and visualize the final product before you buy. Each and every frame is created by our team of highly skilled artisans, and each frame is a labor of love. You design it; we'll handcraft it, no matter what college diploma frame size you require.
A custom diploma frame is the perfect personal yet practical gift that your graduate will cherish (and use) for years to come.

We Make It Easy for You
The reason there's no need to measure the actual certificate is that we've built a database containing the diploma dimensions for thousands of colleges and universities. The only thing we do require is the year in which your degree or diploma was issued.
As with all things, over time, changes may have been made. Some schools change everything from their university logo to the colors used in printing and even the size of their college diploma frame. For this reason, it's the only information we require. Once you've customized the frame to your liking and submitted your graduation year, our artisans can do the rest.
Your Diploma Is Priceless
Because there's no need to measure your degree at home or send your degree in the mail, regardless of the college diploma frame size that you need, safety is never in question!
We understand the value of that original document, it's something we take very seriously at Church Hill Classics. And that's why, unlike other places, we would never ask you to send something as precious as your hard-earned diploma in the mail.
What if you lost your diploma? Its ultimate protection and longevity is our #1 concern. And that's why we only use archival-quality matting and mounting materials for all of our diploma frames, photo frames, and certificate frames. We adhere to the stringent Library of Congress standards for document preservation.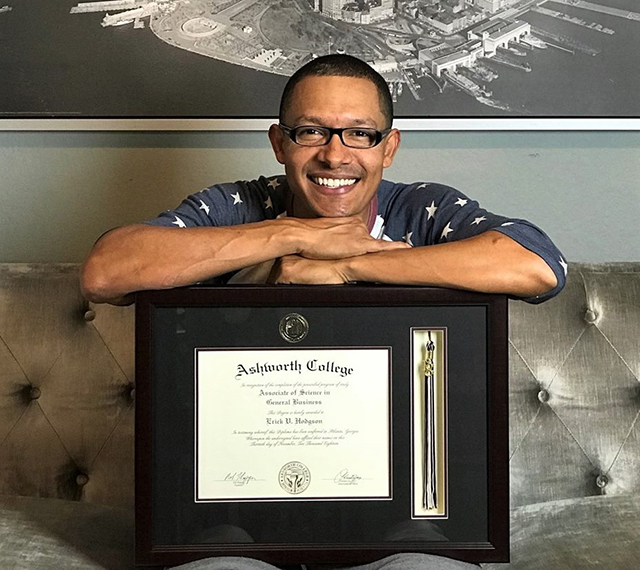 Is Customizing a Frame Really That Easy?
Actually, there are several ways to go about finding the right college diploma frame size or style for your document. One way is to browse our wide selection of diploma frames for your specific university and order a favorite.
way is to select a featured school frame and then modify the colors and style to your liking with our easy-to-use customization tools. But did you know there's also a third option?
Perhaps you'd prefer customizing a graduation frame that doesn't bear the school name or logo. If that's the case, check out our Create-A-Frame page, which allows you to select a single certificate frame, double diploma frame, diploma frame with tassel holder, or even a diploma picture frame and choose your wood moulding, mat colors, and embossing options. It's amazing all the combinations you can choose between with just a few clicks of the mouse.
And if you gift a grad an eGift Card, they can take advantage of all three customization options as well. This is one of the best ways to give them the ability to create their own custom frame that matches their personal style and decor.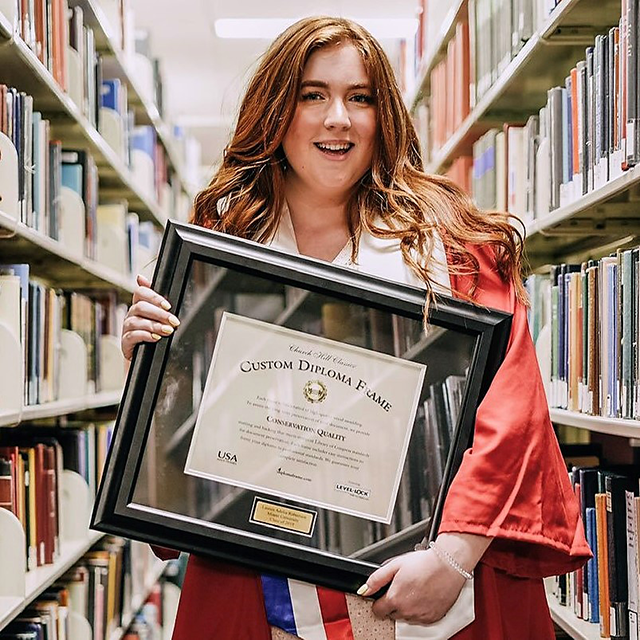 Engraved Nameplates Add a Nice Finishing Touch
One of the custom Create-A-Frame features we offer is the inclusion of an engraved nameplate, if you so desire. These add a classy finishing touch to any frame, and many who have received upper-level degrees like to have this feature. Engraved nameplates are customizable, so you can add your name, your university, class year, school motto, or even a special sentiment. We'll work with you to ensure you have the engraved plate made carefully to your specifications.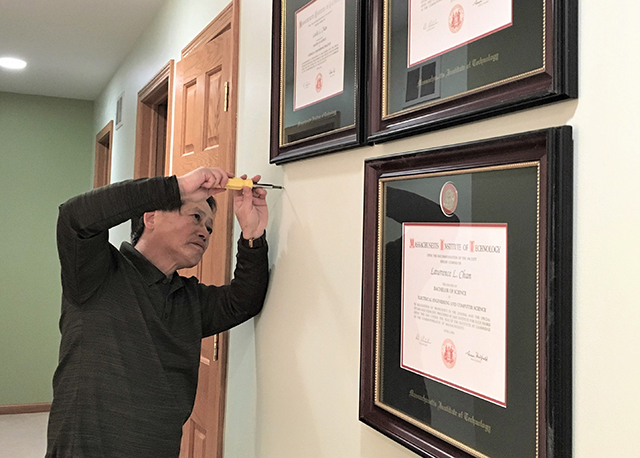 Mounting & Hanging Is an Easy Process
Another question we're frequently asked is whether mounting the document will present any issues. We have made that easy for you as well by providing complete step-by-step instructions for easily inserting and displaying your degree with precision.
Nothing could be easier, and we've left no stone unturned. Best of all, each frame contains a Level-Lock hanging system to prevent crooked results and unnecessary holes in your wall. You can hang your custom diploma frame at home like an expert in no time.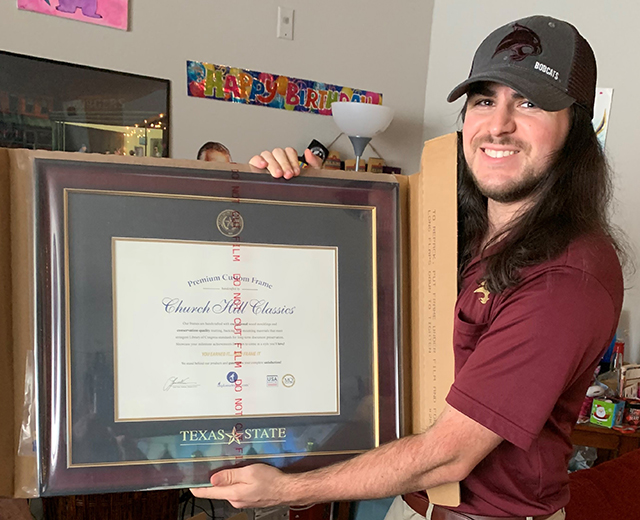 Shipping Made Safe and Easy Too!
At this point, you may be wondering about shipping methods and how safe they are. There is nothing quite as disappointing as ordering something online only to have it arrive in less than pristine condition. We make every special effort and take great precautions to ensure the safe delivery of your frame.
For these reasons, we have opted not to ship to post office boxes except for military bases. We will ship to an APO or FPO, if required, so bear that in mind. All frames are insured and will be shipped via standard UPS ground shipping unless other shipping methods are required.
Best of all, we ship each frame in our state-of-the-art SMARTbox, which is designed to protect your handcrafted frame in transit. This added safety measure gives you peace of mind that your frame will arrive intact and ready to be displayed upon opening.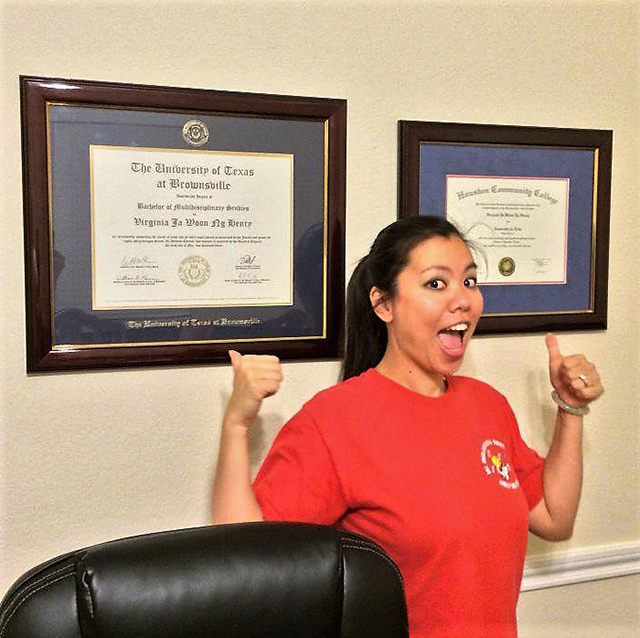 A Word About Our Church Hill Classics Mission
Like you and your loved ones, we take great pride in your academic accomplishments. You've worked long and hard to obtain that diploma, and we want you to proudly display your achievements. For this reason, we go above and beyond to make sure you're 100% happy with the custom frame you've chosen. If you're unhappy with your frame, simply call us toll-free at 800-477-9005 and we'll work to make it right! Your complete satisfaction is our goal. We guarantee you'll love your frame!
As Easy as 1-2-3
We pride ourselves on creating WOW moments for our customers to commemorate the important moments in their lives. We take great pride in our work to ensure that you can proudly display your hard work.
Keep in mind that we build each and every frame by hand to ensure the best quality. From cutting, joining, and embossing to cleaning, packing, and shipping, our team of highly skilled artisans takes great care to make sure you receive the very best USA-made frame.
premade frames exist at Church Hill Classics, even if you choose from our drop-down menu of school frames. So you can fully customize your diploma, right from the college diploma frame size to the style and colors. We make ordering quick and easy and have enabled your "custom work" to be saved so that you can edit it before actually moving on to the payment process, which is also easy and secure.
There is no need to measure your document and certainly no reason for it ever to leave your hands. That precious piece of paper says a lot about your dedication to your field of study, and our care in creating your frame speaks of our dedication to you. Whether it's a frame for you or a special grad gift for someone you know or love, we give special care to each and every order that passes through our doors. This is why you will always be proud to display your accomplishments in a Church Hill Classics custom frame.