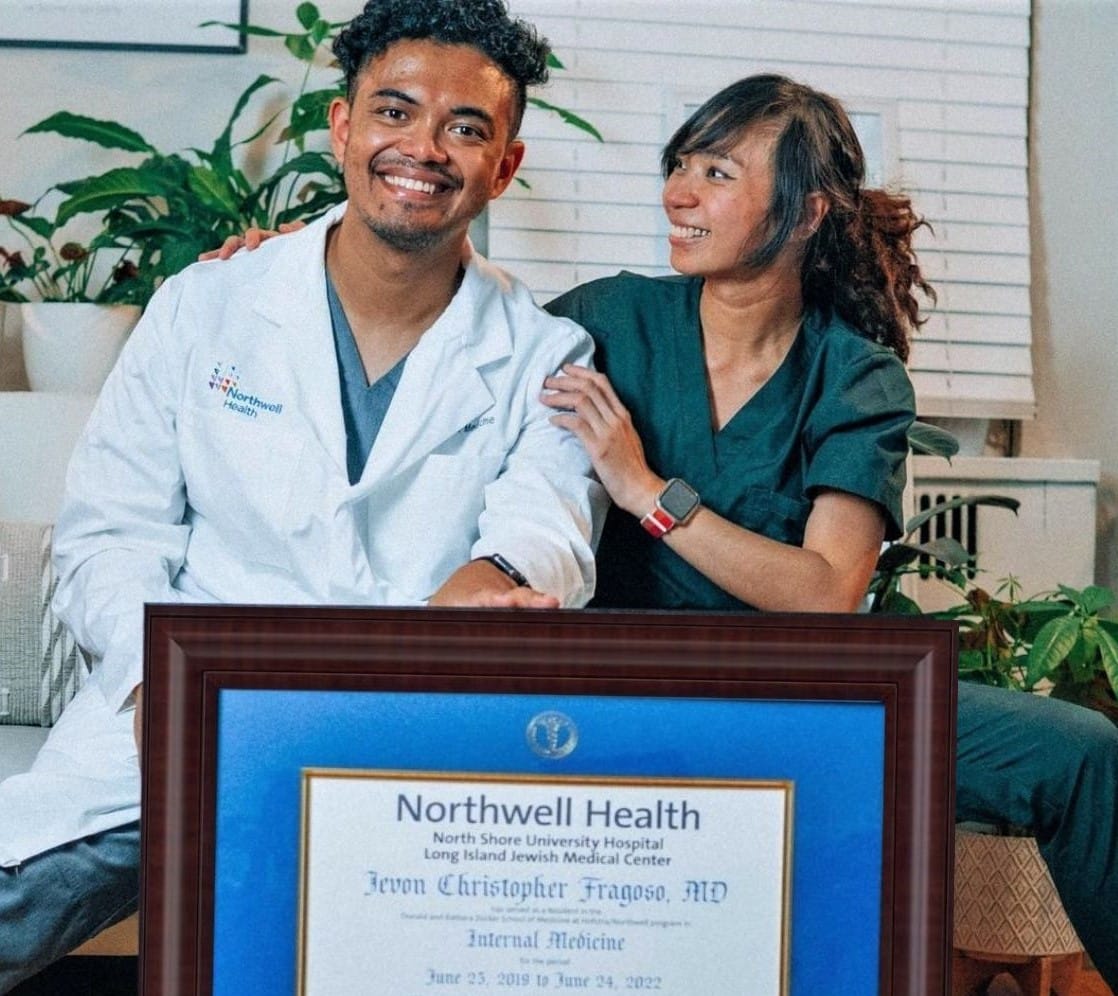 Whether it's a family member, friend, or significant other, if a loved one is graduating from medical school, this is a major milestone that's cause for extra special celebration. They have just completed another four years of education, and still have more training to go. In the midst of graduation festivities, however, you may be wondering what prized items are the best gifts for medical school graduates.
Do You Give a Gift for Medical School Graduation?
The short answer to this question is YES! After all, this is a huge accomplishment, and there is plenty of reason to celebrate. But, if the thought of finding the perfect gift for medical school graduate friends and relatives intimidates you, we've got you covered. Finding the best present begins when you start asking, "what does every med student need?" That said, we've gone ahead and considered this to provide you with a list of some of the greatest gift ideas for medical school graduates.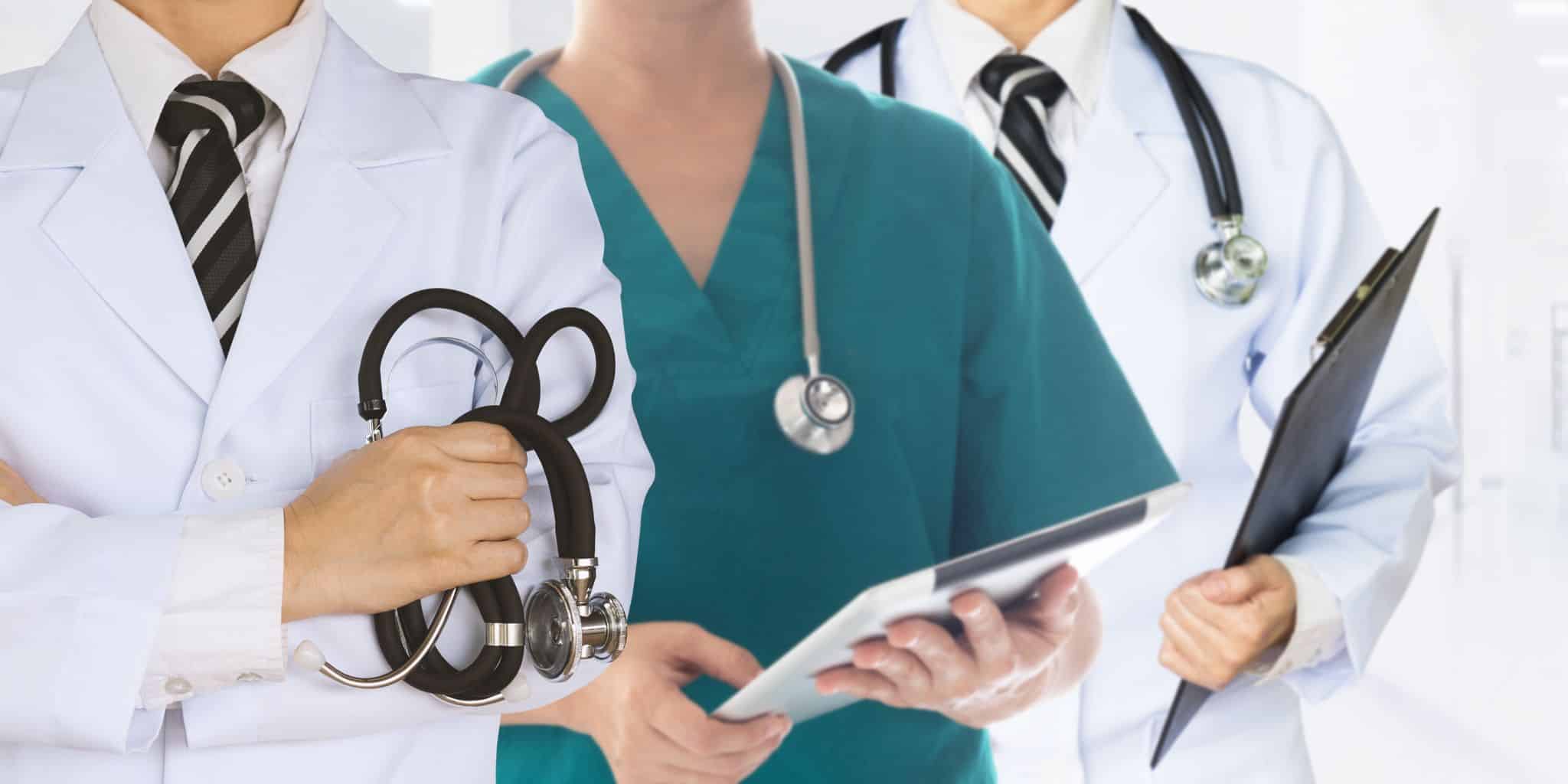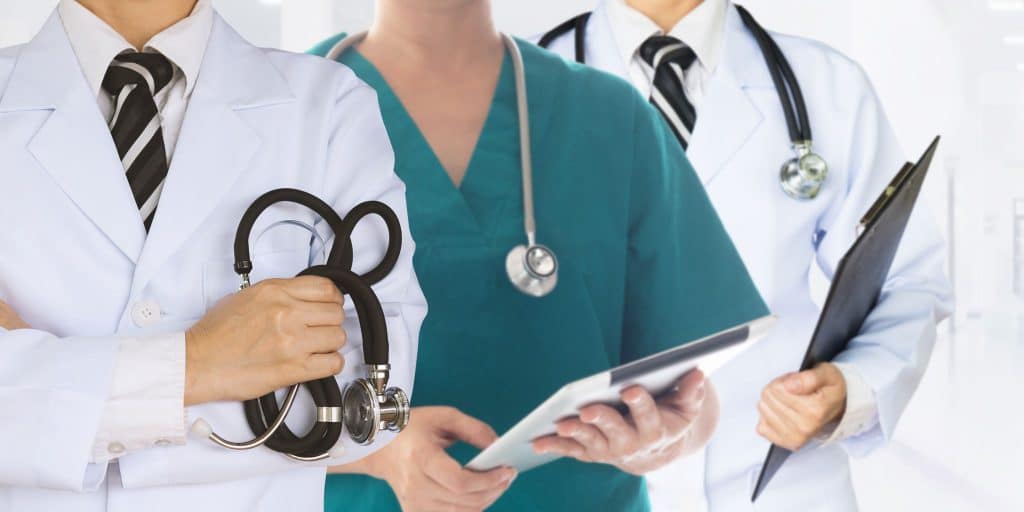 Best Gifts for Medical School Graduates
MEDICAL EQUIPMENT
Although it may seem obvious, medical equipment and uniforms are simple yet incredible gifts for your recent graduate. After four years of school, gifting these items can provide huge financial relief (and excitement) as your graduate begins their residency or next career steps.
Stethoscope: One of the most classic gifts for medical school graduates is a customized stainless steel stethoscope, and for good reason. This is a tool they'll likely use every day in their career, and it can also serve as a piece of treasured memorabilia—their First Stethoscope—for years to come. When it comes to customizing this piece, there are countless options, from color selection to engraving and ID tags to charms. And, better yet, there are also cases, covers, and holders to make this gift uniquely theirs. 
Badge Reels: Although a med school graduate's uniform is simple, it doesn't have to be boring. Oftentimes, medical professionals are required to wear ID badges to gain access to hospital wings, computers, gates and doors, etc. Because of their frequency of use, most professionals choose to attach their badge to their scrubs with what is known as a "badge reel." This is a retractable high-quality tool that keeps their ID close and easily accessible for swiping and scanning. One of the ways doctors, nurses, and PAs alike add some flair to their uniform is through decorated badge reels. There are hundreds of relatively inexpensive options, so you can gift your graduate one for each season, holiday, sports team, and everything in between. 
Scrubs: Believe it or not, a good pair of scrubs can be expensive. And, when this is what your medical school graduate has to wear daily, the cost of scrubs can add up. Not to mention the fact that, given the nature of their job, medical professionals have to wash their scrubs frequently. Clearly, one can never have too many pairs of scrubs, making this a perfect gift for your graduate. Brands like FIGS and Jaanuu have developed comfortable, stylish, and supportive scrubs that will help your graduate get through those 12-hour shifts. And, if you're unsure about their size or style, you can always purchase a gift card to their favorite supplier and let them pick out a new set.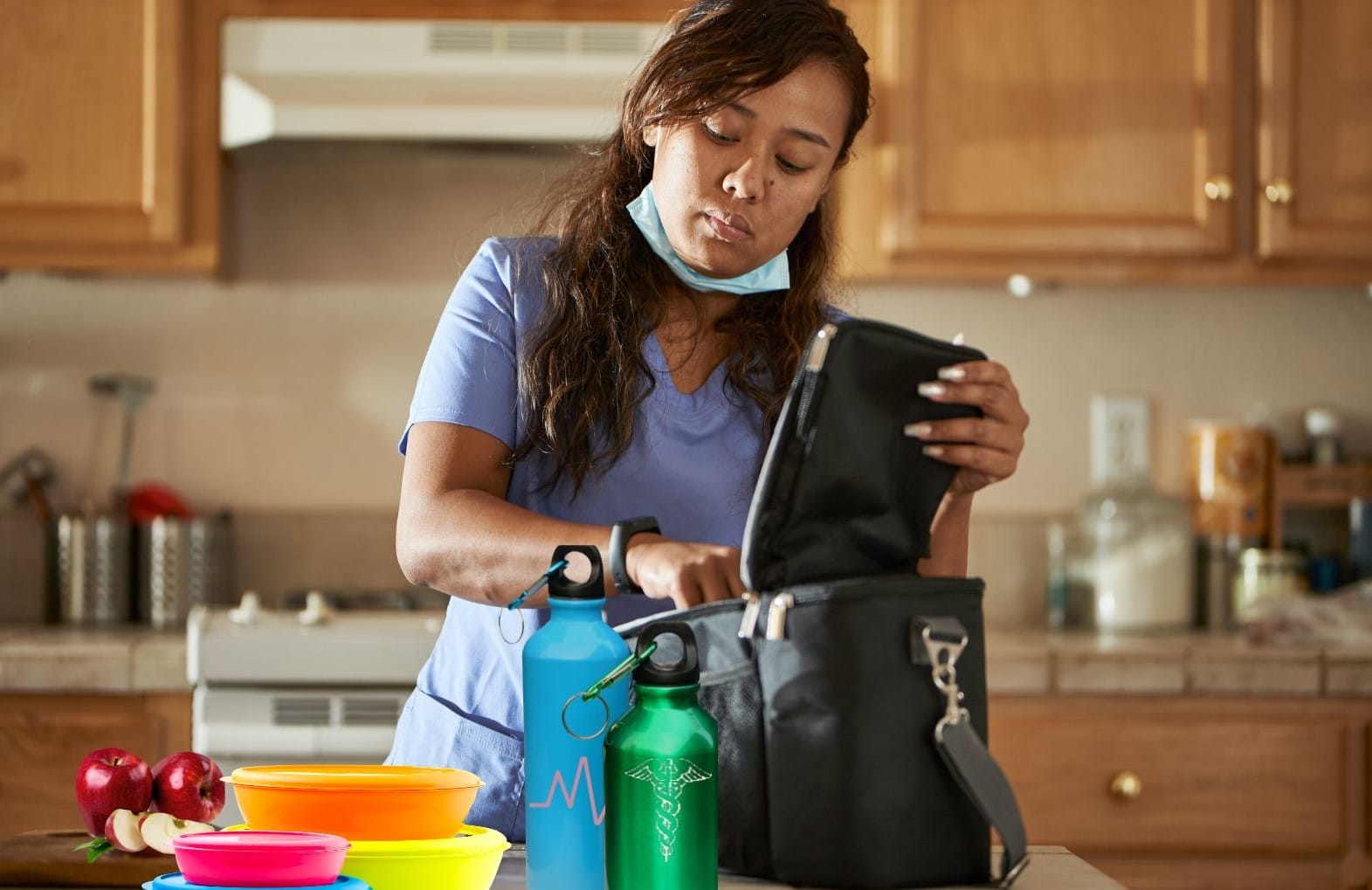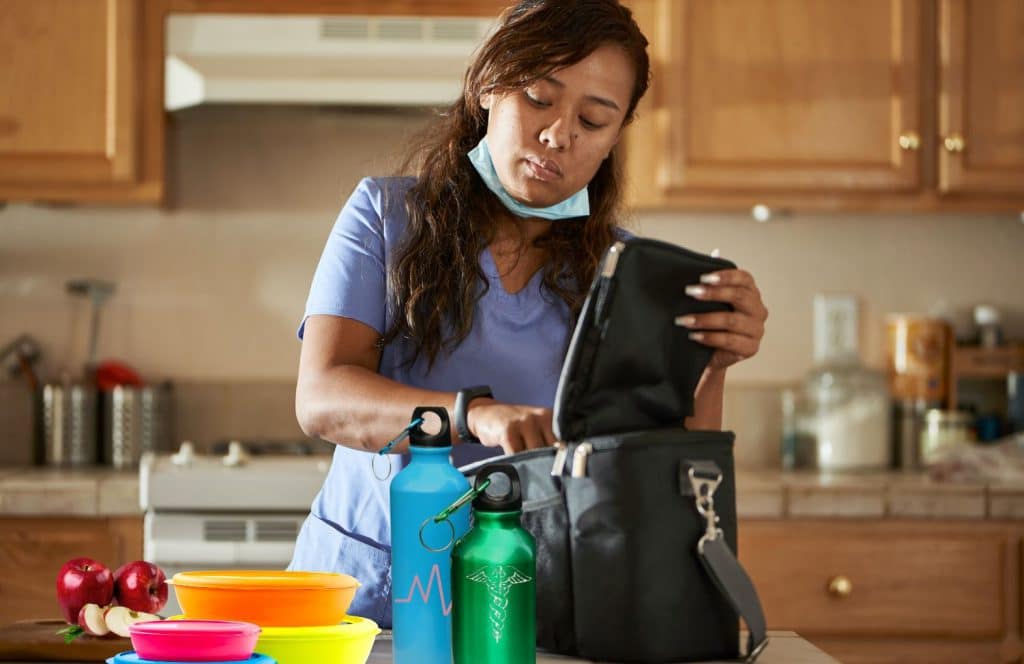 EVERYDAY ESSENTIALS
Beyond their equipment and uniform, there are some essential workday staples that open the door for fun and unique gifts for medical school graduates. We have included three of our favorite gifts for doctors, but the possibilities are endless when it comes to gifts that your grad will use each day in their new role.
Coffee Tumbler: If there is one thing medical professionals report needing most in their careers, it's caffeine. From working 12-hour shifts to dealing with unruly patients and everything in between, a good cup of coffee or tea can make a world of difference your graduate's day. Whether you go with a new espresso machine or create a personalized tumbler, this pep-in-their-step accessory will be put it to good use. 
Lunch Box: Somehow, in the midst of their busy schedules and countless patients, medical professionals find time to eat lunch. That said, gifting your graduate a durable and temperature-keeping lunch box can help keep their meal-prepping ventures on track. You can also include a thermos, airtight plastic containers, ice packs, or anything else they may need to pack a lunch that fuels them throughout the day.  
Comfy Sneakers: One of the most practical yet often overlooked gifts for medical school graduates is a comfy and supportive pair of sneakers. Medical professionals are on their feet all day walking from patient to patient, so easy-clean, slip-on shoes are a must. Designed specifically with healthcare workers' comfort in mind, Clove shoes combine all-day cushioned insoles with grippy outsoles.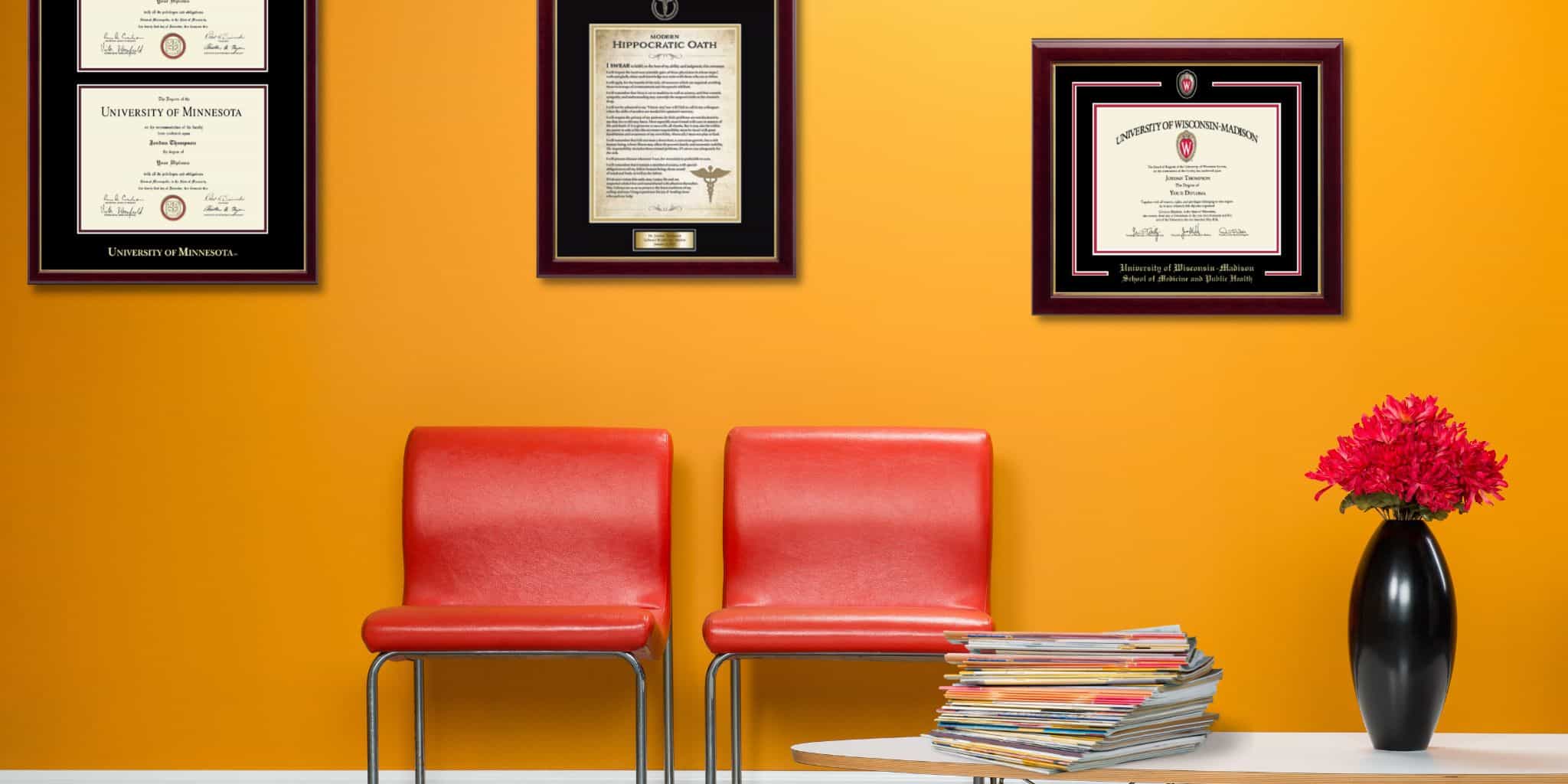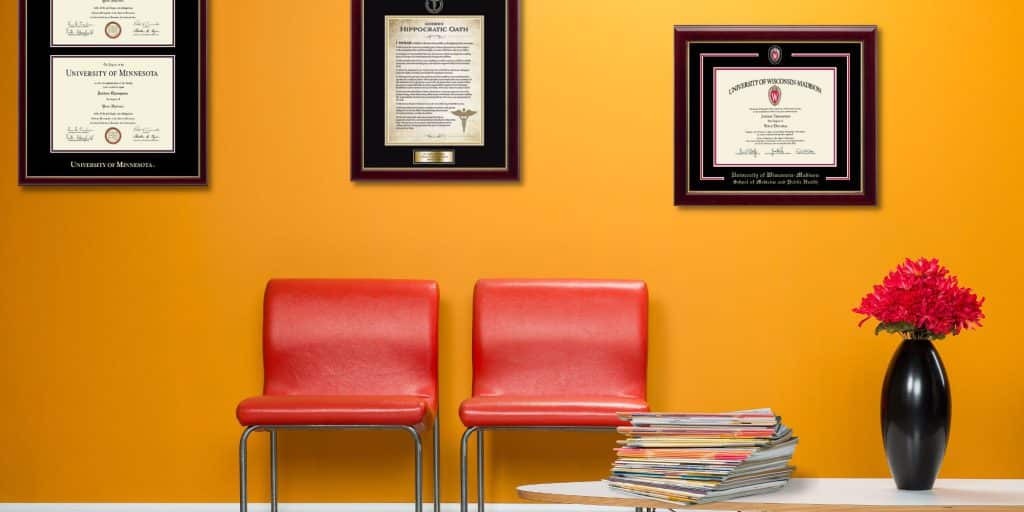 MEMORABILIA
Some of the best gifts for medical school graduates are those that help them look back on their experience for years to come. Whether they are framed on their wall, displayed in their office or waiting room, or worn on special occasions, gifts that carry memories with them are an incredibly thoughtful way to celebrate your graduate. 
Diploma Frame: One of the most meaningful gifts for medical school graduates is a way to preserve their hard-earned diploma. Whether you keep it simple or customize it with their alma mater or program, a diploma frame helps your graduate protect and proudly display the degree they have worked so hard for. Hang in your office or waiting room alongside a framed Hippocratic Oath certificate. Best of all, Church Hill Classics frames are custom-made and built by hand by New England artisans.
White Coat Hanger: Most med school students earn their first white coat early on in their education. After graduation, however, they often will get a new lab coat depending on where they go next—but their first coat will always hold a special place in their heart. One way to help them cherish this piece of memorabilia is by gifting them a customized coat hanger. With different colors, engraving, wiring options, and more, there are countless ways to make this special piece uniquely theirs. 
Celebratory Charm or Necklace: One of our favorite medical school graduation gifts for her is a piece of jewelry she can keep forever. Small charms, like this stethoscope, can be added to a charm bracelet or dainty chain for a gift that is both beautiful and purposeful as a symbol of her achievement. And, for both girls and guys, we love gifting watches or class rings with engraved messages to help them reflect on their experience.
SOME REST & RELAXATION
If you're looking for more unique gifts for medical school graduates, consider giving them the gift of relaxation. At every point in their career—from residency to fellowship to their own practice—your graduate is going to be working long shifts and tireless hours. So, why not give them something they can enjoy when they're off the clock and in need of a break? 
Spa Gift Card: When we first think of rest and relaxation, we have to admit that the spa is the first thing to come to mind. After long hours on their feet, a pedicure or massage might be the perfect way to help your graduate unwind. And, the best part about this gift is that they can select their choice of service and (in most cases) gift cards don't expire. So, find a spa near their place of work or home and let them experience some relief after all their hard work. 
Meal Delivery Service: After a long day at work, cooking dinner is often the last thing your graduate will want to do. Instead, you can help them get straight to dinner and their favorite TV show by gifting them a month or two of meal deliveries. With services such as Home Chef and Hello Fresh, your graduate can log in, choose from a variety of meals and have them delivered to their doorstep. Some services provide everything need to cook a meal, eliminating grocery shopping. Others go one step further to deliver pre-assembled meals, making it the perfect option for someone who just wants to reheat and relax. 
Streaming Subscription: Speaking of their favorite TV shows, our last gift is the gift that keeps giving. (Because, you know, they are always adding new shows.) From Netflix to Hulu to Peacock to Apple TV and everything in between, there are countless options for entertainment to give your recent graduate. So, whether they're looking for some medical drama or comedic relief, a subscription or gift card to a streaming service is an excellent idea for the recent grad.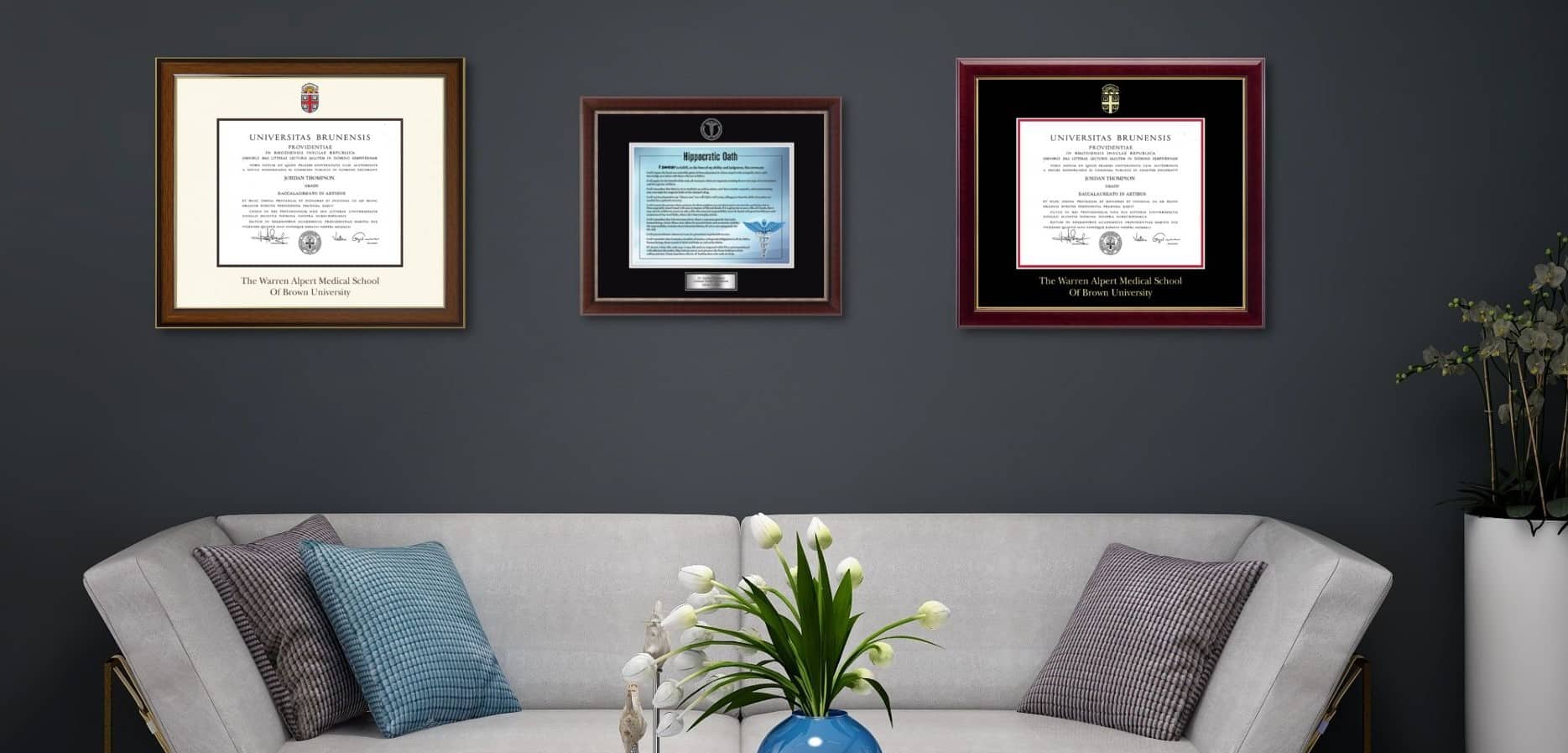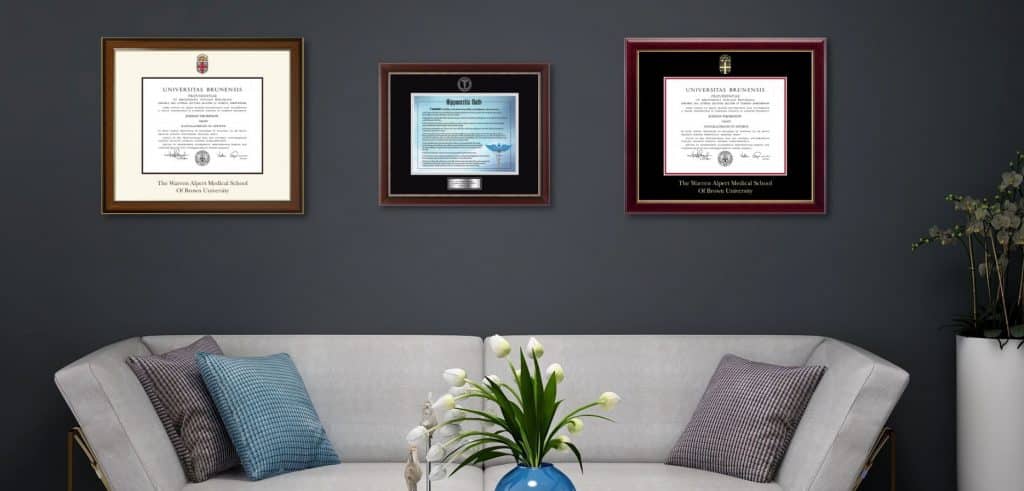 Med School Gifting FAQs
How do med schools celebrate graduation?
Medical school commencement ceremonies are very similar to those of undergrad, only smaller. There are typically a couple of speeches, followed by the handing out of diplomas. Just like other graduation ceremonies, the real celebration usually takes place after the fact with friends and family, from nice dinners to parties and gifts. A medical school graduate can expect all the same love and celebration for the last four years of school (med school) as they received after their first four (undergrad).
How much money do you give a medical school graduate?
There is no black and white answer to this question, as it varies from person to person. If you don't feel comfortable giving money, don't! Instead, opt for a meaningful and more personal gift (like one of the ones we listed above) or maybe an Apple watch. Every gift, no matter how big or small, will be appreciated as it is the thought that matters. 
Is my recent med school graduate a doctor?
Yes! As soon as a med school student graduates and earns their MBBS or MD degree, they are officially a doctor. This means on your customized gifts and cards, you can call them Dr. Jane or Dr. John—how exciting!
What do you get someone graduating from medical residency?
This question can be a bit tricky and honestly, there is no right answer. A medical student will go through several phases in their education from med school to residency to fellowship and beyond. Determining if you'll get a gift (and what) for each stage is totally up to you! 
Though they may already have their diploma, your graduate may receive different certifications and awards during the remainder of their education. Fortunately, Church Hill Classics offers frames of all sizes and styles so protecting their newest certification may just be the perfect gift for someone who has just finished their medical residency. 
A Final Word on Gifting
Whatever you choose as a gift for your medical school graduate, you can't go wrong in helping them to celebrate this amazing achievement. And, if you're still stuck, remember that the simplest, most thoughtful gifts go the longest way. If you're still in need of a gift for a graduate, check out some of our customizable diploma frames for a gift they will keep forever. From their diploma to their latest certificate, our custom frame tool makes it easy to protect and preserve these special documents for life. And, by giving them a beautiful frame, you're letting them know that this achievement is a big deal and they should be proud to display it for all to see.