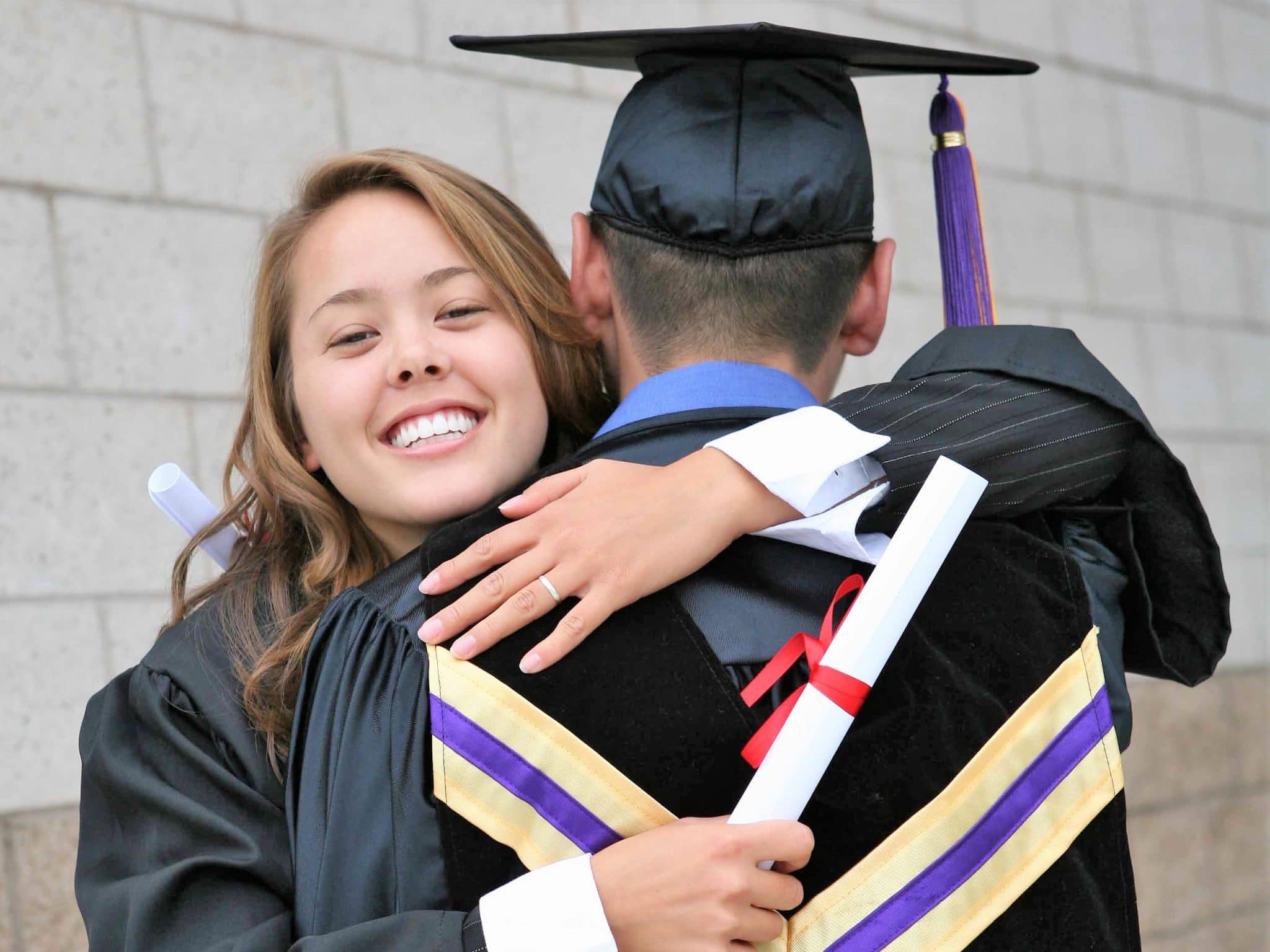 There's a lot to consider when shopping for the perfect grad gift. Does the soon-to-be grad like gadgets? Does she plan to travel after college? Is he in need of fashion assistance? Does she already have a job lined up in the city? Will he be moving into his first post-college apartment? Whether they've carefully planned out their post-college life or don't have a clue where the next few months will take them, you're sure to find a present to celebrate their bright future in our ultimate college graduation gift guide!
Grad Gifts for Their First Job
There are plenty of grad gift ideas in a range of price points that will help them prepare for their first post-college job. Offering thousands of online courses in the business, creative, and technology fields, a subscription to Lynda.com makes an ideal grad gift. In addition to strengthening their skill set and advancing their professional development, grads can stay on top of the latest learning trends, which can be a huge advantage in a job interview.
To help alums carry everything they'll need to the interview, get them The Closer Case by Timbuk2. It's the stylish alternative for those who really need a briefcase but don't want to carry one. Available in eight different colors, the Closer features a laptop compartment, in-pocket key keeper, a side stretch pocket for a water bottle, and an internal organizer for pens, phones, and other basic essentials.
And for anyone working in an office, having your college degree hanging on the wall makes it clear to clients and customers just how qualified you are to handle the job. It's also a great confidence-builder for the grad, a visual reminder of how hard he or she worked to get to this point. Simply search their school on Church Hill Classics, pick a frame, and customize the moulding and matting options to suit their decor and personal style!
Grad Gifts for the Traveler
If they have big plans to use up all of their frequent flyer miles after graduation, there are plenty of great globetrotting gifts for alums with wanderlust. Probably one of the most useful gifts for the traveler is a nice piece of luggage with plenty of bonus features. The Genius Pack Carry On Spinner not only has a removable laundry bag but also has an integrated air-valve for space-saving laundry compression. How cool is that? Plus, with a retractable ID card, a helpful packing checklist, exterior pockets for easy access to water bottles and magazines, and designated interior compartments for socks, chargers, and undergarments, the Carry On Spinner is one tricked-out piece of luggage!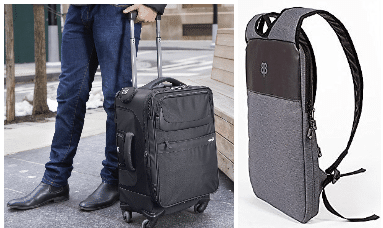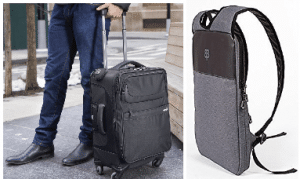 For those days when they don't need the extra baggage, Betabrand's Under-the-Jack Pack functions as a super-sneaky invisible tote. This ultra-slim backpack is only 1.5″ thick, can be worn seamlessly underneath a lightweight jacket, and is ideal for carrying a laptop, wallet, keys, and any other major essentials.
Whether they plan to trek across the country or visit major cities overseas, an Uber Gift Card will definitely come in handy when they're in need of a reliable driver. And, when they come home from their whirlwind adventures, they can scratch off all of the states or countries they've visited on the interactive Travel Tracker Map from Landmass Goods.
Grad Gifts to Help Dress for Success
When it comes to job interviews and dressing the part for their first big job, they'll want to look and feel their best from head to toe. Most college kids have more university logo sweatshirts and sweatpants than business clothes in their closet so they'll definitely appreciate some help with a dress code upgrade. Consider a gift card to a wardrobe subscription service like StitchFix, which will deliver five clothing options to their door each month based on their personal tastes and lifestyle. Or opt for a gift card to Zappos, the online shoe retailer that has expanded its line to include clothing, handbags, jewelry, and other dressy accessories.
Know a college guy in need of some fashion-forward accessories? There are a few different gift subscriptions exclusively targeting men including Sprezzabox, which delivers color-coordinated or style-themed shipments containing ties, grooming products, pocket squares, and other men's items. Want to find the perfect present for a special guy in your life? Check out our rundown of the Best College Grad Gifts for Your Son.
A beautiful leather wallet is always a tried-and-true traditional grad gift. However, when it comes to wallets, the Ekster Smart Wallet is anything but traditional! It includes a solar-powered GPS tracker card that synchronizes with your mobile phone so that you'll always be able to track it down wherever you leave it. And, if you lose your phone, the tracker card will ring it so you can easily find it.
Grad Gifts to Celebrate College Memories
Some of the best graduation gifts are the ones that celebrate the amazing memories and lifelong friendships that were forged in college. Why not capture all of those special moments, from freshman year until graduation, in a one-of-a-kind photo album from Mixbook? Upload photos from your computer or social media sites and then pick from hundreds of artsy themes, design effects, and photo layouts to create a personalized, custom-made book.
Or, take those really special images that are just sitting in a laptop folder or on a flash drive, have them professionally printed, and showcase them in custom-designed Spectrum™ college photo frames. Thanks to an industry-exclusive printing process, these gorgeous frames feature three-dimensional lettering, raised patterns, and elevated university logos that are sure to wow!
If you're looking for a unique and personalized gift that truly captures their college years, consider a plush "mini me" of your son or daughter from Budsies Selfies. Simply upload a digital photo of your soon-to-be grad, and the Budsies team will create a custom, hand-sewn doll in their likeness. For other customized or nontraditional gift ideas, check out our handpicked selection of Unique University Graduation Gifts.
For an elegant way to mark their graduation from college, why not opt for fine gold or silver accessories from M. LaHart's officially licensed university collection? Choose from high-end men's fashion accents such as cufflinks, tie clips, money clips, signet rings, key chains, and bracelets featuring official school seals and logos. Or, peruse their line of women's jewelry for college charms, beads, necklaces, bracelets, and keyrings.
Grad Gifts for Their First Apartment
Moving into that first apartment after college is an exciting adventure. Instead of raiding Mom and Dad's house for all of their apartment essentials, help college grads furnish their new pad with some of these useful gift ideas.
Something college grads will definitely need but won't think to buy for themselves is a set of high-quality bed linens from Brooklinen. Known for their luxurious line of sheet sets, Brooklinen also carries blankets, comforters, pillows, and candles.
Now that they have their own place, they'll want to adorn the walls with something other than the movie or concert posters that decorated their dorm room. Design "grown-up" coordinating frames for their certificates, awards, artwork, and favorite photos using Create-A-Frame online framing tools. Preview different frame styles, sizes, and matting colors before you buy so that you select just the right combination for the alum's decor and personal style!
Amazon Echo, the voice-activated personal assistant, will be high on the tech-savvy grad's wish list. Responding to the name "Alexa," the smart speakers can answer questions, give weather reports, play music, make to-do lists, order pizza, and can even be set up to control lighting, thermostats, and fans in your home with voice commands.
Grad Gifts to Pamper Themselves
The post-college transitional period can be stressful for new grads. They've worked hard for the past four years to earn that degree and will soon be pounding the pavement in search of a job. A gift that indulges the senses and inspires relaxation may be just the thing they need!
If they're living in the city, traveling a lot for a new job, or on their feet for a good part of the day, they'll love the deep-tissue foot massager, the Moji Foot PRO. Its steel massaging spheres break up scar tissue and work hard to relieve sore muscles. The Moji Foot PRO is compact, making it perfect for travel or for using right at their desk. When placed in the freezer, the massager delivers cooling relief to tired, aching feet.
In today's fast-paced world, finding meaningful and healthy ways to calm the mind and decompress can prove challenging. Muse is a brain-sensing headband that reduces stress and anxiety and encourages relaxation through mindful meditation. Through regular training sessions, Muse can trigger the natural relaxation responses and improve responses to stress. For more ideas for pampering your grad, like monthly stress-busting kits and bath bombs infused with essential oils, check out our Best Grad Gifts for Your Daughter feature.
When looking for the ultimate grad gift, make sure you focus on the grad's immediate post-college plans. Are they moving into an apartment? Starting a new job? Taking time to travel? Continuing their education? Or simply in need of some much-needed relaxation? Thinking about their next steps will help you pick the perfect grad gift. For more ideas and inspiration, be sure to check out our Best Grad Gifts roundup!