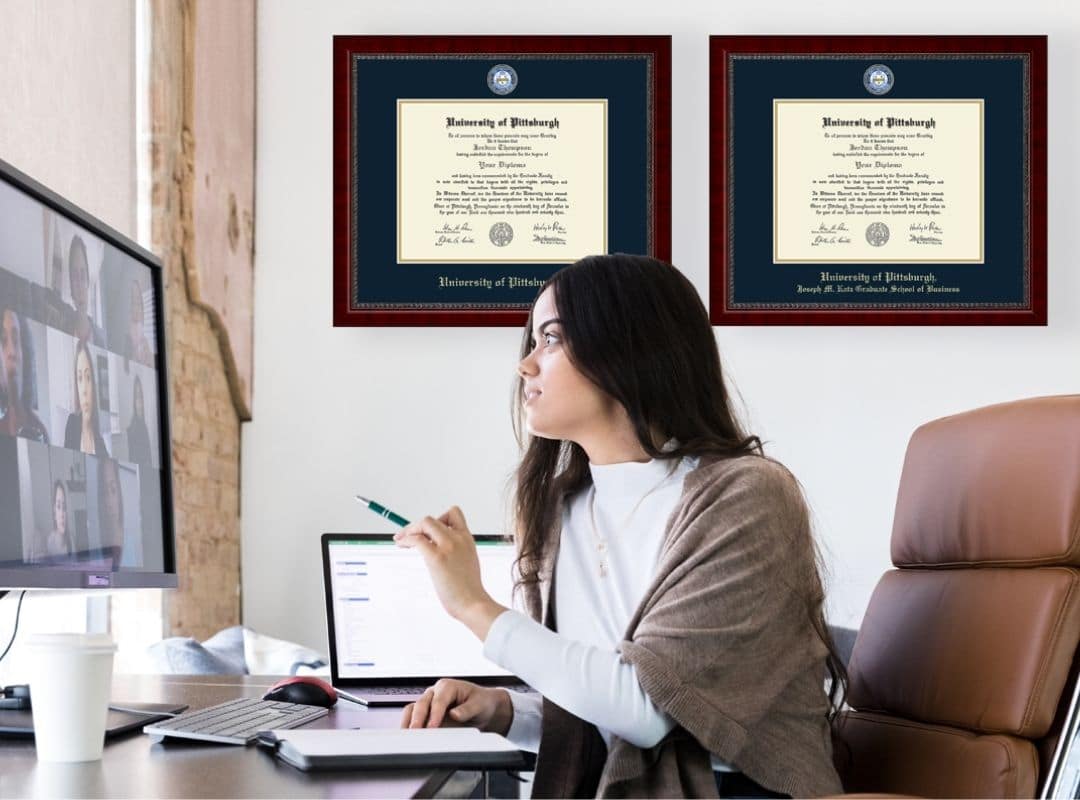 When considering all the different ways people decorate their homes and offices, you are likely proud when you gaze at your walls and see photos of treasured memories shared with family and friends. So why do people frame their diplomas? After all the time and money spent, the long nights and countless hours you put into earning it, your degree deserves a place of honor in a diploma frame. Framing your diploma is one of the best ways to show it off and keep it protected and intact.
Why You Should Hang Up Your Diploma
Displaying your diploma allows others to recognize your effort and dedication to your field. It also serves as a constant reminder of your drive and academic excellence. It can help motivate you to reach new heights in your career.
Allowing your clients and peers to acknowledge your academic successes enables you to maintain a level of respect at your job. You worked hard to earn your degree and the credentials that come along with it. Showcasing your devotion to your chosen field is a personal and professional acknowledgment of that.
Hanging your diploma isn't just something you should do to show your success to others, it also reaps personal benefits. Putting your diploma proudly on display is a reminder to yourself of what you can achieve when you work toward a goal. Sure, it also conveys success to others, but it's almost more important that you hang your diploma for your own benefit. When work gets hectic, there's nothing more motivating than a constant reminder of what you're capable of achieving.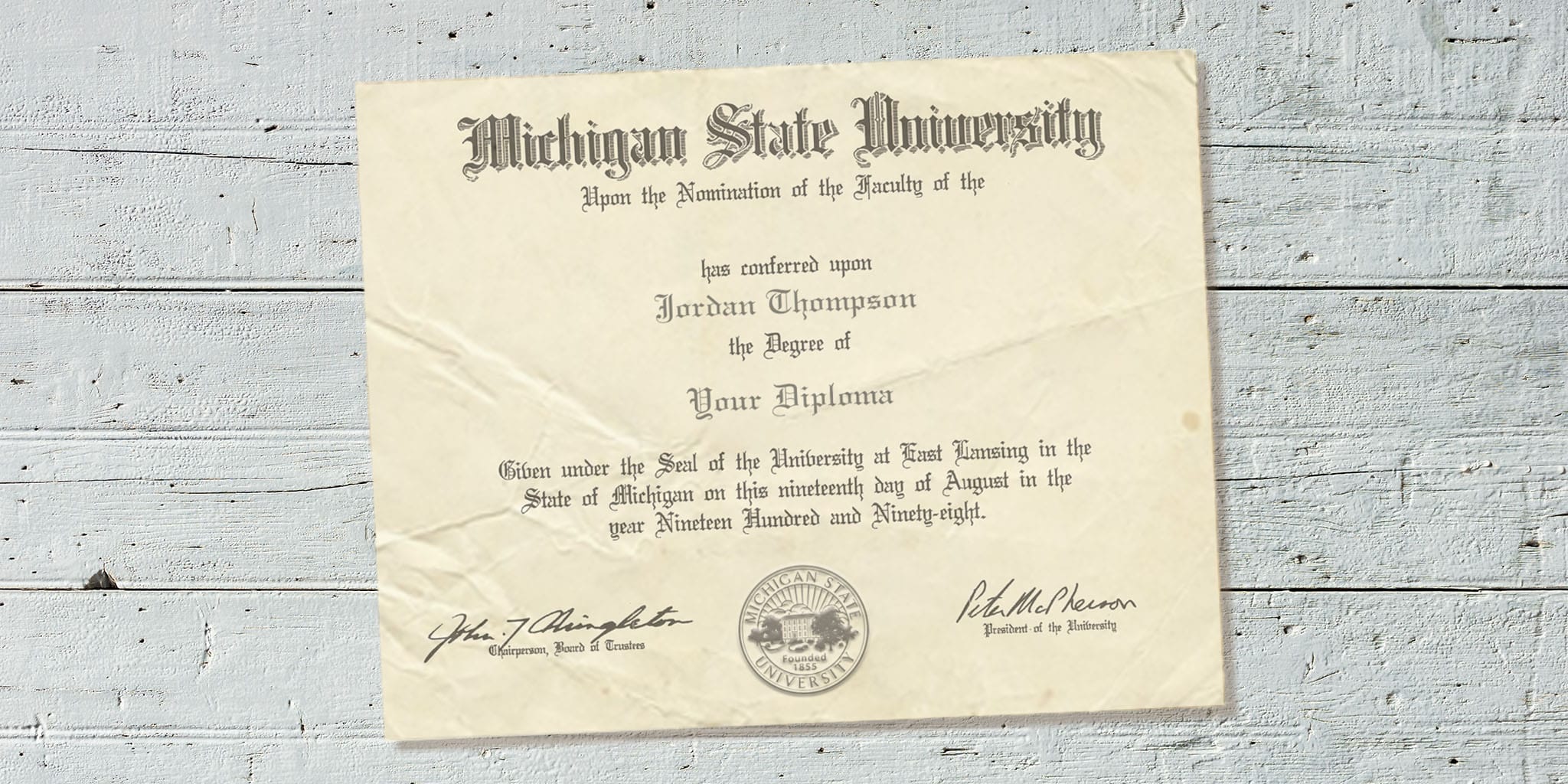 Why Do People Frame Their Degrees?
When you think about the reason you got your degree, you remember what a competitive market your field truly is. You got a degree to get ahead in your professional career and you put in a lot of hard work and effort to get there. Displaying your diploma isn't simply about academic achievements. It's also a display of the confidence and commitment that obtaining a degree entails.
Many people also choose to frame their degrees as personal motivation, or even to motivate their friends and family. Displaying a degree on your wall is an amazing way to inspire children to work hard at school. It's the perfect motivational decree.
Beyond displaying your achievements, hanging your diploma offers the added benefit of preserving the quality of your diploma. After all, a diploma is really just paper, which makes it vulnerable and easily ruined if not treated properly. Our custom frames feature conservation-quality matting, backing, and mounting materials that meet the stringent document preservation requirements of the Library of Congress. The archival-quality mats are acid-free and come with a pure white bevel to ensure that your document will not deteriorate or yellow over time. It even keeps your hard-earned diploma in good condition by preventing it from creasing, folding, and cracking along the edges. If you want to maintain your diploma's pristine condition for the duration of its lifetime, having it professionally framed is the best option.
But framing isn't just for preservation. The frame you choose can highlight your personality, one that is conservative and elegant or modern and bold. Framing your diploma doesn't just highlight your accomplishments, it shows off your personal style.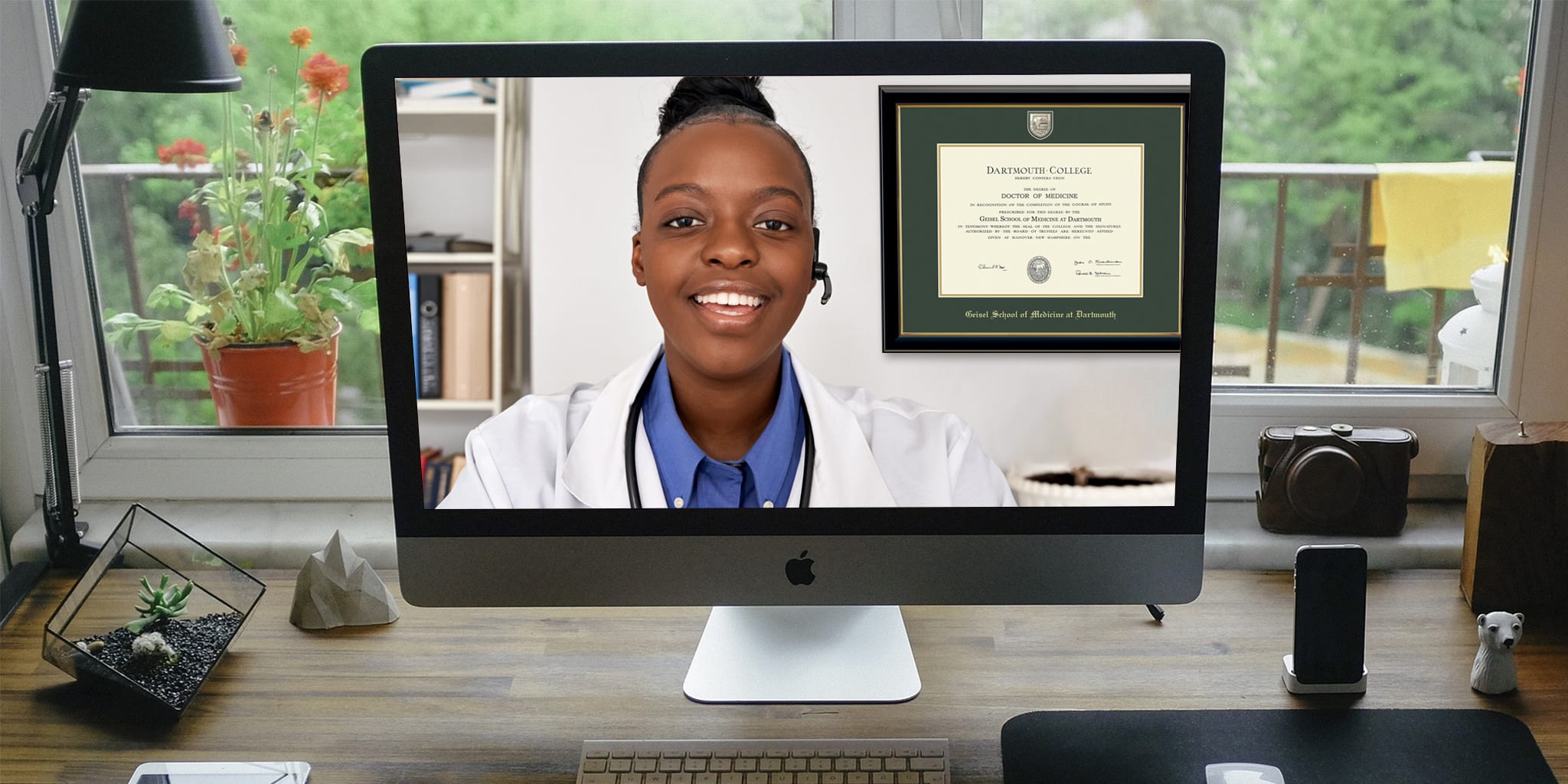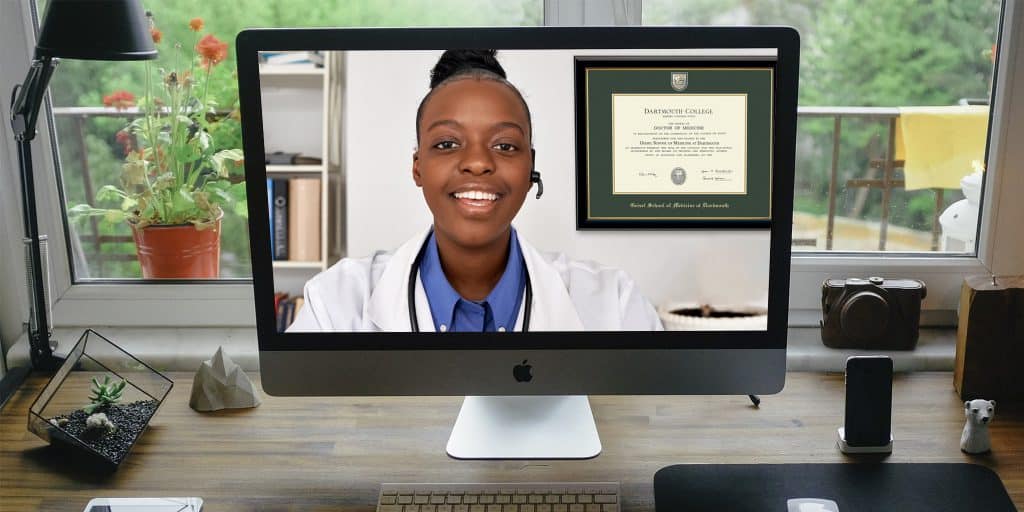 Should I Hang My Degree in My Office?
Where you hang your degree is entirely up to you, but your office is a good place to start. Having a sturdy framed diploma hanging behind your desk is a daily reminder to you and to your coworkers that you are qualified to do the job.
Imagine walking into a doctor's office or a lawyer's office and not seeing a degree from an accredited university. Would you allow them to operate on you or work on your legal case? Your degree matters, and it sets you apart from anyone who would claim that they could do your job as well and as thoroughly as you. A framed degree indicates that you are driven, qualified, and up to the challenge.
Do you work from your home? Displaying your degree in your home office is just as important, if not more so! When you are pitching ideas to clients or interviewing prospective employees via video conference calls with your framed degree onscreen, it's a strong visual indicator that you're qualified for the job.
Should You Display Your Diploma?
By now you should already recognize the importance of showcasing your diploma, not just for coworkers and clients but for yourself. Keep in mind that this is one of the most expensive pieces of paper you'll ever own, so make sure you maintain and protect the integrity of this document! Seeing your degree in a beautiful frame isn't just motivation to continue doing what you do best, it can also motivate those around you and can start an important conversation with alumni or people who may want to follow in your footsteps.
Are you a diehard fan of the college you attended? You should be! If you're someone who wears your alma mater's sweatshirts and roots for their football team at every game, then displaying your degree is just another way to show your love and appreciation for your school. Consider framing your degree in our Spirit Medallion diploma frame. It features a color-enameled medallion of your college logo or mascot and athletic borders featuring your team colors.
If you do choose to display your diploma, make sure that you treat it with the respect it deserves. Just as your education has helped to make you the best at what you do, trust the professional framers at Church Hill Classics to honor your achievements with the highest-quality materials.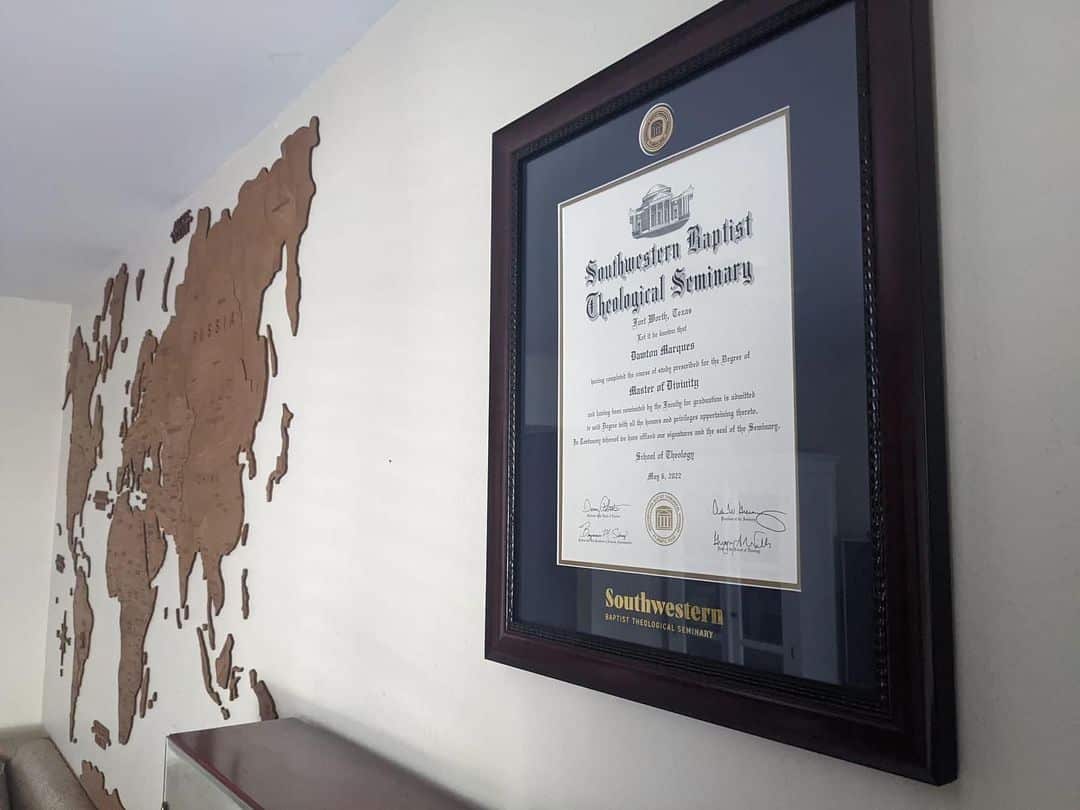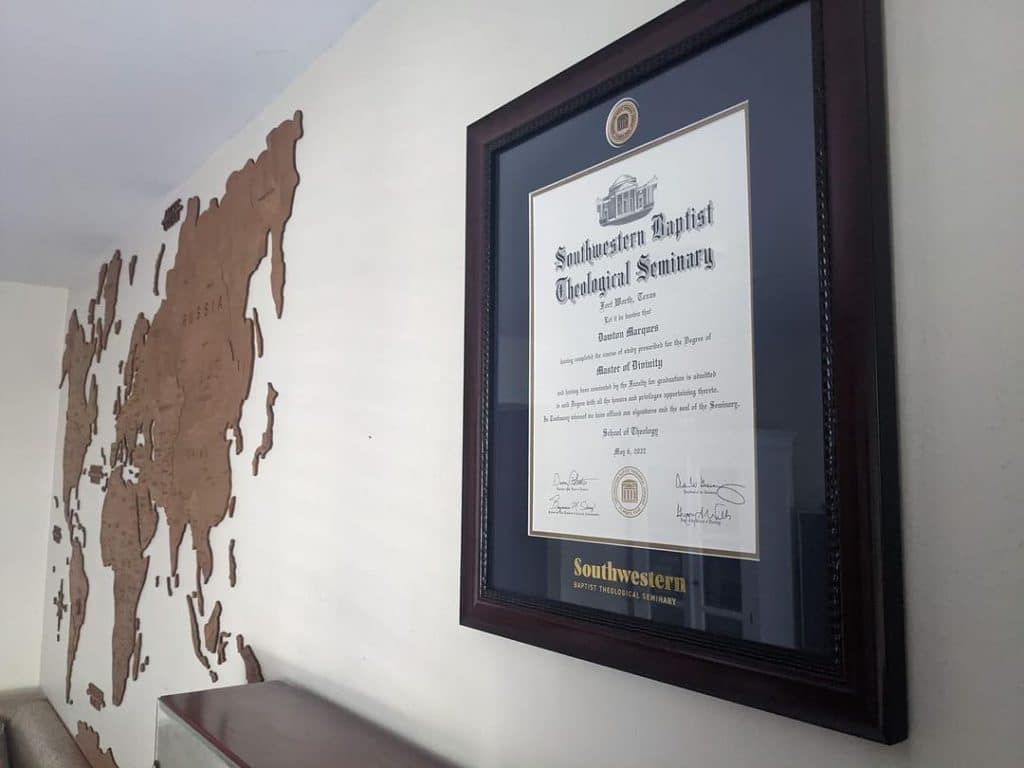 The Importance of Framing Your Diploma
Your diploma is one of the single most important and expensive documents that you'll ever own. Preserving this valuable piece of paper is as important as the education that you received along with it. Remember, once the damage is done to your diploma, it is irreversible.
You might be on board with displaying your degree, but at the same time, maybe you're wondering why you can't just frame it yourself? Cheap frames from local hobby shops do not offer high-quality glass with UV protection. Low-grade glass will fade and crack your diploma. Church Hill Classics' archival-quality matting and mounting materials will protect your hard-earned degree and preserve it for years to come.
Best of all, we are officially licensed to emboss your branded school logo on your one-of-a-kind frame, and the finely crafted details are crafted by our highly skilled artisans, inspected by our quality control framing experts, and 100% guaranteed by our customer service team. So what are you waiting for?
RELATED BLOGS YOU MAY ALSO LIKE: