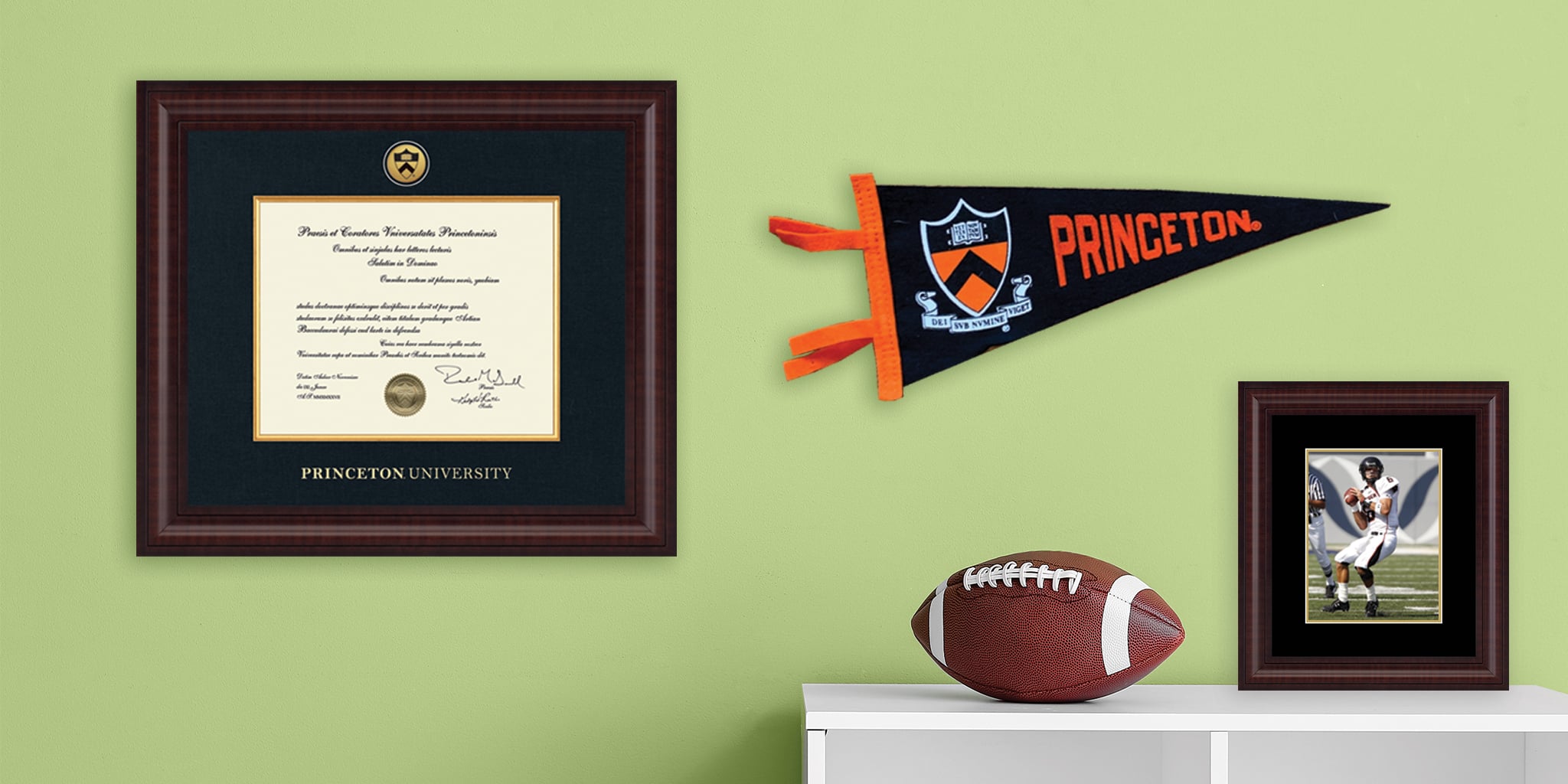 The oldest and most prestigious association of universities in North America, the Ivy League schools are some of the most well-known and well-respected institutions of higher education in the world. These elite schools are widely known for their law, medicine, and business programs, their competitive admissions process, and their decorated faculties, all of which set them apart from all other private or public schools. In one area of university life, however, these schools are frequently overlooked: the world of Ivy League athletics. Even with their impressively staffed and well-funded athletic programs, the Ivy League sports teams are frequently ignored in favor of the Big Ten or SEC conferences. Let's take a look at Ivy sports and compare schools to see who has the best Ivy League sports team. We'll consider each school's athletic record for the past five years to get a sense of the current state of their programs, while also addressing their historic accomplishments and distinctions.
Top Athletic Program: Princeton
In terms of athletics, Princeton is undoubtedly the top Ivy League school in recent history. With 24 NCAA national championships, the highest average ranking across the top Ivy sports, and the most Ivy League titles of all time, Princeton is currently fielding the best Ivy League University athletics program in the league. 
Princeton's basketball team is one of the best-known athletic teams in the entire Ivy League. Under the direction of head coach Pete Carill, the Tiger perfected the "Princeton Offense", a strategy that allowed Princeton to lead the nation in scoring defense from 1989 to 2000. Princeton's basketball team has appeared in 25 NCAA tournaments and has won both six Eastern Intercollegiate Basketball League championships as well as 27 Ivy League championships. They hold one of the oldest college athletic rivalries in history (with Yale, since 1902), though for the last few decades, their chief threat has risen out of the University of Pennsylvania's strong team. From 1955-2005, Princeton secured a winning record each season. The women's basketball team is likewise the strongest in the Ivy League, having won sixteen Ivy League championships in its time as an NCAA program. 
The Tigers' football team is also a force both within the Ivies and the larger NCAA. Princeton's football team had a humble beginning, playing in the first intercollegiate football game in history. The game occurred in November of 1869, when Princeton played the neighboring Rutgers College using a modified version of London's Football Association rules. This game would not have closely resembled our modern iteration of football, but bore the DNA of what would one day become one of the most popular sports in America. Though Rutgers won that game 6-4, Princeton beat them in a rematch one week later, 8-0. 
Some controversy exists regarding the validity of championships won in the early years of football (with Princeton insisting they've won 28 championships, and the NCAA recognizing only 15), but it is unquestionable that Princeton is and has been a strong contender on the football field. Princeton is well known for their historic rivalry that has almost lasted as long as the game of football itself: against Rutgers, the first team they ever played. Their rivalries against other Ivy League football programs such as Harvard, Yale, and Penn, are also famous, with games against these teams drawing massive crowds and viewerships.
The largest varsity sport on Princeton's campus is rowing, with over 150 athletes and 12 coaches. The sport was introduced to Princeton in 1870, when undergraduates purchased two boats with their own funds and began the crew program. The reservoir Lake Carnegie was constructed a few decades later, providing a local and convenient option for Princeton athletes to practice and compete. The reservoir also happens to be the home of the US Olympic Rowing team, to which Princeton has sent many of its own athletes in the years of the modern Olympic movement. Since the year 2000, Princeton's rowing team has won 14 eastern sprints and IRA and NCAA championships. Because of the relative rarity of crew programs in high schools, crew also happens to be one of the best sports to play to get into the Ivy League. 
Princeton had been the number-one men's track team in the Ivies for the past five years, and in four of the last five years, has been the first place team in women's tennis, lacrosse, and volleyball. The differentiating factor at Princeton is that they not only perform extremely well in the biggest and most popular Ivy League sports (basketball and football, which garner the highest viewership and media buzz), but they also produce strong contenders in nearly every team they field, performing well regardless of the size and popularity of the sport. Are you proud to be a Tiger? Start framing your Princeton diploma frame today!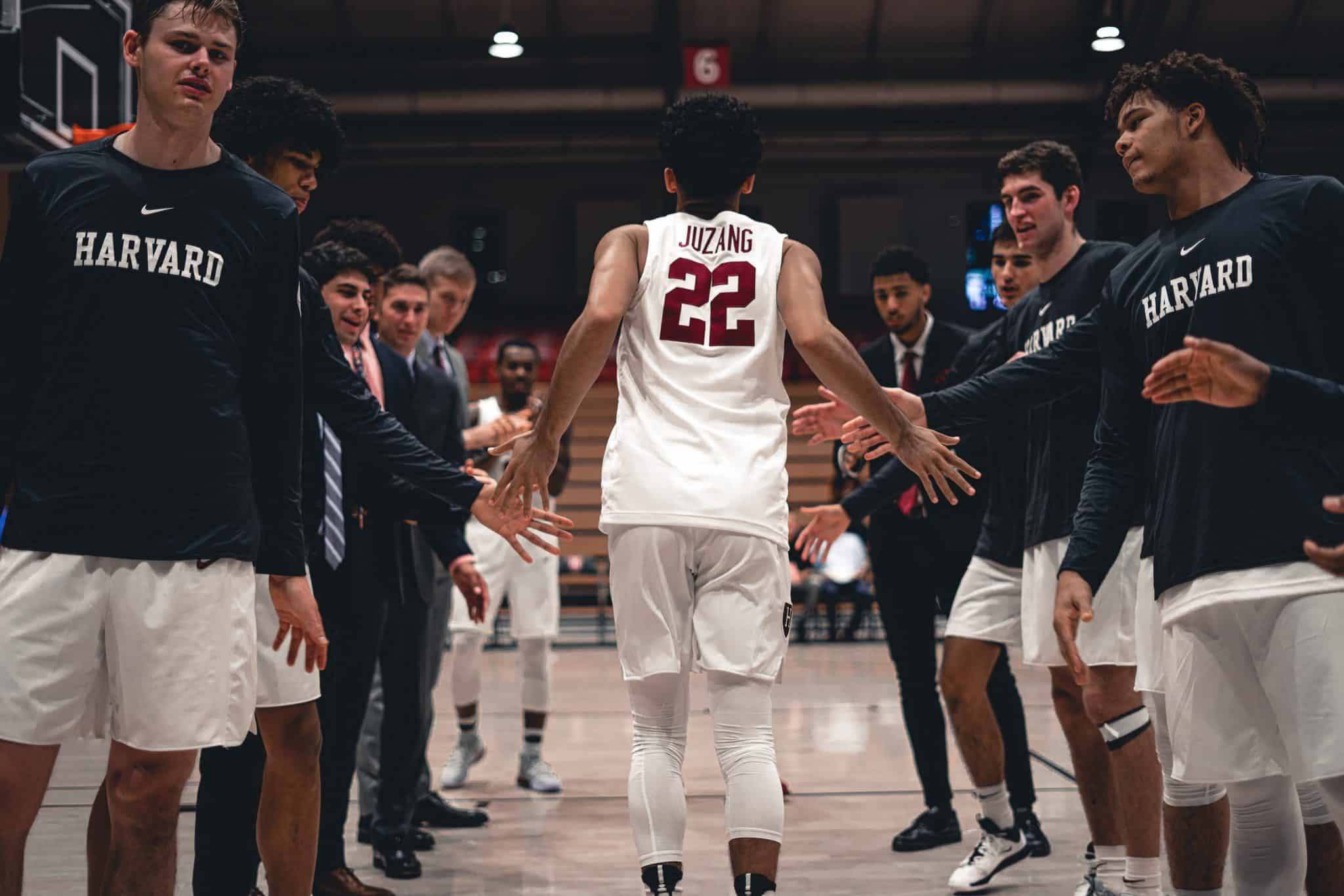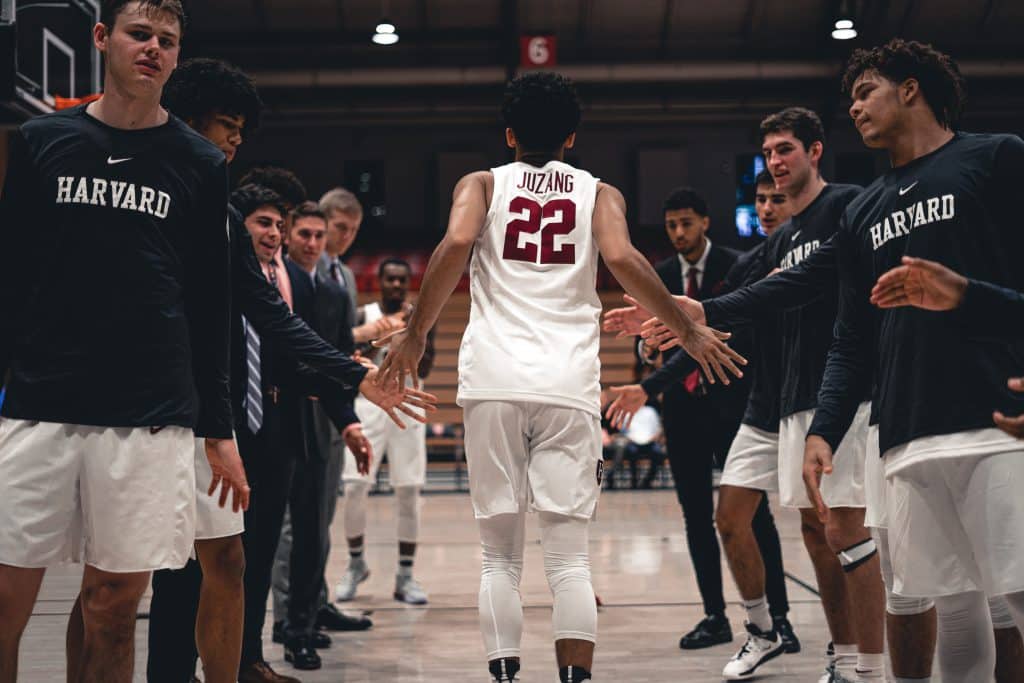 Runner-Up: Harvard
A close runner-up, Harvard distinguishes itself not only as one of the premier academic universities in the world but also as an athletic powerhouse. With an endowment able to attract and retain some of the top athletic talents in the nation, Harvard's long history in the world of Ivy League sports teams puts it high on our list of top Ivy League schools. 
Harvard is best known for their football team, the Harvard Crimson football team. Crimson fans know and love their team for their boisterous games and historic stadium. In fact, the U-shaped Harvard stadium is the oldest in the country, having been built in 1903. Considered a strong contender for the best Ivy League football team, the Harvard Crimsons have won 13 national championships and inducted no less than 20 athletes into the College Football Hall of Fame. Their team is the eighth winningest team in college football history. This Ivy League school also made Ivy sports history by fielding the first African-American college football player—William H. Lewis.
In addition to its well-developed football program, Harvard's hockey team is one of the oldest intercollegiate teams in history. Their first game took place in January of 1898 against Brown University and sparked a rivalry that is now one of the oldest in intercollegiate hockey. In terms of hockey rivalries, however, Harvard is better-known for their rivalry against Cornell: though Harvard's rivalry with Brown is the longest standing, Harvard's twice-seasonal matchups against Cornell are some of the most highly anticipated games in all of Ivy League athletics, with both schools boasting powerful teams and storied legacies. 
Outside of football and hockey, Harvard performs consistently well across a variety of sports. Along with Yale, their rowing team is considered one of the best in the country, holding one of the "oddest" records in the Ivy Leagues: from 1989 to 2003, Harvard's rowing team won every odd year, and none of the corresponding even years, a record unique in the nation. Additionally, Harvard's wrestling team is one of the oldest in the nation, having been established in 1913.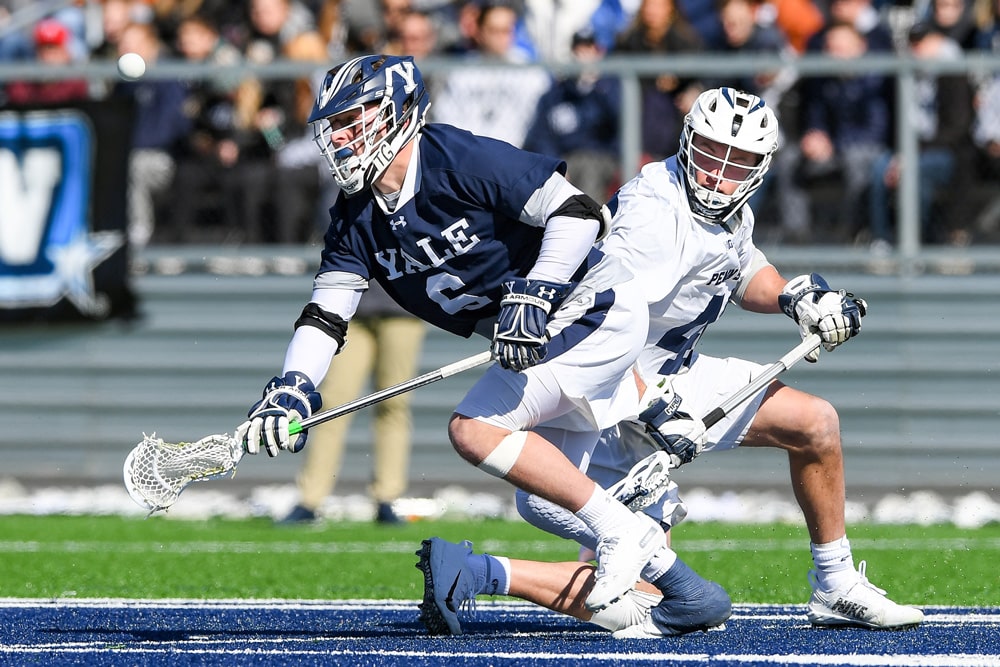 Honorable Mention: UPENN
We would be amiss without mention of the athletic programs of the University of Pennsylvania, Yale University, and Columbia University. Though trailing behind Princeton and Harvard, their schools still boast storied athletic departments, rich with history and tradition. Like Princeton and Harvard, the age and prestige of these schools, coupled with their sizable endowments, means that they too are able to attract and develop some of the top athletic talents in the country. 
Penn Quakers know that their men's and women's basketball teams are not to be ignored, with their record of NCAA championship bids only beaten in Ivy League athletics by Princeton. Penn teams perform well across the board, usually ranking in the top four each season across their sports, and having no season in the last five years where any of their major teams ranked in last place. The Quaker's wrestling team is steeped in tradition, with their first intercollegiate wrestling match in history taking place in Weightman Hall. Today, the wrestling team, along with the school's basketball and volleyball teams, competes in the historic Palestra, Penn's monumental varsity gym since 1927. In rowing, Penn has produced notable athletes that have gone on to represent the United States at the Olympics. Their fencing team has also been historically strong, having produced eleven Olympic athletes since the start of the program. 
Yale, compared to other Ivy sports, is relatively less consistent in record. On one hand, the school has powerful basketball, baseball, and football programs that dominate the Ivy League conference. Yale's football program is of particular note, considered by some to be the best Ivy League football team. The "Father of Football" himself, Walter Camp, turned the Bulldogs into one of the winningest football programs in history, and Yale's rivalry with Harvard on the football field is legendary. One of the oldest football teams in the world, Yale ranks in the top ten for the most wins in college football history. The Bulldog's baseball team, founded in 1868, has fielded athletes who would go on to be household names—politicians, Olympians, and MLB players. Unfortunately, Yale's lackluster performance in sports such as lacrosse and indoor and outdoor track, and their merely modest number of Ivy League titles and NCAA titles, have brought down their overall ranking. 
Similar to Yale, Columbia University's programs are somewhat more volatile, having years of very strong showings, followed by years of weak performance. Because of this high variation in standings from year to year, Columbia has not ranked higher. Columbia's strongest sports include baseball, women's cross-country, and, significantly, men's tennis, with Columbia ranking in the top 20 tennis schools in the country for the past ten years. Baseball was the first intercollegiate sport established at Columbia, and since then, the Lions have made a name for themselves in their home stadium of Robertson Field at Satow Stadium. Most famous among Columbia baseball athletes was Lou Gehrig, one of the biggest names in baseball history. While with the Lions, Gehrig broke team records by pitching an impressive 17-game strikeout streak. While holding a respectable win average in many sports against other higher-ranked teams in the Ivies, Colombia lags behind in Ivy League and NCAA titles, putting it at the end of our 'Honorable Mention' designation.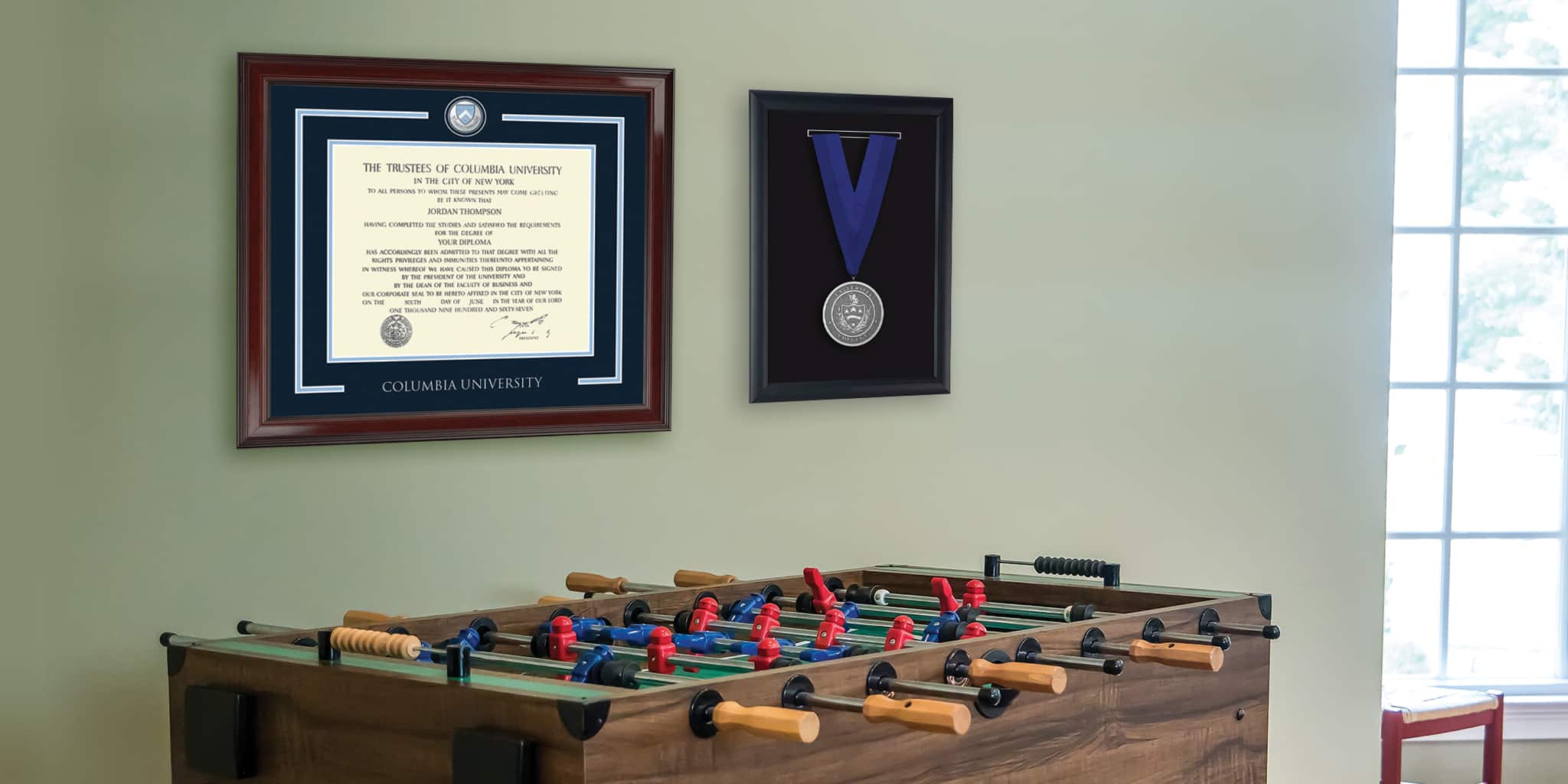 Ivy League Legacies
Regardless of the school, the history and legacy of each of these Ivy League programs are respectable. Of the schools not mentioned here, many still showcase high-quality athletes who have gone on to represent the United States in the Olympics.  Because of the age of the schools, many of these universities have been playing the most popular college sports—football, basketball, and wrestling, for instance, since their first days in the United States. Stanford and Harvard stand out from the rest as having the best Ivy League sports teams, but across each school is impressive talent and history. 
Athletics play a vibrant part of campus life for many students, even for those who do not compete in a sport with a large following. At Dartmouth, for instance, almost 75% of the student body participates in some form of athletics. Rowing is an increasingly popular sport on many campuses, with team sizes in the low hundreds of athletes. All this is to say that though a high-profile sport like football, basketball, or volleyball may be the best of the Ivy League sports and most competitive, abundant opportunities exist to get involved with athletics on these campuses. 

Framing Your Ivy League Diploma
Whether you're a proud graduate, or proud of your graduate, we have the frame that will showcase your collegiate achievements. For the student-athlete who wants to preserve the memory of their hard work in the classroom and on the field, be sure to check out our custom frame options. Athletes who have seen the best of Ivy League sports are right in wanting the best of diploma frames. Our products are handcrafted with pride, and we offer exclusive medallions of your school's seal, mascot, or logo. With styles that range from modern and sporty, to traditional and stately, you will find a diploma frame that perfectly displays your college experience.