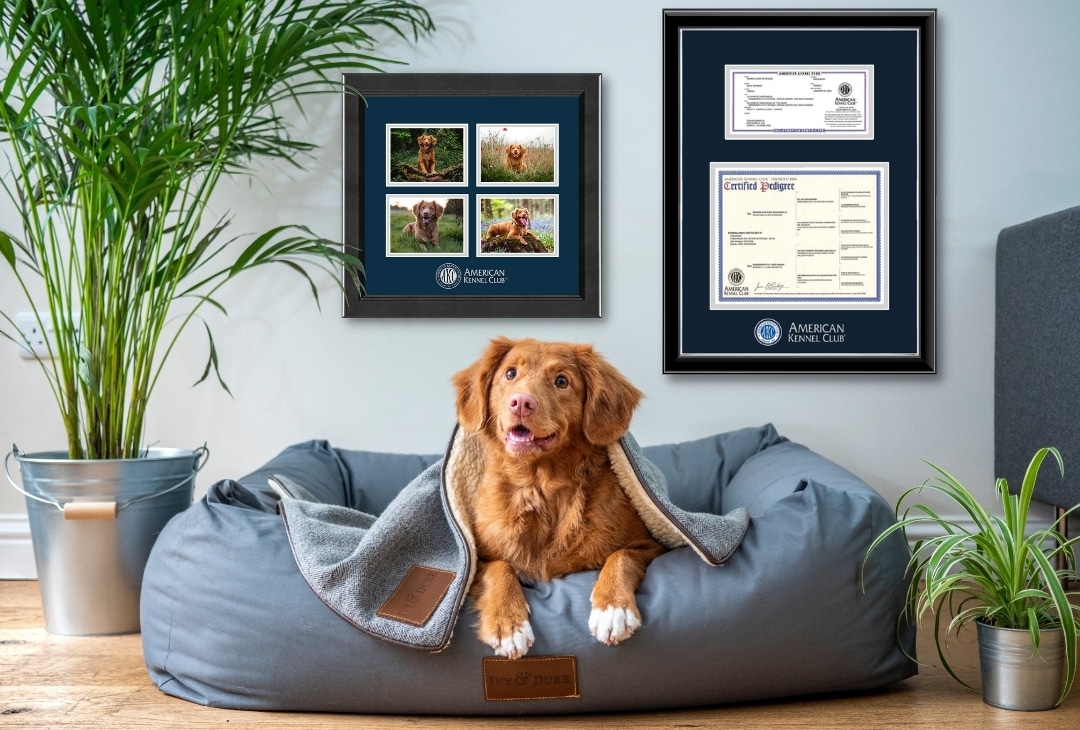 Maybe you thought you safely stored them in your filing cabinet, and they have mysteriously disappeared. Perhaps they were mixed in with your junk mail and picked up by the recycling company. However it happened, losing your dog's American Kennel Club registration papers is pretty common and easily rectified.
If your pet's AKC papers aren't out on display or in a dedicated frame, they are easy to lose track of. Put your dog's registration on display in an officially licensed AKC registration frame to showcase their pedigree certification alone or alongside favorite photos. Storing these important papers in a museum-quality frame featuring a gold or silver engraved medallion of the AKC is a stylish way to show off how important your dog is to you and ensure that losing their registration papers never happens again! Check out a wide variety of AKC frames for your purebred dog here.
Why is AKC registration important?
Going through the initial registration process with the AKC affords your pup some perks, in addition to having the papers to flaunt. These perks include registration packages with a three-generation AKC pedigree, an AKC collar tag with 24/7 lifetime recovery services, a subscription to the AKC Family Dog magazine, and a dog training video. Not to mention, your dog's name is recorded in the expansive AKC Registry.
Additionally, registration with the AKC makes your dog eligible to participate in the awesome world of AKC sporting events and earn a coveted AKC title, like Canine Good Citizen. Even your dog isn't an AKC dog sports competitor or AKC title winner, the benefits that come with having AKC papers on hand are vast. Luckily, the process to replace lost AKC papers is easy.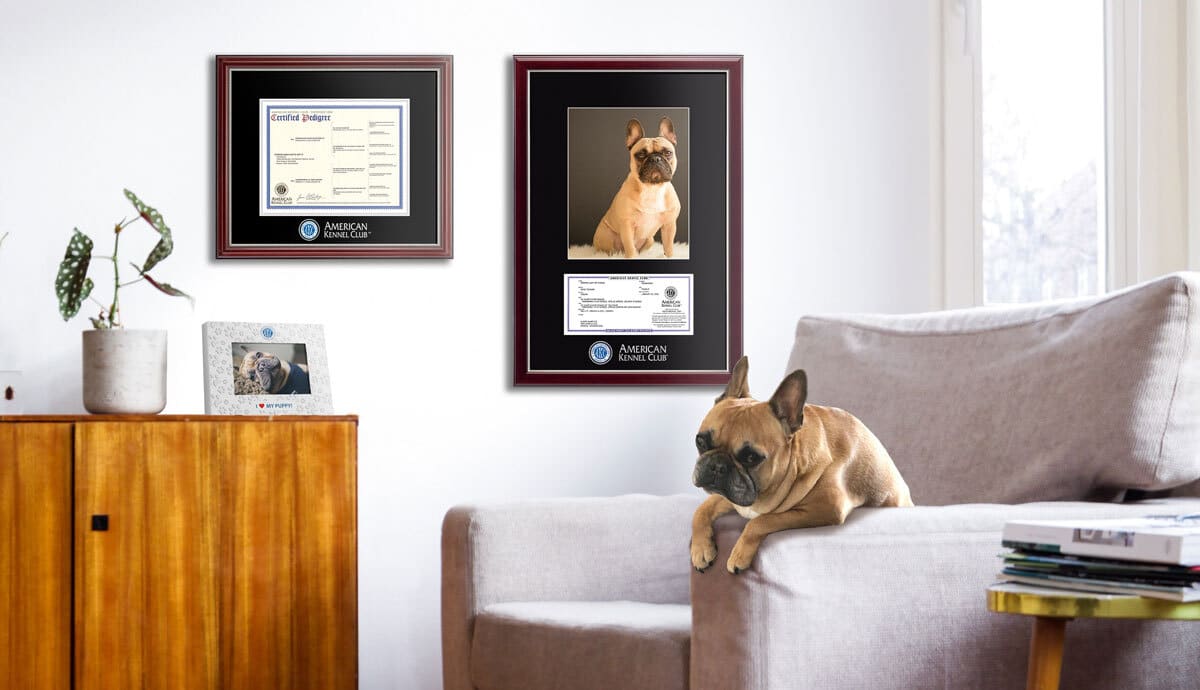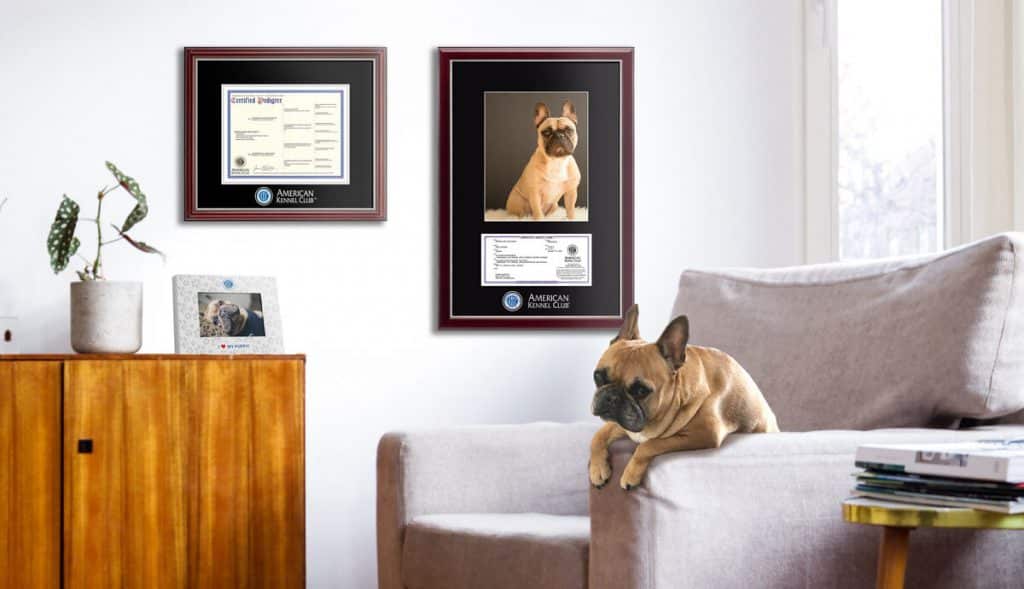 How to replace lost AKC papers
It's easy to submit a request to replace lost AKC registration papers. Simply fill out a downloadable request for a duplicate registration certificate from the AKC website. The registration application is in .pdf format and requires Adobe Acrobat Reader version 4.0 or newer. However, if you are unable to download the forms, you can send your name and mailing address to orderdesk@akc.org and have a form mailed to you by the AKC.
You'll need to provide information about your dog, their sex, their AKC registered name, date of birth, and their AKC registration number. Don't worry if you don't have your dog's AKC registration information readily available. You can also use the dam's (mother) and sire's (father) AKC registration numbers. If none of those AKC registration numbers are available to you, contact the AKC via phone or email for assistance.
Next, you'll need to fill in your contact information as the owner, including your full name, mailing address, telephone number and email address. All duplicate registration certificate requests must be completed and signed by the owner of the dog, as it is shown on AKC records. The AKC will only release information about a registered dog to its recorded owner. In other words, if you are not registered with the AKC as the dog's owner, you cannot obtain any information regarding the dog, nor can you request a duplicate registration certificate.
Make sure to use black ink and capital letters to fill in the boxes. The processing fee for the duplicate registration certificate is $20 and is payable by VISA, AMEX, MasterCard, Discover, and check or money order. Once you've filled out the form, mail it and the processing fee to the AKC Corporate Office at the address below:
The American Kennel Club
8051 Arco Corporate Drive, Suite 100
Raleigh, NC 27617-3390
If you need assistance, email AKC at info@akc.org or call 919-233-9767 to speak to an AKC Customer Service Representative during regular business hours (Eastern Standard Time) from Monday through Friday. For more information about the registration process, requesting a duplicate certificate, visit the AKC website.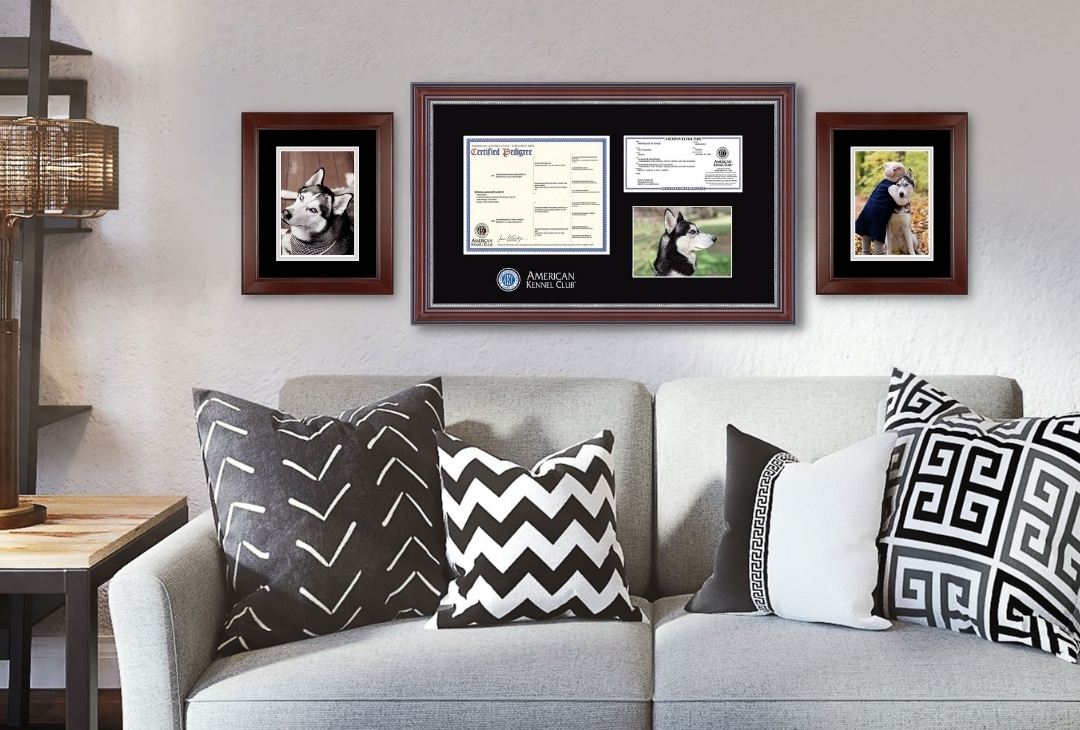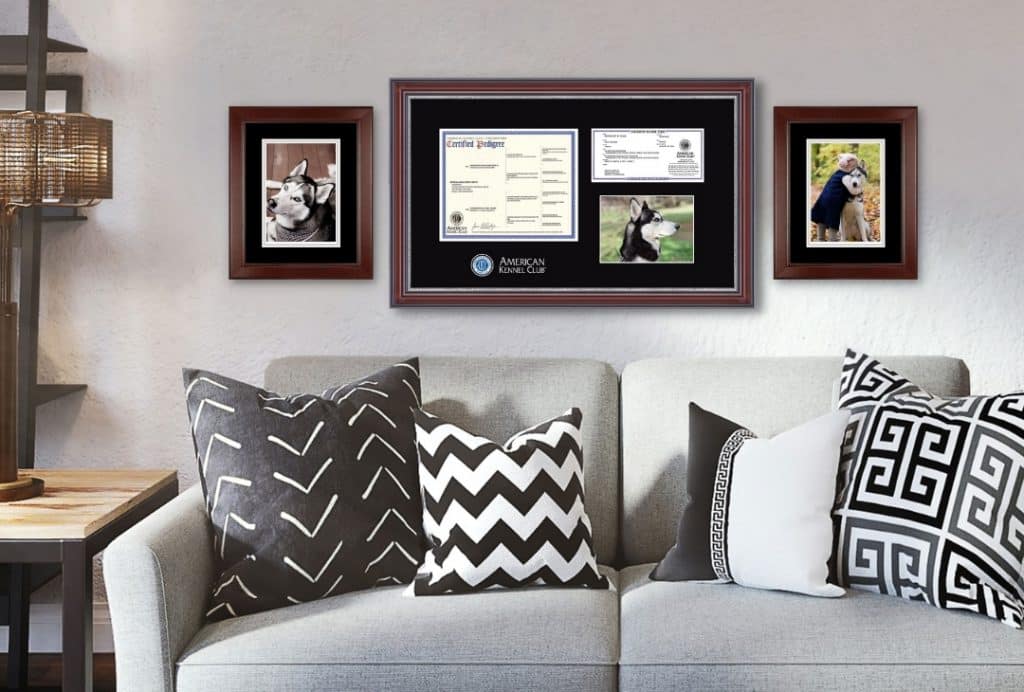 Keeping AKC papers safe
Once your replacement AKC papers arrive, be sure to frame them right away. Keeping the AKC registration papers in a dedicated frame will not only prevent you from losing them again, but it will also save you time, money, and effort in the long run. Plus, an AKC certificate frame will protect the registration papers against incidental damage. Now that you've taken the time to fill out a duplicate registration certificate form, pay the processing fee, and send it to the AKC in the mail, it's time to spruce up your home or office!
Cheap hobby store frames bring too much risk of yellowing, fading, or disintegrating your cherished documents, so be sure to choose a premium, professional-grade, handcrafted AKC frame. Church Hill Classics offer a wide variety of charming AKC certificate frames and AKC pedigree frames here, explore the selection today!
All dogs, including mixed breeds, can participate in agility competitions. Agility contests are certainly advancing dog sports in mainstream media. If you have a competitor in dog agility arena, commemorate their accomplishments with U.S. Dog Agility frames for certificates and photos. At Church Hill Classics, we love celebrating our four-legged friends!