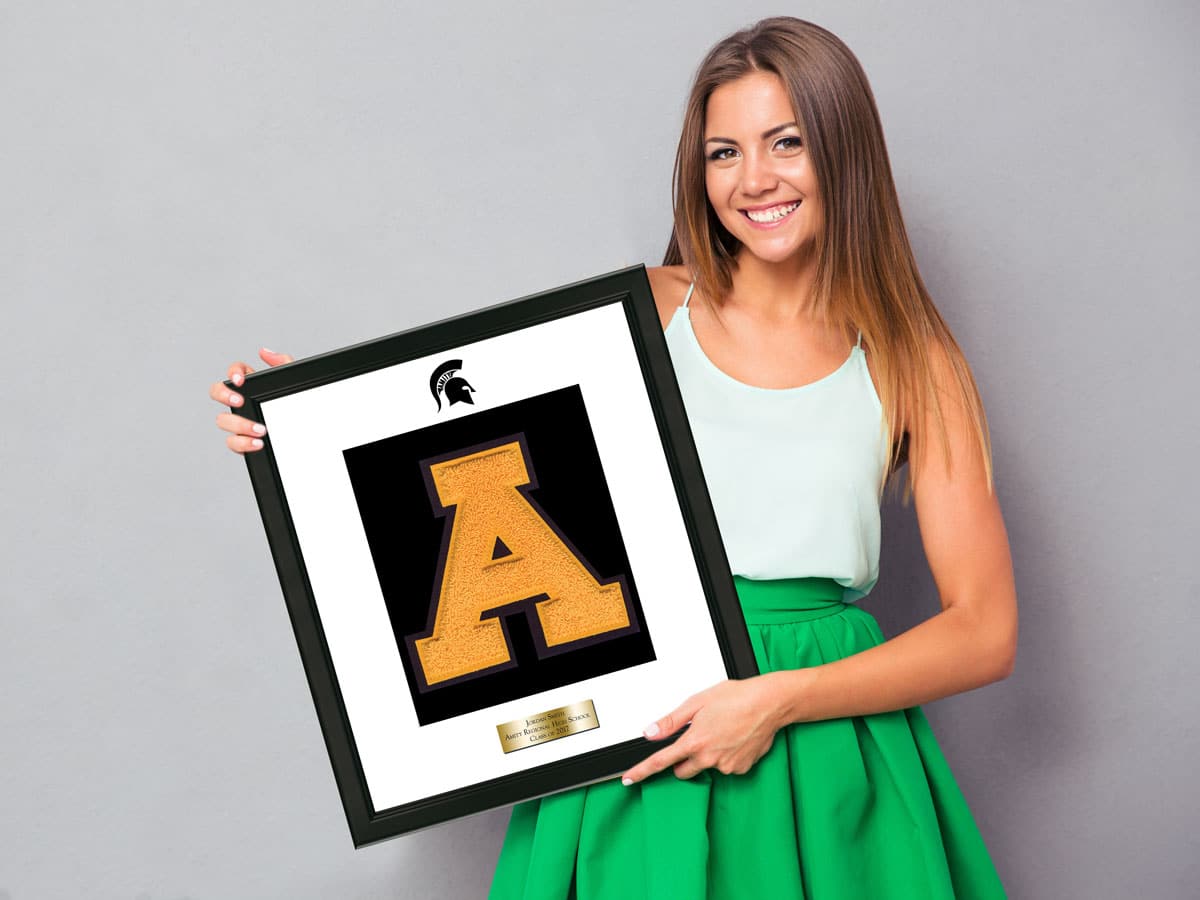 Have you received a high school varsity letter or high school letterman jacket? Or, are you on a college team this year and hope to end the season on a high note by earning your varsity letter? This prestigious monogram, often constructed of felt and moss-stitched chenille, is awarded to high schoolers and college students who are considered outstanding athletes or elite performers.
What Is a Varsity Letter?
The varsity letter is a symbol of school spirit, community pride, and hard work. It's a milestone achievement for students who've made the varsity sports team or excelled in academics or school-related activities like band, robotics, or the debate team. Read on to learn more about varsity letters and, perhaps most importantly, what to do with a varsity letter after graduation.
How Did the Varsity Letter Tradition Begin?
In 1865, Harvard University's varsity baseball players embroidered the letter "H" to their jerseys, thereby creating the first "letterman jackets." If you played in significant games during the season (like those against Yale or Princeton) and did well, you were allowed to keep the "H" uniform; if you didn't do well, you would turn in your jersey at the end of the season. This is how the tradition of "earning" the letter began.
The varsity letter tradition was adapted by Harvard's football team ten years later. In 1891, the baseball team transitioned to black varsity sweaters with a crimson "H" on the left breast. The letterman sweater trend eventually trickled into high schools with the earliest known example appearing on an Arizona student in the 1910 Phoenix Union High School yearbook sporting high school letterman jackets.
By 1930, boiled-wool custom varsity jackets with leather sleeves came on the scene; it's that same high school varsity jacket style, 90 years later, that we still see in high schools and colleges.
Even today, fulfilling varsity letter requirements is a big deal. It represents commitment, achievement, hard work, good sportsmanship, and athletic ability. Requirements for the letter vary from sports teams and clubs.
In addition to demonstrating physical skill, the student must maintain a high grade-point average in order to receive this award. Most high schools host banquets, attended by parents, coaches, teachers, and fellow athletes, to acknowledge the students' achievements and to present them with their varsity letters or high school jackets.
What Should You Do with Your Varsity Letter?
After all of the hard work you put into achieving it, it's time to think about what you should do with your varsity letter. Some students pin them to their bulletin board or put it in their scrapbook. Others take the the traditional route and sew it on letter jackets or sweaters.
Today's athletes and parents want an alternative to the high school varsity letterman jackets, one that will preserve and protect that hard-earned award for years to come. The best option is to frame your varsity letter.
Here are a few of the benefits of framing your custom chenille letters along with how you can easily showcase it in your own home for decades to come.
High-Quality Varsity Letter Framing
Custom framing your varsity letter allows you to safeguard it while showing off your achievement. An achievement you worked so hard to earn shouldn't get dirty, damaged, or fade over time. Preserving this achievement in a frame with UV protection will keep it in pristine condition. Best of all, you can hang it next to your high school diploma frame or special awards or certificate frames to create a handsome wall display of graduation frames.
Since they're handcrafted with deep shadow box mouldings, our varsity letter frames have enough depth to accommodate pins, patches, and other small trinkets. Best of all, the frames are constructed with easy-open backs so you can add new pins and patches as you receive them, season after season.
Just remove the varsity letter from the frame, place your pins and patches where you'd like, and then put your frame back up on the wall. It's that simple, which also makes it a great option for high school and college students who might not be the most careful with their possessions!
Varsity Letter Frames for School Events
These sporty frames are perfect for gifting to graduating seniors and MVPs at end-of-year award banquets. In fact, most coaches and academic advisors prefer the personal significance of a custom letter frame to handing out "dime a dozen" plastic trophies to deserving students. What better way to celebrate an athlete's dedication and teamwork than to put their hard-earned varsity letter on display with quality materials?
While these frames are ideal for showcasing students' athletic and academic achievements, they aren't just for kids. Varsity letter frames make terrific recognition gifts for parents, mentors, and community leaders who've helped raise funds for school clubs or who've donated their time or services to student organizations. They're also perfect for thanking assistant coaches for a memorable season or for acknowledging the retirement of beloved coaches, committee advisors, or athletic directors. As you can see, they truly make for a versatile gift for many occasions.
Creating Your Custom Varsity Letter Frame
There are so many exciting ways to customize your varsity letter frame. You get to choose your frame moulding, mats representing your school colors, and embossed insignias in black, silver, or gold. You can even add a personalized silver or gold engraved nameplate or choose to have your state name, class year, or academic interest embossed below your letter. With the seemingly endless customization options, you can create a gift that is truly personalized to showcase your athlete's achievements along with their personal style.
Deep Shadow Box Frame Mouldings
Choose from our five most popular shadow box mouldings. These sturdy frames provide plenty of room for your varsity letter and companion pins and patches.
Embossing for Your Varsity Letter Frame
After selecting your shadow box moulding, decide on top, inner accent, and background mats. You can choose from a wide range of mat colors as well as elegant linen or suede mats. Whether you received your letter for academics, fine arts, or a sport, you'll find the perfect insignia to complement your letter. Use our online customization tools to visualize which embossing, gold, silver, or black, works best with your top mat color and what will make the varsity letter pop.
If you're an athletic director or coach looking for gifts for your MVPs or graduating seniors, we can create a custom-designed insignia featuring your team mascot or school logo. For more information, fill out our Varsity Letter form and our High School Rep will be in touch to help you navigate creating your custom varsity letter frame!