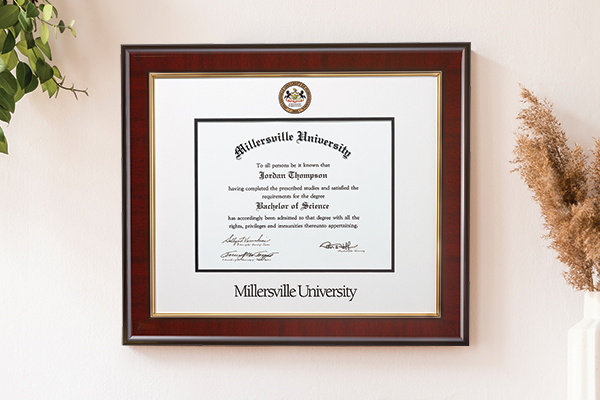 Dimensions Diploma Frames
Our dimensional printing technology is an industry exclusive! Brilliant inks and a striking "raised" profile combine for a high-end look at an affordable price.
Dimensions Diploma Frame Features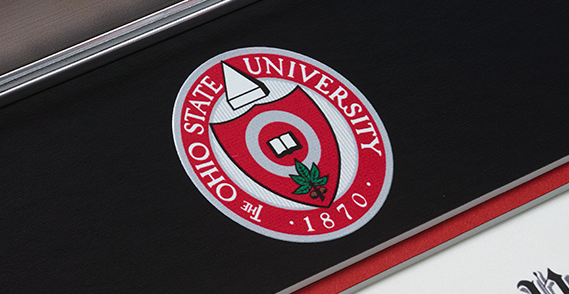 Stand Out from the Rest
Features 3-D logos and branded pops of color on elegantly textured mats.
Make a Lasting Impression
Dimensions melds dynamic raised inks with crisp, professional details.
Cornering the Market on Style
Choose one of our contemporary mouldings or customize with your favorite.
Raise Your Profile in a Dimensions Farme
How Others Styled Their Dimensions Diploma Frame
Frequently Asked Questions About Dimensions Frames
1. What makes my Dimensions diploma frame unique?
Distinct from our other framing options, our Dimensions frame style is designed to stand out. We use our dimensional printing technology to create raised school logos and customized wordmarks on textured mats, to highlight your alma mater as well as your hard-earned diploma.
2. Do I need to measure my diploma to order a Dimensions degree frame?
There's no need to know your diploma size because we already do! When you order a Dimensions frame, we search our database of document sizes to know exactly what size we should craft your custom frame. Simply enter your year of graduation at checkout, and we'll take care of the rest!
3. What kind of glass options do your Dimensions frames come with?
All of our diploma frames automatically come with regular picture glass. Glass upgrade options like conservation UV protection and/or reflection control can be specified when you order your custom frame.
4. How do I hang a Dimensions degree frame?
When we ship your order from our Monroe, Connecticut facility, we make sure to include easy-to-follow mounting instructions and a Level-Lock® Hanging System. With these tools, you'll have your custom Dimensions diploma frame displayed on the wall in no time!
5. Whom can I contact with questions about my custom frame?
Our stellar customer service team is available to answer your questions by phone at 1-800-477-9005 or through our online chat service Monday through Friday from 8:30 AM - 5:00 PM. We want to make sure you love your frame and are 100% satisfied with your final purchase!