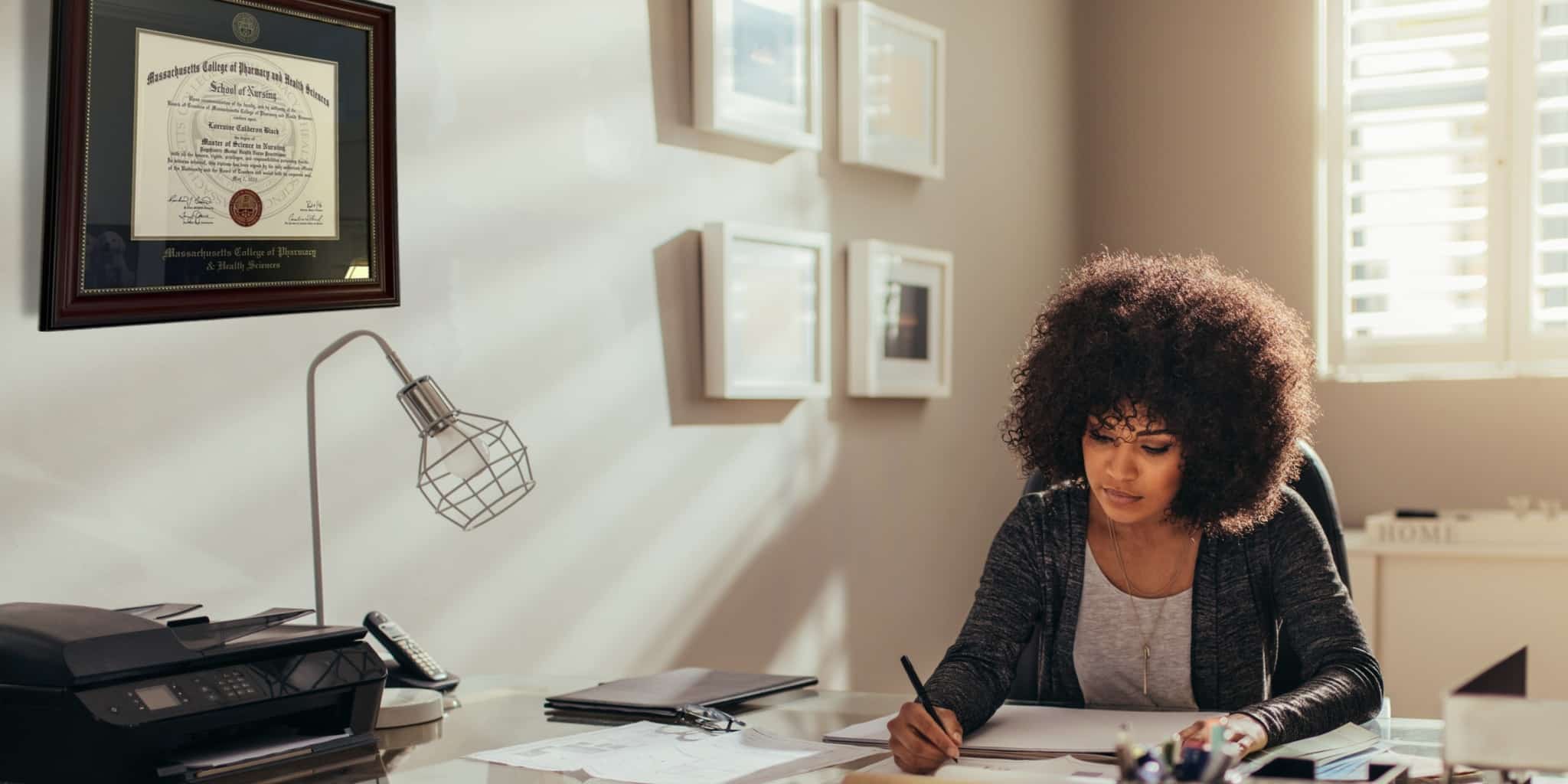 If you're looking for the best gifts for grad students, we have some ideas that you're sure to like. We hope you will consider them for a special graduate friend or loved one. Our list includes gifts that will be openly displayed, used regularly with the gift-giver in mind, and worn or eaten thanks to you. Each one has been included because it is unique and special, just like the grad student!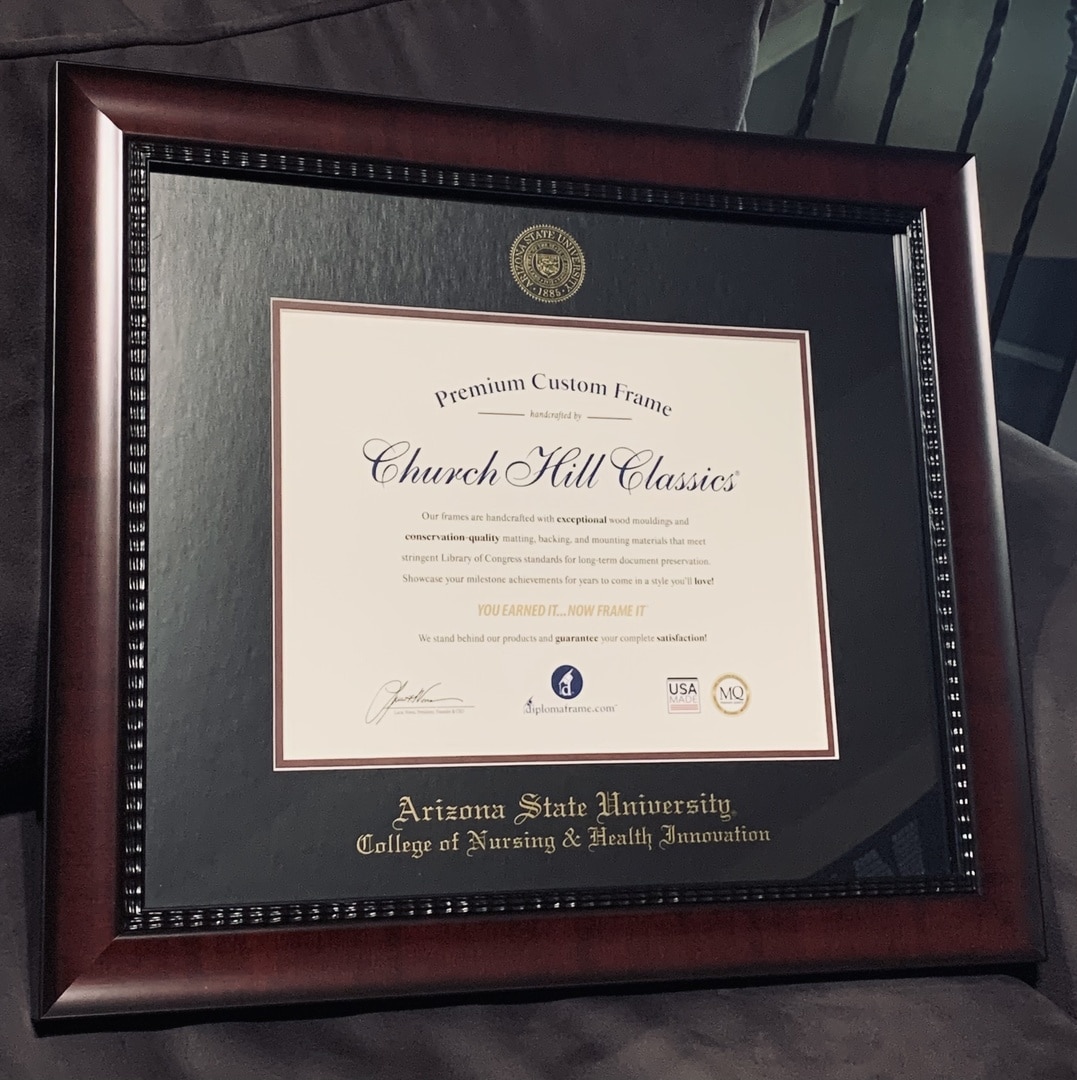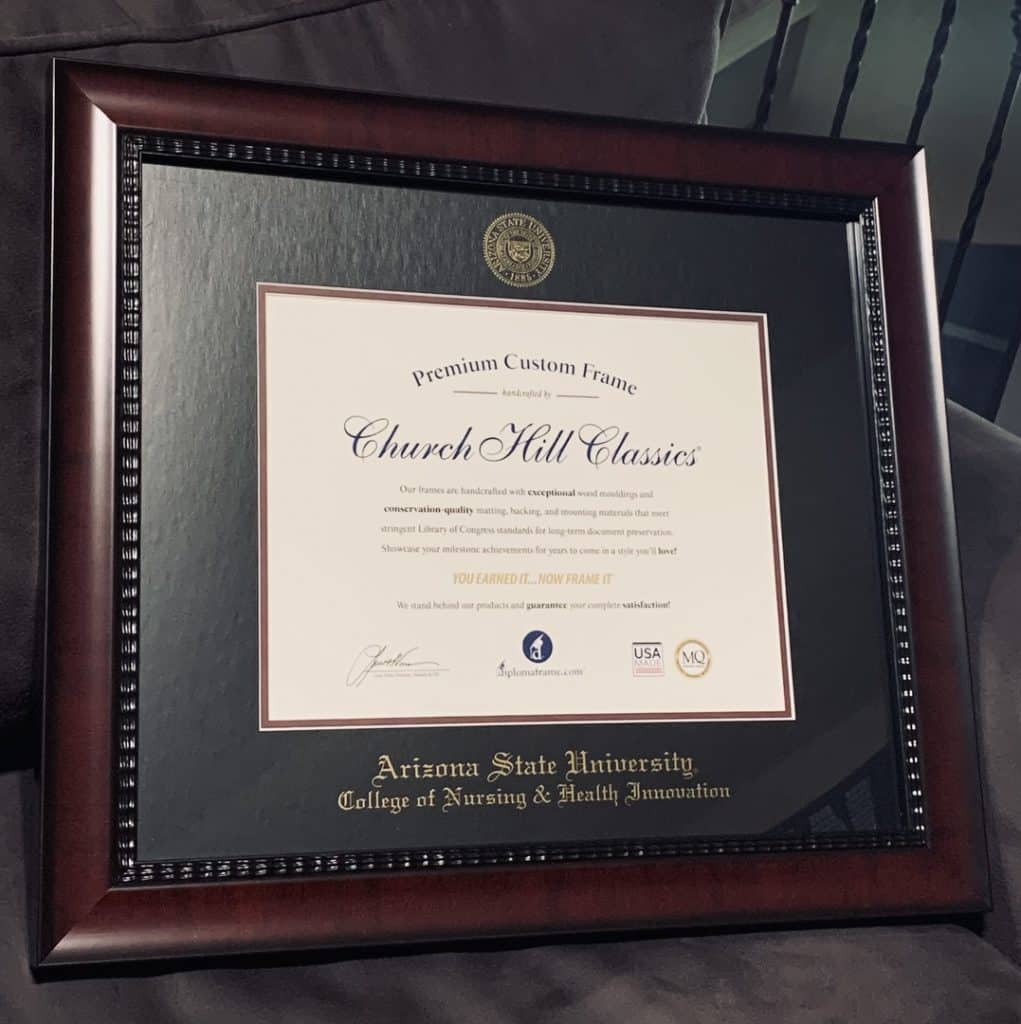 1.) Custom-Made Frame for the Graduate
Help your grad student remember how special their graduate degree is to them with a luxury diploma frame that will not only display the graduate's diploma, but it will protect and preserve this special document. This gift idea for grad students will allow them to display their academic accomplishments in their future offices or even in their home offices. Church Hill Classics has many styles of frames, all of which can be customized to suit the graduate student's unique personality and style preferences.
Shopping at Church Hill Classics means there's nothing to measure, because we already know the frame dimensions and mat opening size, thanks to our extensive database of 1.6k college and university diploma sizes based on the student's graduation year. Simply find their college and then their academic discipline for specific grad school embossing. Adding a second line of gold or silver embossing with your grad school's specific name makes for an impressive display. 
Alternatively, you can customize degree frames from start to finish to match their home or office decor Church Hill Classics' Create-A-Frame online design tools. Choose mouldings, embossing, engraved nameplates, and every conceivable mat color and texture combination. UV-protective glass upgrades are available, as well as an eco-friendly line of 100% recycled wood mouldings.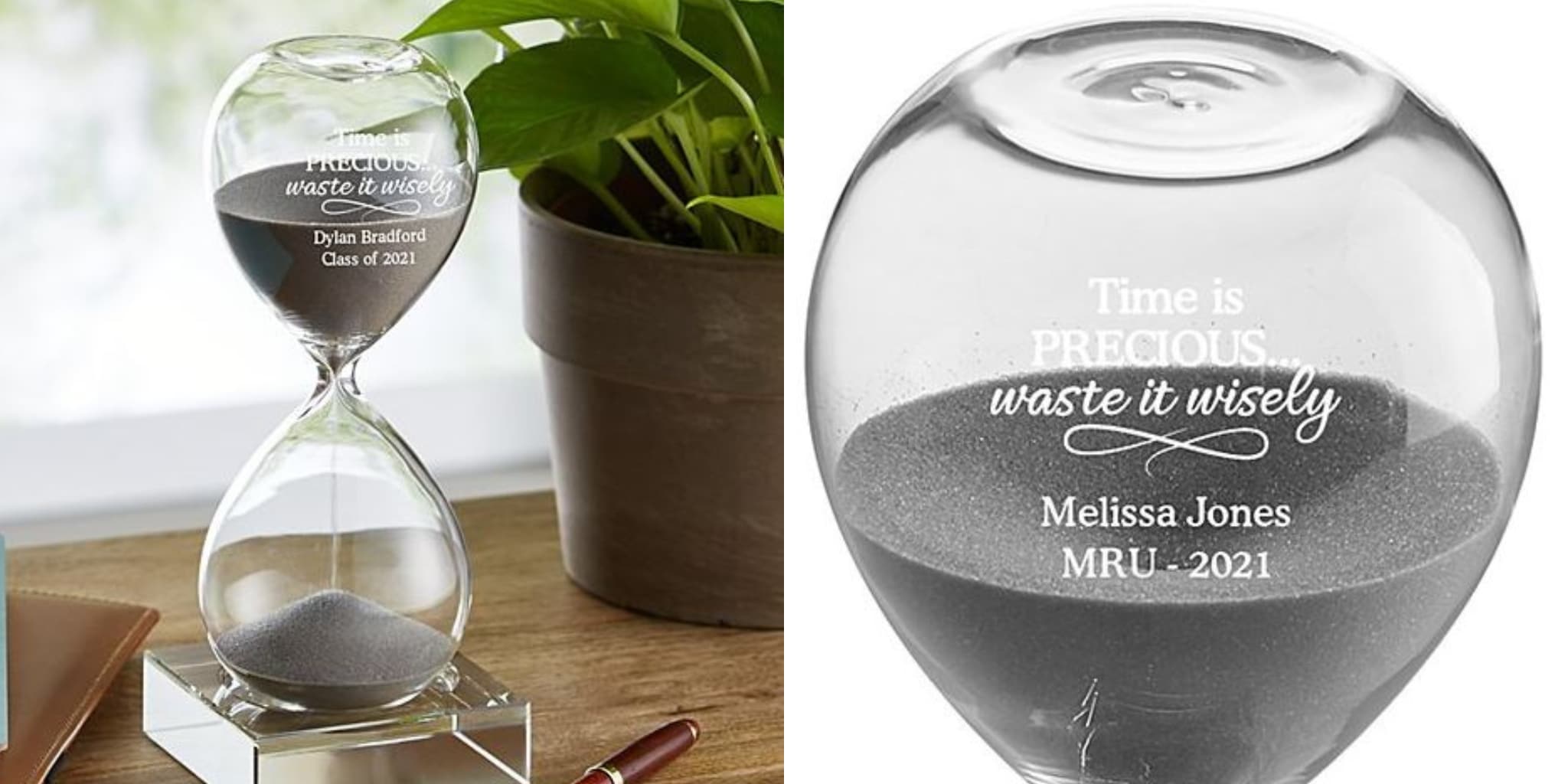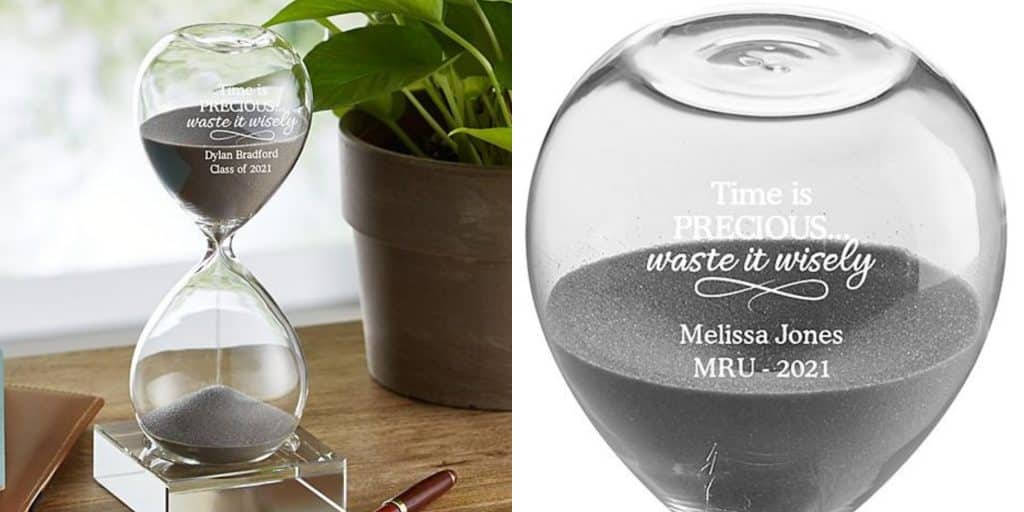 2.) Personalized Hourglass
If you're looking for a unique gift for a graduate student, consider a personalized hourglass to remind the graduate to focus on their goals for the future. This gift for graduate students will remind them to enjoy every moment of their bright future and is sure to become a treasured family heirloom. It has the words "Time is precious…waste it wisely" beautifully engraved on it as well as the graduate's name and class year. A thoughtful desktop accessory, you can present an important lesson without saying a word!
3.) Gourmet Strawberries Subscription
A gift for the grad student that will be appreciated over and over again is Gourmet Drizzled Strawberries. The strawberry lover who is beginning their career will love receiving these chocolate-covered delights every 2, 4, 6, or 8 weeks. It is much more than a one-time gift! This is one of the perfect gifts for nursing graduate students to share with hospital staff working overtime or double shifts.
4.) Commuter Backpack
All professionals need a small bag to hold workout clothes for later in the day or jeans and a t-shirt if they plan on a casual evening with friends. For a fashion-forward and functional carry-all from a woman-owned company, Pretty Pokets' Small Backpack is the perfect place for keys, wallet, a tablet, and so much more. These great gifts for new graduate students feature plenty of pockets and is made of premium-quality vegan leather in a range of stylish colors.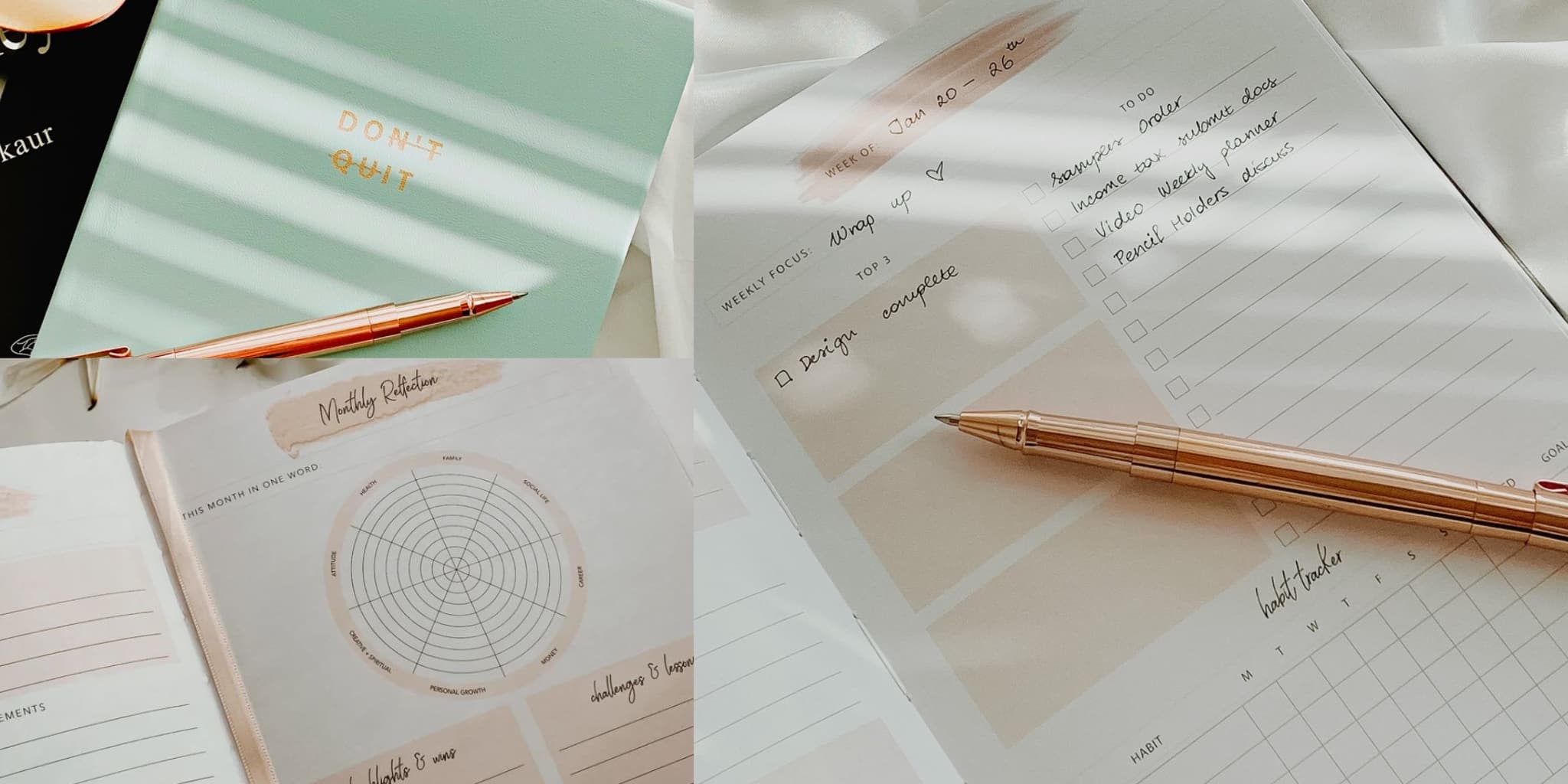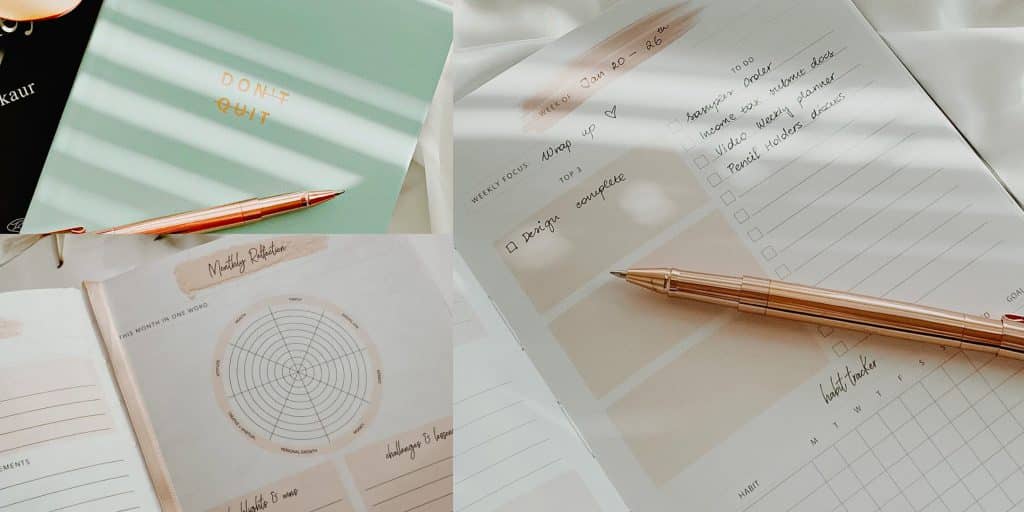 5.) Do It Weekly Planner
The Do It Weekly Planner is a great gift for the grad student. It can help them organize their lives now that they need to transfer from a school schedule to a professional schedule. This is one of the gifts for chemistry grad students who accomplish more when it is written down, or for anyone who wants to stay organized.
It has a vegan leather blue hard cover and no starting date, so you can start on page one and get a whole year's worth of pages. An interesting feature is the planner's "Brain Dump" to record ideas once a month. There are also spots for monthly and yearly goals plus evaluations of them.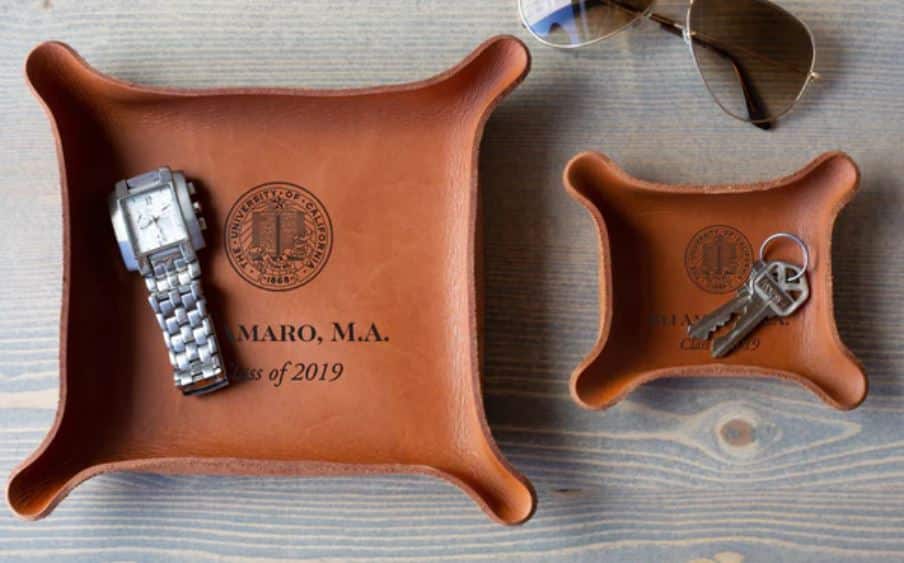 6.) Personalized Desk Tray
Woman-owned Paper Anniversary takes pride in creating deeply meaningful and personal gifts. Led by a team of female artisans and designers, Paper Anniversary's Personalized Leather Graduation Tray is a handsome catch-all for watches, jewelry, coins, and keys. It's a great gift idea for grad students that's handcrafted in San Francisco and laser-engraved with their name, university seal or college logo, specific degree, and year of graduation.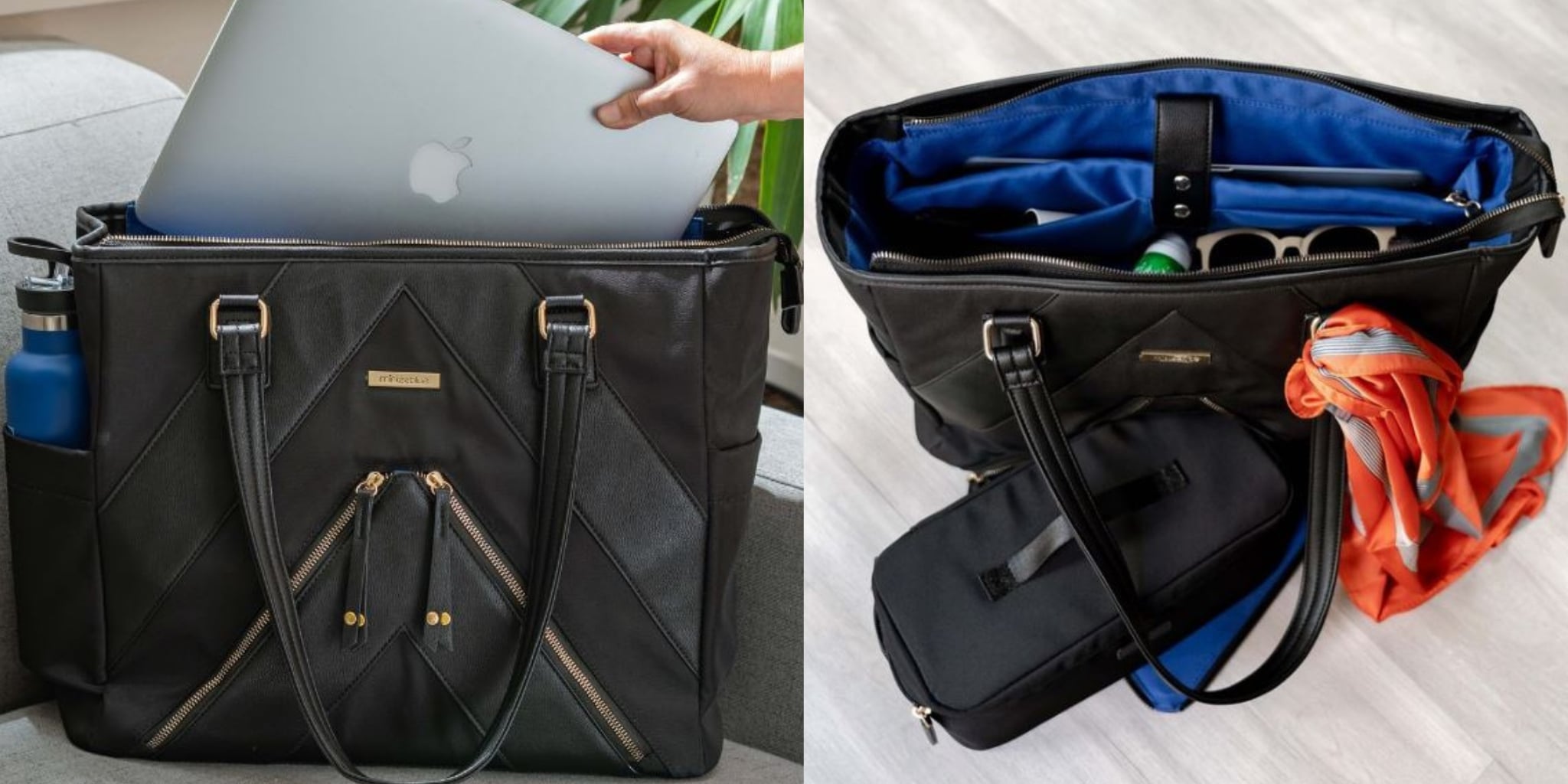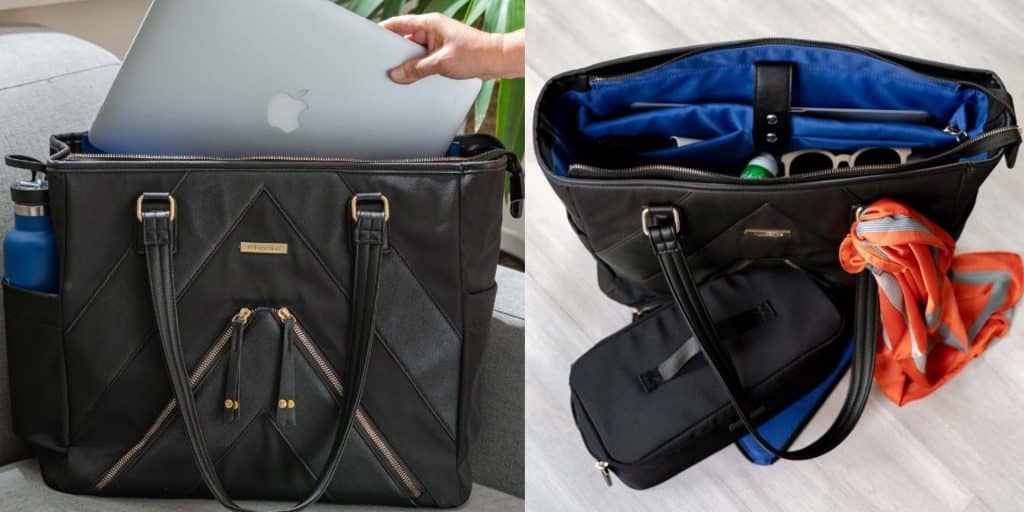 7.) Travel Tote Bag
From the woman-owned company MinkeeBlue, their Madison Tote Bag is a convenient gift for the grad student who likes to travel. This spacious carry-on bag for the airport boasts an insulated lunch box, a padded slip pocket that fits up to 16" laptop, a front zipper shoe compartment, and expandable side pockets for water bottle, umbrella, and phone. Special features include a key fob, coin pouch, inside zipper pocket, two patch pockets, and back hidden zipper pocket that easily slips over the handle of a rolling suitcase.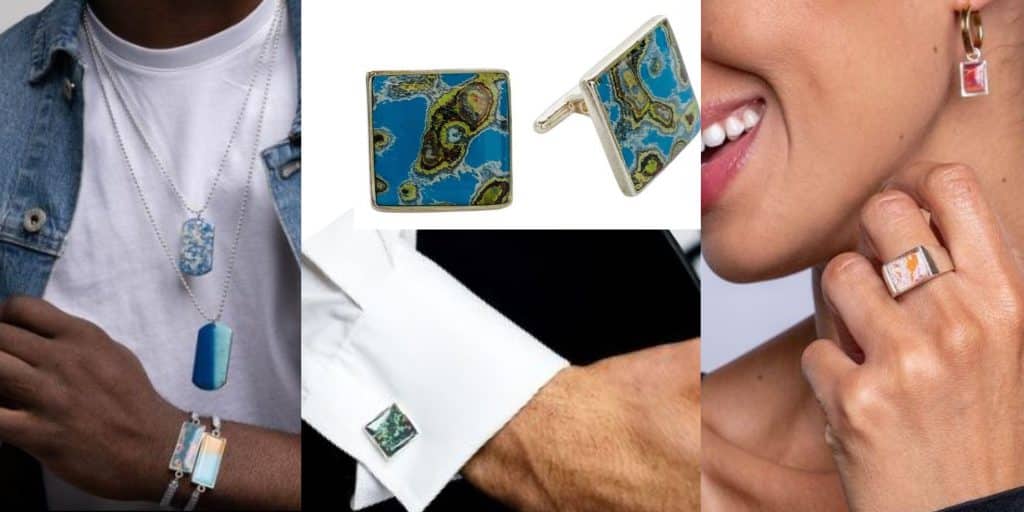 8.) Fashionable Accents
As they transition into their chosen career field, grad students will want to upgrade their fashion game for the professional world. Help commemorate this major milestone with artisanally crafted jewelry and fashion accessories from female-founded Rebel Nell. This Detroit-based company handcrafts one-of-a-kind pieces from repurposed layers of locally sourced fallen graffiti paint. Shop their curated women's jewelry, unisex/gender neutral products, or their men's collection for cufflinks, dog tags, bracelets, tie clips, rings, and money clips.
Valedictorian of Grad Gifts
When it comes to the best gifts for new graduate students, help them celebrate this amazing accomplishment with intentional presents that are designed to celebrate their bright future. From office desk accessories and commuter bags to one-of-a-kind jewelry and food subscriptions, no matter what you choose to celebrate the completion of their graduate school program, make sure it includes an officially licensed Church Hill Classics collegiate frame featuring their university name, school seal, and specific grad school embossing.