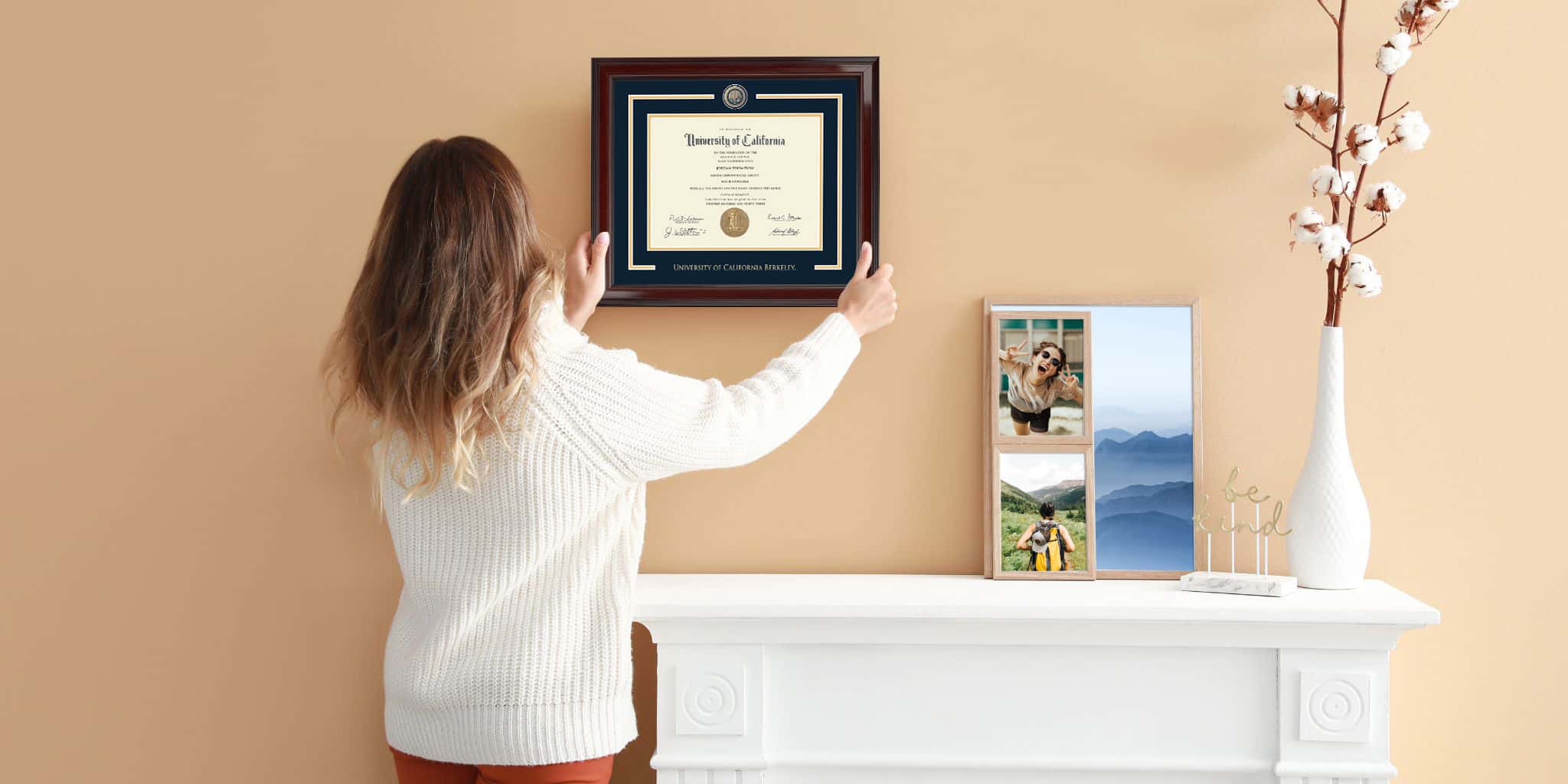 If you're a recent college graduate, you're likely eager to store your diploma safely in its own frame and display it with pride. Perhaps you've even already ordered a custom frame for your degree! But do you know which mistakes to avoid when framing diplomas?
We know you're excited to have your degree hanging on the wall for friends and family to see, but before you start the process there are a few things to consider. Framing diplomas can be a daunting yet rewarding task. Before you dive into the framing process, it's important to acknowledge common mistakes. More importantly, is how to avoid them.
1.) Wrinkling or Folding Your Diploma
A common mishap that often occurs is wrinkling or folding your diploma. This happens when diplomas are not stored safely. It's easy to set your diploma aside in a stack of papers or leave it lying in a common area in your home. You tell yourself you'll frame it later, but when that time comes you notice the wear and tear that occasional rustling or dropping has put on your degree. 
Maybe your toddler thought your diploma looked like something fun to play with. Or perhaps the stack it was kept in fell off the shelf one too many times. Either way, it's incredibly difficult to restore your diploma to its former glory after it's been damaged. Sure you could reorder a print and frame it, but wouldn't you rather have your original bachelor degree safely behind picture frame glass?
The best way to avoid imperfections and having to order a replacement degree? Keep it in a safe place from the moment you receive it. You may think that keeping it in a diploma cover, a filing cabinet, designated folder, or a clean drawer is a smart choice.
However, the very best way to keep your degree pristine is to already have a custom frame with an acid-free mounting board on hand. This way, it can be transferred to its rightful place and skip any opportunity for potential damage. 
2.) Misplacing Your Degree
You'd be shocked to learn that several people stuff their degree away in a box, never to be seen again! If you graduated from college a while ago, it's easy to tuck your diploma away and forget about it for years. After it's been misplaced for so long, finding it again can be a hassle. It's hard to know whether you left it in the storage unit, if it's somewhere in a cluttered office, or if it accidentally got thrown out during your last move.
Many people spend hours, days, or even weeks searching for their misplaced degree. If you cannot find your diploma, don't worry, as there is still hope. You'll likely have to go through the work of requesting another official copy from the registrar's office at your alma mater. For more information, check out our blog on what to do if you lost your college diploma.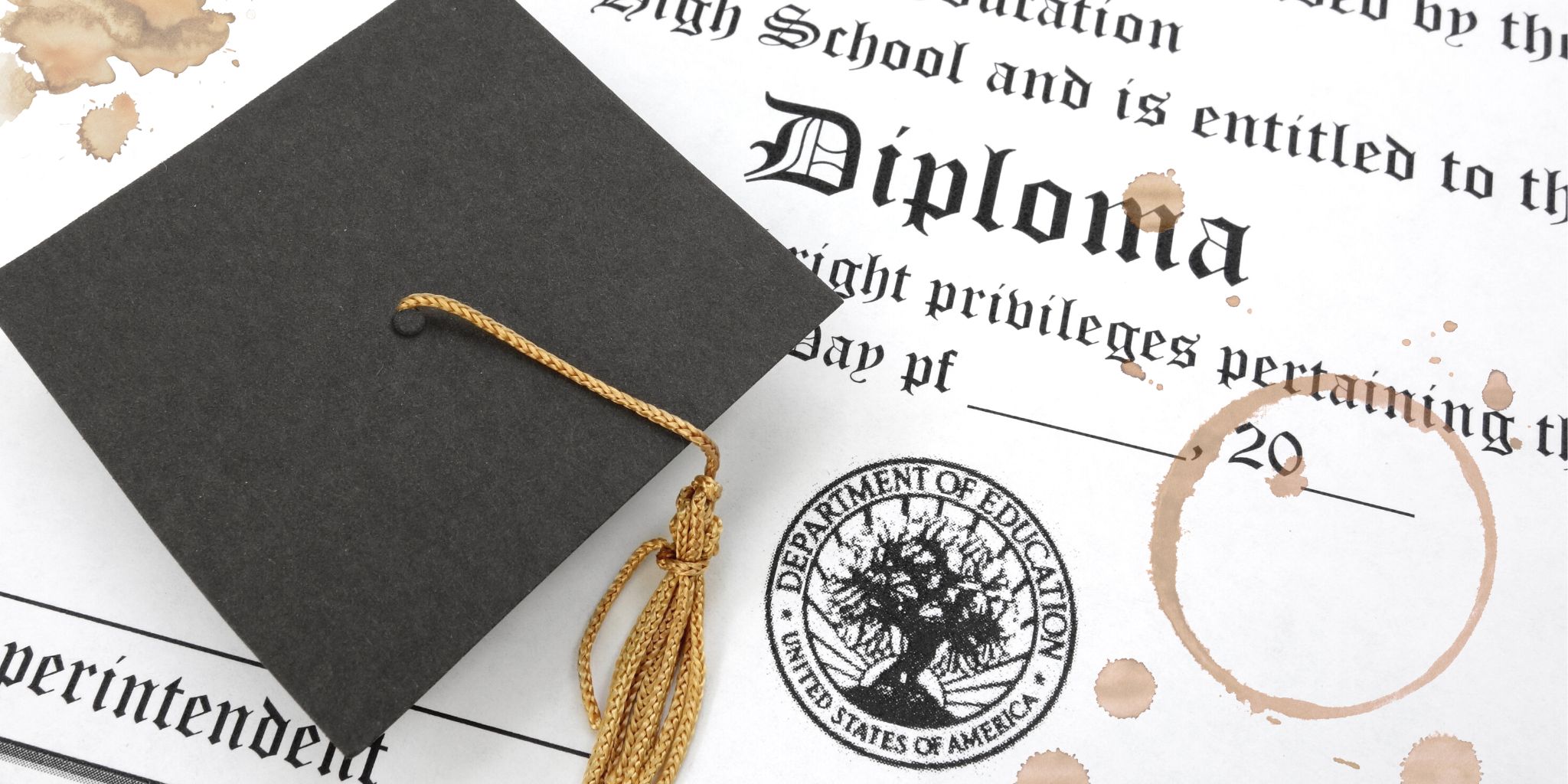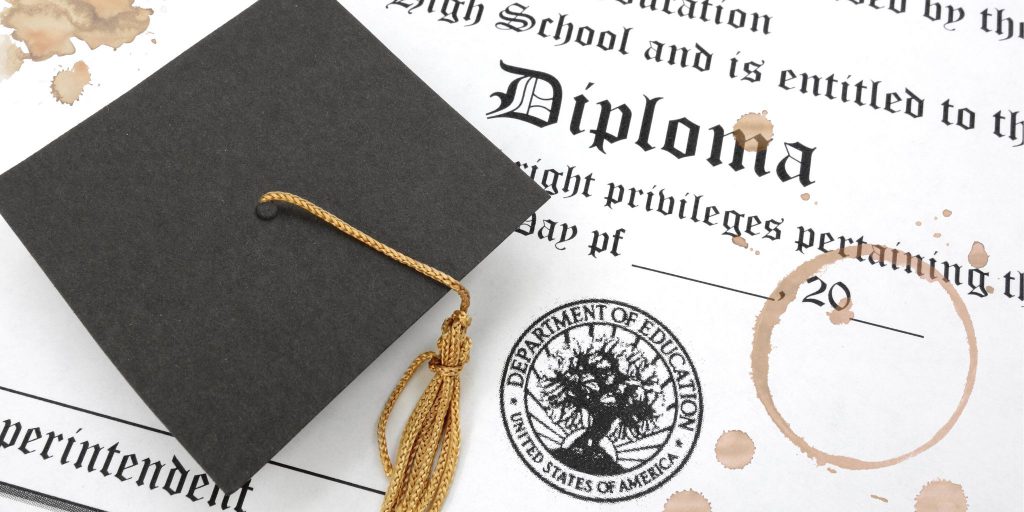 3.) Spills and Marks
Similar to the damage caused by folding or wrinkling in high winds, any accidental marks on your degree cannot be undone. Stains can be acquired in a number of ways. In a hurried frenzy, you might have mistaken your degree for a coffee coaster. Or maybe your toddler thought your degree was a coloring page.
If you don't keep a close eye on your precious document, it's bound to acquire a scuff or two. Particularly if you leave it exposed. Spills and marks can be avoided by keeping your diploma in a safe space away from the hustle and bustle of your daily life.
Has your degree has acquired a coffee stain or noticeable pen mark? Then our best advice is to request a replacement from your alma mater. Having a clean, unmarked diploma displayed appears more professional, impressive, and is worth it in the long run.
4.) Rolling Your Diploma
Did you receive a rolled diploma in a tube after graduation and aren't sure what to do with it now? Whether rolled up in its original tube or in a rubber band as a way to quickly condense space, unrolling a diploma can be a challenge. A rolled diploma can be hard to lay flat when framing, and can be easily crinkled in the rolling process.
If you can avoid it, it's best not to roll it at all. Before placing your degree in one of Church Hill Classics' elegant frame styles, it's best to go through a bit of extra work to make your diploma lay flat. Learn how by reading about the best tips and tricks to flatten a rolled diploma.
5.) Smudging Frame Glass
When it comes to common framing mistakes, smudging your frame glass happens often but is easily overlooked. It's natural to focus on the process of framing a diploma and not on cleaning the glass of your frame. Next thing you know, you're in an office meeting and notice the fingerprints all over your hanging degree. You don't want coworkers or your boss to see the smudges all over your frame and possibly attribute the messiness toward your work ethic. 
Avoid deconstructing your frame later by cleaning the glass the first time! Simply grab a paper towel and some ammonia-free glass cleaner and wipe down the inside and outside of your frame glass. Be careful not to touch it and only hold it by the outside edges. Make sure you allow the glass to dry to a streak-free shine before placing your degree and closing the tabs on your backing materials.
Alternatively, if you've selected Plexiglass for your diploma frame, don't use glass cleaner and paper towels to clean the surface. Because it's an acrylic glaze, glass cleaner can create a foggy surface and paper towels can easily scratch the Plexiglass. Use a dry microfiber cloth and small circular motions to wipe away any smudges. (Do the same with our solid hardwood frames or recycled wood products.) By adding this extra step and avoiding fingerprints, your diploma frame will appear bright, clean, and professional wherever it's hung.
6.) Working on an Uneven Surface
Once you've made it to the framing process, the end is in sight! An often overlooked yet crucial step is making sure you're working on a flat surface like a table, countertop, or the floor.
Working on a wobbly or curved surface could leave your degree skewed or displayed at a weird angle. If working in an unstable area, it could even bring unwanted damage to your custom frame and its glass surfaces. The last thing any customer wants is for their expensive, custom-built diploma frame to crash to the floor and break. Working on a flat surface allows you to clearly see your workspace and prevents unnecessary nicks or scratches to your frame.
7.) Overlooking Pet Hair
Another factor to consider and be conscious of when framing your diploma is pet hair. If you're a pet owner, you know full well how easy it is for animal hair to sneak its way onto clothing and into picture frames. We know you love your pets, but consider framing your degree in an area away from your furry friends, or even in a space outside of your home.
Being conscious of pet hair entering your frame will prevent you from having to open it and take it out in the future. It can look terrible to have a stray hair or flaky pet dander diminishing the look of your impressive diploma.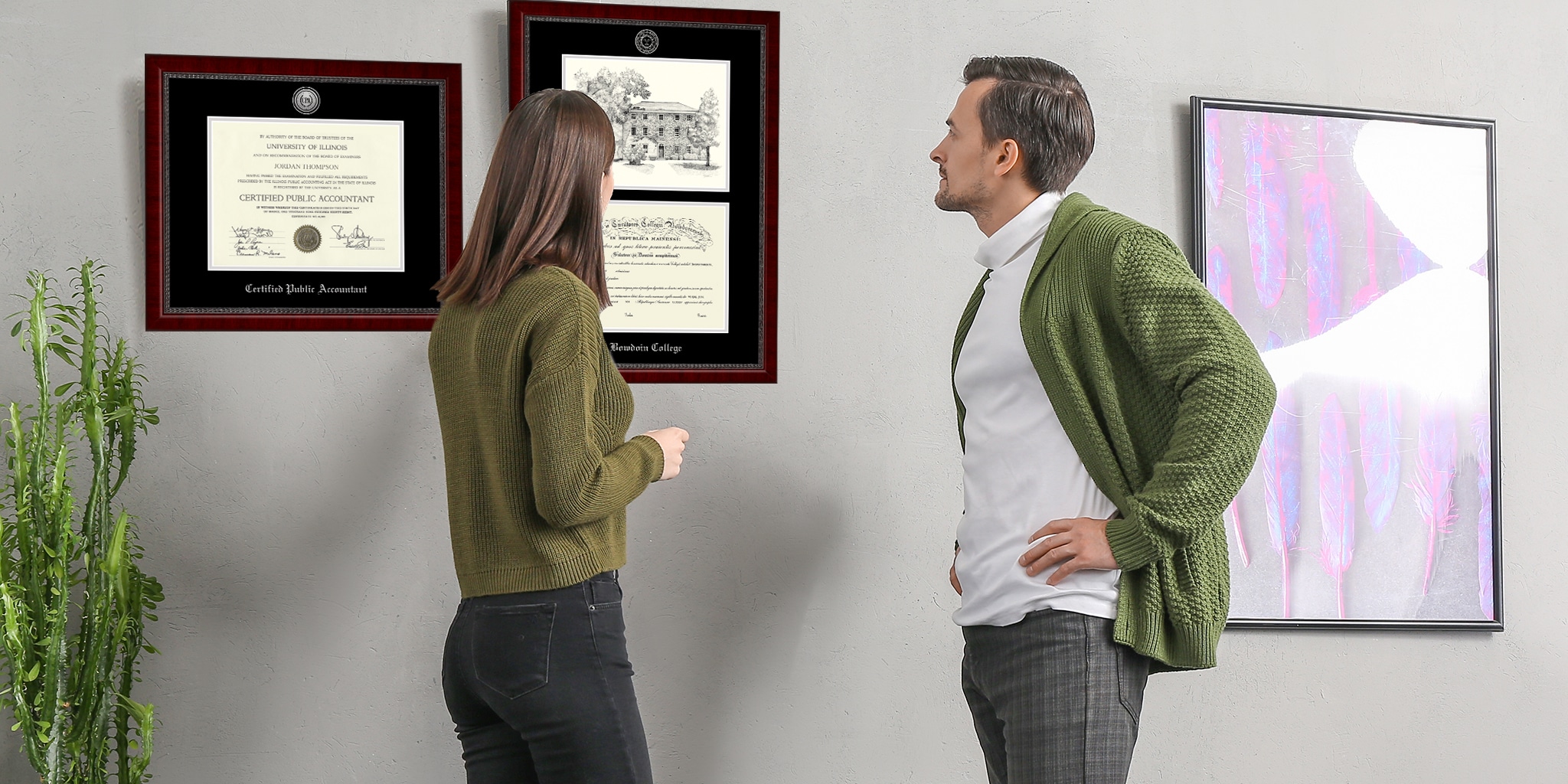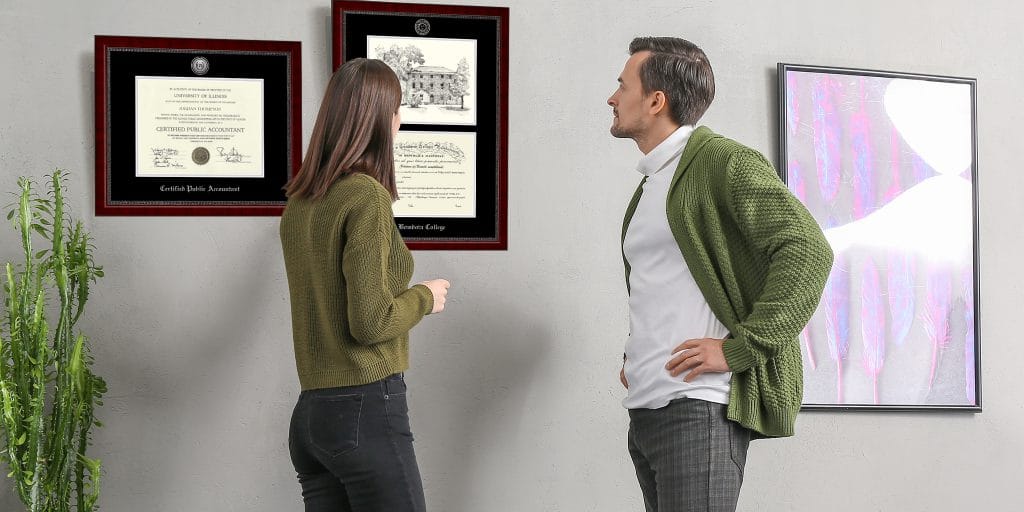 8.) Buying a Cheap Frame
You wouldn't live in a dwelling that wasn't up to local building code and state mandates. So why would you trust your priceless document to a cheap frame? The most important and long-lasting of all framing mistakes is purchasing a holder that doesn't actually protect your precious degree.
Sure, while walking through your local hobby store you might be tempted to snag the first frame you see. Unfortunately, these frames are not built with the goal of preserving your diploma in mind. Often easily breakable, these generic frames allow dust to reach your document and don't protect it from discoloration or overhead glare. Or they're laminated holders with anchor bolts going right through (and ruining!) your diploma.
Choosing the wrong wood framing can have a lasting negative impact on your degree, leaving it brittle and yellowed. Our goal is to keep your diploma preserved and well-displayed for years to come in an archival-quality collegiate diploma frame. A cherished document should be stored in a hand-built frame constructed with care. 
Using museum-quality mats and solid hardwood mouldings, our frames are also customizable. Unlike hobby store frames, you can add embossed emblems, engravings, or switch up the mat colors of your frame. Customizing a diploma frame makes it unique and special to you. After all your hard work, your diploma deserves to be stored in a frame built to keep it safe and last for decades. 
9.) Eyeballing It When Hanging
A frustrating diploma framing practice is simply getting your degree hung on the wall. The process can involve lots of tools, levels, and guesswork. Hanging diplomas on a wall can be risky if not done correctly. The last thing you want is for your new frame to be hung incorrectly and come crashing to the floor. It's important to plan ahead and decide what the best space to display your document will be. If you have multiple degrees, create a gallery wall effect.
Luckily, each Church Hill Classics frame comes with a complimentary Level-Lock hanging system that makes the hanging process a breeze. Not only does the diploma frame hanging bracket allow you to hang your frames perfectly on the first try, but the kit also comes with all the tools you'll need aside from a hammer! No more rummaging around your house to try and find nails, tape, markers, or a level. 
With Level-Lock, there's no need to eyeball your frame as you hang it; there's no risk of it being crooked or off-center. All around, the framing process is much more efficient. To learn more about how to hang diplomas correctly, read our blog on how to frame a diploma. 
10.) Hanging It Where It Can't Be Seen
The last and arguably worst mistake one can make when framing their diploma is not displaying it where others can see. You worked incredibly hard to earn your prized degree. You invested so much time, money, and energy into your studies. It'd be a shame for the culmination of all your hard work to be tucked away out of eyesight.
Display your custom diploma frame in a space where others can view it. It's reminds them that you're educated, qualified, and determined. These qualities are valuable, whether you're working with customers, clients, colleagues, or future employers. Show off your accomplishment by hanging it in an office space, waiting room, or a frequented room in your home. Check out our decorating guide for more diploma hanging ideas.
Did you attend a specific university and want to feature your alma mater on your diploma frame? Be proud of your degree and where you earned it from by choosing one of our college frames. Our site offers store pages for thousands of universities around the country. Whether you attended UCLA or Boston University, you can find customizable product options at your fingertips. So you can start framing your UCLA diploma today!
Avoid Mistakes with Custom Diploma Framing
There are a number of mistakes that can be made when framing diplomas, but most are easily avoidable. Just make sure you take good care of your valuable document and invest in a custom diploma frame to keep it safe and sound. Looking for more inspiration and diploma framing ideas? Spend time browsing the rest of our blog topics!