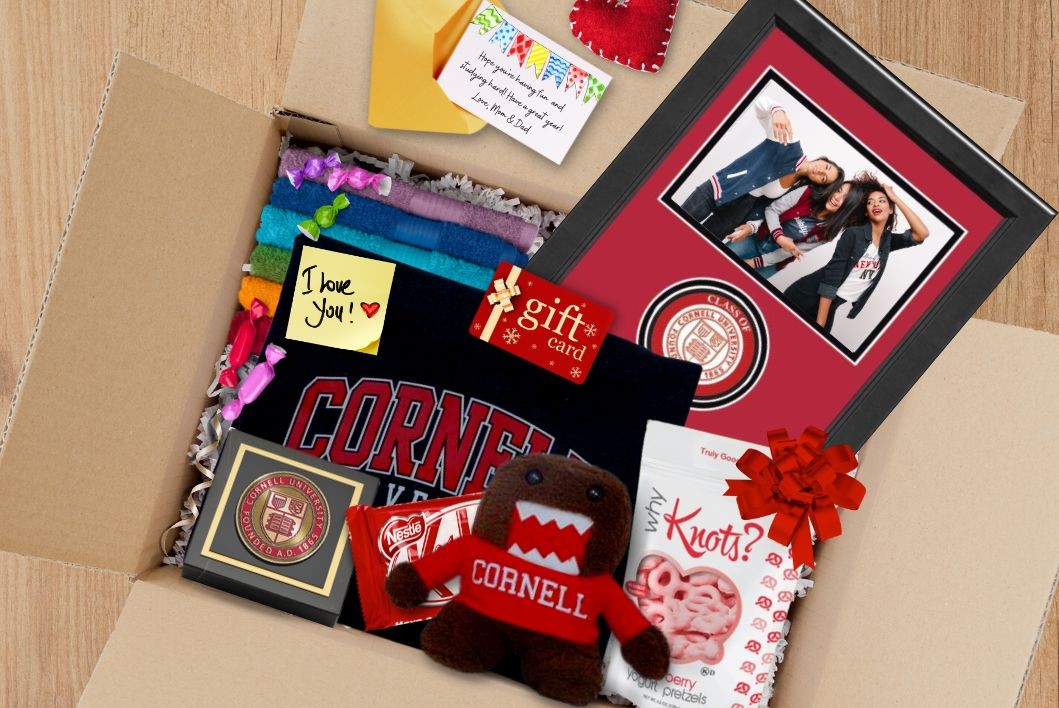 For college students miles away from home, there's nothing more meaningful than receiving a care package from friends and family. Whether your favorite student is studying near or far, they'll appreciate the thoughtfulness of their loved ones. Putting together special college care packages is a creative way to surprise them with things they need. Or to surprise them with unexpected items like framed photos to remind them of home.
Beyond special occasions like holidays and birthdays, school events such as midterms and final exams, notable accomplishments such as securing an internship or playing in a major athletic event, or important transition periods like break-ups or moving in with a new roommate are great opportunities to show your care from afar. Receiving care packages during these significant milestones in their college experience can be very impactful for college students.
We've compiled the best and latest ideas to help you build a custom college care package for your college kid. From dorm decor for first-year students and study supplies for those heading into the exam period, we've outlined all of the essentials you'll need to create the best college care package and ensure the maximum impact on your student's happiness and morale.
As an added plus, you'll also learn how to tailor college care packages for all of the important occasions related to your student's academic and social life on campus. So without further ado, here are some of our best college care package ideas for college students.
How to Make College Care Packages
As with all gifts, including a heartfelt card or handwritten letter is a great start to an unforgettable care package. It's a sweet way to deliver a spoonful of comfort to students. Small touches like loving messages or motivational quotes can have a huge impact. School spirit and tailgating items like banners, apparel, or decor are common and useful gifts to include in college care packages. Include a "Class of" college photo frame with their school colors and graduation year. This is a great way to get them excited about making lasting memories at college.
Other everyday items that your favorite college student will love are toiletries. Add some luxury to the communal bathroom experience by sending body scrubs, shower shoes, face masks, and comfy towels. Toiletries and cleaning supplies can be pretty expensive on campus, and your student may not have access to the products they love from home.
Additionally, your college student might not have the time, money, or a mode of transportation to get these supplies, so high-use toiletries like body soap, toothpaste, and face wash are a valuable addition to care packages for every occasion and time throughout the school year.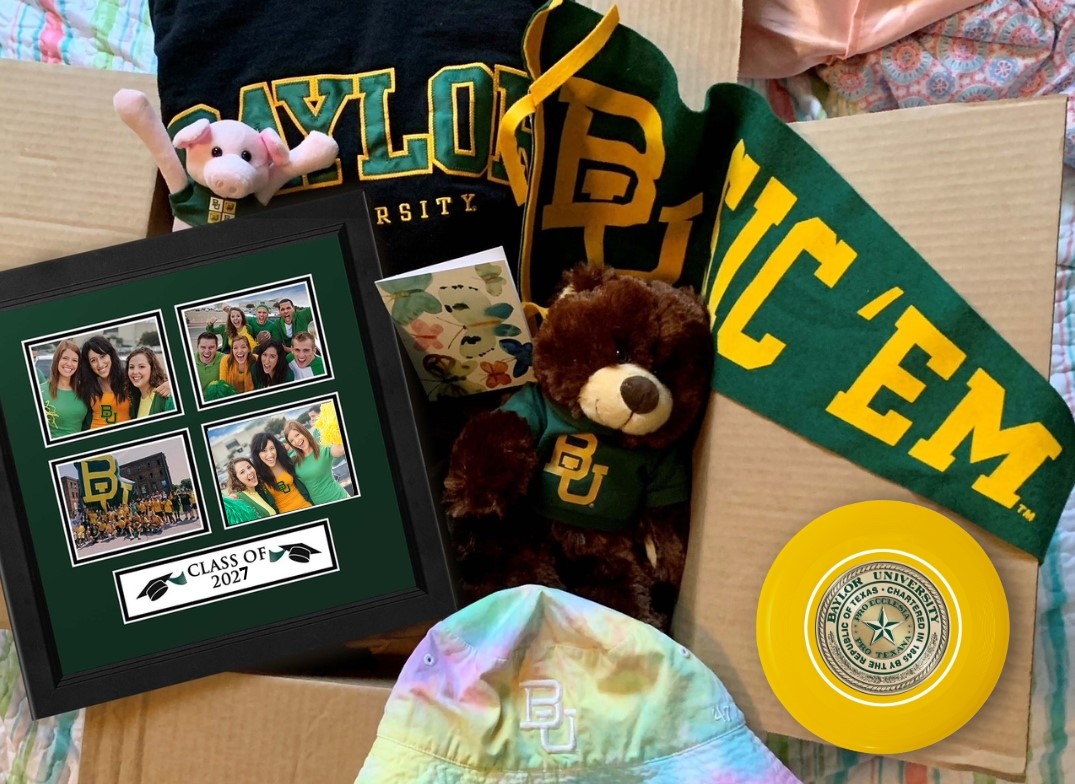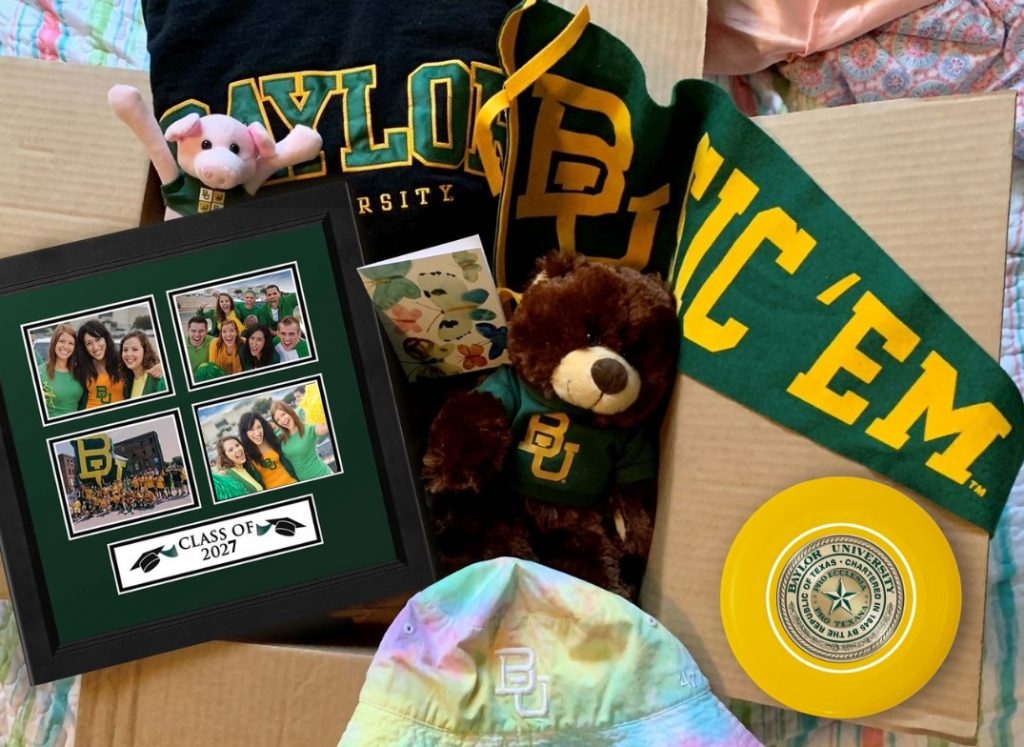 What to Send in College Care Packages for Freshmen
The first year away from home can be the hardest, so care packages for college freshmen can make a huge difference in their college experience. Let them know how much they're loved and missed and remind them of how proud you of them are by sending a care package. Even after the first year of college, a care package full of items from local establishments can bring the familiarity of home to a student miles away
Additionally, dorm decor, storage bins, and household items can help your student transform a college dorm into a living space they enjoy spending time in. Know students who may need help with the autonomy that college life brings? Care packages with medicines, cleaning, or cooking supplies can help make those jobs much easier. For students who miss their pets, pictures of their furry friends in high-quality photo frames can help them cope with the distance.
Exam Care Packages for College Students
Finals week can be busy and stressful for many college students, so letting them know they have your support in reaching their educational goals during this time can go a long way. Any specific items that help your student focus on studying will be beneficial to include in a finals week care package.
Office supplies like sticky notes, earplugs, and flashcards will help your student feel prepared and pumped for their exams. Many of these items can be expensive for a student budget, so your gift is sure to be highly prized.
Along with tools for studying, you can also include healthy snacks and brain foods to help your favorite student make it through. Instead of homemade cookies that may skyrocket their blood sugar, consider sending snacks like dried fruits and nuts, beef jerky, whole-grain crackers, and calming teas in a care package for studying.
Another idea is sending them a gift card to their favorite restaurant or a new place around campus. After exams, they can treat themselves to a nice dinner after being cooped up on campus. Depending on the amount you gift them, they can even go out to celebrate with their friends or roommate.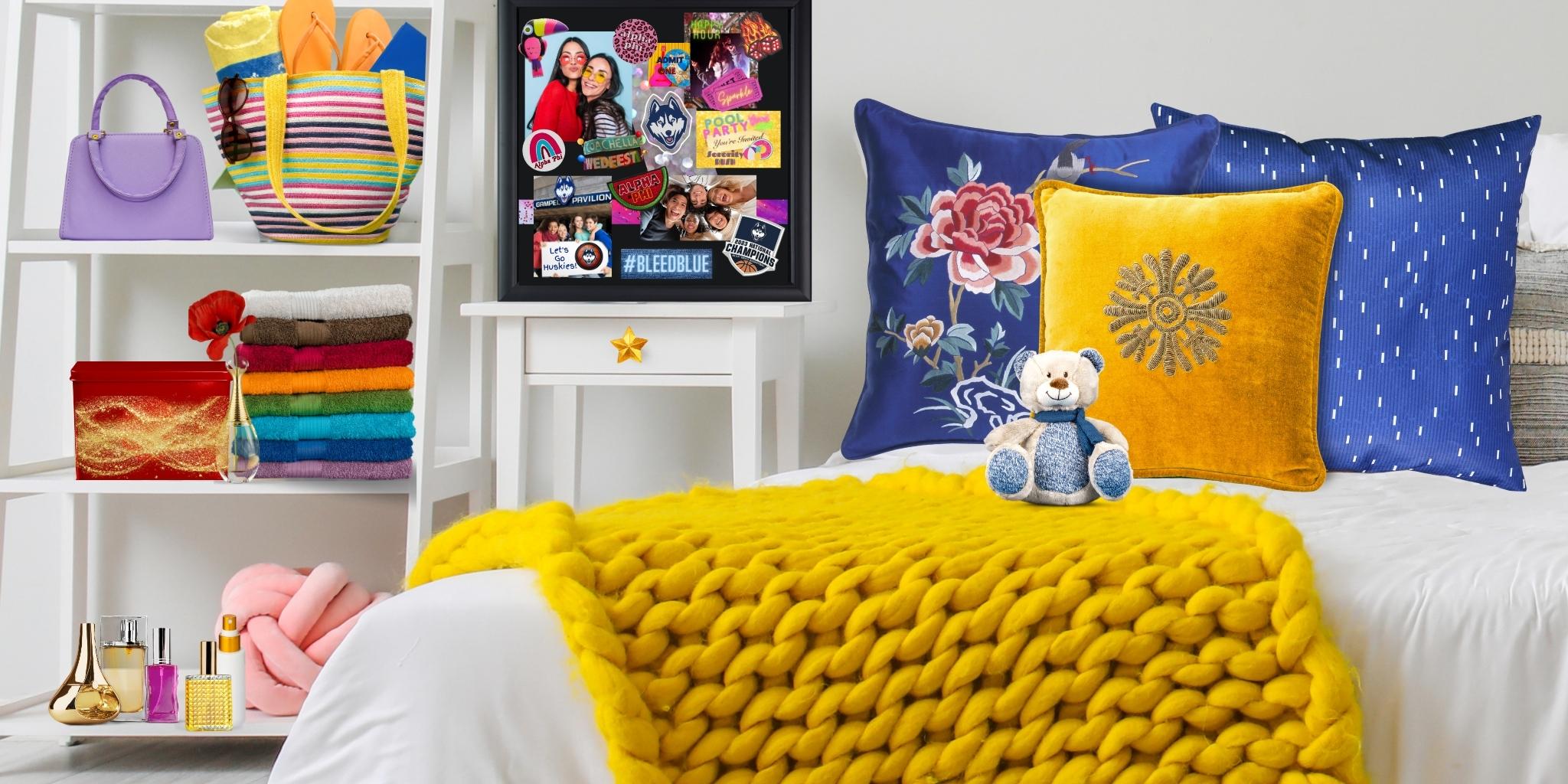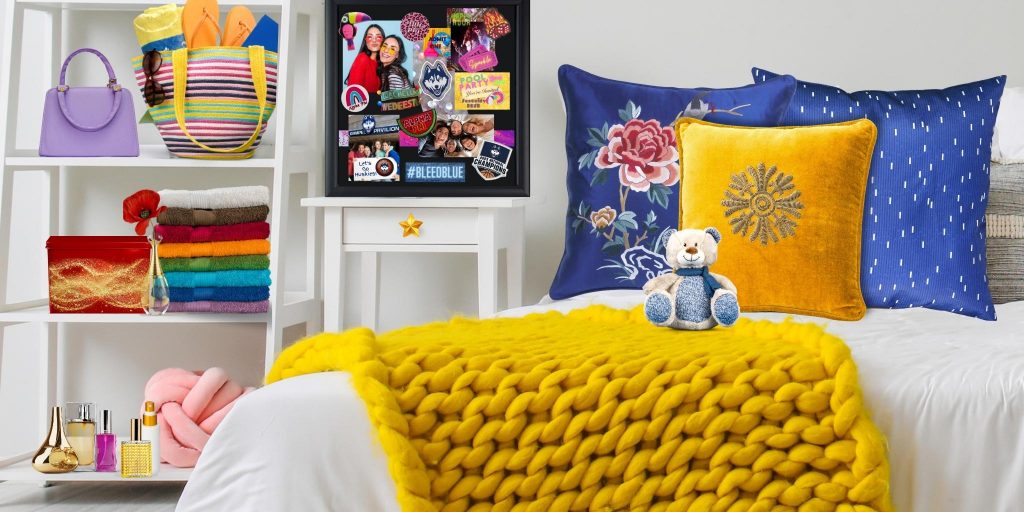 "Just Because" Care Packages
You don't need a special occasion to let your favorite college student know that they're on your mind, brighten their day with a "just because" care package! Sending a college care package as a surprise is a fun gesture that is sure to put a smile on their face. Include a keepsake shadow box to put treasured memories on display and include favorite midnight snacks or homemade baked goods to send a little extra love and care from home.
You can also include things like a deck of cards or their favorite board game so they can host a game night with their friends. An adult coloring book can also be a fun way for your college student to pass the time and let their creativity. Think of your college student's interests and try to include a few fun things that you know they'll enjoy.
Get Well Care Packages
Beyond finals week, another important time to send love to your favorite college student is when they're sick, injured, or simply feeling blue. There's nothing worse than being away from home when you're not feeling well, and a soothing "get well" care package is the next best thing. Include over-the-counter medicines, tissues, socks, magazines, first aid kits, soups, and other items that will bring comfort. Place them reusable gift boxes for extra dorm storage.
Consider sending a get well care package at the beginning of the semester. Your student may not have the time or energy to go to the drugstore and pick up items they need. Or they may not have access to a car. So if they become sick or injured unexpectedly, they have the TLC they need. Your college student will appreciate you making sure they have these items on hand whenever they need.
Birthday Care Packages
Celebrating your birthday away from home can be bittersweet for college students. However, birthday flowers don't last long. That's why a birthday gifts delivery is a great way for family to celebrate their special day. Make this care package fit for the occasion. Line the box with colorful wrapping paper, include perfect birthday gifts, and don't forget a bow.
Send items like streamers, banners, noisemakers, and party hats. That way, your student can throw their own perfect birthday party with their roommates! Be sure to include an autograph photo frame, too. This customizable frame allows friends and roommates to leave special messages on a photo mat. It's a keepsake your college student will cherish for years to come.
Frosted cakes tend not to do well in the mail. Consider mini birthday cakes and baked goods like banana bread, carrot cake, or birthday cookies instead. The dining hall or student life center may provide special birthday deliveries. Be sure to check if the college offers on-campus deliveries for customized cakes. Alternatively, you may also be able to order a birthday delivery from local bakeries in college towns.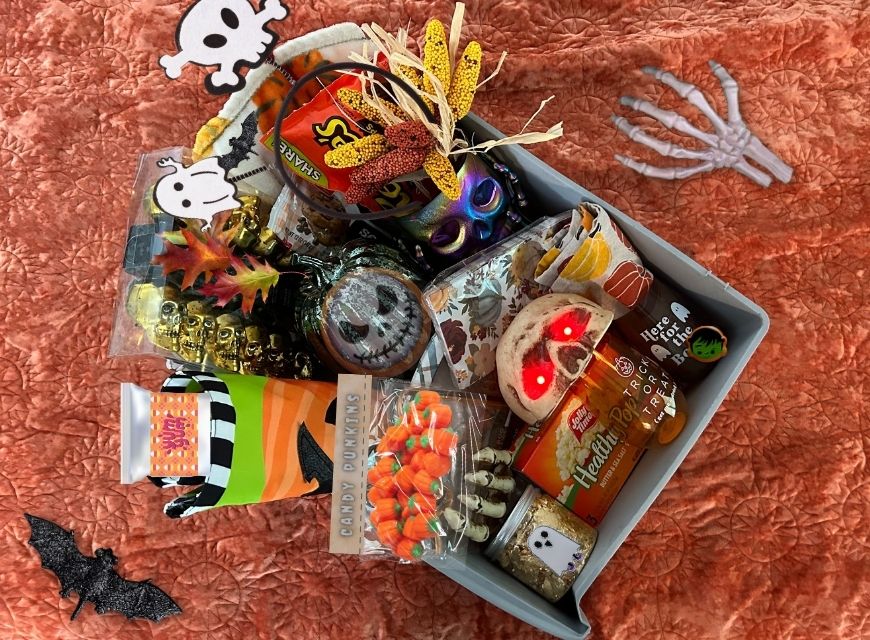 College Care Packages to Send for Holidays
Besides birthdays, holidays are another opportunity to show your favorite college student that you're thinking of them. When autumn arrives or the first snow of the winter season falls, let your student know that you're thinking of them. Send a care package full of pumpkin spice, hot cocoa, warm scarves, and their favorite seasonal treats.
You can find a wide variety of inexpensive holiday decor to include in your care package at local dollar stores. Send traditional items like candy, plastic jack-o'-lanterns, and spooky decorations in college care packages for Halloween. If they're staying at school through winter break, fill Christmas stockings with goodies or stuffed animals.
For Valentine's Day, send chocolates in college care packages. Add pink and red string lights and fabric hanging hearts. Your college student might not think about decorating their space for the season, so these little decorations will be much appreciated. 
For any occasion, sending care packages for college students is guaranteed to bring cheer. Short on time, but still want to send a special and thoughtful gift? Consider quick and easy digital options like eGift Cards, video messages, or done-for-you gift baskets for college students.
The possibilities are endless with college student care packages. Whatever you decide to send, consider adding extra so your favorite college student can share with their friends or roommates!