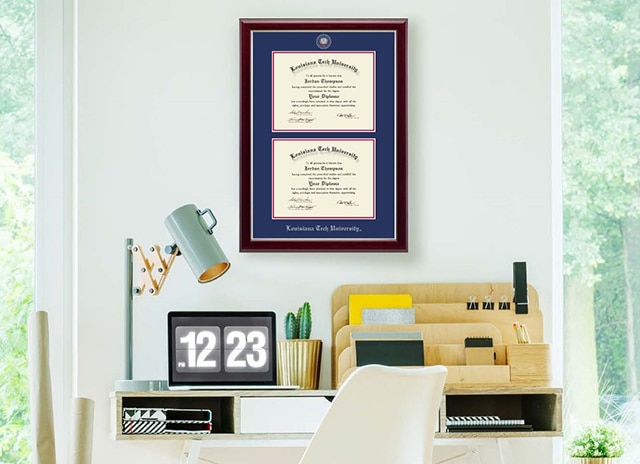 A popular choice among students these days is pursuing a double major or dual degrees. It's a trend that's on the rise as more and more students look to combine two interests for one invaluable outcome. And, it's something that will definitely impress future employers. After all, any employee with a double diploma frame hanging on their office wall lends credence to their capabilities and instills confidence in clients and coworkers alike.
If you're a part of this trend, congrats! Fulfilling all of the graduation requirements for either a dual degree program or a double major is no easy feat. It's an incredible feeling of achievement, especially when you think about showcasing them both in a double degree frame. While those pursuing a double major will usually earn a single bachelor's degree with concentrations in two fields, a dual degree is when you earn two separate degrees.
One of the many benefits of earning two degrees is that it can easily put your resume at the top of a potential employer's "yes" pile. And knowing that your family, friends, and colleagues are doubly impressed with your academic efforts is a nice added bonus. You might even say that you earned double bragging rights, twice as nice!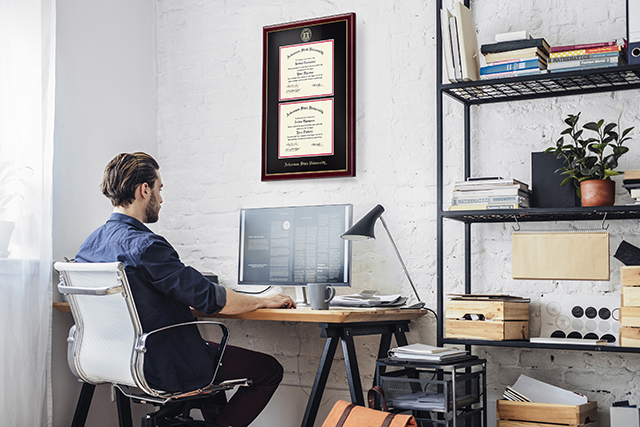 Displaying Your Dual Degree Achievements
Now that you've earned them, you might be wondering what to do with those expensive pieces of paper. Do you just stick them in your drawer? Thumbtack them to your wall? What if you graduated years ago and at this point you've lost your college diploma?
Think of your college degrees as your own personal marketing tools, ones that should proudly be put on display. Your academic achievements inspire confidence in potential clients and remind your employer and coworkers of your expertise in your industry. They should be proudly and prominently displayed!
If you haven't already, it's time to think about the #1 option for showcasing your diplomas: custom framing. Handcrafted, custom graduation frames will always be a worthwhile investment as they elevate the look of your hard-earned degrees and lend an air of sophistication. Now imagine the impact of two degrees on display in one frame, even more impressive!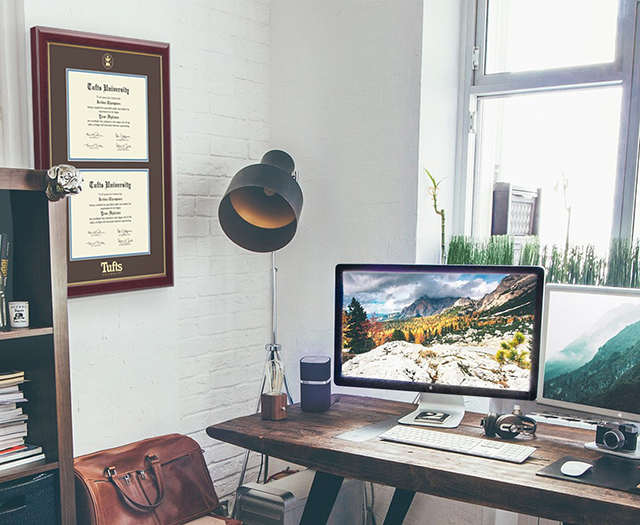 Top Five Reasons to Frame Your Double Diplomas
Keep them safe
A diploma is one of the most valuable and important documents you'll ever own. Professional framing is the best way to safeguard your degrees from mold, insects, and incidental damage, and only archival-quality frames will provide superior protection against tears, deterioration, and UV light.
Avoid losing them.
You're far more likely to lose a diploma that's still in its original tube or diploma holder. Framing it in a sturdy, high-quality, double diploma frame means it's less likely to get lost in a move.
Pride!
It's not easy earning two degrees. Framed double degrees in your office will give you a constant visual reminder of your success.
Showing off your hard work.
You worked tirelessly to graduate. After all of the time, money, and energy, why would you toss your diplomas in the attic or stuff them in a messy desk drawer? Hang them up and show them off!
Impress clients and instill confidence.
Can you remember the last time you visited your accountant, attorney, or physician? Their framed diplomas and certificates are usually on display. Not only are they required by law for licensed or certified professionals in many fields, but they assure people entering the office that they're working with a trusted professional.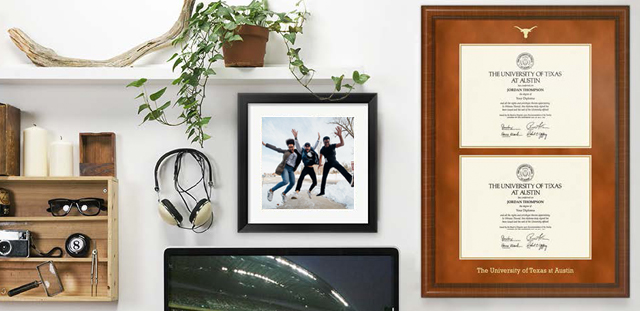 Order a Double Degree Frame for Your School
With a huge database of schools listed on our website, we make it easy to find your officially licensed double diploma frame. We've pre-designed frames for your alma mater, and they're already sized to fit the exact dimensions of your associate's, bachelor's, master's, or Ph.D. degree, no measuring required!
Don't see a double degree frame for your school? Or, perhaps you have degrees from two different schools? No worries, you can still customize your very own double frame here. Simply choose the document size, select a vertical or horizontal orientation, add embossed insignias or medallions, and pick your mat colors and moulding style. You can add a personalized engraved nameplate or choose to have your state, class year, or field of study embossed on your double document frame.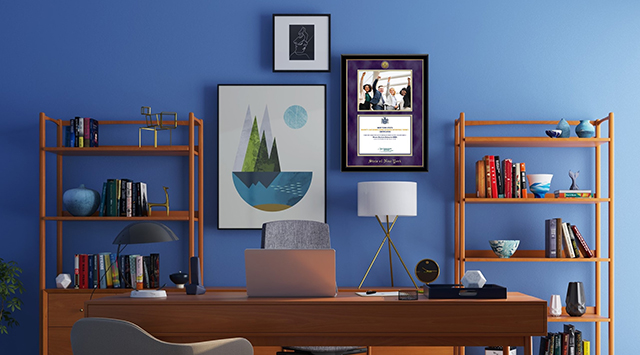 Double Frames, Not Just for Double Degrees
Our double certificate frames can be used to display many types of documents or photographs side by side.
You could frame:
A bachelor's alonside a master's
An associate's alongside a bachelor's
A degree plus shcool award certificate
Professional membership with a photo of your group's organization
Dual professional certificates or memberships
Industry awards
A degree next to a favorite college photo or artwork
Two photographs from your college or university
A company award next to an employee group photo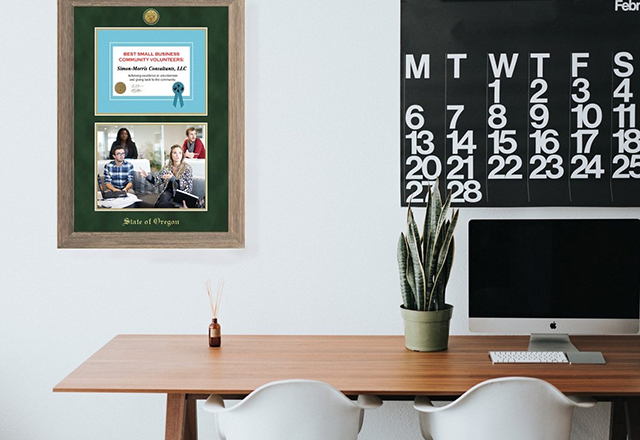 Did your company win a special community award? Display that certificate along with a group photo of your staff at the award ceremony. Did you recently open a new business? Frame your business license and a photo of the ribbon-cutting ceremony as a special way to commemorate this big achievement. Or you may want to frame your degree next to that classic "tossing of the cap" graduation photo with your lifelong friends.
The possibilities are endless when it comes to double document frames. Not only will this unify your successes in one place, but you'll also have one larger and brilliant reminder instead of two smaller pieces. Depending on the layout of your office, a space-saving double degree frame can make displaying your achievements easier when wall space is at a premium.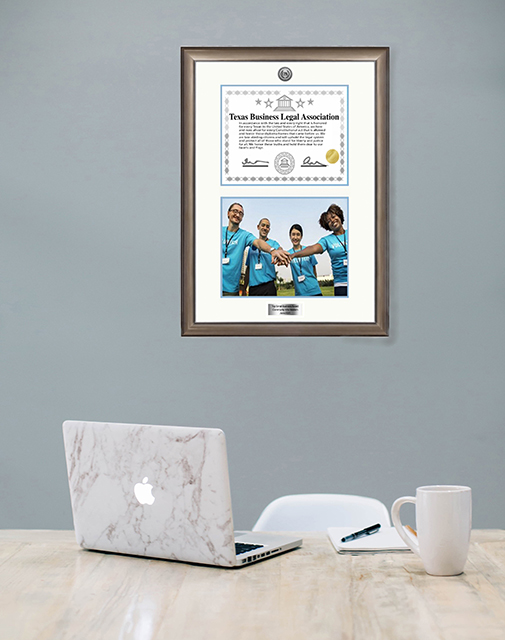 Non-College Award Framing
Double document frames aren't just for showcasing your diplomas, school awards, and college-related certificates. Our made-to-order dual certificate frames make wonderful recognition gifts for clients, employees, students, faculty, and esteemed community members.
We've seen more really inventive designs over the years. We've created custom frames for:
Certificates for employee excellence
Client appreciation gifts
Seminar participation certificates
MVP awards at sports banquets
High school senior achievement awards
Coach gifts
Competition awards for dance studios
Award with photo frames for karate students
Scouting certificates and achievements
Town hall credentials
Retirement gifts
Faculty acknowledgements
Recognition gifts for charitable organizations
Awards for fundraising donors
Hospital wing dedications
"Top Doctor" and "Best in State" award with photo
Congratulations on Your Achievement
Whatever you're framing, be proud of your success and the fact that you've taken the time to acquire that knowledge and master new skills. Striving to continually learn and better ourselves is a lifetime pursuit. If you've received dual degrees or earned companion certificates, now is the time to stand back, reflect, and be proud.