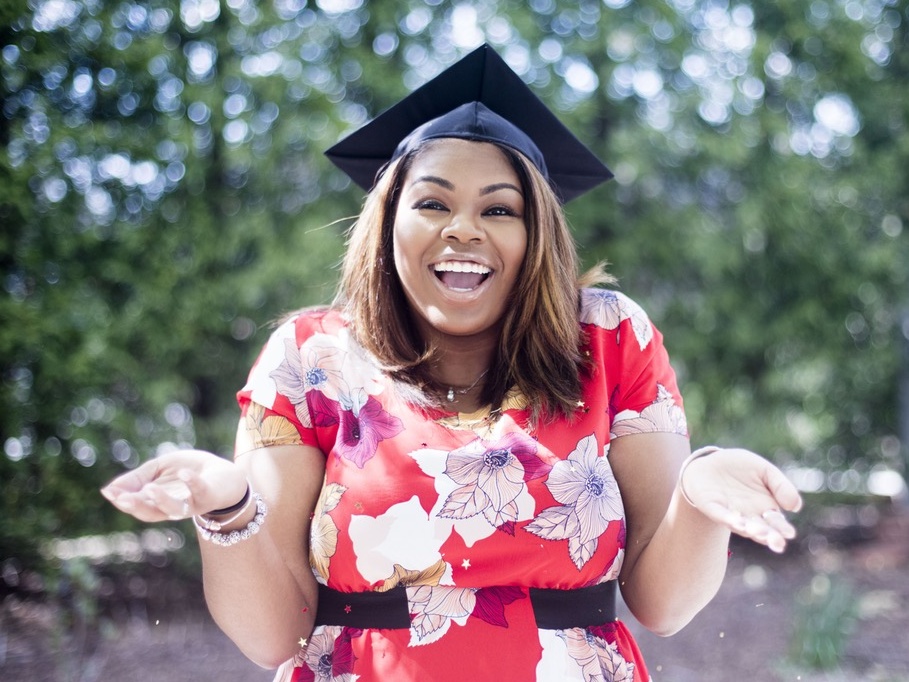 Attention, college seniors! If you're graduating in May, the countdown has begun. We know from experience that you've already got a lot on your plate, applying for jobs, reaching out to all your networking contacts, doing your best to stave off senioritis. Unfortunately, this only intensifies as graduation weekend closes in.
Do yourself a favor and get ready for the parties, family gatherings, and pre-graduation to-do lists now. Otherwise, you'll be pulling your hair out trying to squeeze it all in during those first two weeks of May. And, you've got exams to worry about then.
Apply for graduation
Seems a little obvious, but there's a reason schools send out the reminder email at least three times, if you forget this step, nothing else matters.
Get your diploma frame
You worked hard to earn that priceless piece of paper. Make sure you preserve and protect it for all its worth in an archival-quality diploma frame featuring your school's official logos, seals, and wordmarks. Plus, this is the perfect gift to put on your graduation wish list! Whether you're looking for a diploma frame with a tassel holder or a double document frame for your dual degrees, you can easily customize your school's frames to create your own signature style! Find your favorite frame on diplomaframe.com and drop a hint by emailing it to your parents.
Order graduation announcements
And address them. And send them out. Undoubtedly, your incredibly proud parents will help get the word out, but don't leave it up to them to remember every single family member on the list and all of the close friends you've made over the years. It's a big deal that you're graduating college; let everyone celebrate with you. A great company for custom graduation announcements is Pear Tree.
Order your class ring
It's the one piece of school memorabilia that's acceptable to display in every situation. Class rings are a strong tradition in universities; an immediate bond is formed when you see a total stranger wearing your school's ring. Don't miss out on this opportunity.
Sort out all your paperwork
Jobs and internships need resumes, cover letters, and letters of recommendation. Grad schools need transcripts, GMAT/GRE scores, and more letters of recommendation. Whether you keep printed copies or you've got them stored digitally, it's a good idea to form some kind of filing system. The last thing that you need is for a school (or job) to call and ask for a transcript only to have to dig through the ocean of papers in your closet.
Attend your school's grad fair
You're going to have to purchase that matching cap and gown eventually, so make sure you get to the grad fair and order all of the proper regalia. Rid yourself of the stress of thinking about the inevitable and just do it. Plus, it'll give you some time to start planning your grad cap decorations for the big day.
Follow up with all of your contacts
Regardless of whether or not they know someone who can get you a job, send everyone an email, even if it's just to say thank you for the help along the way. Trust us: They'll want to know how you're doing. They'll appreciate the thought, and you never know, they may know someone who knows someone working at your dream job.
Visit the career center
Whether you need to brush up on your interviewing skills, polish that resume, or draft a knock-out cover letter, your school's career center is the place to go. Most universities offer professional-grade services for free. Why not take advantage of this while you still can?
Breathe
Don't forget to take a few moments for yourself. Catch up with an old friend. Go for an easy jog. Enjoy a movie. Unwind by playing some video games. Take a long, hot shower. Life will only slow down if you let it.
Enjoy the big day
Ah, the most important step. All of your hard work, sleepless nights, and gallons of coffee will be worth it when you hold your diploma in hand. It deserves to be displayed prominently in the office of your first new job. Let it be a constant reminder of some of the best years of your life.