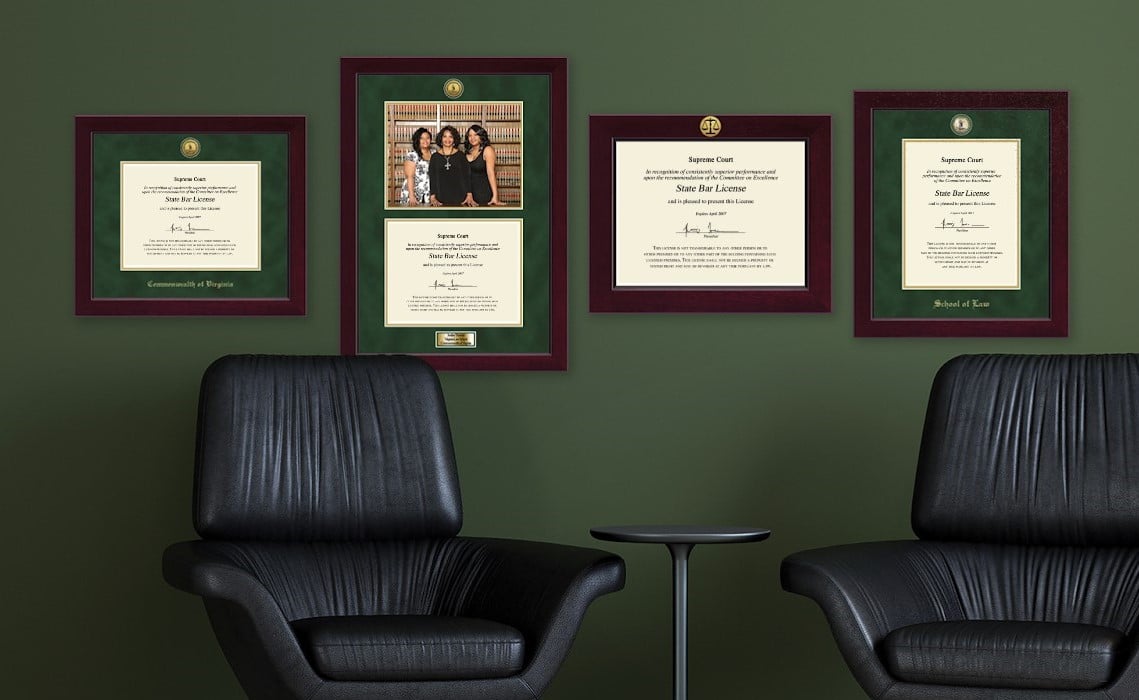 In addition to college diploma and law school degree displays, a
state bar certificate frame
is a key component of every lawyer's office.
State bar licenses
are required for practicing law in every U.S. jurisdiction and should be put prominently on display. Its purpose is not to impress clients so much as to give a daily motivator for what the license holder is capable of achieving when they put their mind to it.
What is the purpose of the state bar?
The American Bar Association (ABA) has adopted standards of professional conduct for lawyers, which are enforced by disciplinary proceedings against members who violate them. The ABA's rules provide that only persons who meet certain educational requirements may take the bar examination and become licensed as attorneys. The ABA also requires all 50 states to adopt rules regulating the practice of law within their borders. These rules require that every person seeking to practice law in a particular state obtain a certificate from the appropriate authority showing that he or she meets the minimum qualifications required for admission to the bar. This requirement ensures that only qualified individuals will practice law in each state. 
Bar exam gifts
So what's the best present to celebrate the bright future of someone who just passed their state bar exam? The answer is simple: a bar license frame! After all, it's what every lawyer needs to create a professional law office space and a daily visual reminder of why they're more than qualified for the job. There are four types of state license certificate frame offerings: State Seal frames, Legal Profession Frames, School of Law frames, and Personalized License Frames.
What frame should a new lawyer get?
No matter which law frame you choose, make sure you shop for it on diplomaframe.com, the online store for Church Hill Classics frames. We've been in the business of selling officially licensed college, U.S. military, and professional certificate frames for more than three decades. We craft each item the moment we receive your order; nothing is preassembled in our Connecticut manufacturing facility. That's how we can guarantee superior-quality frames that are made-to-order by a skilled team of artisans.
For those who've worked hard to earn their law degree and studied tirelessly to pass the bar exam, this is a huge achievement. Here are four different ways to celebrate, protect, and display this major milestone.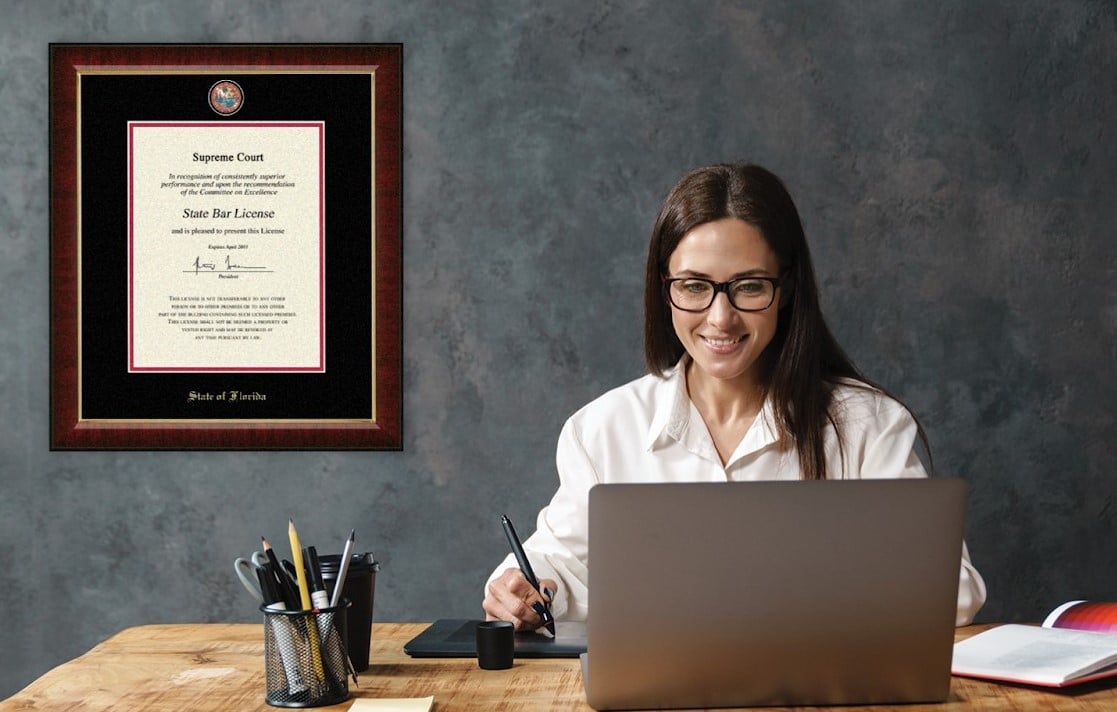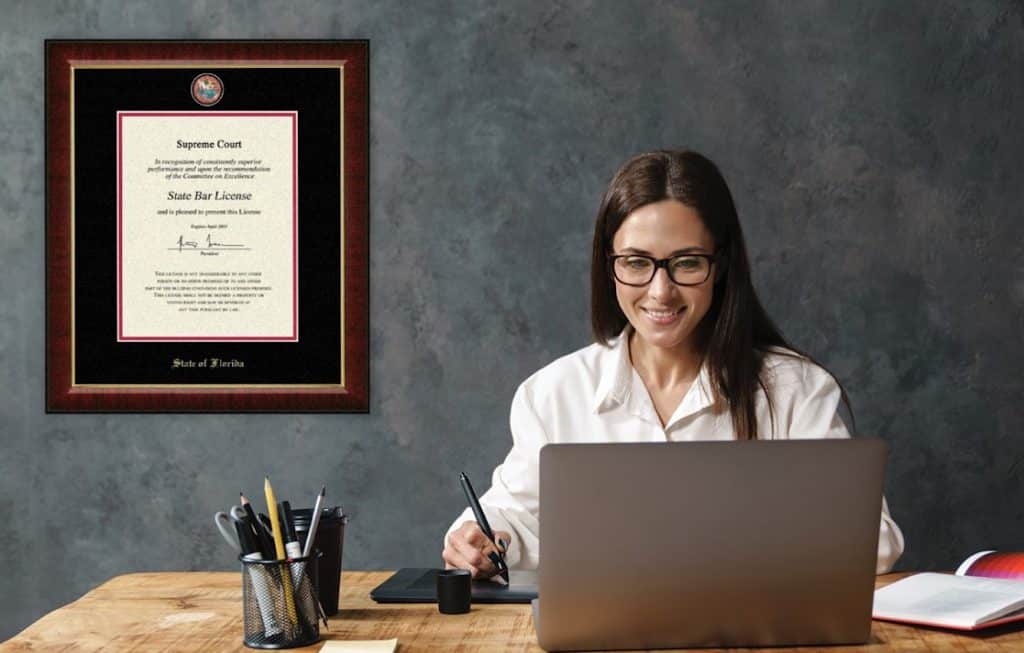 1.) State Seal Frames for Law Licenses
For an incredibly impressive and professional-looking display, consider showcasing your law license in a frame that exudes authority and bears the official insignia and name of the state in which you practice. Our State Seal frame commands attention in any office decor and is available for all 50 states plus the District of Columbia. Looking for a California bar certificate frame? Considered one of the most difficult exams to pass, a State of California state bar certificate frame will instantly instill confidence in clients and partners alike. But whether you're shopping for a California bar certificate frame for your West Coast office or for a newly minted lawyer on the East Coast in need of a Florida bar certificate frame, you can customize our mouldings and mat colors to suit any and every decor.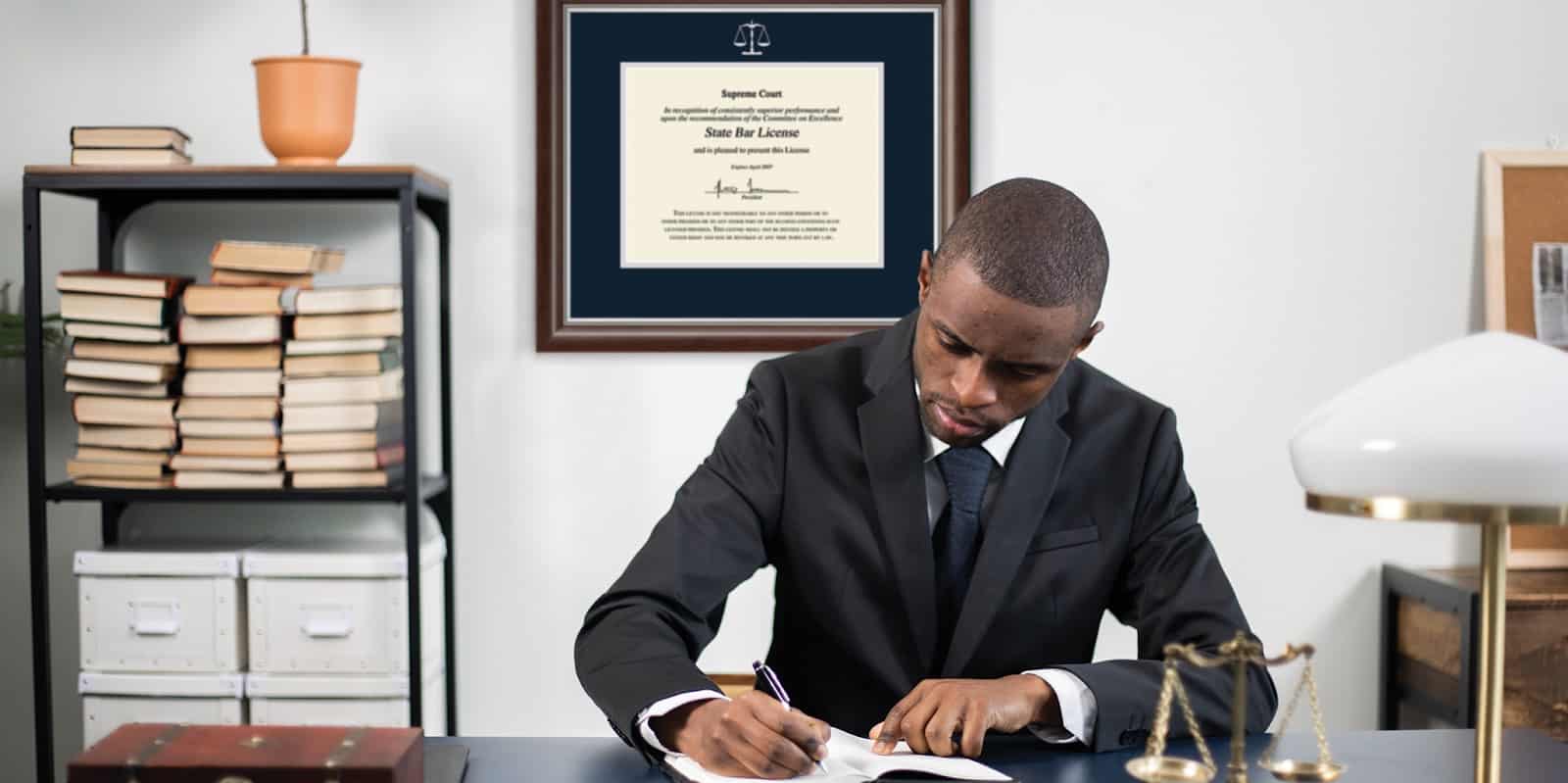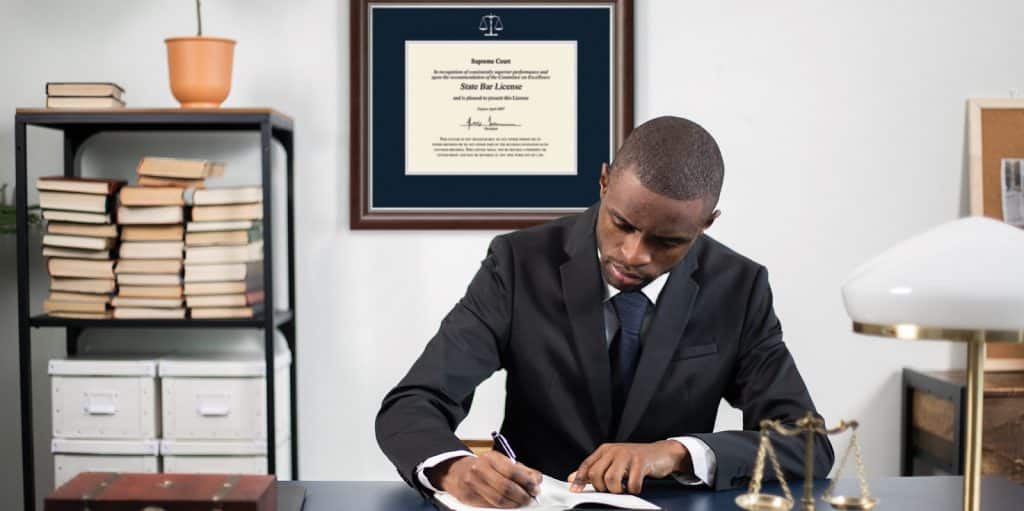 2.) Legal Certificate Frames
The scales of justice represent fairness, impartiality, and equal representation in court cases for both the prosecution and the defense. Lady Justice then weighs all of the evidence presented by both parties before entering her ultimate decision. A much easier decision? Framing your state bar license in a Legal Certificate Frame bearing this noble symbol. Choose a gold engraved medallion of the scales of justice handset into a bevel-cut mat opening or opt for an elegantly rendered legal insignia stamped in your choice of silver or gold foil embossing.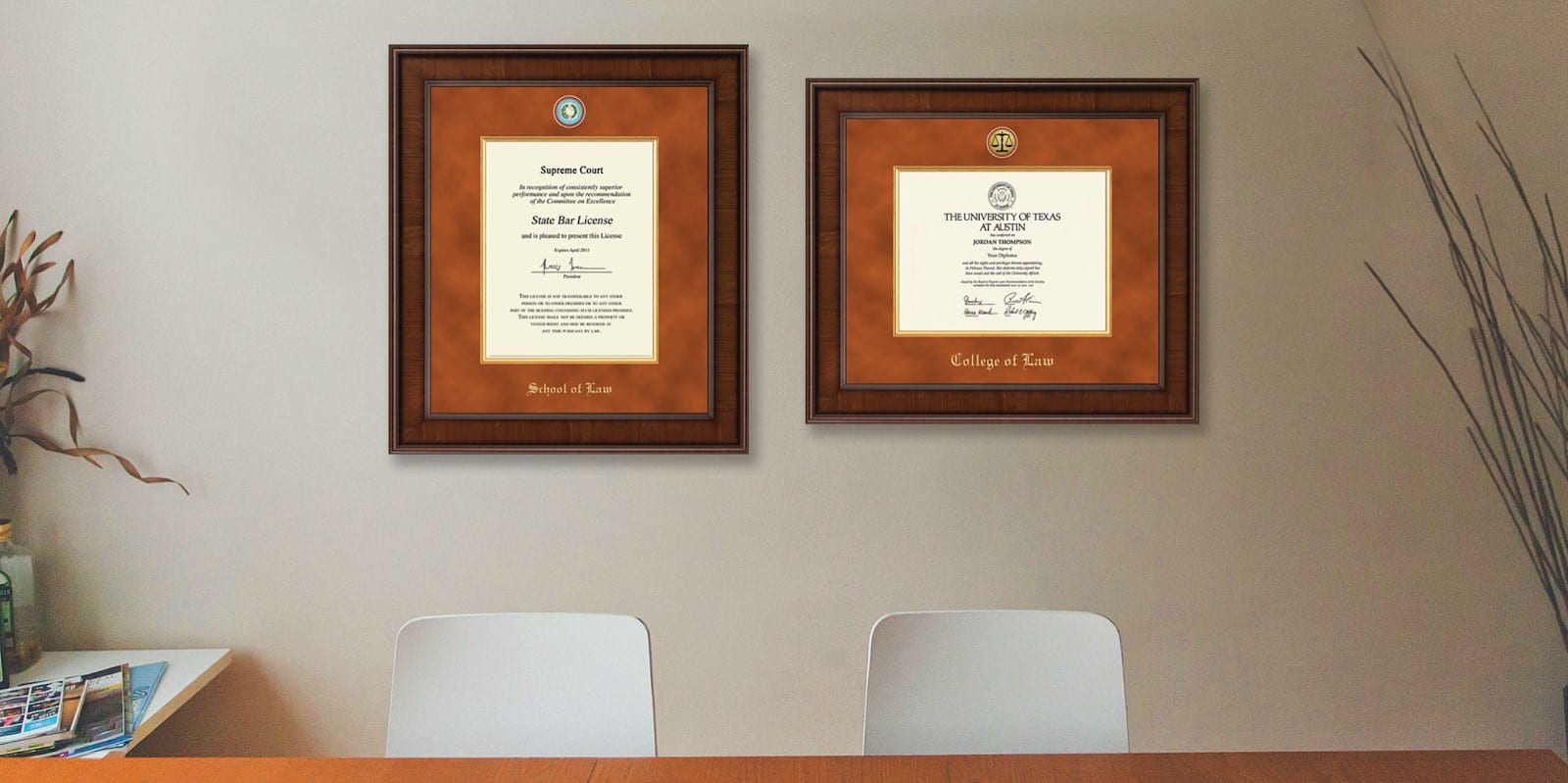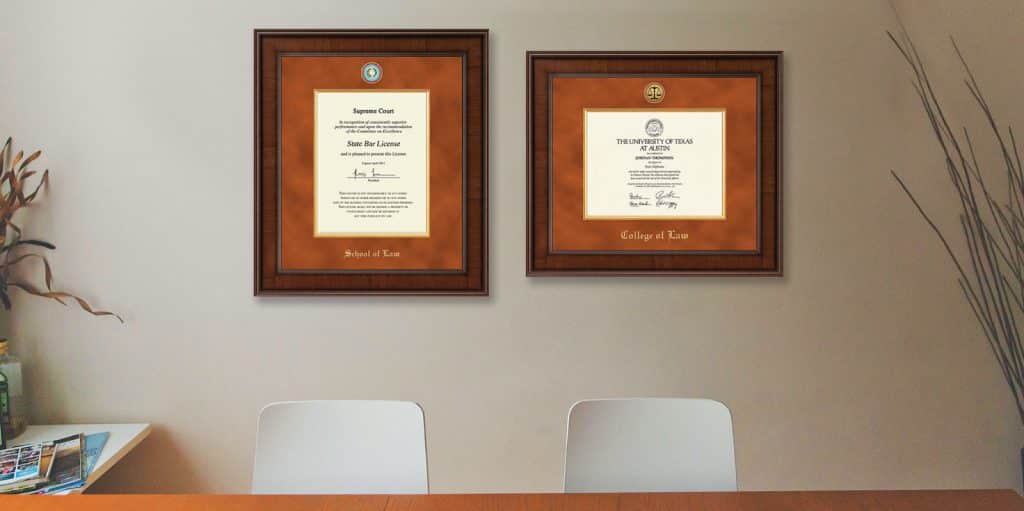 3.) School of Law Frames
We offer a large selection of high-quality law frame designs that include School of Law or College of Law in ornate gold or silver foil embossing. This designation beneath your state bar license underscores your commitment to the field of law, the extensive knowledge you bring to the firm, and your dedication to the pursuit of justice. Thanks to our custom design tools, you can envision every possible wood moulding style, mat color and texture combination for your frame. You can also select your choice of medallion or embossed insignia featuring your state seal, academic excellence, juris doctor logo, or law profession logo to add to your custom frame. That's why we can guarantee you'll love the finished product, because you'll be able to visualize exactly how each and every one of premium, archival-quality components work together in the same design before you buy!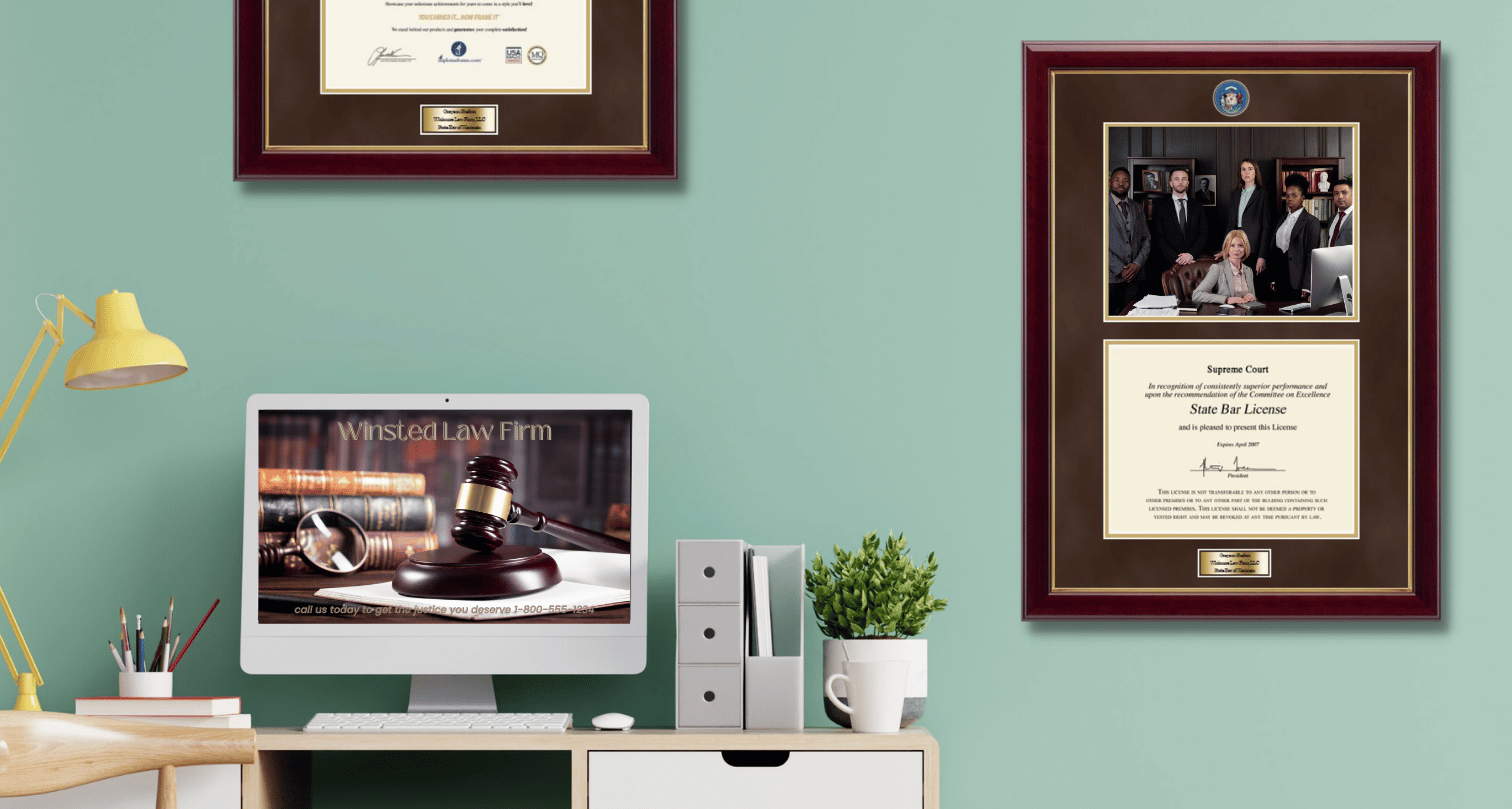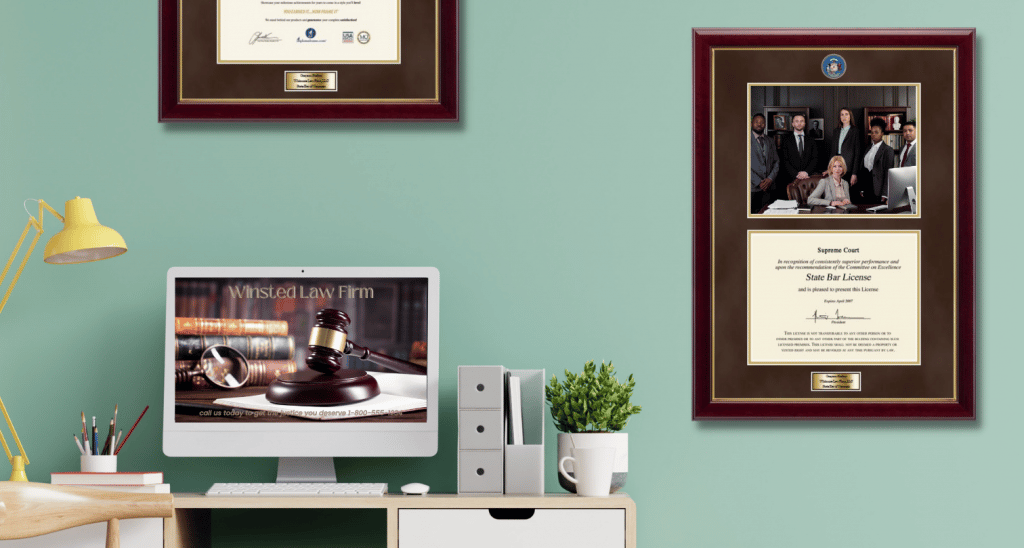 4.) Double Document Law Firm Frames
Want to showcase two certificates, like your juris doctor degree with your state bar license, or maybe a photograph of your entire firm alongside your state credentials? Design your own Double Document Law Frame to suit the exact dimensions of the two documents that you'd like to display together. Choose the juris doctor degree insignia, state seal medallion, or scales of justice logo to appear at the top of your frame and then an engraved gold nameplate personalized with your name, your law firm, and the state in which you're licensed to practice law.
Our archival-quality state bar law and attorney certification frames are the best way to show off your achievements and celebrate your success. Our state bar certificate designs are available in a wide array of wood mouldings to suit any and every decor style, from mid-century modern walnut and traditional cherry wood frames to sleek black mouldings and rustic barnwood frames. Give your state bar license the superior protection it deserves, a Church Hill Classics state bar certificate frame!