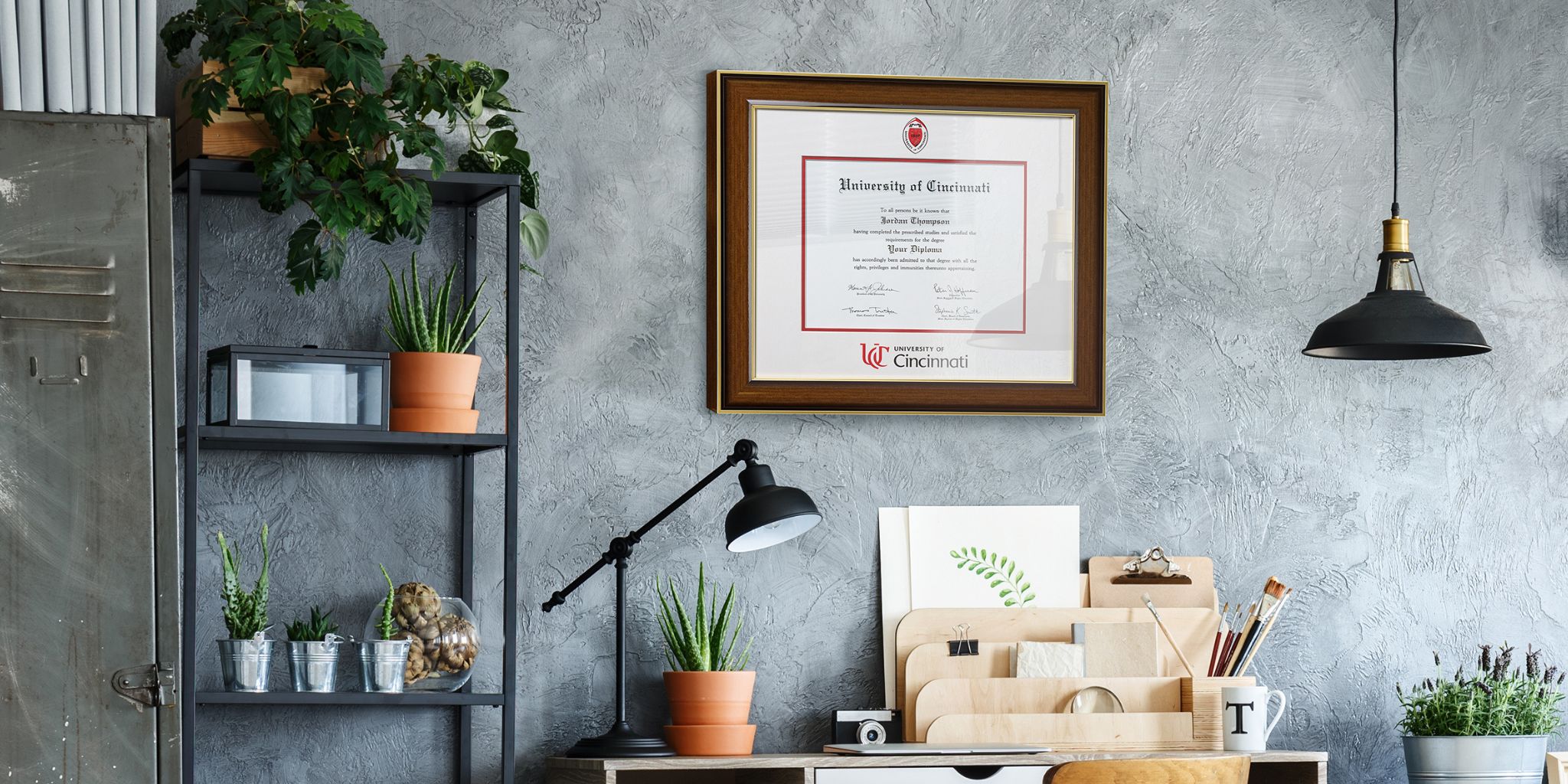 It can be difficult to know where to start when creating a professional work office that is both efficient and comfortable. Whether your office is at home or at work, you need to create a welcoming work environment. One that is suitable for business, for clients, and for you, since you'll be spending a lot of your time there.
The appearance of your office may not seem like a big deal, but you need to make sure that it's impressive to any clients who may see it. What a client thinks about your work space could be the deciding factor on a big business deal. So make sure your office reflects the impression you want to make on potential clients: that you're innovative, welcoming, and efficient.
You also need it to be a happy and inspiring space for you to work. The last thing you want to create is a dark and gloomy location. A work office should be a place that makes you feel motivated and focused, as you want a place where you can work feeling inspired and ready to take on the day!
Here are ten things you should consider when creating a professional work office, including tips for how to display certificates on your wall for a professional and polished look (that's also great for showcasing your achievements).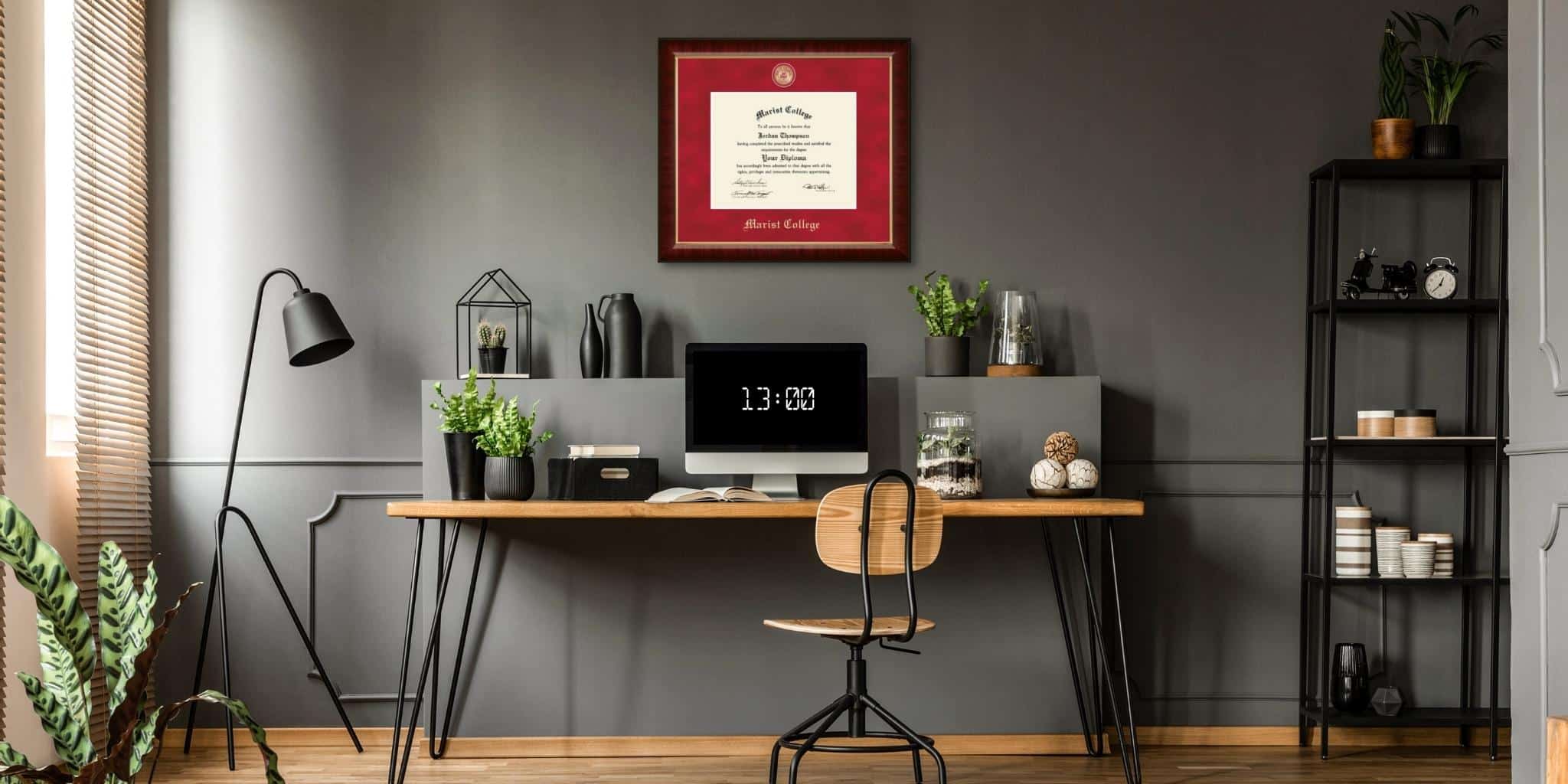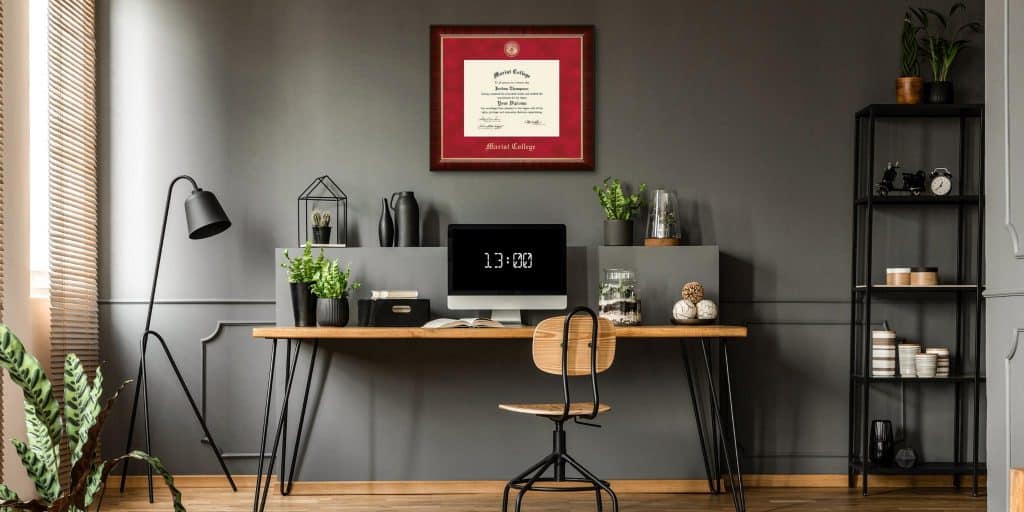 1.) Pick the Right Office Location
Whether you're creating a home office or workspace in a city building, you'll need to consider your office environment. Due to the increase of freelancers and self-employed workers in recent years, setting up an office from home is becoming much more popular. But if you're planning on creating a work space in your house, then you need to think carefully about where it's going to go. You'll want to avoid setting up an office area in your bedroom since you'll want to unwind and relax once you've put your work away for the evening. It is critical to separate your work life from your home life.
Take care not to select a room in a hallway that experiences a lot of foot traffic. If family members are always walking past your office, the constant distractions will interrupt your workflow and break your concentration. Many professionals build a garden room or outbuilding for their office so that they can use as much space as they need without interfering in family life. Having a separate space for your office also gives you the chance to get more creative with diploma wall ideas since you have a blank slate to work with.
If you're working for a company or renting a small space in a commercial building and have some say in where you'll be located, pay attention to the surroundings. For example, if you'll be meeting with clients in your office on a regular basis, then you may want to avoid the space that's right next to a busy public restroom or loud cafeteria.
2.) What Will Your Office Be Used for?
Before you start to work on creating your perfect, professional work office, you should consider what you aim to achieve. Think about exactly what you'll be doing in your office, all of the tasks you'll need to perform, and all the features you'll need to include to make this possible.
You should consider the different types of equipment you'll need to use on a daily basis. These could include printers, computers, fax machines, large screen tv monitors, and conference call phone systems. Outline your designated work area from the start and ensure that every piece of equipment is located in accessible areas that won't get in your way.
If you need coworking spaces for team members or may have clients in your office, then you may want to think about extra furniture. Display multiple certificates on your wall to showcase all your important achievements that are also relevant to your clients.
Aside from the traditional furniture components such as a desk and work chair, you may find that additional chairs and a conference table are necessary. You could also consider some comfortable arm chairs and a small table to create a perfect spot for sitting down and sealing the deal with customers!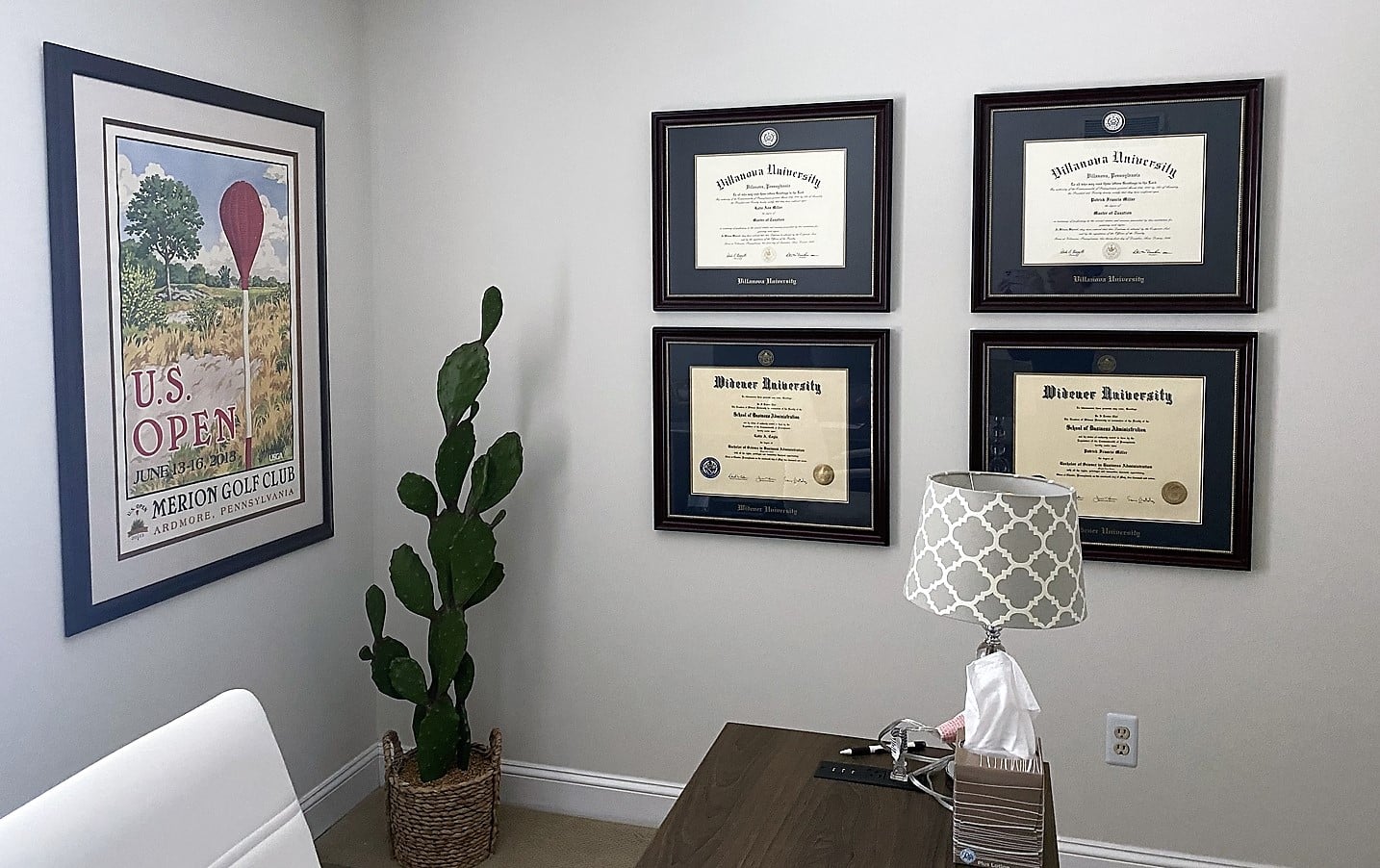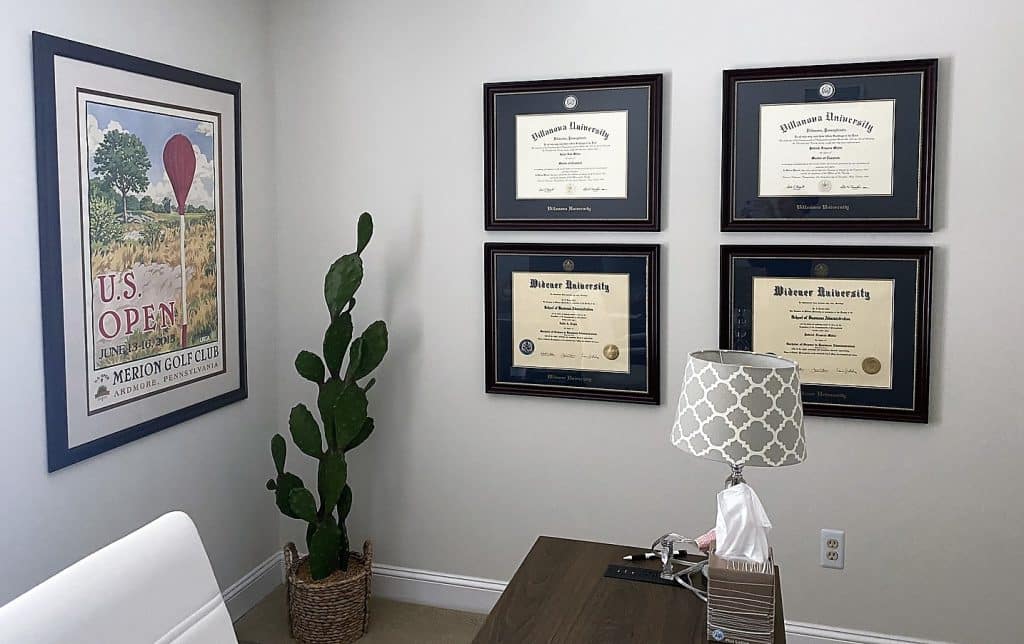 3.) Showcase Your Achievements
When creating your professional office, you need to consider how to decorate your walls. Over the course of your career, you're bound to have had some academic and professional accomplishments that have been a great source of pride. Hanging degrees in your office in order of importance is key. Putting your achievements and credentials in a multiple frame display is a great way to boost your credibility with clients while boosting your confidence at the same time.
Your customers want to know you have the expertise to perform your job. Therefore, don't leave your college diploma stuffed in your desk drawer or overlook the importance of displaying diplomas etiquette. Protect one of the most expensive pieces of paper you'll ever own by showcasing it in an officially licensed diploma frame that's custom-designed to fit your university degree. A framed diploma is a great way to decorate your office wall and visually remind your clients (and yourself) why you're so great at your job!
Don't forget about business licenses, professional awards, and work-based community achievements. Create coordinating certificate frames to match the moulding styles and mat colors of your graduation frame. A strong and stylish mix of diploma and certificate frames instantly creates a professional atmosphere, adds a personal touch to your work environment, and encourages conversation-starters with new business clients. A diploma wall display is one of the best things to make your office better because it's both aesthetically pleasing and practical for your needs as a professional.
And with Church Hill Classics, displaying certificates on your wall is easy! You'll receive everything you need (the hanging hardware) for displaying certificates in any office.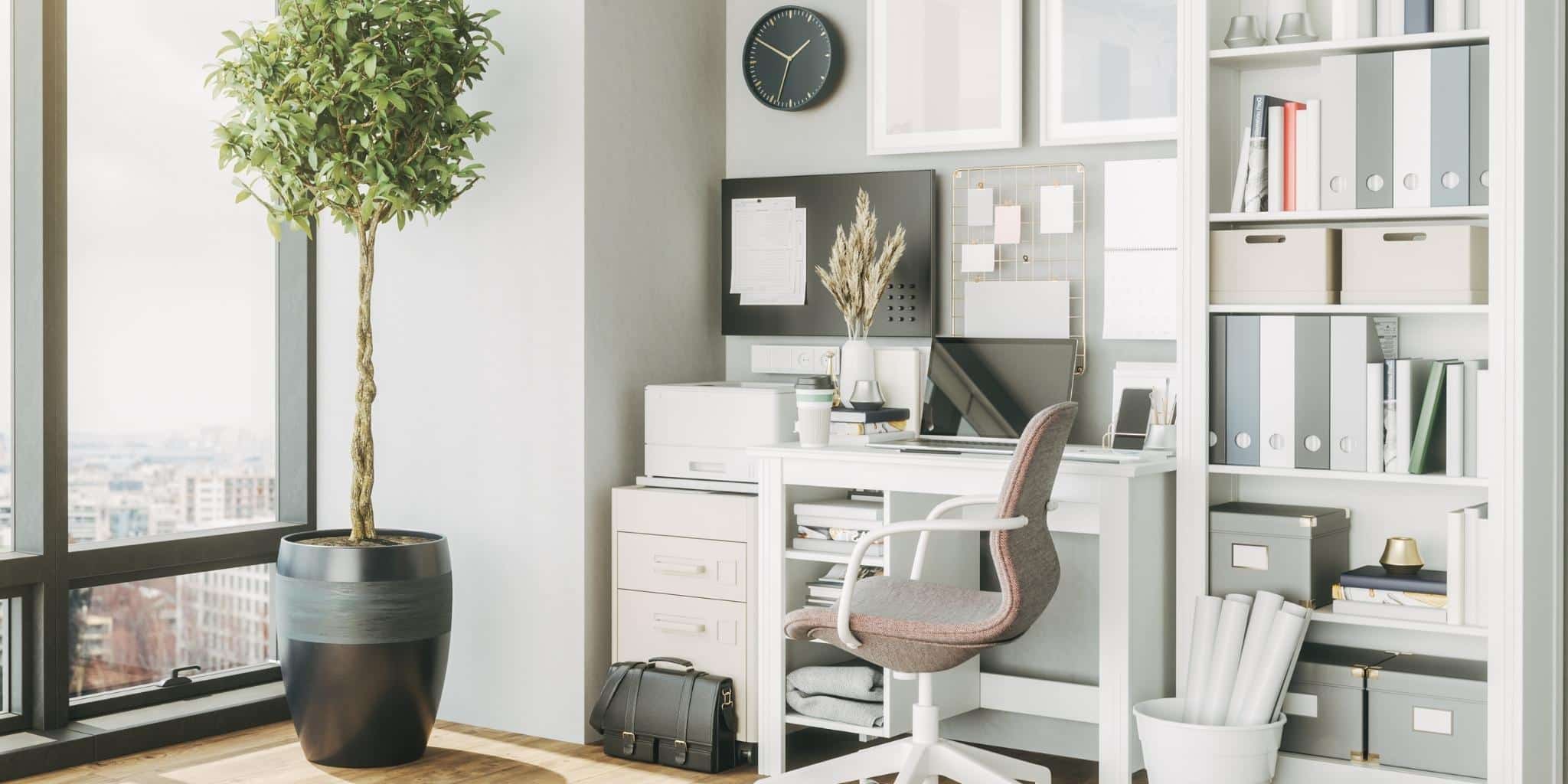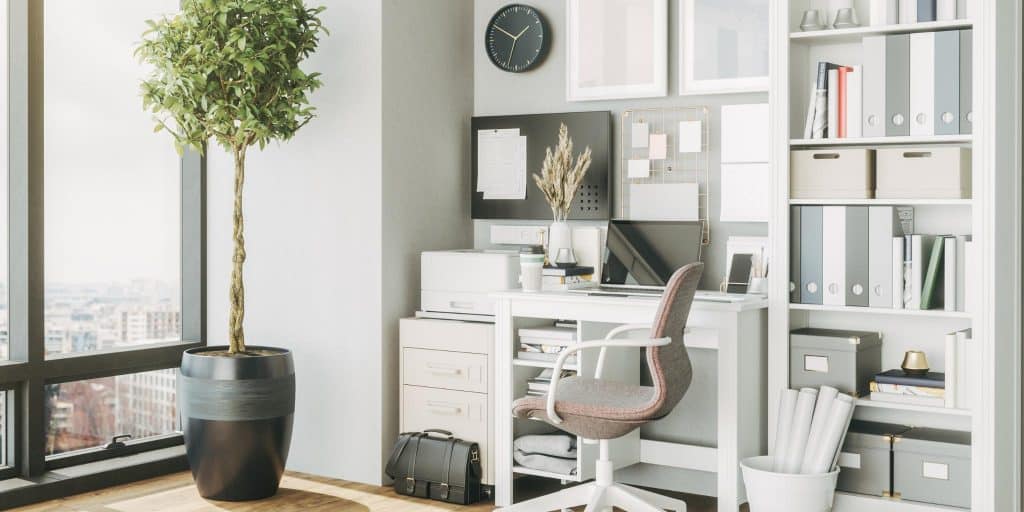 4.) Professional Work Office Storage
It's really important to consider storage space when designing your office. If you don't allow enough room to store your work equipment and documents, then you run the risk of creating a chaotic and disorganized workplace. We've all heard of the phrase, "tidy room, tidy mind," which reminds us that a messy work area can create uncertainty and infringe on productivity.
Organization is an essential component of a professional work office. You need to be able to keep track of all the different projects you're managing without getting confused or misplacing key elements that are critical to completing the work. Use daily planners or calendar apps to ensure you don't miss important client meetings or work deadlines. Make sure all of your office supplies and file folders are neatly stored in desktop containers or in well-organized drawers.
If necessary, make sure that you set aside areas of your office for filing cabinets. This will help you easily organize and label your clients' paperwork so that you can quickly access it when they call or drop by unannounced. Don't be that person who wastes precious time and energy sifting through boxes and drawers in search of that essential piece of paper they thought they'd left in a "safe place."
5.) Keep It Simple
Taking a minimalistic approach when designing your work office is the best approach. Avoid cluttering the space with clunky accessories and unnecessary furniture. It's important that your work space provides exactly what you need from it, a quiet and organized place for you to be productive.
Think carefully about what sort of furniture you should purchase. For example, if you often find yourself spending long periods of time at your desk, then you may want to invest in an ergonomically designed desk chair to protect your back. Additionally, select fabrics in neutral colors rather than wildly patterned or bright colors for a more professional feel.
Opt for an elegant approach to your office's decor, as this will help keep you focused while working and make it easier for you to hold others' attention in meetings. The last thing you want is to be giving a presentation while your audience is gazing at the Aztec-patterned drapes or vibrantly colored rug in your office. The focus in your office should always be you and your work, so make sure your decor reflects that ideal.
The same is true for how to display certificates on your wall. When it comes to small home office ideas, make the most of your space by learning how to hang certificates on wall professionally. Keep your frames cohesive and uniform in appearance. Your diploma wall display ideas should incorporate complementary mat colors and wood mouldings. Make sure to measure out where they will go before hanging them to make a pleasing display that's aligned and not overwhelming.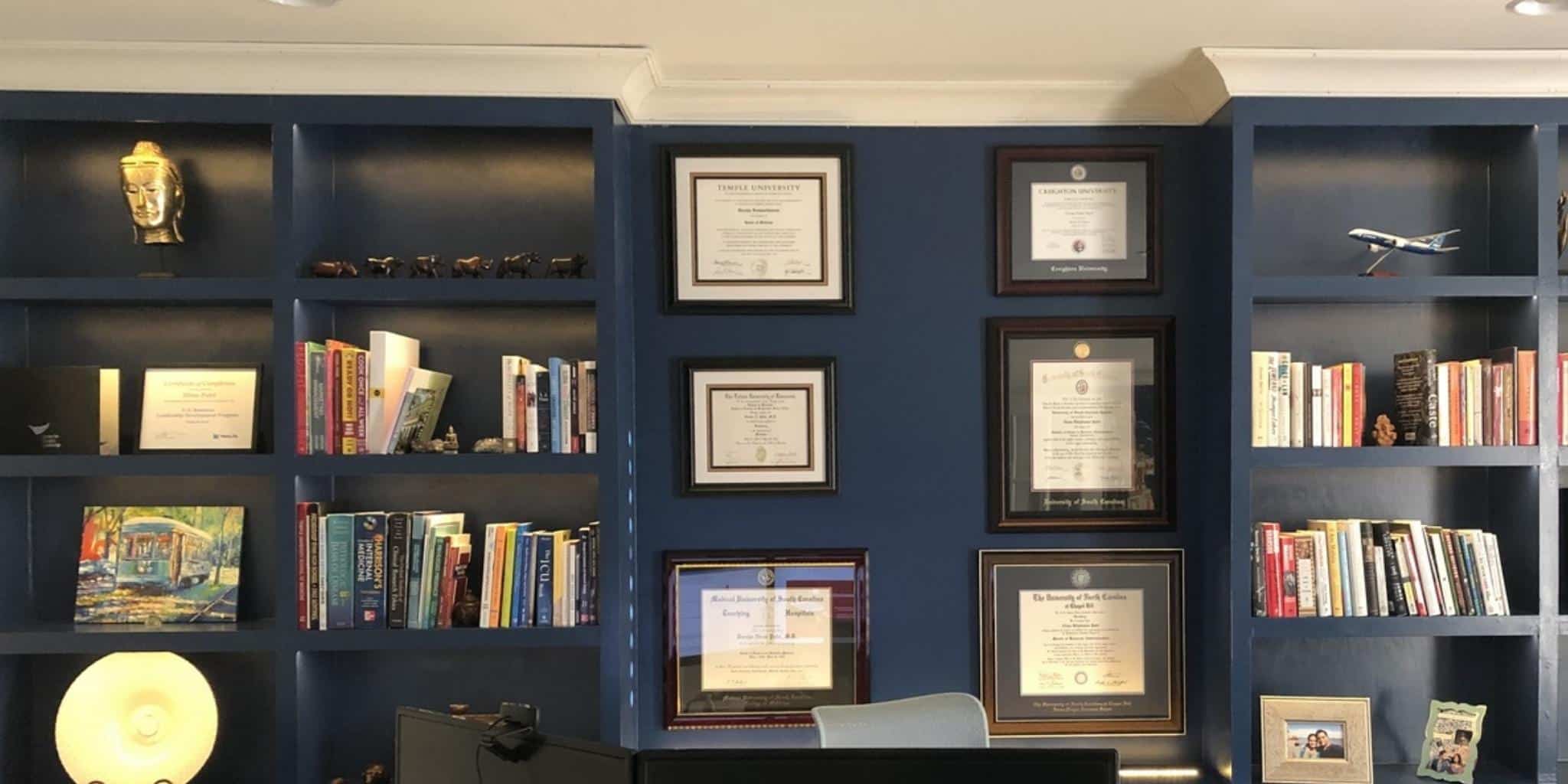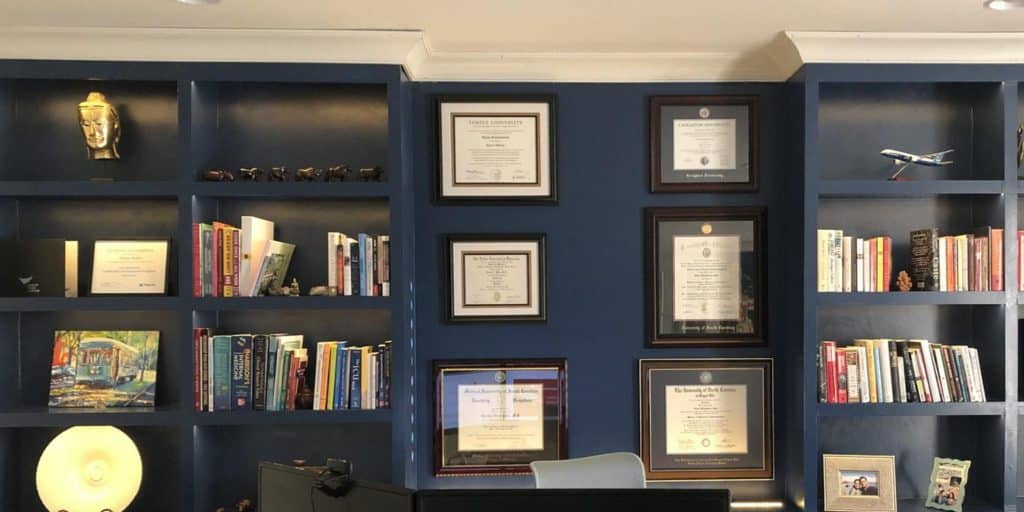 6.) Accessorize Your Professional Work Office
You should be sure to add a few accessories to your office to give it a comfortable and welcoming vibe to clients, as well as for yourself. Adding special accents can make all the difference to a room and can turn it from a boring empty space to a sophisticated and impressive work space.
You could consider adding a bookshelf in your office and fill it with some books from your professional field. This will show off your experience and knowledge to clients as well as giving the room a focused and productive feel.
Adding sculptures, artwork, or photographs to your office may also be a great conversation starter when liaising with clients or work colleagues. While your work office should be professional, it is still a room that you will spend a lot of your time in, so it should reflect some of your interests or hobbies, if appropriate.
7.) Make It Feel Welcoming
Since you are likely to be spending a lot of time in your office, you will want to make it a place you enjoy being in. To do this, you want to make your office feel as welcoming as possible. If you are creating a work space in your own home, then this is likely to be much easier. You should ensure that you feel comfortable and relaxed when you enter the room, as this will help your productivity.
Adding scatter cushions, ornaments, and cut flowers or houseplants is a great way to add character to your office and give it a homely feel while remaining professional. You may want to add a few pictures of your loved ones to your desk as a constant pick-me-up if you start to feel under pressure or stressed while working.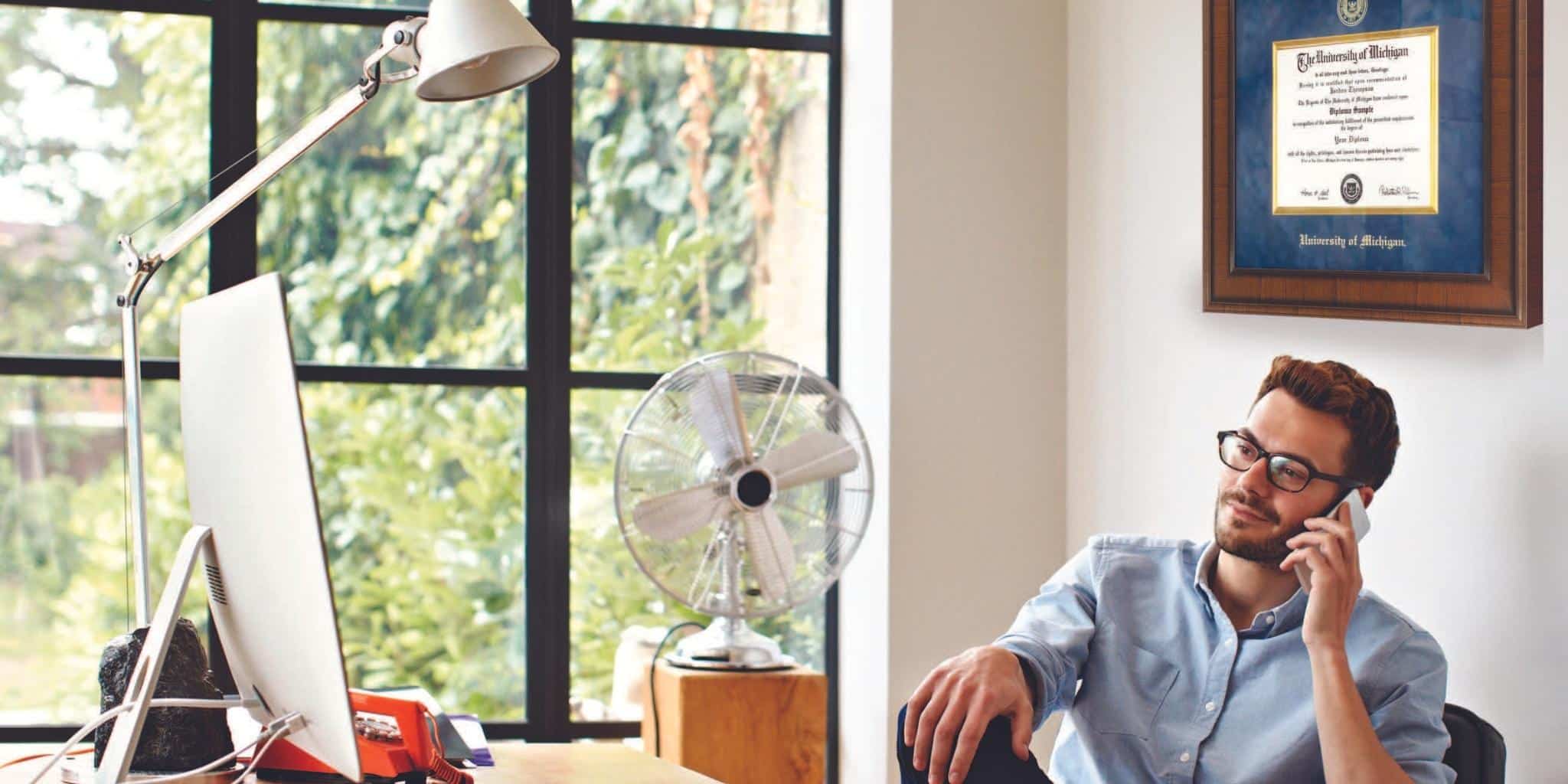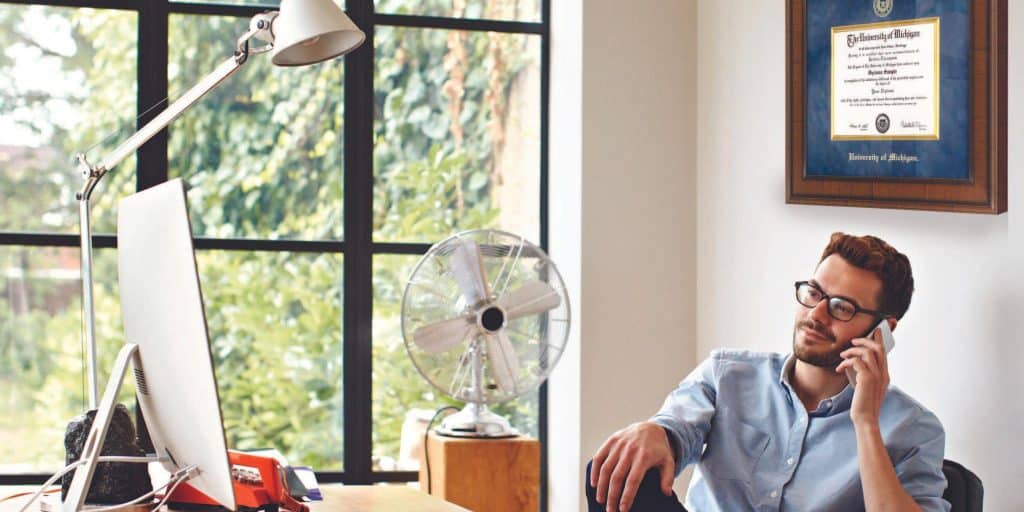 8.) Separate Work and Home Life
Keeping some distance between your work life and home life can sometimes be difficult if you are creating a professional work office from home, but it is important that your work stays in the office. If your office space is going to be in your home, you need to make sure that the space is kept separate from the rest of the house. It needs to be off limits to other members of the family (especially small children). The last thing you want is to find your desk chair being used as a laundry pile when you go into your office to get some work done. You also don't want sticky fingerprints all over your important documents.
Likewise, you should keep all your work-related items out of the rest of the house. Your family doesn't want to keep falling over your printer on the stairs, and you don't want to find important papers covered in breakfast crumbs on the kitchen table.
Not only is this annoying for the rest of your family, but it will not help you stay productive and organized. Your office is a great place to keep everything you need in one place. This includes diplomas and certificates that are related to your work; don't let your business documents and supplies creep into the rest of the house.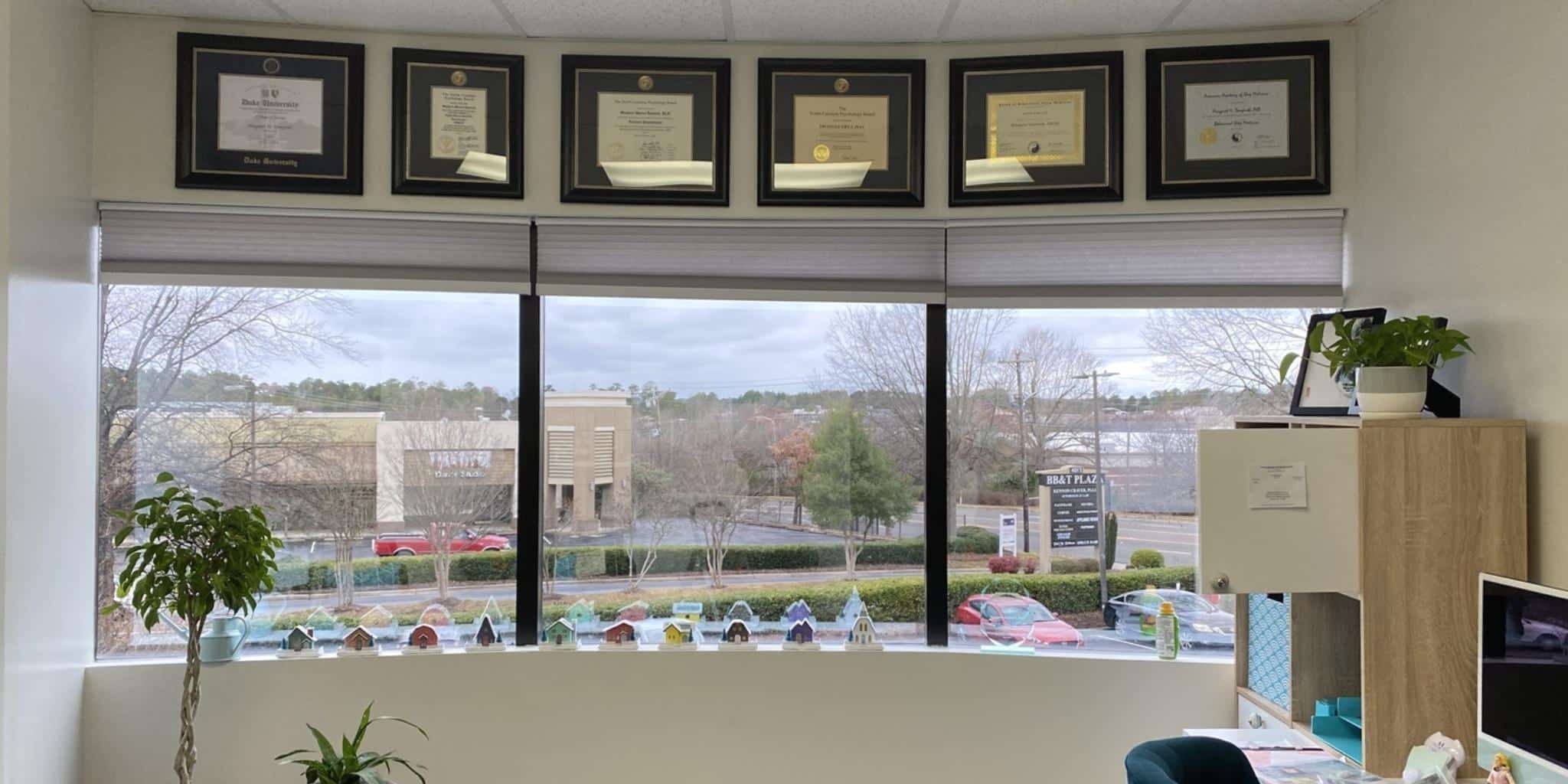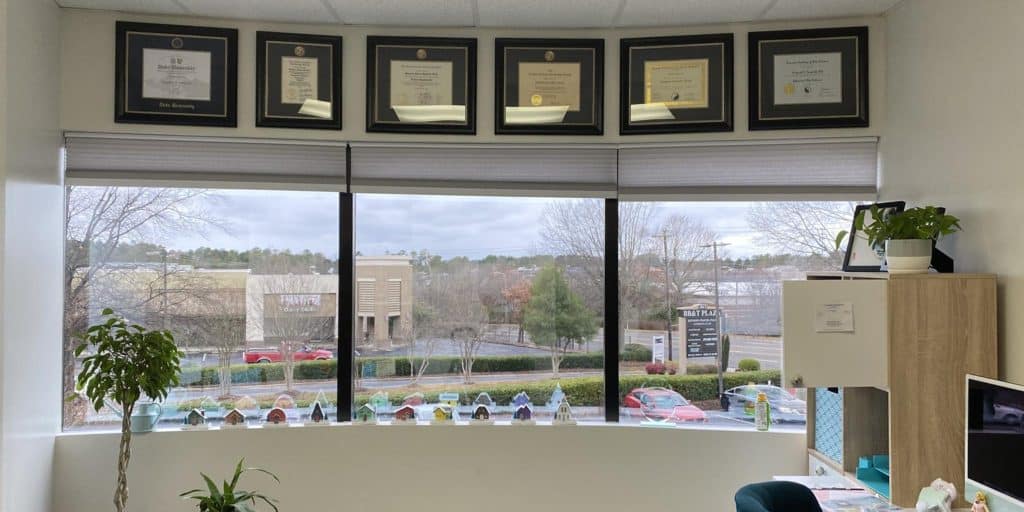 9.) Keep It Bright
It's important to work in a bright and well-ventilated room. This is essential for you to be productive and get lots of work done. You are much more likely to work harder if you are in a bright room that is full of fresh air. You should try to keep a window open when possible, and keep blinds open to get some daylight shining through. If you let your office go too dark and dingy-looking, then you won't feel motivated or encouraged in your work space.
If it's not possible to position your desk by a window, then you can use wall-mounted task lighting to create a bright and engaging ambience in your office. You should consider getting some desk lamps that you can direct light to your laptop or to the documents on which you are working.
Depending on what time of day you are working in your office, you may find that lights are not necessary. Lights with dimmer switches may be a good option, allowing you to adjust the brightness. If your office space gets a lot of natural light, you may want to invest in UV-resistant frames for your diploma wall so your documents will be protected from sun damage.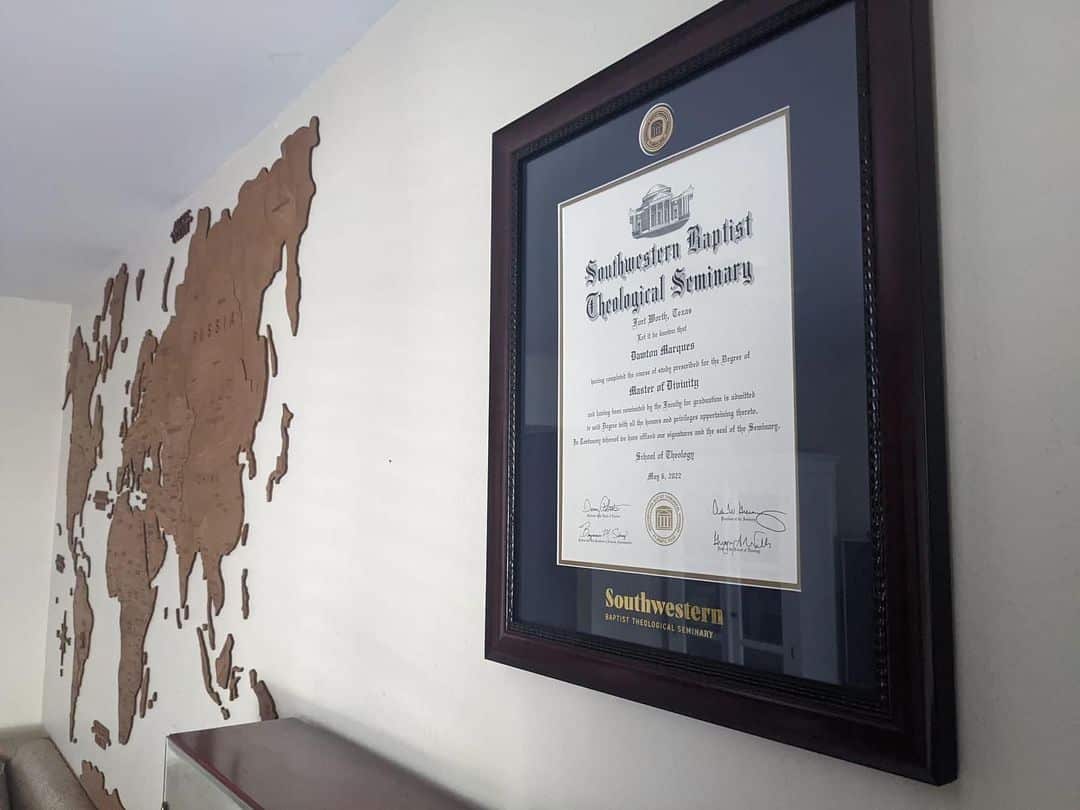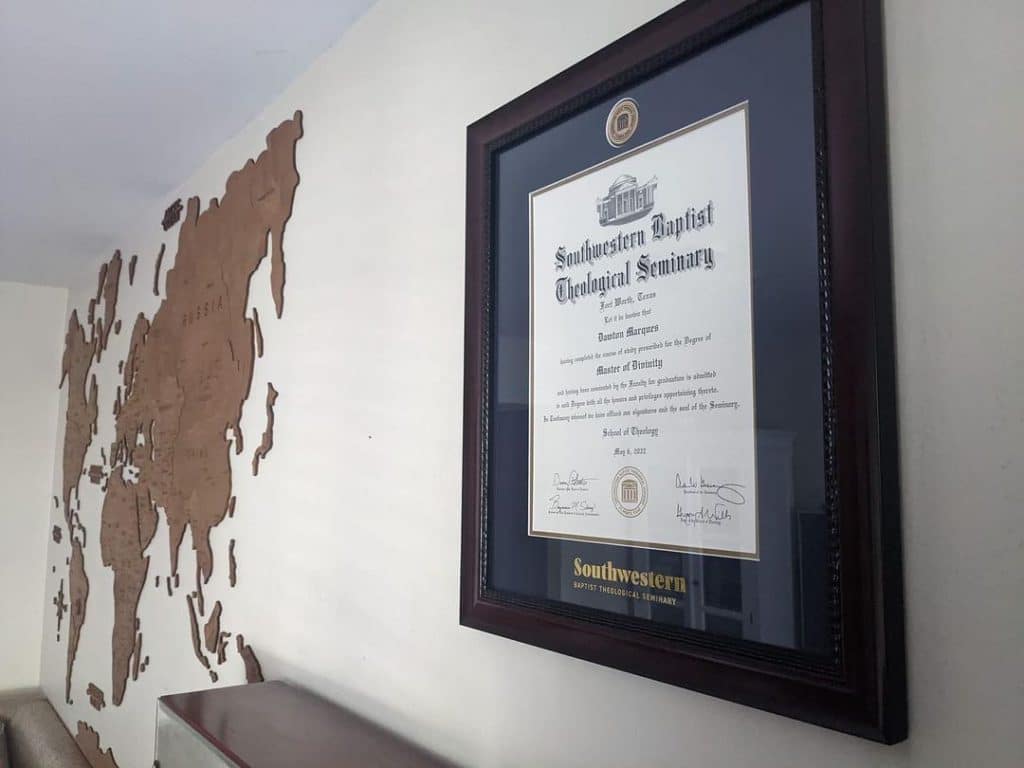 10.) Let It Inspire You!
You should be creating your office space so that every time you enter the room, you feel energized and inspired to start your day of work. A very easy way to do this is to print out some of your favorite, most inspiring quotes and put them on the wall.
Similarly, as discussed earlier, the best diploma display ideas start with custom-made frames. While they are a great feature for clients to see, they are a way of reminding you of how far you've come, which can give you the motivation you need to keep going. Inspiring features to your office can be a welcome boost on days when nothing seems to be going according to plan. Learning how to display certificates on walls is easier than ever with Church Hill Classics. Hang your certificates in less than an hour or two with our custom framing system.
The nature of your work will impact the kind of work office you will need. It's important that you create a space that fills you with joy and excitement when sitting at your desk to get some work done. By considering these factors when creating your ideal space, you should find you are much happier at work and are being much more productive!