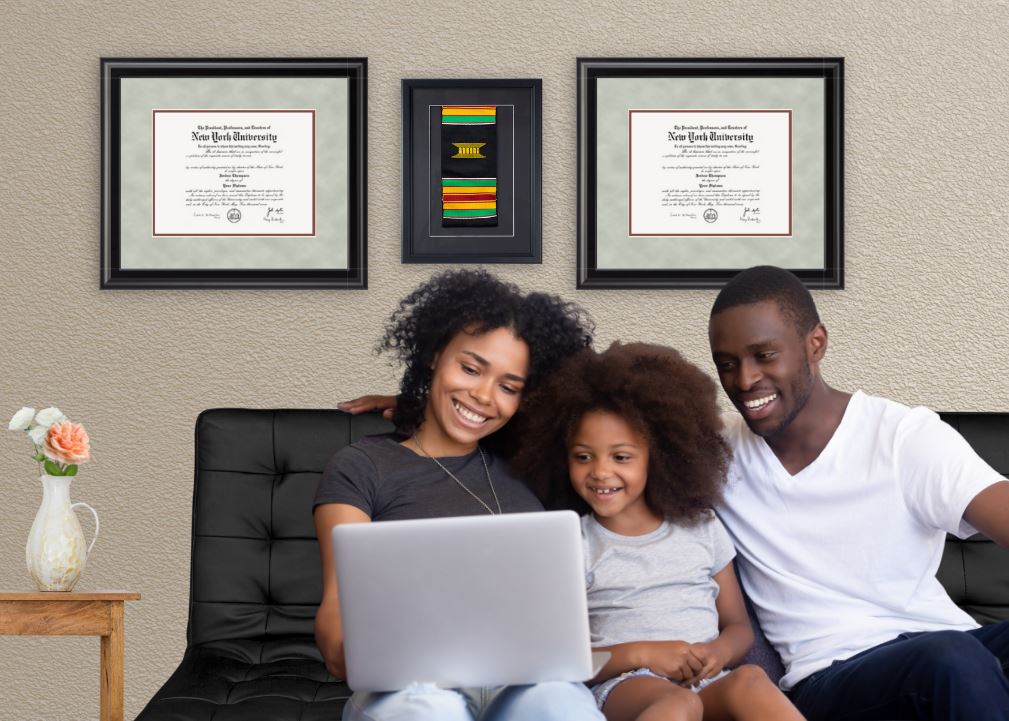 Did you know that according to the US Department of Education's National Center for Education Statistics, over the last 15 years, the number of students completing a graduate certificate has grown by 111%? Although it's not as expensive or time consuming as an undergraduate or graduate degree, earning a graduation certificate really is a big deal! After hours of studying, intense focus, and hard work, you should be proud to include a graduation certificate amongst any of your previous scholastic accomplishments. Whether you just earned your first certification or an addition to many, that hard-earned piece of paper is a valuable step toward pursuing your passions and achieving milestones in your career field.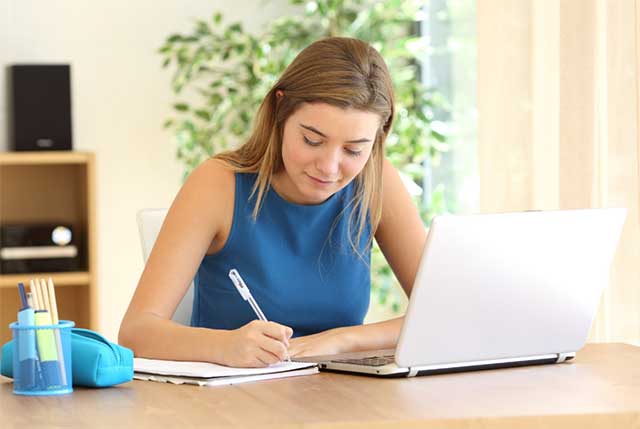 What's a Graduation Certificate?
Earning a graduate certificate means you've completed a specific level of necessary training and education in your chosen field, be it business, nursing, education, or a hands-on skilled trade. Receiving a certification at any point in your career ensures that you're one step closer toward mastering your specific area of study. Common graduation certificates include specializations in business, communication, education, healthcare, nursing, public administration, counseling, and technology. Much like a major concentration, they focus on a unique aspect of a given field. What certificates you can earn vary by university.
Maybe you're asking what the difference is between a diploma and a certificate? A diploma is awarded when a lengthy program like an undergraduate degree is completed, whereas a certificate is often an addition to bachelor's or masters degrees. Certificate programs are often shorter and more condensed but still require hard work! While diplomas are worth more, graduation certificates supplement any degrees one might hold and can help increase employability and widen future job opportunities.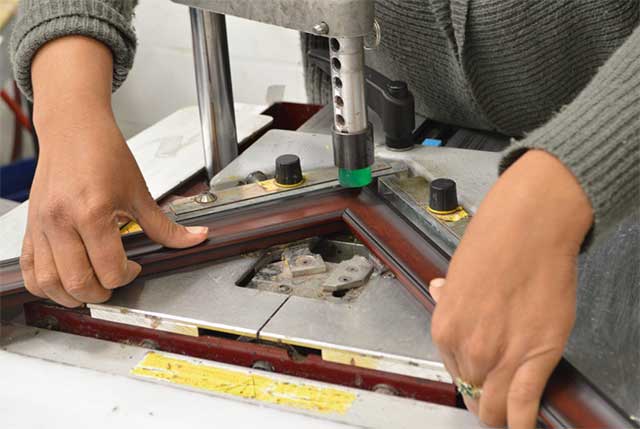 Should I Get a Degree Certificate Frame?
Just because it costs less time and money to earn than a university degree, that doesn't mean your graduate certificate isn't valuable! Just like diplomas, certificates are important but fragile pieces of paper that are easily susceptible to dirt, grime, wear, and tear. That's why the best way to take care of your graduation certificate is to keep it safe in a Church Hill Classics custom certificate frame!
Unlike cheap hobby store frames, our frames are specially designed to protect your most precious documents. As leaders in the framing industry for decades, we're proud to offer frames that meet stringent Library of Congress standards for document preservation. Built with high-quality materials like acid-free matting and backings and lignin-free mounting materials, your satisfaction with your frame is our top priority. In addition, there's no need for you to send us your precious certificate. We'll cut, join, and construct your frame to match your specific degree certificate size! Simply enter your certificate measurements as you check out, and we'll take it from there.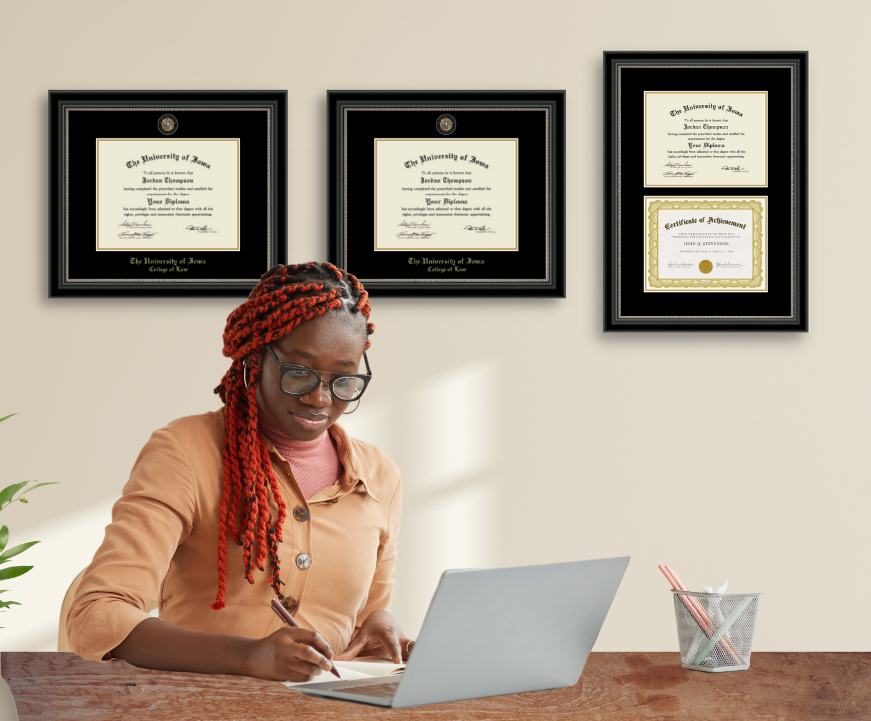 How Do I Customize My Graduation Certificate Frame?
When it comes to customizing graduation certificate frames, the possibilities are endless! Our online Create-A-Frame design tools are a state-of-the-art way to build your certificate frame exactly the way you want it to look. Craft your frame with our multiple hardwood and eco-friendly moulding options, archival-quality mats, and protective glass options. Feel free to design your certificate frame to complement the space it will hang in or represent the colors of your alma mater with our standard mat color choices! Don't love the standard mat look? Try sampling some of our classy suede or linen mats in your design to see if they're more your style. We believe you should have creative freedom when it comes to putting together a frame you love. Your final certificate frame order will then be constructed by skilled artisans and given the utmost care and attention in our Monroe, Connecticut facility before being shipped safely to your doorstep. After creating a custom graduation certificate frame that fits your personal taste, we guarantee your overall happiness with your final product!
Do you have multiple degrees and certificates that you'd like to frame? Our Double Degree frame can hold multiple documents and is easily customizable to meet your needs. Want to frame a special memory from your time in school? Feel free to transform it into a dual graduation certificate and photo frame.Or, add your specialized certificate on top of your esteemed bachelors or masters degree to keep both accomplishments in one place. The possibilities are endless!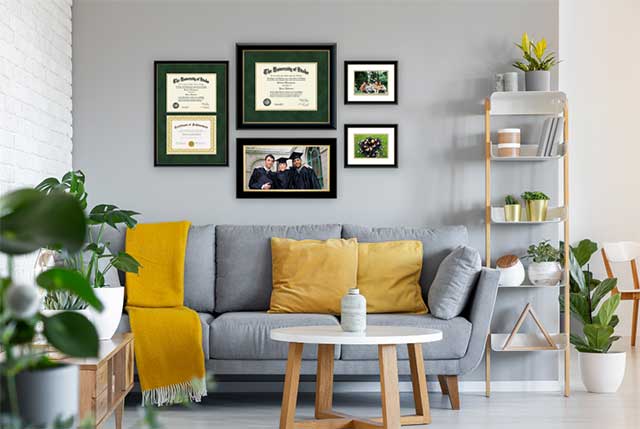 Where Do I Hang My New Grad Certificate Frame?
Looking for the best spaces to hang certificates and other important documents? Start with your office! Displaying your credentials behind your desk, along a high-traffic hallway, or in a community waiting room lets colleagues and patients alike know that you're trustworthy and more than qualified in your position. Do you work from home? Another popular way to display certificates, degrees, photos, and other elements is to include them as part of a gallery wall. Gallery walls allow you to tastefully display a graduation certificate and photo frame along with additional degree frames and artwork to create a cohesive piece that complements the space it's in. Gallery walls can be mounted anywhere around the house, but high-traffic areas like living rooms, hallways, staircases, entryways, or home offices are most common.
By continuing your education and earning a graduate certificate, you prove to friends, family, and future employers that you're committed to learning all there is to know in your career field and are serious about being the very best. It also displays to them that you value growth in your current position and in future roles to come. Displaying your graduation certificate is ultimately a way to remind yourself that going the extra mile is possible and worth it.