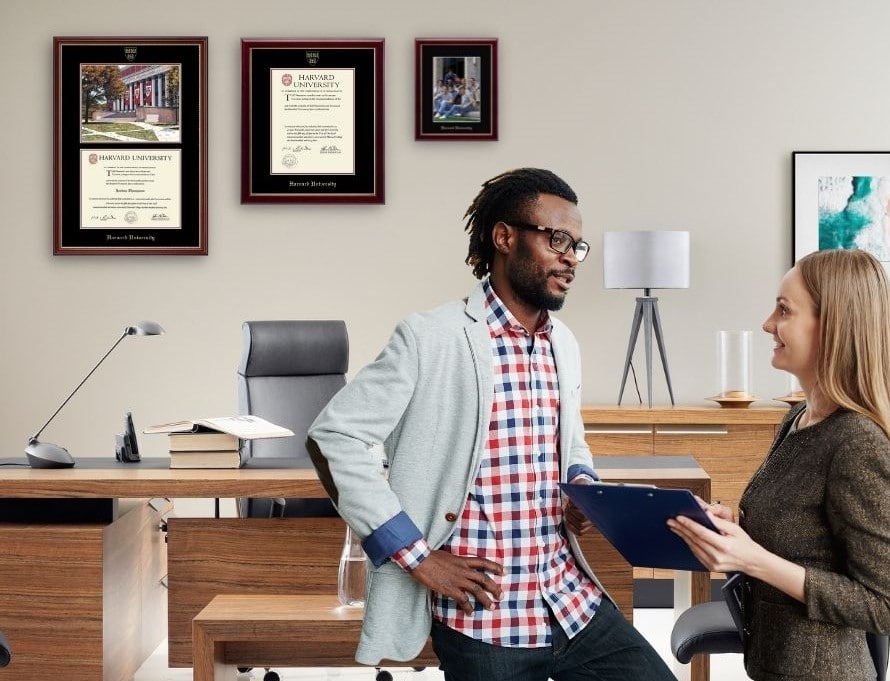 First things first – congratulations! Earning a Harvard University diploma is a huge achievement. With an overall acceptance rate of just 4.5%, this university just outside of Boston is ranked second in the nation. As a member of the Ivy League, it is one of the most selective schools in the world. Whether you earned your bachelor's, masters, or phD at Harvard, it is cause for celebration!
Did you know that 24% of the Forbes 400 – a list of the 400 richest people in America published yearly by Forbes – attended an Ivy League school? A degree this prestigious should stand out. Plus, it's important to protect this valuable document from damage. Luckily, you can protect Harvard University degrees from fading or deteriorating over time by displaying them in archival-quality frames. Learn how to make your Harvard University diploma stand out.
1. Display it with a Harvard campus photo
Your degree deserves a special display that you won't find elsewhere. We're proud to partner with The Harvard Coop Store to provide officially licensed frames designed exclusively for the campus bookstore. Images of iconic college landmarks have a way of instantly transporting us to our home away from home, and our Harvard Campus Scene frame does just that. Featuring a full-color photograph of Widener Library in Fall by award-winning artist Charles McVicker, the Campus Scene edition exudes beauty and charm in any home or office setting.
2. Explore various frame styles
Another easy way to make your Harvard University diploma stand out is to choose a distinct frame style to add color and sophistication to any decor. For example, consider showing off your crimson pride with our most elegant Harvard diploma frame, the Presidential Masterpiece. This stately frame features a gorgeous Harvard crimson linen mat, our widest-profile moulding, and a handpainted medallion of the Harvard school seal medallion. No matter which style you choose, you can further customize our mat colors, hardwood mouldings, and UV-protective glass options to your liking.You'll want a graduation frame that protects your diploma and will prevent any discoloration, brittleness, or cracking. Museum-quality document protection, a feature of our premium frames, offers conservation-quality matting, backing, and mounting materials.
3. Customize it based on your specialty
You can also make your Harvard University diploma stand out by customizing it based on what you studied in school. Whether you earned your bachelor's, masters, or doctorate degree, customizing your frame with your specific Harvard program is a sure way to celebrate your unique achievements. Simply click the drop-down menu and select the Graduate & School-Specific Programs to find your particular field of study.
If you graduated from Harvard Law School
Did you know that many Harvard Law students have experienced the highest level of success on a global level, serving in the White House or Supreme Court and even winning Pulitzer Prizes? Whether you received your Juris Doctor (JD), your Master of Laws (LLM) or a doctorate (SJD), you spent countless hours earning that degree.
You had to memorize all aspects of criminal procedure and study harder than ever for exams on Constitutional law. With all the hard work, long nights, and consistent performance that it took, that degree deserves to be honored on the walls of your home or office. Select one of our sleek made-in-the-USA Harvard Law degree frames.
If you graduated from the MBA program
As a graduate of Harvard's MBA program, you have the leadership skills and preparation to thrive in the business world. You've spent time building up your analytical expertise and you're ready to face today's evolving global markets.
We know you mean business. Celebrate that badge of honor with a handcrafted diploma frame that's specifically designed for a Harvard Business School graduate.
4. Create a graduation stole arrangement
For a wall display that is equally nostalgic and academically impressive, choose a frame with black moulding to pair with our graduation stole frame, which features our Omega moulding with a black satin finish. For example, select our Gold Embossed frame with double black suede and gold mats with your choice of Midnight, Noir, or Onyx Gold black moulding. It's a great way to highlight your family heritage, extracurricular activities, Greek affiliations, or academic honors alongside your diploma.
5. Frame it in your office
The office is probably the most popular location to display a diploma, as it's the perfect place to add a frame that highlights your qualifications. Hanging your diploma over your desk equips you with an excellent marketing tool that reminds clients, coworkers, and employers of your impressive credentials. Plus, it can help you bring purpose to your everyday work. With more and more people working remotely in their home offices, adding a Harvard University diploma frame to your space will spark confidence in potential clients and customers.
To make it stand out in your office, try to hang your diploma away from your computer monitor or any other large item that could get in the way of viewing it. You can also consider adding a piece of art, photos of your team, or your company or business logo, too. Select a highly visible area to help it get noticed.
Check out our Harvard diploma frames today!
As a Harvard University alum, you are joining the ranks of John F. Kennedy, Michelle and Barack Obama, Sheryl Sandberg, and Bill Gates. Celebrate this incredible achievement, the amazing friendships you made along the way, and your hard-earned credentials with a custom Church Hill Classics product. Your Ivy League degree deserves a place of prominence in an archival-quality display that protects it for years to come.