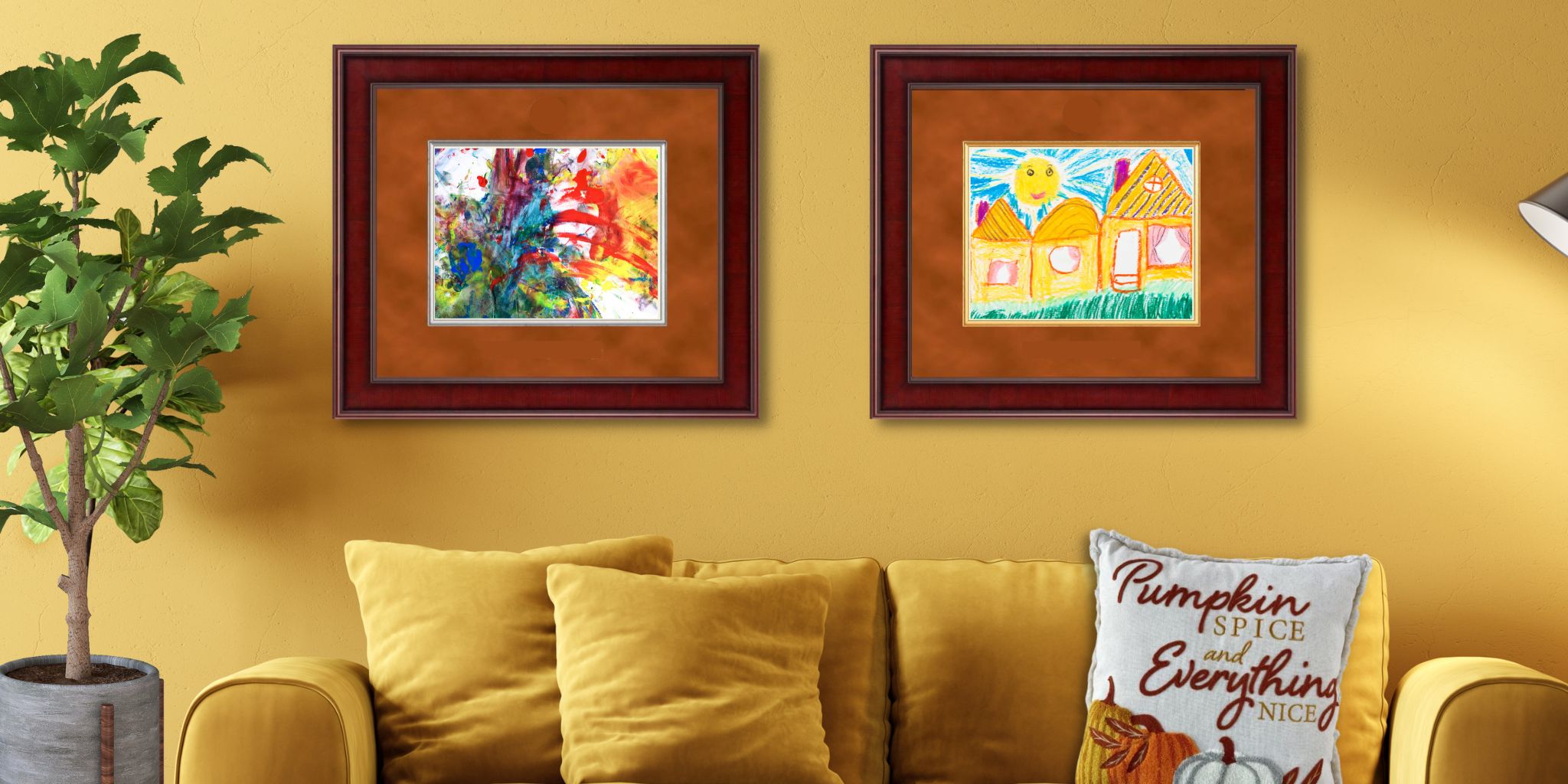 Children are natural artists, and their creativity knows no bounds. From finger paintings to crayon scribbles, children's art is a window into their imagination. As parents and caregivers, we often find ourselves wondering how to preserve and showcase these precious creations. One timeless and cherished way to do so is to frame children's art. In this blog, we will discuss the importance of framing children's artwork. We will also explore the various options available for framing. Additionally, we will provide creative ideas for displaying the artwork in your home.
The Significance of Children's Art Frames
Children's wall art is more than just a decorative choice. It's a way to celebrate their creativity, boost their self-esteem, and create a tangible connection to their childhood. Pieces of art with bright colors and personal significance are sure to become treasured keepsakes. Here are some compelling reasons why framing your child's art matters:
Validation of Creativity: Displaying children's art sends a powerful message. It signifies that their creative efforts are valuable and worth preserving. This validation can boost their self-esteem and encourage further artistic exploration.
Memory Preservation: Kids' artwork often represents significant moments and stages of their development. When you frame kids' art, it allows you to capture those moments in time and create lasting memories.
Home Decor Enhancement: Children's arts and crafts projects can add a unique and personal touch to your home decor. Their framed pieces are a great option for brightening up any room. Plus, your kids' art display is definitely a conversation starter.
Showcasing Progress: By framing a selection of your child's art over the years, you can track their artistic development and see how their skills and style evolve.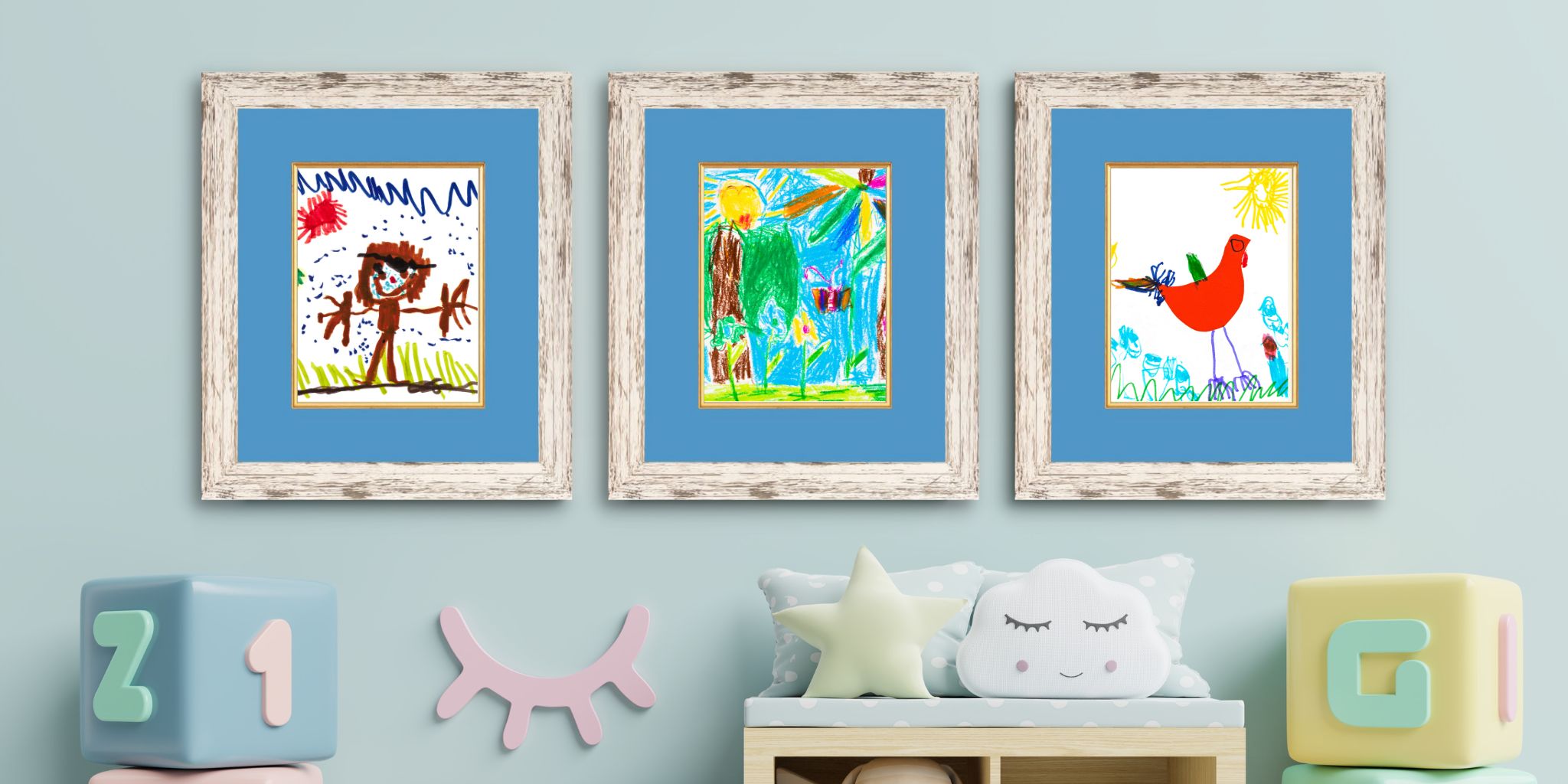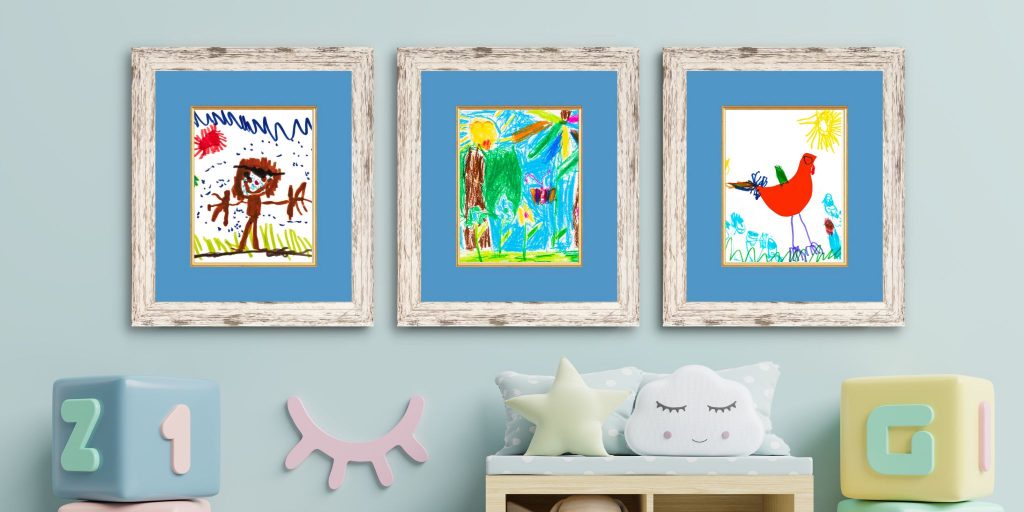 Choosing the Right Frames
When it comes to children's art frame options, there are several aspects to consider. Here are some factors to keep in mind about your child's artwork while choosing the right frame:
Size: The size of the artwork will determine the size of the frame. Also, you'll want to pick out a custom picture frame sized to fit the painted or sketched area. Also consider whether you want to frame a single large piece or a collage of smaller pieces.
Style: Frames come in various styles, from classic cherry finishes to minimalist black or shabby chic barnwood. Choose a frame that complements your home decor and enhances the piece. For example, a thin, simple black moulding is often ideal for framing children's abstract art.
Matting: Matting is the material placed between the artwork and the frame's glass. It provides color and prevents the artwork from sticking to the glass. Choosing archival-quality matting is key. It enhances the overall presentation of the artwork. Plus, it ensures your children's art display will not fade or deteriorate over time.
Glass: There are different types of glass available, including standard glass, non-reflective glass, UV-protective glass, and acrylic glazing options. UV-protective glass is highly recommended as it helps prevent the artwork from fading or yellowing due to exposure to sunlight. The good news is that Church Hill Classics carries every possible glass option that you need.
Budget: Framing can range from affordable to high-end. And you'll find a wide range of price points at Church Hill Classics. Remember that a well-chosen frame can elevate the appearance of the artwork without breaking the bank.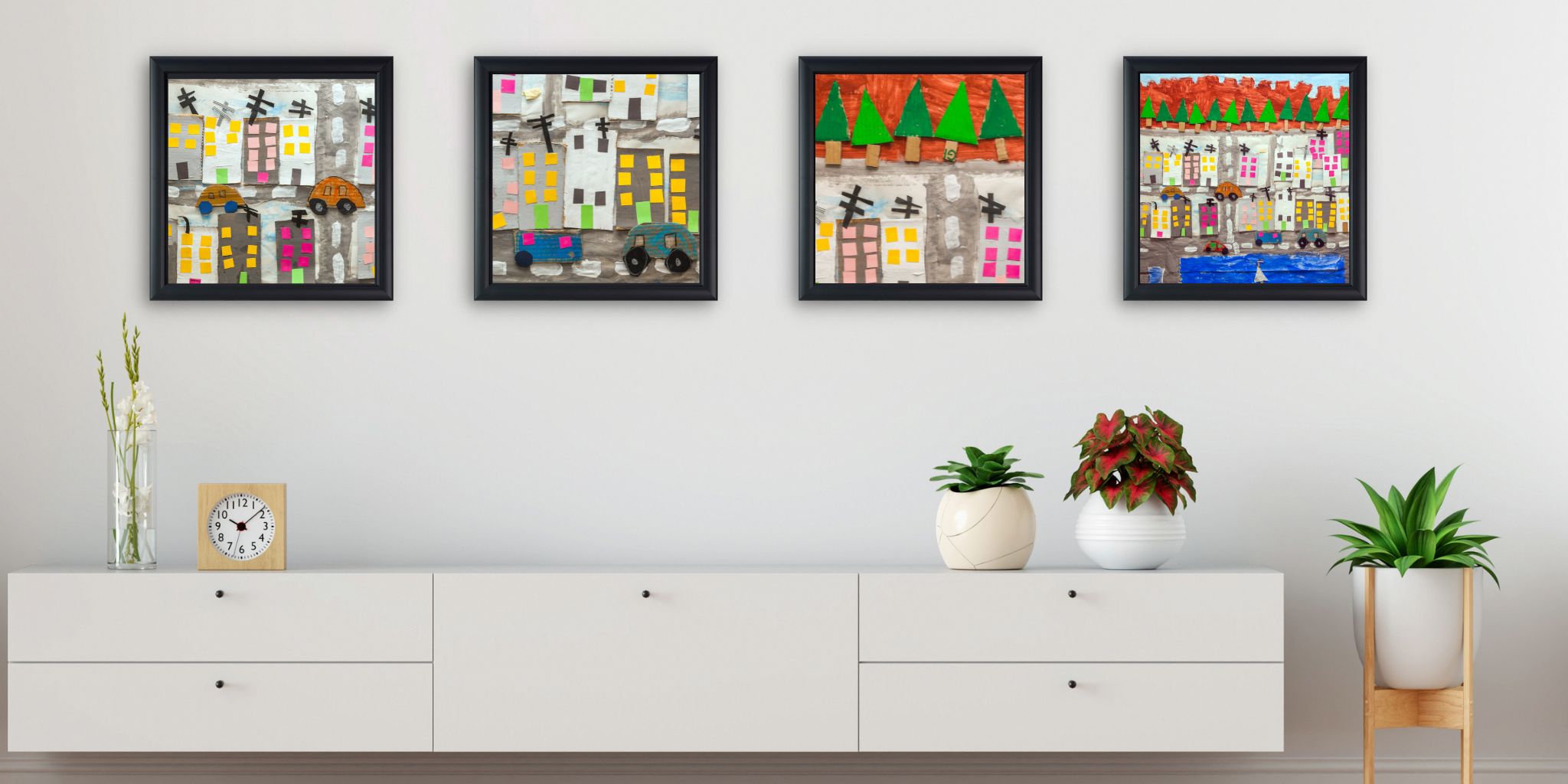 Children's Art Display Creativity
Now you understand the significance of framing kids' artwork and selecting the right frame. But do you know how to best showcase their work in your home gallery? Some children's art display ideas include" 
Gallery Wall: Create a gallery wall by framing multiple children's art prints and arranging them in an artistic cluster. This approach to framed children's art can turn a blank wall into a dynamic and colorful focal point.
Rotating Art Display: If you have limited wall space, consider using a rotating art display. This is a great way to feature different pieces of artwork in your home on a seasonal basis. Buy a single children's art display frame with a removable back. This will ensure that you can easily switch out the artwork whenever your child creates something new.
Custom Collages: Group similar-themed artwork together to create custom collages. For example, you can frame a series of animal drawings or seasonal paintings in a single frame for a cohesive look.
Shadow Boxes: Black shadow boxes make great frames for children's art. They are perfect for displaying three-dimensional artwork or art projects that involve multiple elements. They add depth and dimension to the presentation.
Floating Frames: A modern technique that suspends artwork on top of a solid mat is float-mounting. It's a particularly good way to create a sleek and stylish appearance with ripped or textured paper edges. This style works particularly well for watercolors and mixed media pieces.
Personalized Frames: Add a special touch by customizing the frames with an engraved nameplate. Consider displaying your child's name, date, and artwork title on the plate. This adds sentimental value and makes the framing process even more special.
Preserving Your Child's Art
Properly protecting children's artwork in an archival-quality custom frame is just the first step in preserving it for years to come. To ensure the longevity of these cherished pieces, hang the framed artwork in a safe and stable environment. Avoid placing it near heat sources, damp areas, or in direct sunlight, as these conditions can damage the artwork over time. Also, consider making digital scans or photographs of the artwork before framing it. This way, you'll have backup copies in case the original gets damaged or lost. 
Framing children's artwork is a meaningful way to celebrate their creativity, capture memories, and enhance your home decor. Choose the right frame and use creative display techniques to turn their art into cherished memories for you and your child. Whether you opt for a gallery wall, shadow boxes, or personalized frames as your children's art easel, the joy of seeing your kids' work beautifully displayed is a reward in itself. So, don't wait—start framing those masterpieces and let your child's creativity shine throughout your home.