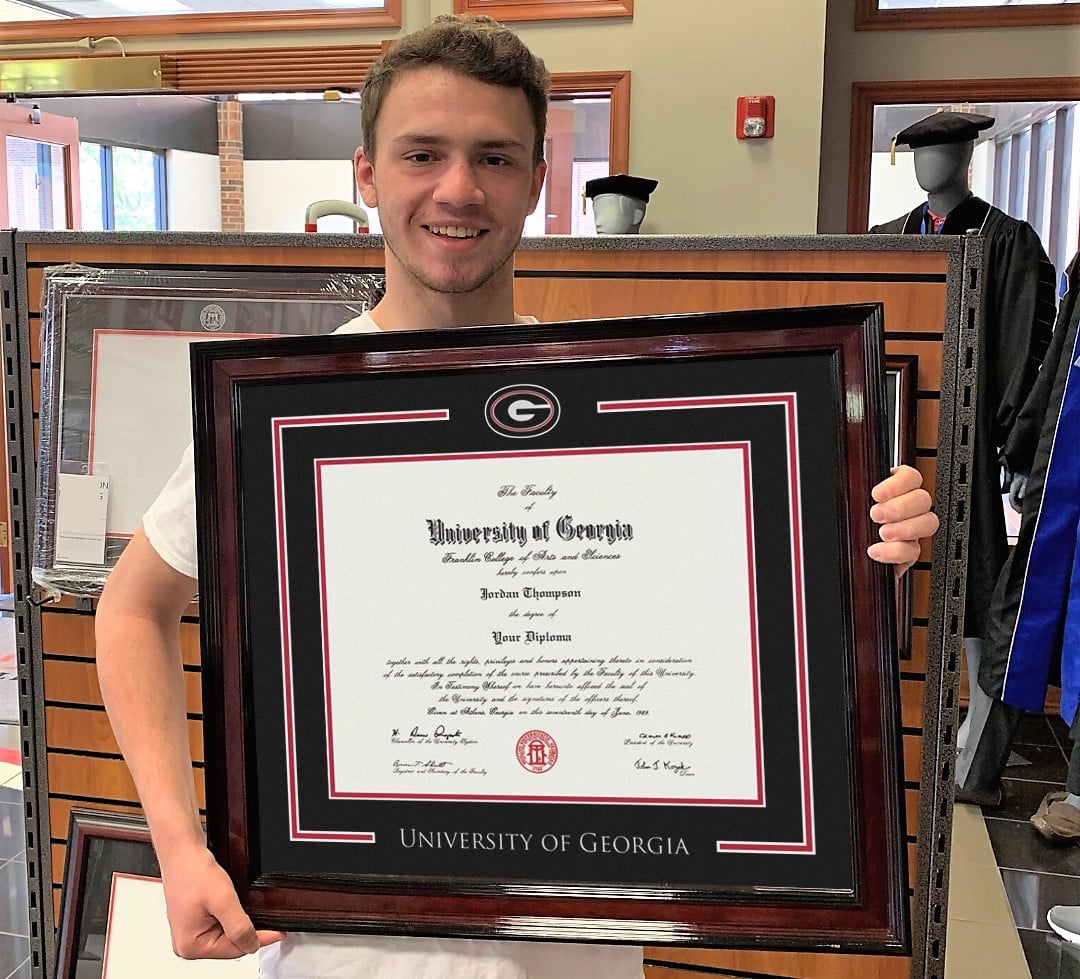 What makes a quality diploma frame? Is it just the price tag? Or does it matter what type of wood it is made out of? How much did it cost to make? Does the frame look like it was built with care? Was it built by hand? These questions may seem silly but when choosing frames for your diplomas, these things matter. Here are some tips to help you choose between quality and cheap diploma frames.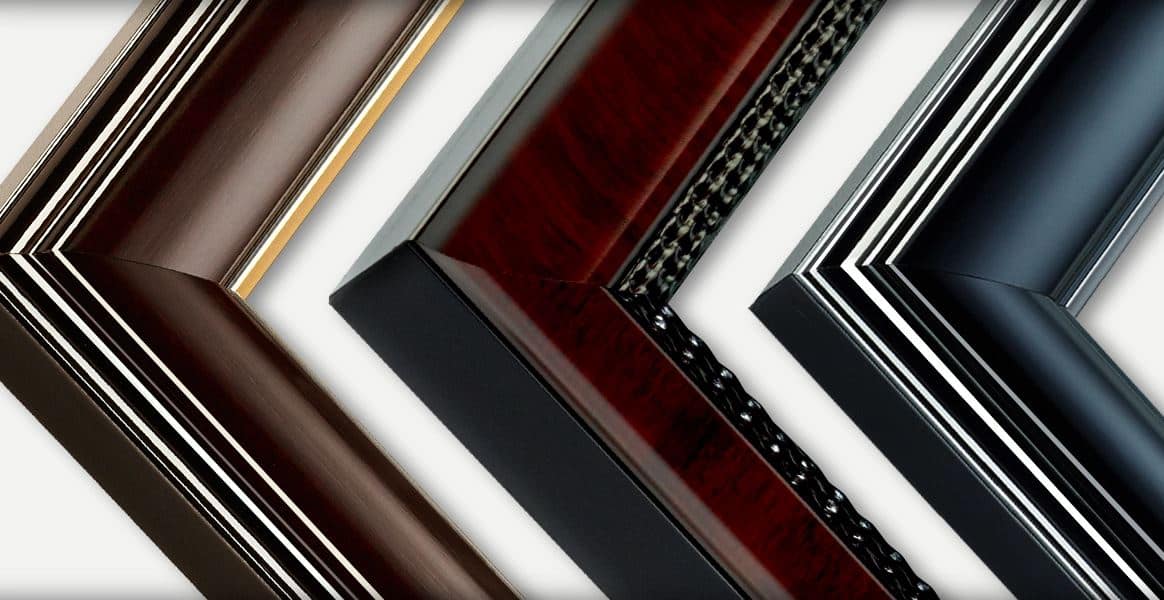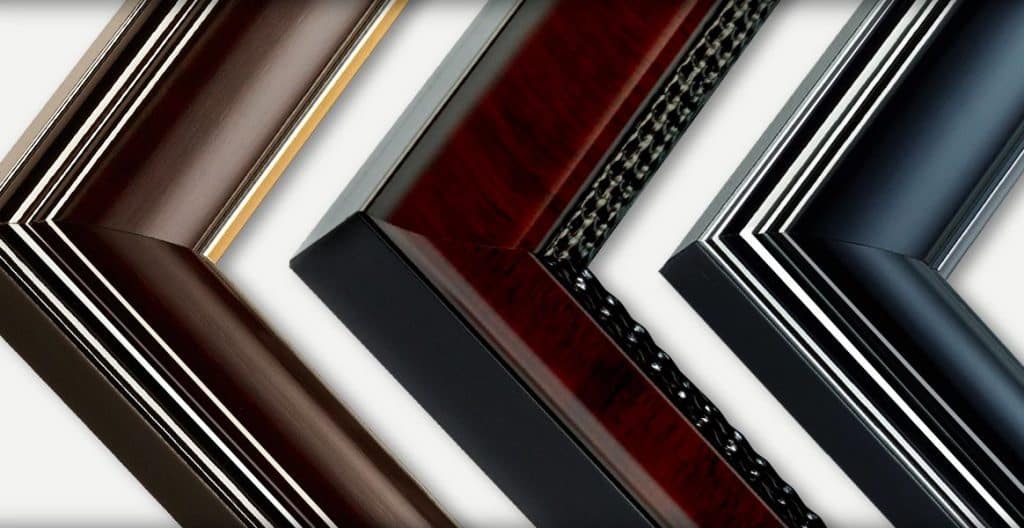 1.) What Type of Frame Mouldings?
There are several different styles of frame mouldings, including wood, metal, acrylic, and plastic. But metal, acrylic, and plastic mouldings are signs of  diploma frames cheaply made. Only wooden mouldings are considered museum-quality and suitable for long-term preservation of valuable documents. Wooden frames are heavier, durable, and long-lasting, so they tend to be more expensive. Acrylic frames are lightweight and inexpensive, but they scratch easily and are prone to warping. Plastic frames are sturdy and affordable, but they are usually made of low-quality materials. 
Basically, you get what you pay for, and when purchasing a diploma frame cheap, your degree is guaranteed to yellow and fade over time. And when you think about how much time, money, and energy went into earning your degree, don't trust that valuable document to cheap diploma frames at Michael's, craft shops, or big-box stores. Shop for quality diploma frames that are made with solid hardwood mouldings or 100% recycled wood options at Church Hill Classics. Our eco-friendly custom frames start with American hardwoods and raw materials that are sourced from vendors who practice reforestation efforts.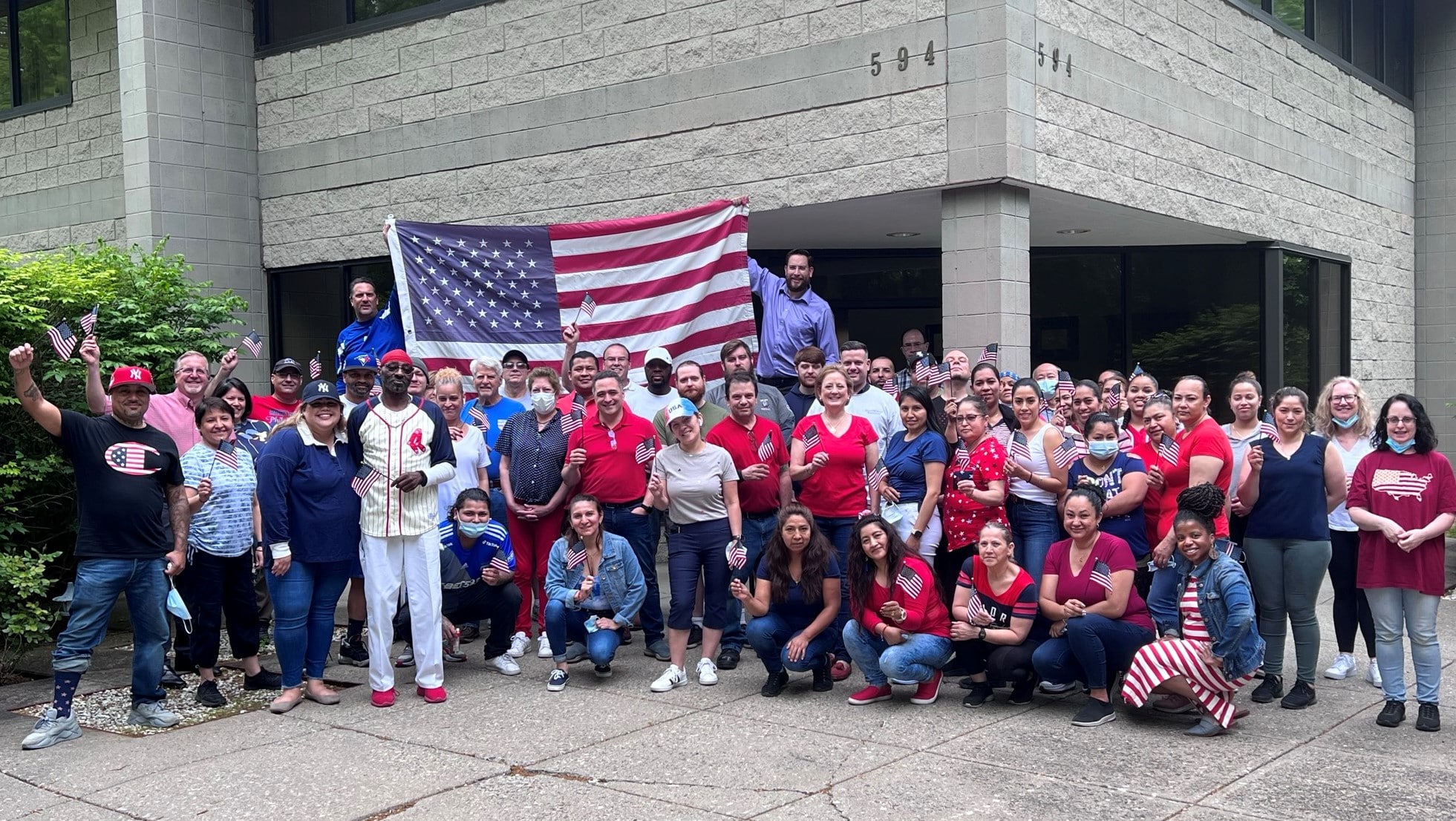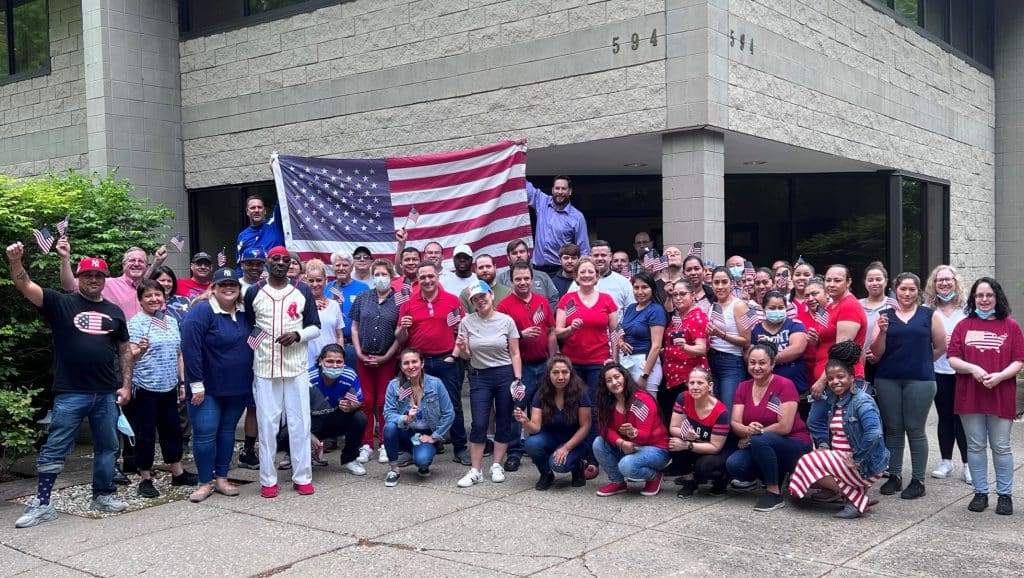 2.) Are They Made in the USA?
When you purchase products made in America, you can rest assured that they were produced in accordance with strict federal regulations regarding product safety and quality. These regulations ensure that all products sold in the United States meet high standards of quality and safety. Most premade, inexpensive frames from hobby shops and craft stores were made in China. When you purchase products made in China or in other countries, there is no guarantee that they were produced under safe conditions. There is also no assurance that the product will meet your expectations.
Where you spend your hard-earned money matters! Before you shop, do a little research and make a concerted effort to invest your dollars in made-in-America gifts. Shop small businesses and support the efforts of local companies to help American vendors and U.S. manufacturers thrive. Buying USA-made custom diploma frames creates more jobs in America, boosts the nation's economy, and means you're purchasing fine craftsmanship. 
3.) Have They Secured Official Collegiate Licensing?
Quality diploma frames come with features that make them worth the extra money, such as officially licensed school seals and logos. You can be sure that your choice of graduation frames will be top-notch, thanks to branding and licensing rights. All authorized merchandise is rigorously inspected for quality craftsmanship, and licensed companies like Church Hill Classics are carefully vetted and assessed for their customer service and response time. As all products must meet the unique specifications of every college's specific brand guidelines, purchasing licensed merchandise ensures that any products bearing school markings are of the highest quality and are only used in conjunction with products approved by the institution.
Best of all? Purchasing an officially recognized degree frame helps support your education because part of the proceeds from every licensed diploma frame sold goes directly back to your school's own college store or alumni association. Often run by the same institution you love, licensing fees generated through the sale of licensed products go toward funding academic scholarships and athletic programs. So, purchasing an officially licensed diploma frame benefits your school, not another unlicensed competitor. Whether you attended a small school like Haverford College or a large institution like the University of Georgia, you can start framing your UGA diploma today knowing it'll meet the university's exact brand standards and look exactly like what you ordered.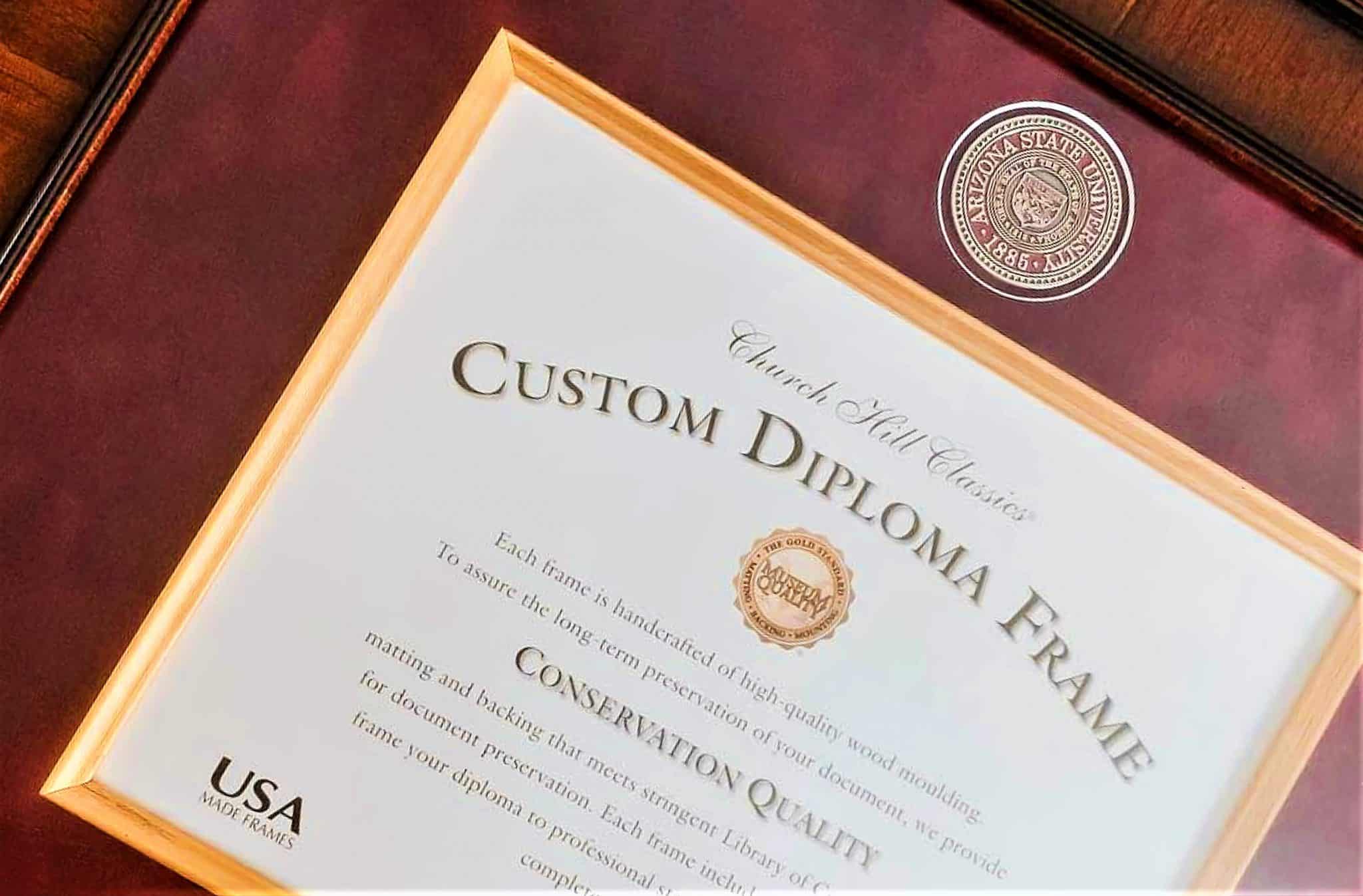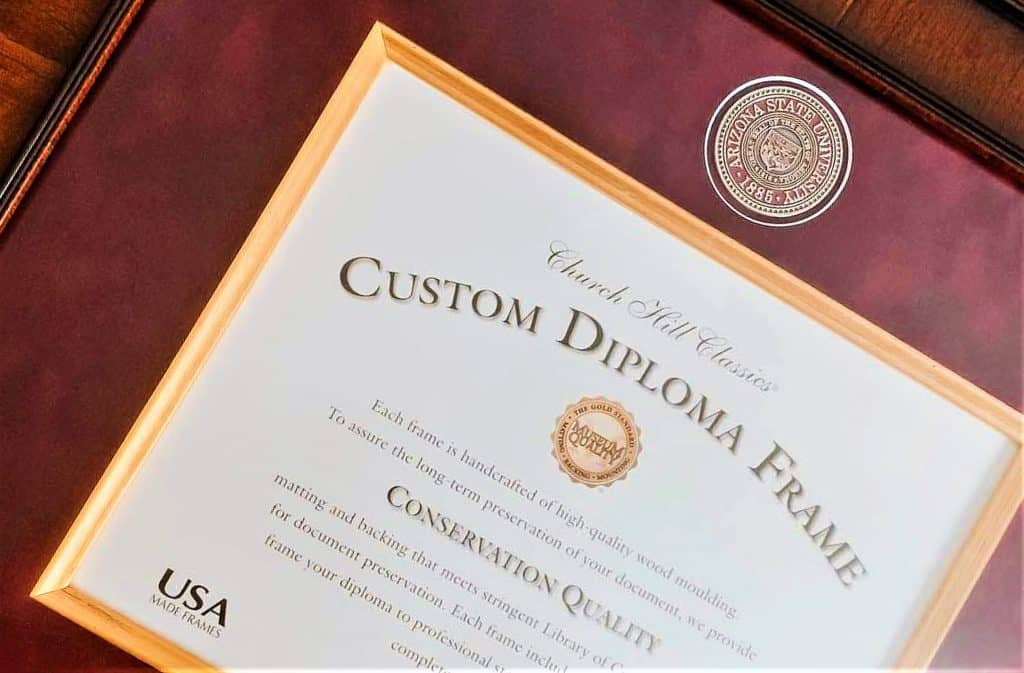 4.) Are They Museum-Quality Frames?
Your documents deserve the best protection possible, and we're here to help you achieve that goal. We offer a wide range of conservation-quality materials that ensure your frame looks great while protecting your important documents for years to come. You'll also receive an official "Conservation-Quality" stamp with your order to certify its authenticity.
Church Hill Classics is committed to preserving your college degrees for generations to treasure. Your diploma is an important document that should be treated with care. Our frames are designed to protect your diploma while keeping it easily accessible and free of destructive elements.
The only thing protecting a document from mold, insects, and other environmental hazards is a sturdy, USA-made frame made from high-quality materials that meet the stringent standards of the Library of Congress for document preservation. You won't find that promise made by crafts stores or online companies claiming to be framing experts.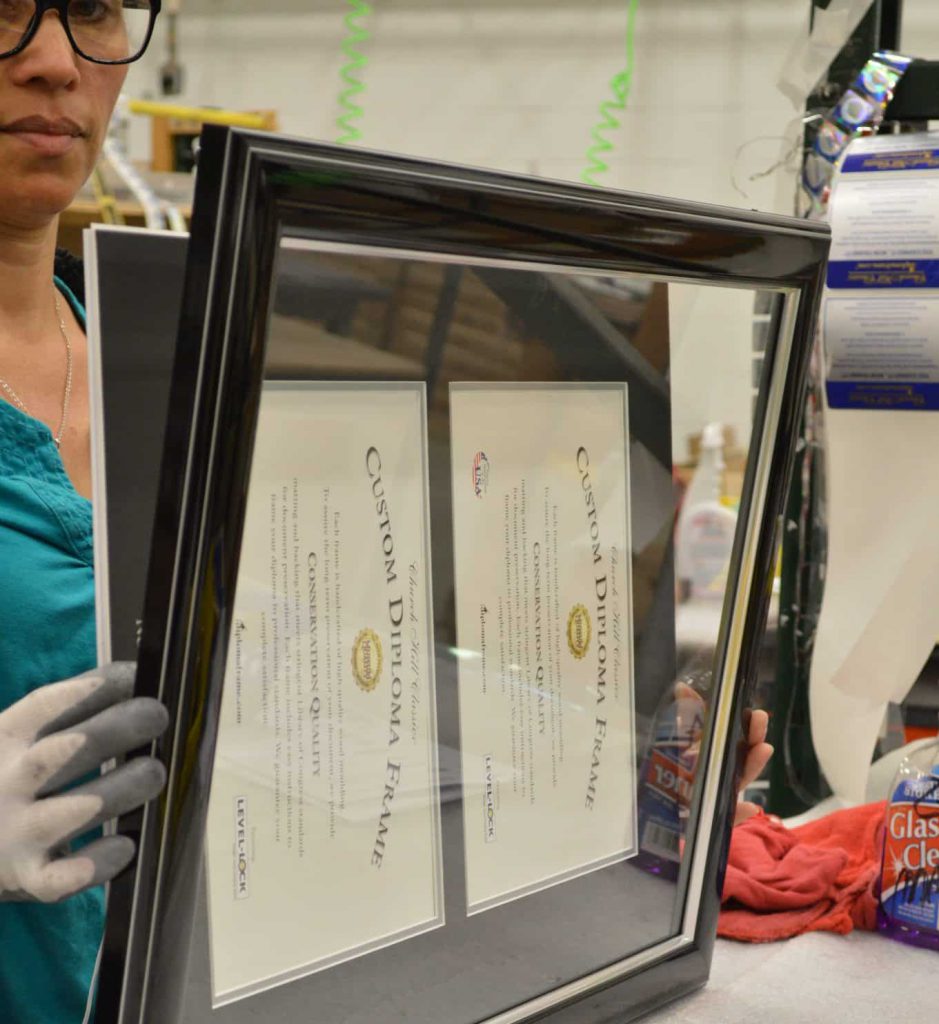 5.) Do They Have UV-Protective Glass?
Glass is often overlooked when choosing a frame for your photos, certificates, diplomas, artwork, and other valuable documents. But glass is actually very important because it protects your documents from dust, dirt, sunlight, and other elements that could damage them. Cheaply manufactured and mass-produced frames will cause your diploma to fade, yellow, deteriorate, and often stick to the frame glass due to humidity, which will ruin your priceless document. Church Hill Classics offers several different options for blocking harmful UV rays, so you can customize your diploma frame with reflection control, non-glare finishes, or plexiglass options at checkout.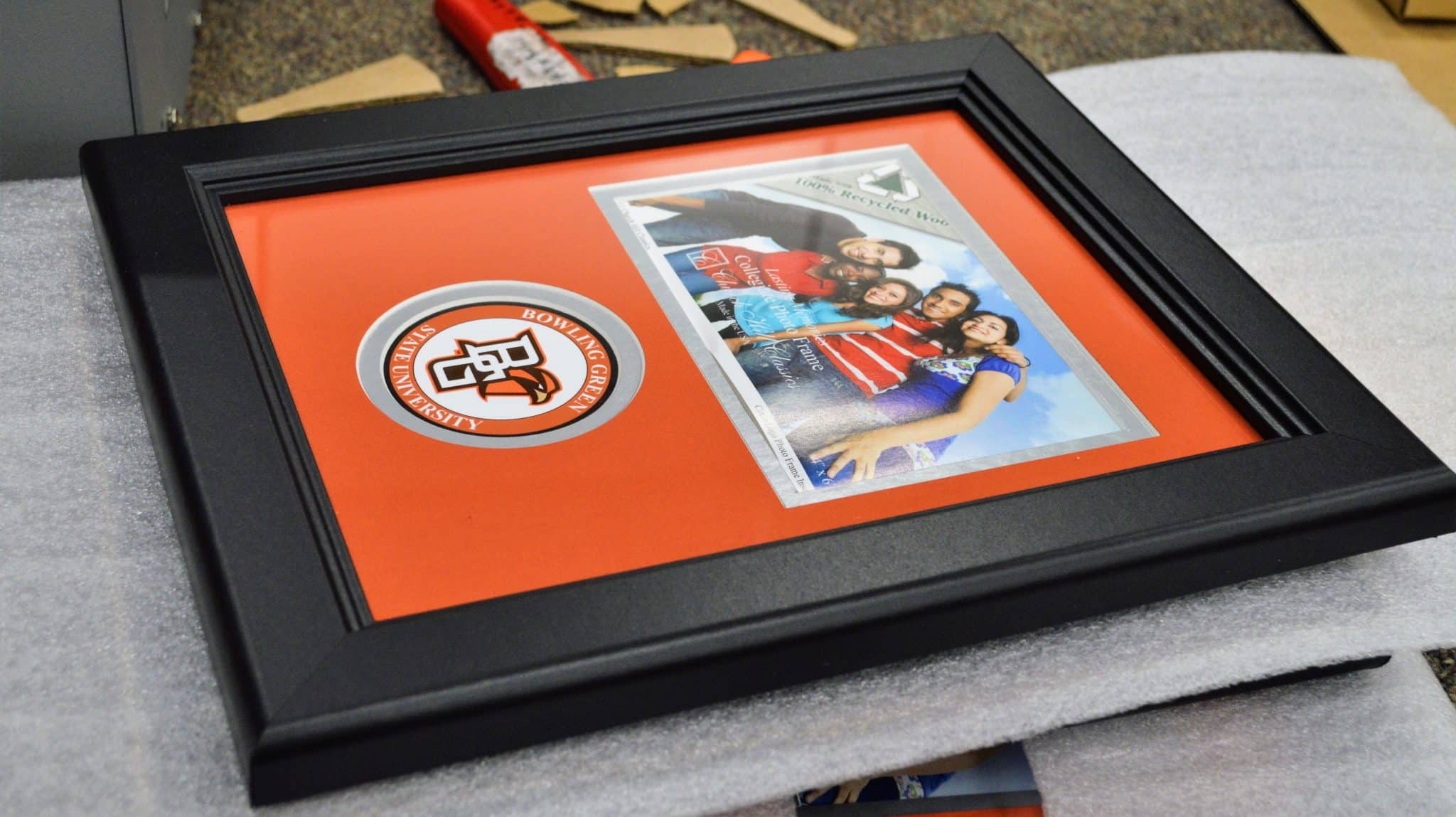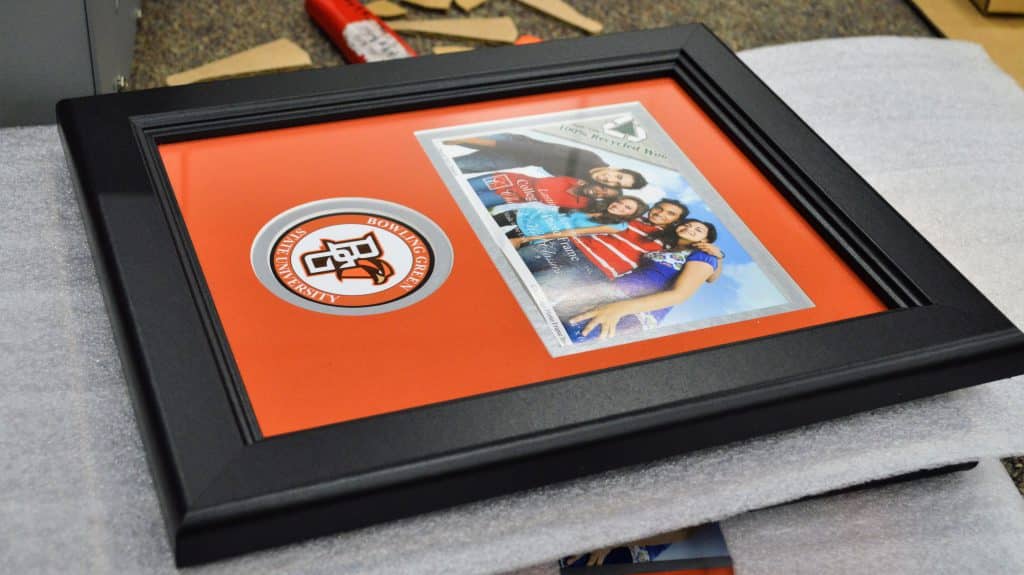 6.) Are They Certified by the Professional Photo Framers Association?
The Professional Photo Framers Association (PPFAA) is an international non-profit trade association representing professionals working in the custom frame industry. Its mission is to promote excellence within the custom frame industry through education, advocacy, networking, and collaboration. All of our framing materials are carefully selected and utilized in accordance with the strict guidelines put forth by the PPFAA. How many custom framing companies can say that they have certified picture framers on staff? That's why you can ensure you're receiving the best diploma frames from Church Hill Classics, the trusted #1 leader in the collegiate diploma frame industry.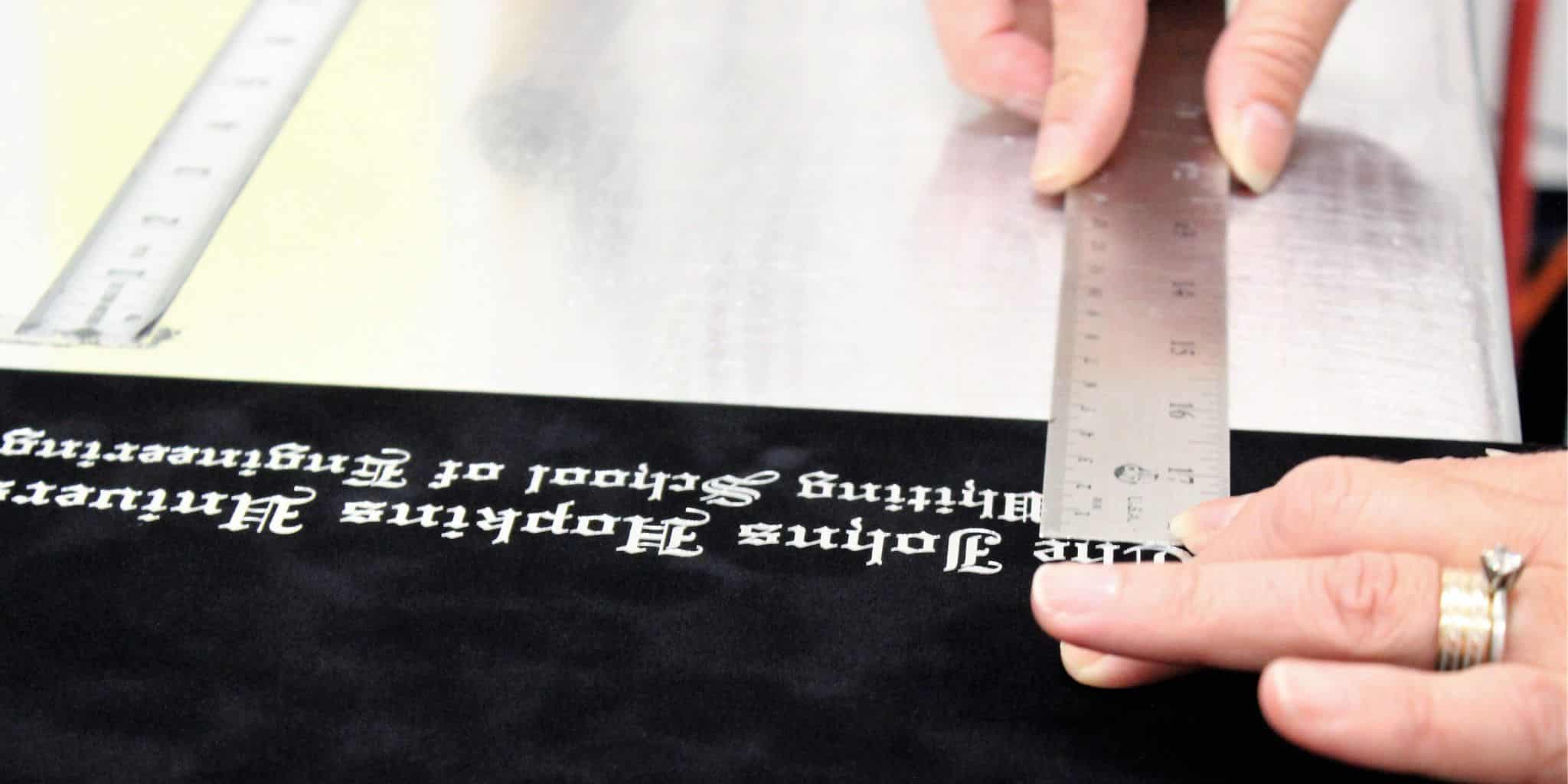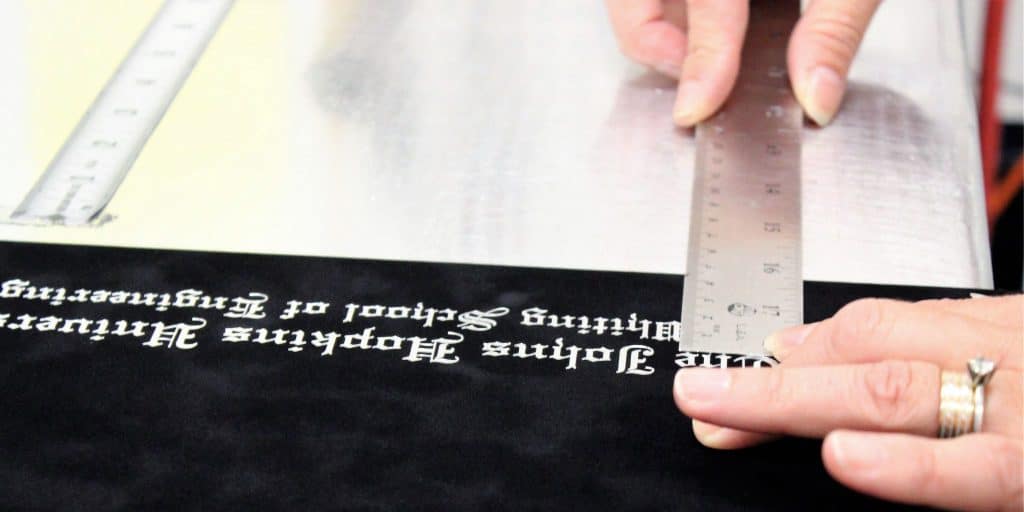 7.) Are They Handcrafted Diploma Frames?
We don't cut any corners when it comes to quality and don't sell premade frames. Each piece is crafted using premium materials and finished with precision craftsmanship. Every step along the way is guided by skilled professionals who understand what it takes to create a lasting keepsake and honors the rich American tradition of frame-making.
We start building your frame as quickly as possible after receiving your order. Our highly trained staff members meticulously assemble each frame by hand, ensuring that every aspect of the finished product meets your exact specifications. Every step along the way—from cutting and measuring to assembling and inspecting—is done by a skilled team of artisans to ensure the highest level of quality. And because we always strive to exceed customer expectations, we offer an industry-leading satisfaction guarantee. If you aren't completely satisfied with your framed diploma, simply return it and we'll work to make it right! It's that simple.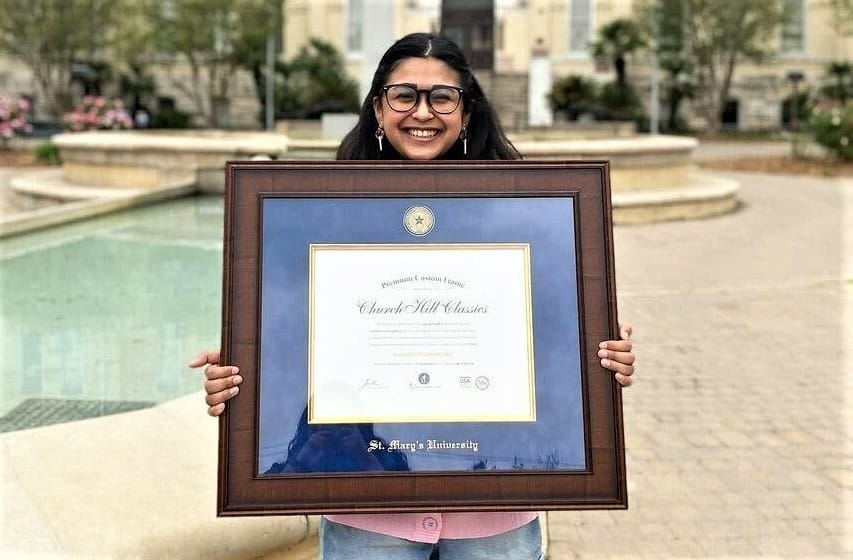 8.) Shop the Best Frames Online
"Why are diploma frames expensive?" We hear this question often. Yes, you could purchase a cheap frame at your local  arts and crafts store or attempt a DIY diploma frame. However, why would you risk a valuable document when custom diploma framing is the only recommended option by conservateurs and educators? Consider the value of your diploma: a 4-year degree equals hundreds of thousands of dollars, years of family sacrifices, and countless hours studying. When you think of all of the time, effort, and resources that went into earning that diploma, why would you let your diploma degrade, crack, and disintegrate in an inexpensive frame from Michaels? It deserves the very best, a Church Hill Classics diploma frame that you can purchase online at diplomaframe.com!