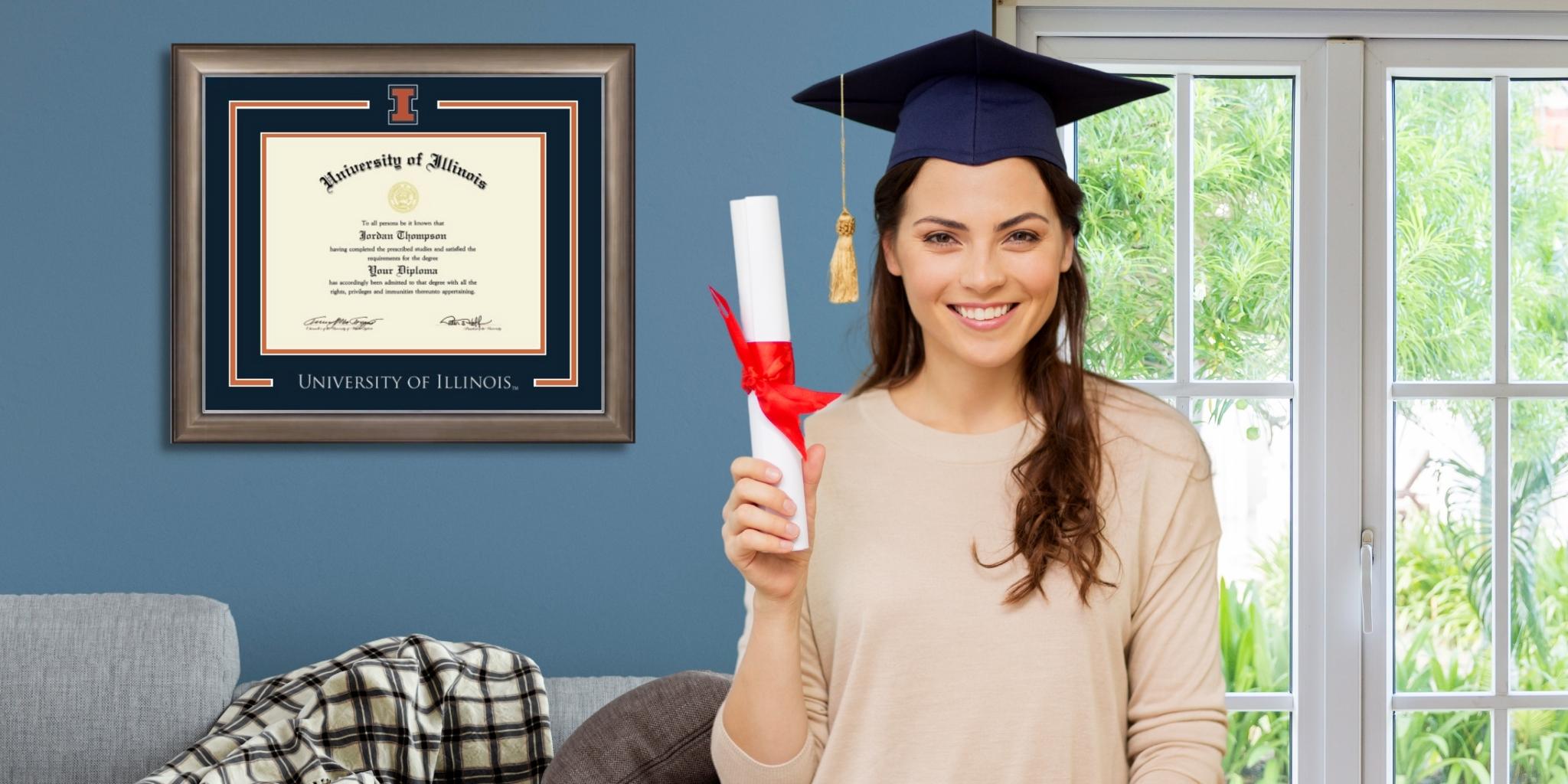 Graduating college seniors, the moment is almost here. Senior graduation pictures have been taken, graduation caps, gowns, and announcements have been purchased. Your yearbook is ordered, you've determined how many credits to graduate college are needed, and you've ticked off every box on your graduation checklist.
Your commencement ceremony is fast approaching, but you're not sure if it's okay to skip it. Perhaps you have travel plans, a wedding, a job opportunity, or another personal reason for why you can't attend. If you're unable to or just not interested in participating in your baccalaureate ceremony, you should look into exactly what happens if you don't walk at your college graduation.
Is It Worth Walking for Graduation?
The decision to attend your college graduation ceremony is a very personal one and not one that should be taken lightly. It's the culmination of the four or more years that you spent working toward a major personal goal and professional achievement in your life: your college degree! Even if you don't attend graduation, give that priceless piece of paper the respect it deserves. Protect it for all its worth in one of our college graduation diploma frames.
Yet the idea of your graduation commencement being "worth" it is really in the eye of the beholder and can take on many interpretations. For example, graduating seniors strapped for cash may consider whether or not it's worth the financial investment required for walking at graduation. Aside from finances, there is also the personal investment of your family members to consider.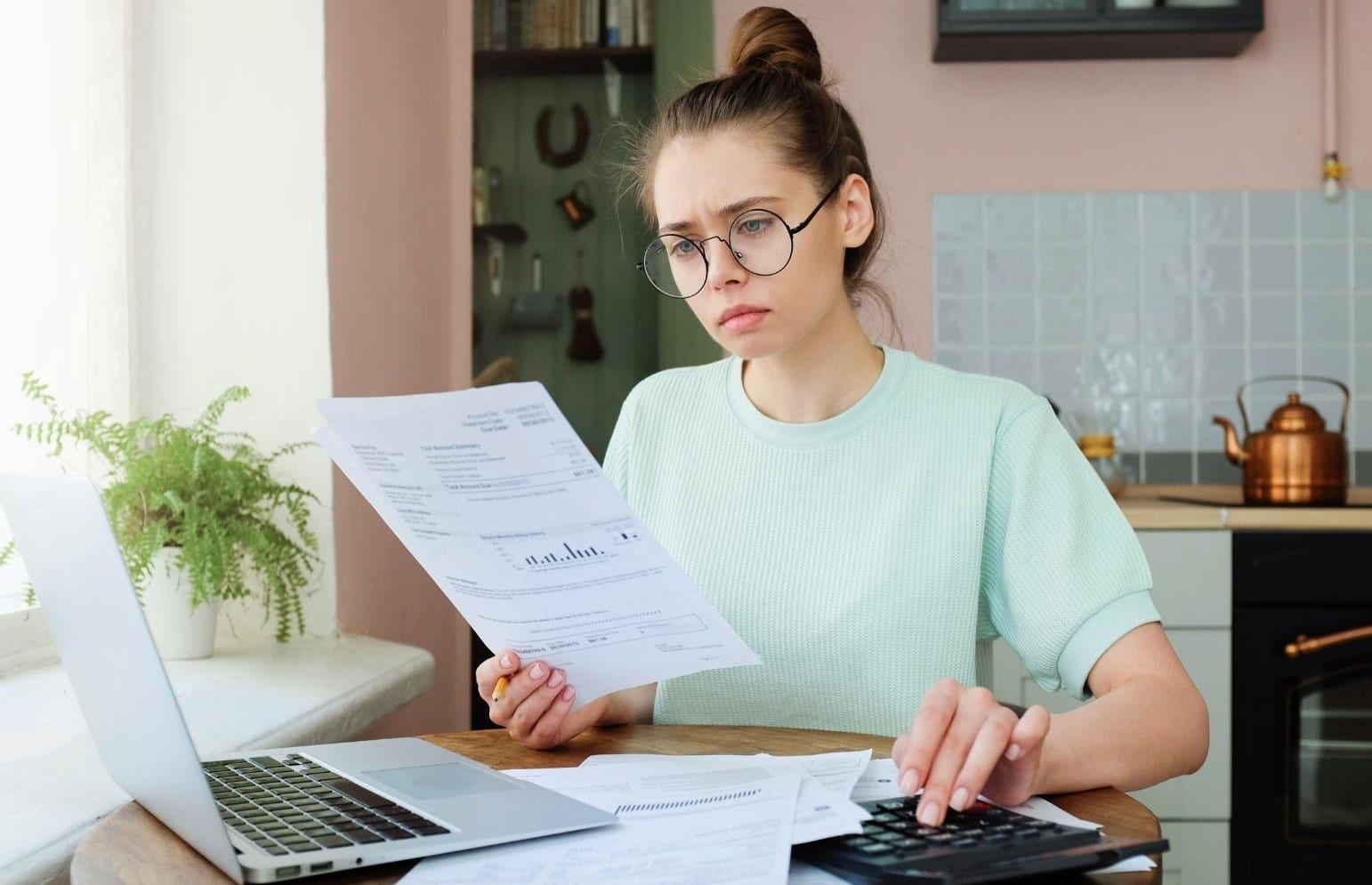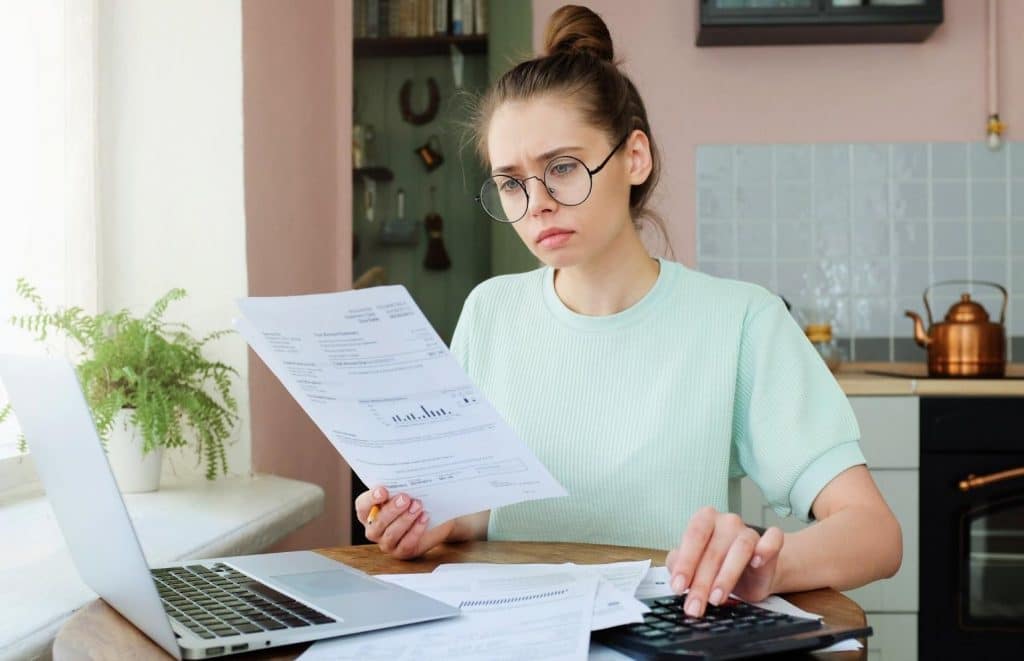 Consider the Monetary Costs of Graduating College
From your freshman convocation ceremony until the day you became a college senior, graduation has always been your ultimate goal. You've spent thousands of dollars on your college education and living expenses. You will likely have several loans to pay off for years to come. This is especially true if you have plans for grad school degree programs. Higher education degrees include many fees, so many seniors are opting to skip the pomp and circumstance altogether. In addition to settling tuition bills and room and board fees, consider other incurred costs. There may be parking tickets, lost books, or other outstanding fees you've forgotten about. The following graduation commencement ceremony costs can be pricey and add up quickly for students and their families:
• A graduation application fee
• Senior cap
, gown, stole, and other commencement regalia
• A commencement fee to cover degree audits, graduation ceremony programs, diploma covers, honor cords, and postage for mailing out diplomas
• College graduation dresses
and suits to wear under gown
• University commencement
invitations
• Graduation tickets
for family members and friends
• College graduation announcements
• Professional
college graduation pictures
• Airfare, gas, and hotel expenses for family
If these fees seem extraneous to you, and you're already strapped for cash, then maybe it makes sense to skip the university's ceremonial events. After all, it's all about commemorating this major milestone with loved ones. That's why many seniors prefer more intimate graduation celebrations with close friends and family. Particularly for students who are introverts or who suffer from anxiety, a small gathering or a virtual graduation party at home may be preferable. Plus, your parents will appreciate how easy it will be to get great photo opportunities. They can always take casual graduation pictures of guests signing your
autograph photo frame
. Or of friends having fun on the dance floor, and you opening college graduation gifts like a
custom diploma frame
.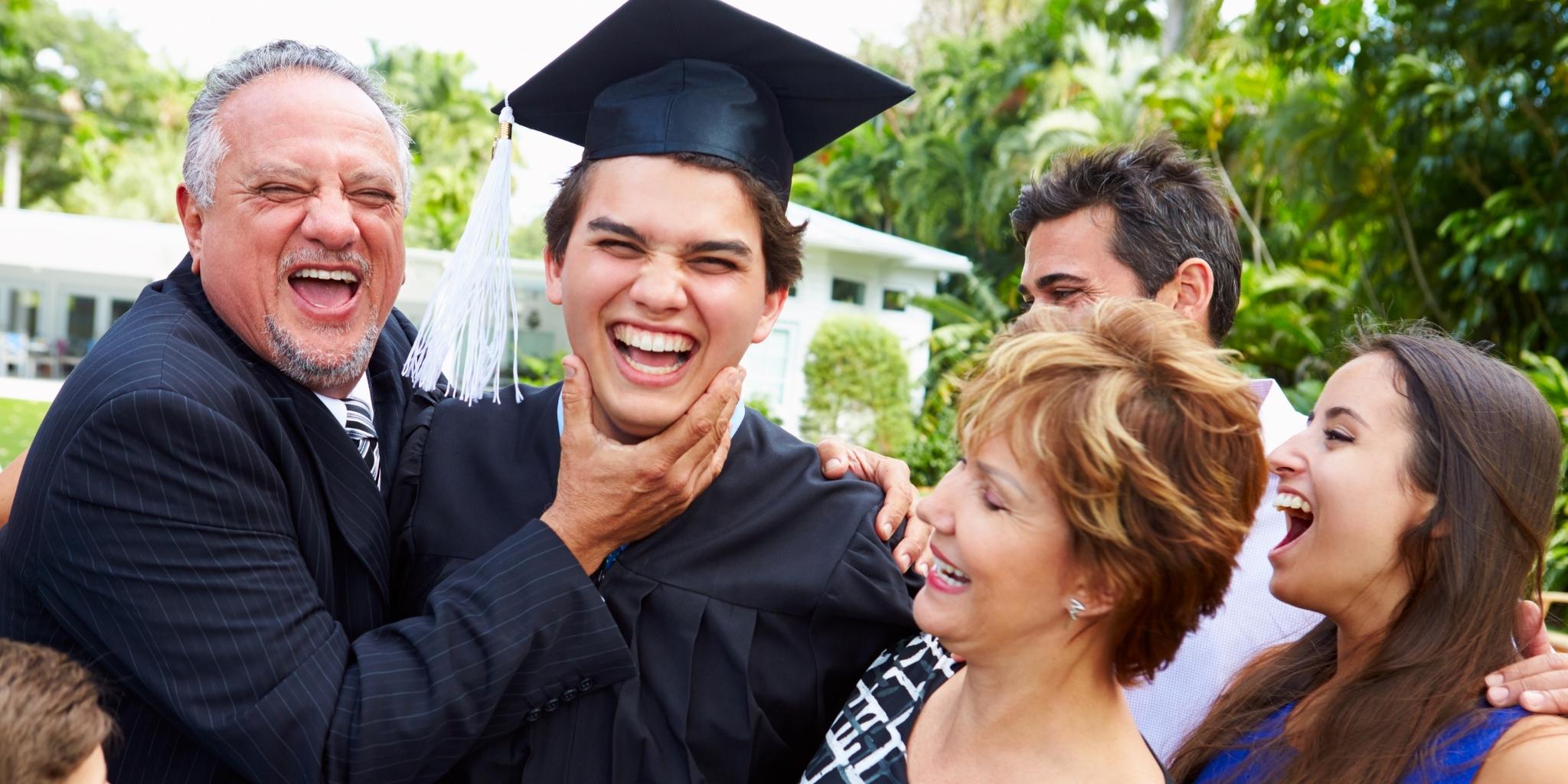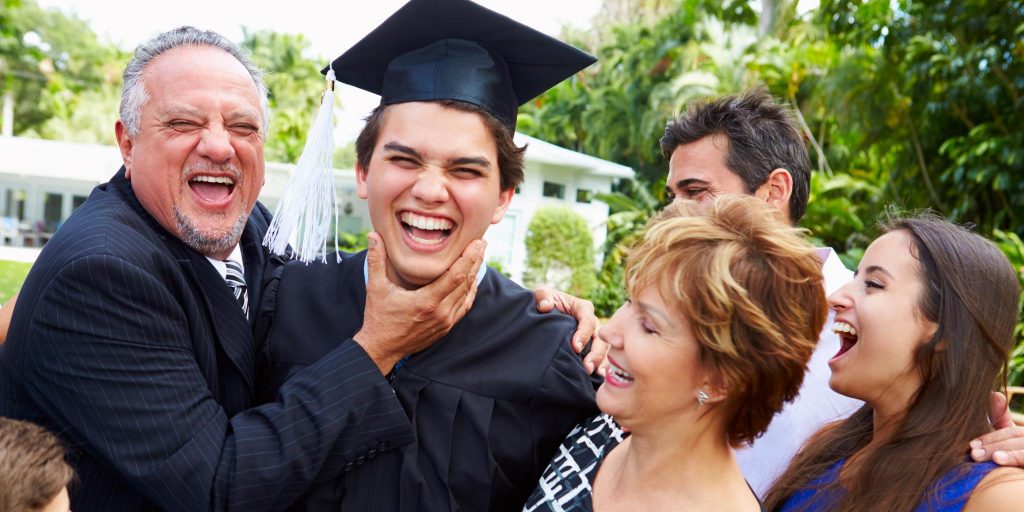 Consider Your Loved Ones
If it's not money or a conflicting event that's preventing you from walking at senior graduation, consider the personal (and financial) investment of your immediate family. Like many parents across the country, they've probably been dreaming about this major milestone since the day you were born. There's a deep sense of pride and accomplishment attached to this academic achievement. The opportunity to watch you walk across the graduation stage and accept your degree is a once-in-a-lifetime event. According to psychologist Dr. Marie Hartwell-Walker,
graduation day is a gift
for family and friends who've supported and encouraged you throughout your academic career. "Your graduation may be fulfilling a longtime dream of parents and grandparents and relatives both living and dead." When you consider all that your family has sacrificed to get you where you are today, Hartwell-Walker suggests you return the favor. Extend an invitation for graduation ceremony events, and "let them see you walk across a stage as a statement of gratitude and love."
What if I'm the First to Graduate College in My Family
If you're the first college graduate in your family, this may prove to be an extremely difficult decision. For parents who didn't have the opportunity or the funds to attend college themselves, this rite of passage into adulthood holds a great deal of significance. And when you consider the statistics associated with first-generation college graduate rates, it's clear why this milestone achievement is so meaningful. Children with at least one parent who's graduated college are more likely to receive a college education compared to those whose parents don't have a college degree. Data from the
Pew Research Center
indicates that 70% of adults ages 22-59 that have at least one parent with a bachelor's degree will complete a bachelor's degree themselves. However, "only 26% of their peers who do not have a college-educated parent have a bachelor's degree." You've successfully accomplished something you've never seen anyone in your family do before. This is a major accomplishment, and a goal you've attained despite the statistics stacked against you. This is cause for celebration.
Can You Choose Not to Walk at Graduation?
Of course, you definitely have a choice when it comes to walking at graduation. However, you will still need to fill out a graduation application, even if you choose not to attend the ceremony. When you apply for graduation, you're notifying your college or university that you plan to meet all of your degree requirements by a certain term. Whether for a bachelor's in fine arts or a graduate degree, you must have the credit hours to qualify.
Your graduation date may depend on your area of study. Most schools hold one graduation per term. There's usually a winter graduation (also called a fall graduation or December graduation) and a traditional spring graduation in May. Once the school receives your application, a staff member will review your official transcript. Your transcript lists all of the courses you've completed, the credits you've earned, and the grades you've received.
How many credits do you need in order to graduate college? Typically, you'll need 60 credits to complete an associate degree, 120 credits to graduate college with a bachelor's degree, and 30-60 credits to earn a master's. However, you should definitely check with your registrar's office to determine their specific requirements. In any case, you can check off on your graduation application whether or not you plan to attend your graduation ceremony. This information will help the school configure its seating charts, ticket needs, regalia orders, graduation programs, and alphabetical student announcements at the ceremony.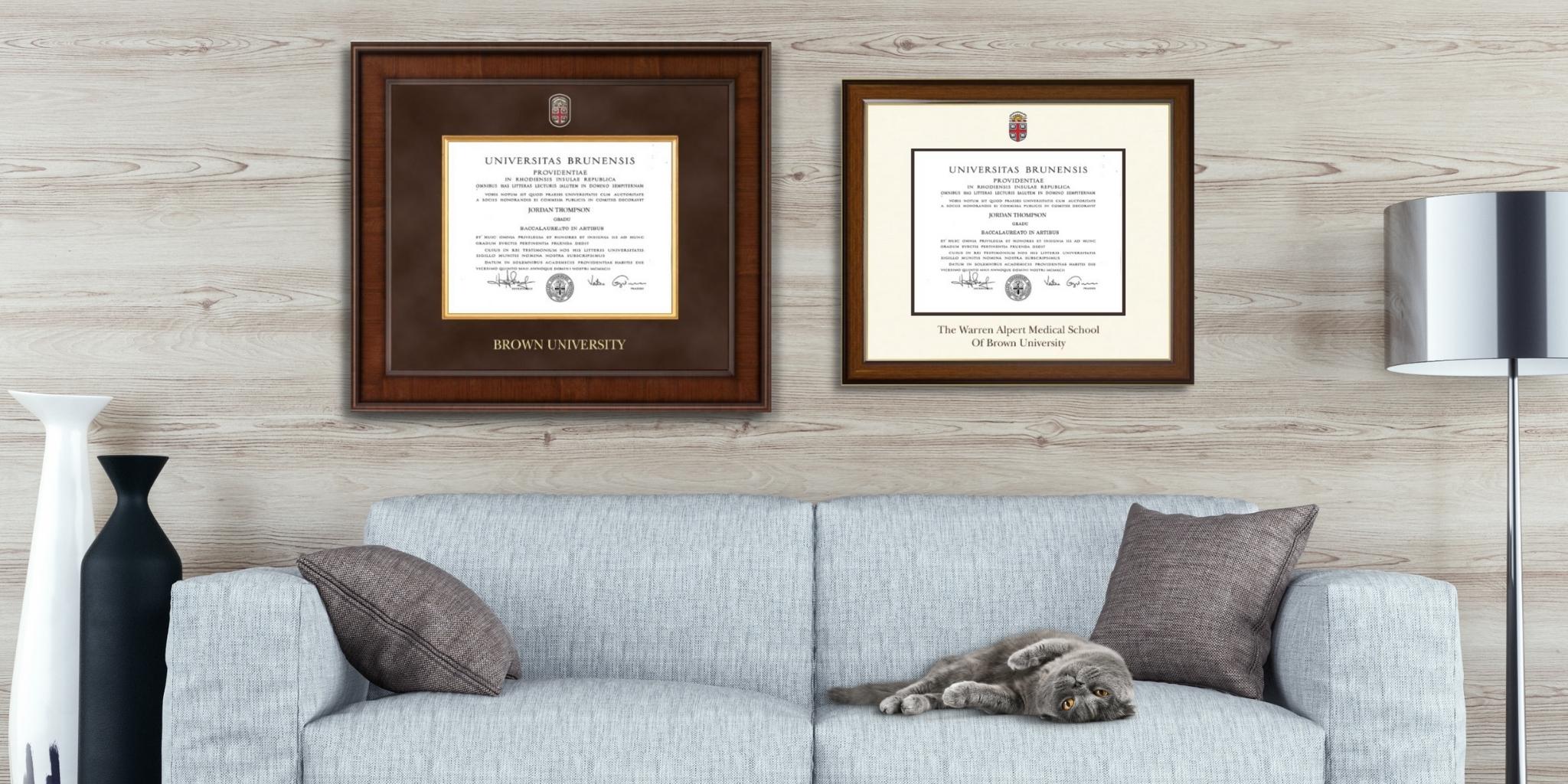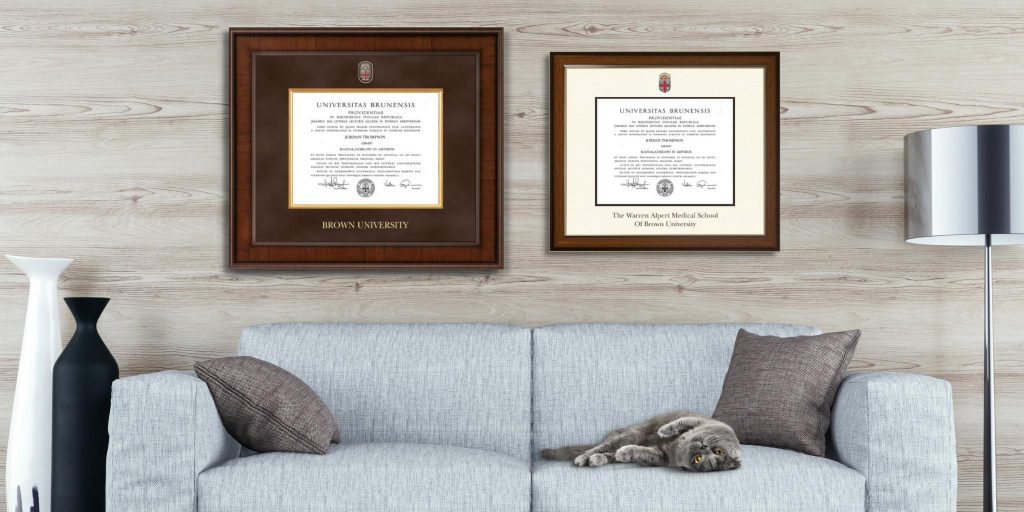 What Happens if You Don't Attend Your Graduation?
If you've filled out your graduation application and completed all of your degree requirements, you should have no problem having your diploma sent to your permanent address post-graduation. Graduates typically receive empty diploma covers at graduation, so it's not as though you'll be missing out on receiving your actual degree at the ceremony.
Your degree will most likely arrive in the mail a few months after your college graduation day. So if you're a May grad, you'll probably receive your diploma in July or August. Most importantly, make sure you order an officially licensed college diploma frame before your degree arrives in the mail. That way, you are preserving and safeguarding this valuable piece of paper from the very start! Crafted by hand with premium mat boards, hardwood mouldings, and protective glass, we guarantee your hard-earned degree will not fade, decay, or yellow over time.
Will I Regret Not Walking at College Graduation?
Again, this is an incredibly personal decision, and you're the only one who can gauge how you'll feel if you skip the ceremony. There is something ceremonial about tossing your college graduation cap at commencement. However, there may be very valid reasons for bowing out of graduation that you shouldn't think twice about. In fact, there are specific scenarios that may warrant bowing out on the day's festivities.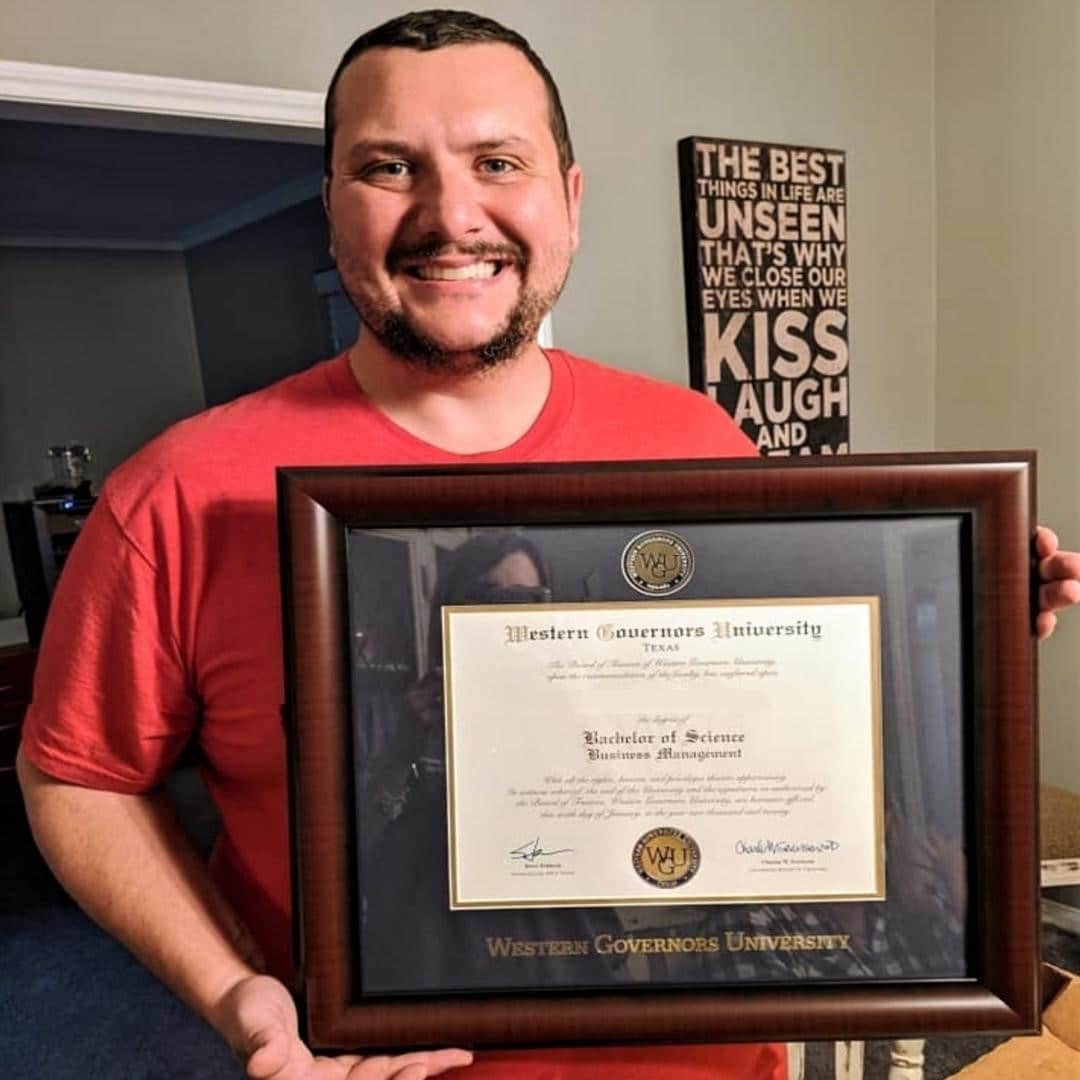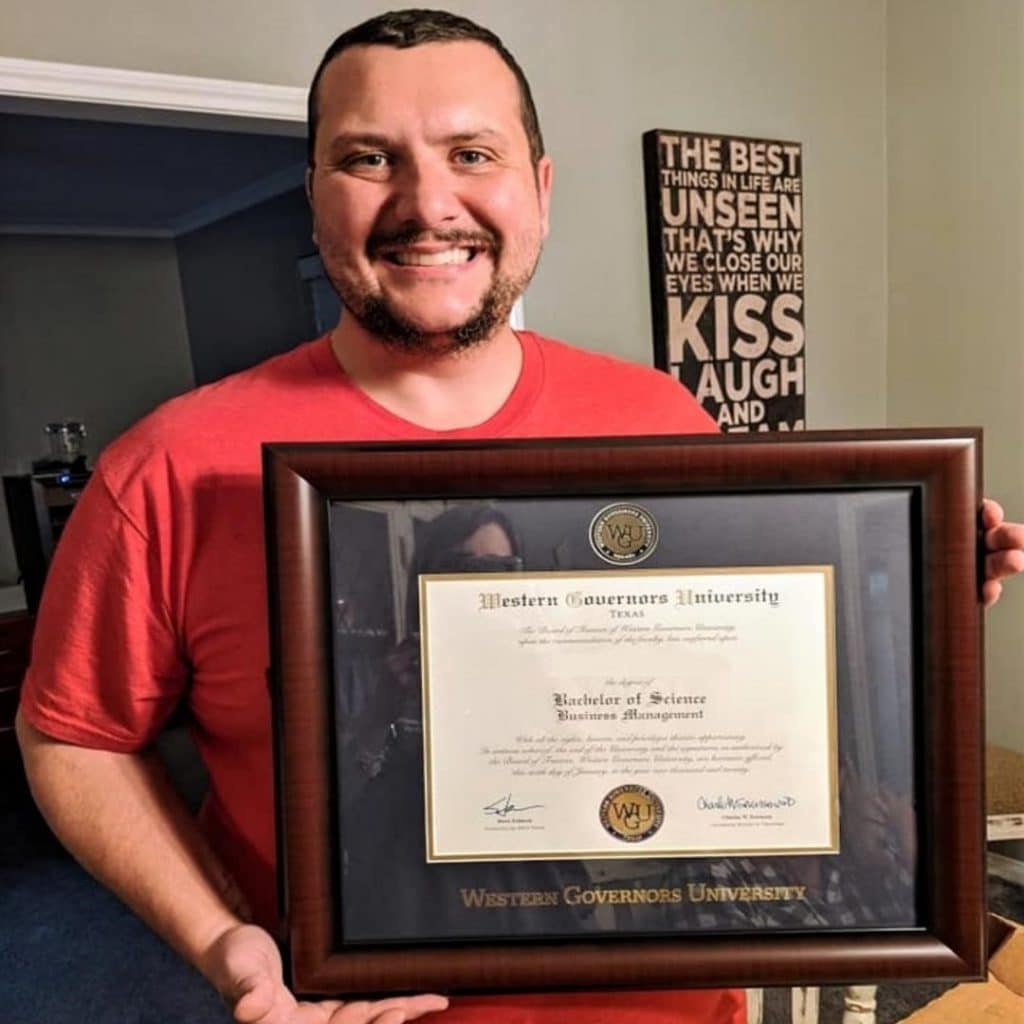 Do You Attend an Online College?
In some cases, an in-person college graduation may not hold much meaning to you. This is particularly true if you attended an online-only college and never had the opportunity to forge friendships with classmates or converse one-on-one with your professors. Most online colleges will hold a Zoom graduation for their students. There are schools like
Western Governors University
that offer a virtual commencement as well as in-person WGU graduation ceremony events across the country. You may not want to spend time and money to travel to an in-person event. You could always participate in the virtual ceremony and celebrate at home with friends and family when you see your name on screen.
Are You Attending a Commuter College?
At a two-year community college, you may not have had sufficient time to form deep friendships with classmates. With no housing or Greek life, developing a strong affinity to your college campus may be tough. If you don't belong to a school club or sports team, bonding with students is extremely difficult. Due to the limited time you spend on campus each week, it may be hard to bond outside the classroom. Sometimes at commuter schools, students tend to drive back home or to their jobs right after class. With many students living a considerable distance away, they're also not likely to drive back to campus for events held at night or on weekends. For these reasons, you may not have a strong connection to your school community and may not see the point in ordering your associate degree cap and gown regalia. Either way, your associate degree is a testament to your hard work and perseverance! It deserves to be safeguarded in a
USA-made diploma frame
that will protect it for years to come.
Apart from a wedding, funeral, serious illness, job opportunity, or other major event, you may be partaking in another ceremony that you may hold in higher regard. If you're a nurse, for example, the centuries-old pinning ceremony is pivotal. It signifies your initiation into the sisterhood and brotherhood of nurses and your promise to uphold the Hippocratic Oath. At this public event, each nursing student dedicates their pin to a significant person in their life to show their gratitude for their unwavering support. This family member, friend, or teacher will place the pin on the student. Unlike graduation, this is a very personalized ceremony, signifying the student's transition from academia into the nursing community.
Do You Have Health Issues?
Of course, if attending an event that has the potential to affect your mental health or your physical well-being, then by all means, you should skip it! By their very nature, graduations are hours-long events that are loud, crowded, and hot. You may have a difficult time attending an event that requires you to remain seated for an extensive period of time. If you get migraines, the combination of outdoor heat, high noise levels, and perfumes creates a perfect storm for symptoms. Never put your emotional health in jeopardy for a large event like this, particularly if you know that such conditions could trigger anxiety, claustrophobia, stage fright, or a panic attack. You will never regret the decision to put your health first.
Have You Relocated for a Job?
Finding a job is of utmost importance to college grads. If you already have job offers or interviews in another part of the country, staying put just makes sense. Airfare, travel fees, and hotel accommodations, particularly if you're out of the country, can be quite costly.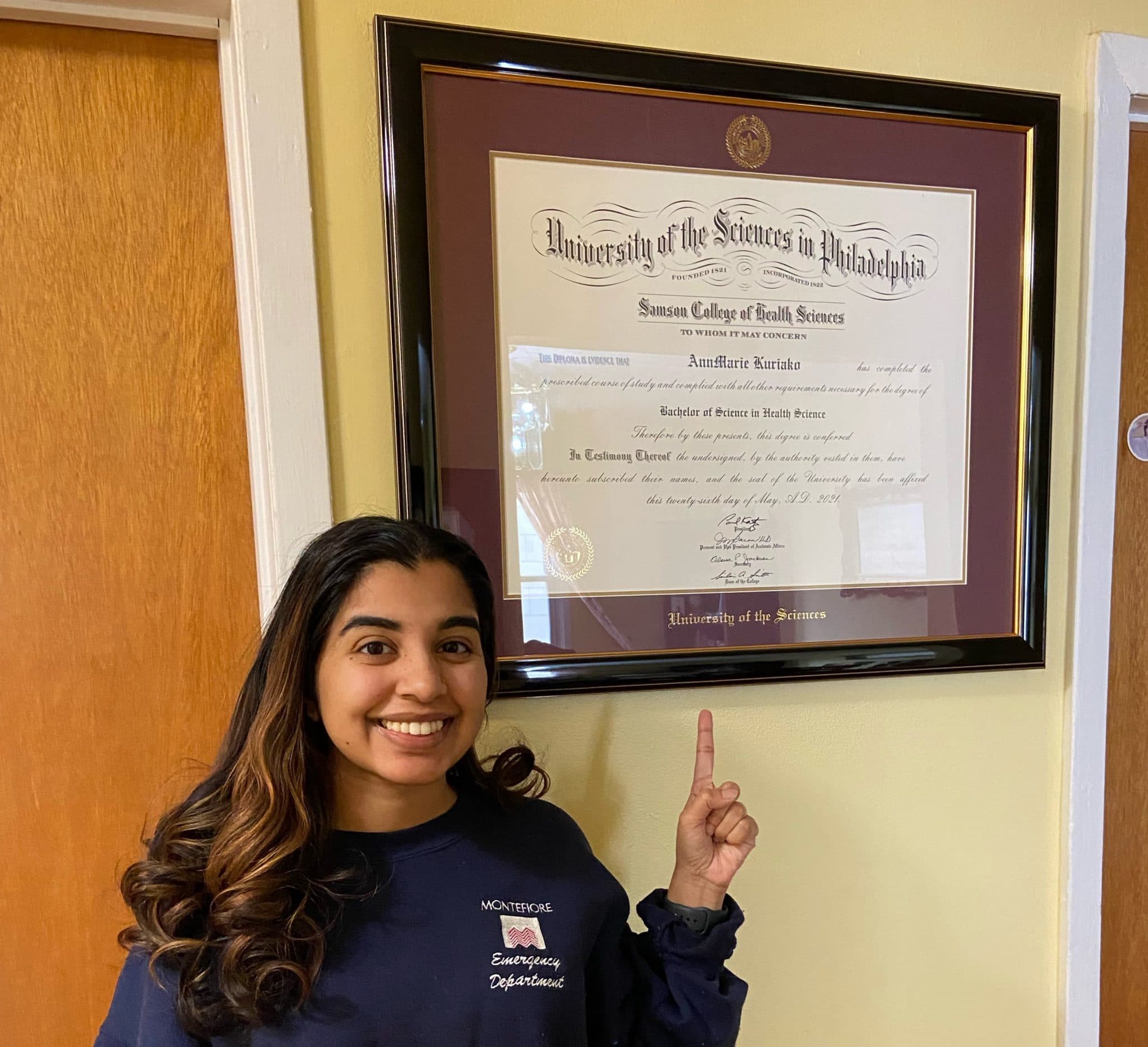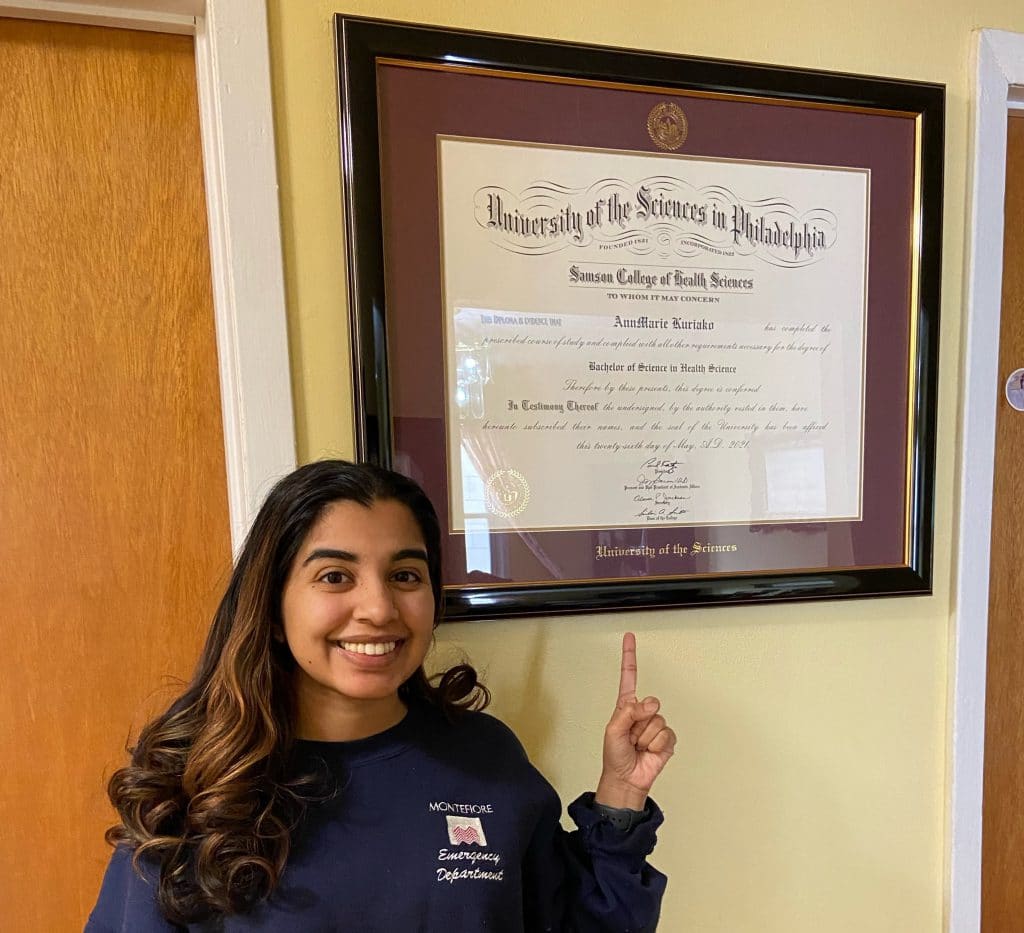 Will I Regret Not Framing My Diploma?
Whether or not you're able to attend your actual commencement ceremony, graduating from college is a milestone occasion that deserves to be celebrated. Consider the countless hours spent studying and the thousands of dollars you spent on tuition. And the many personal and professional sacrifices your family has made over the years. After all, school tuition may be expensive but the value of a college education is priceless. This is why you should protect and preserve one of the most valuable pieces of paper you'll ever own!
Trust your hard-earned diploma or masters degree to a handbuilt Church Hill Classics diploma frame. We start with conservation-friendly hardwood mouldings, museum-quality mats and backing boards, and UV-protective glass. We only use materials that meet the U.S. Library of Congress' stringent requirements for document preservation. It's why we can guarantee your degree will not fade, yellow, or deteriorate over time. If loved ones are looking for a grad gift idea, you may want to suggest a gift card to diplomaframe.com.
Plus, we have the official licensing rights for thousands of colleges and universities. We follow their official branding guidelines, so you know you're getting a product that meets your school's high standards. Make the decision you'll never regret and frame your college diploma today.