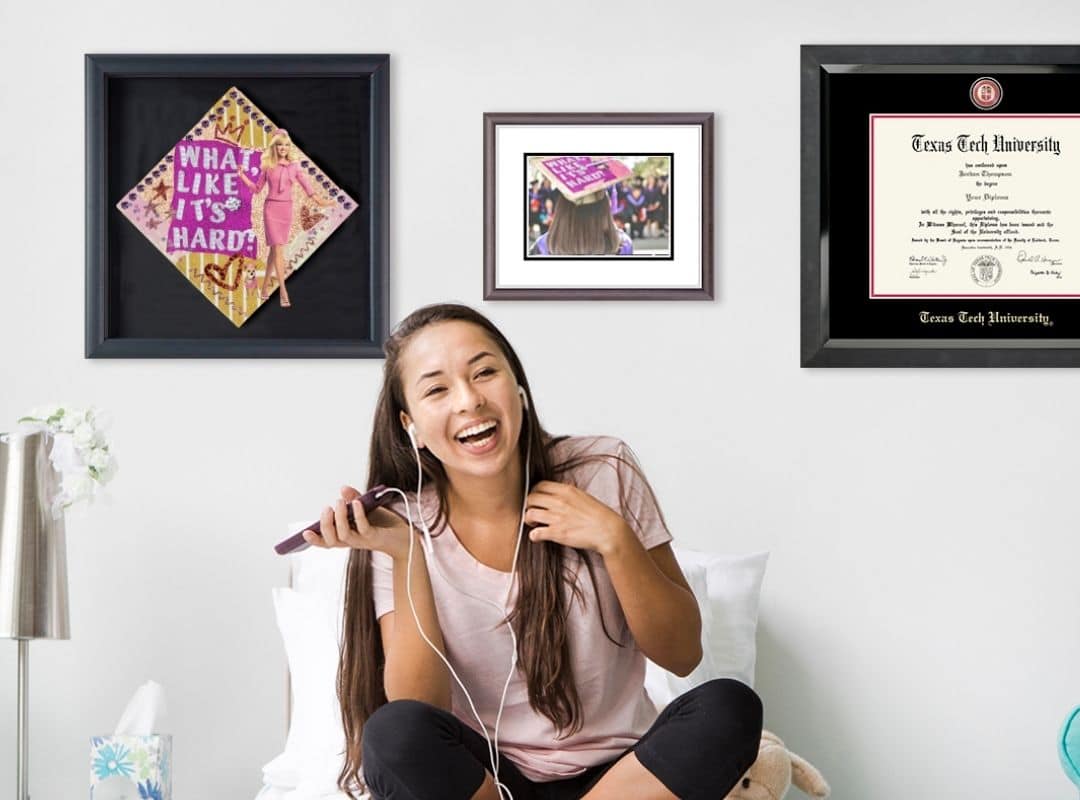 Earning a college diploma is no small feat, particularly for the Class of 2023 who've been through a great deal in the past few years. They've shown resilience, courage, and the ability to adapt quickly to a whirlwind of changes in a short period of time. That can-do attitude and determination deserve to be celebrated! The grad gift you buy for the university alum should be just as exceptional as they are. And what could be more special than a gift that's built by hand and customized just for them? Check out our top 5 contenders for the best 2023 college graduation gifts.
1. College Diploma Frame
Want a college graduation gift that's a no-brainer? Give them something they need and can use as soon as they receive their degree: a custom-made diploma frame! From the moment they receive that priceless piece of paper, they'll be able to protect it in an archival-quality frame bearing their school's official seal and name. It's the perfect way to commemorate their college memories and celebrate school pride!
2. Graduation Stole or Medallion Frame
Know a high-achieving student who received an honors medallion? Or an alumna who proudly wore her military or first generation stole at graduation? Celebrate these personal achievements or academic distinctions with a graduation stole frame or a graduation medallion shadow box featuring our deep-profile moulding with a black matte finish, which is a perfect addition to any home or office decor. Best of all, these shadow box frames have reversible black/white mats, so you can select the mat color combination that will make the hues of your stole or medallion pop! Each frame also includes easy step-by-step instructions for inserting your graduation keepsake and putting it on display.
3. Shadow Box Frame for College Memories
What do university grads have in common? An abundance of school spirit for their alma mater! Give them the perfect gift to put their alumni pride on display. Whether it's photos of sorority galas, homecoming games, university carnivals, campus concerts, or funny dorm photos, they'll want to preserve those special college memories in keepsake shadow box, which allows them to change the photos and souvenirs for different seasonal displays, special occasions, and more.
4. Autograph Frame
For a gift that's sure to become a treasured keepsake, give them an autograph frame for their graduation party. Once friends and family are able to get together to celebrate in person, party guests can add heartfelt messages, best wishes, and words of wisdom right on a museum-quality mat that won't yellow or fade over time. Include a favorite photo and personalize the engraveable plate with the grad's name and event details.
5. Graduation Cap Shadow Box
They worked hard to create a decorative representation of their college years, their personality, and their life motto for commencement. Don't just toss this special keepsake in a drawer where it will get creased and damaged. Put this personalized one-of-a-kind artwork on display in a Graduation Shadow Box with a die-cut hole that holds and locks your mortarboard in place. It's a fun, thoughtful grad gift they're sure to treasure for always!