Contact Information
Church Hill Classics
diplomaframe.com
Contact: Katie Gargano
594 Pepper Street
Monroe, CT 06468
800-477-9005
KatieG@diplomaframe.com
Church Hill Classics Introduces New "Level-Lock"
Picture Frame Hanging System


Monroe CT - November 6, 2007 –Church Hill Classics has introduced the new Level-Lock™ picture hanging system that is easy-to-install, secure, and is perfect for hanging arrays of multiple frames. The Level-Lock™ system makes it easy to professionally hang all of your framed art and wall décor, while guaranteeing that the frames are level, safe and secure.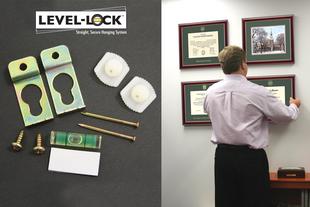 The Level-Lock™ system is wireless and includes two "self-marking" and locking mounting brackets. It comes with a bubble level and visual instructions for easy installation. Because it eliminates trial-and-error measuring and marking, there are no hit-or-miss nail holes on the wall. With Level-Lock, frames stay permanently level and lock in place for safety. This is ideal to eliminate the problem of pictures shifting on the wall. The system also makes it easy to create a perfectly aligned array of frames on a wall, which is ideal for decorative arrangements or for coordinating diplomas and documents together on a wall.


The Level-Lock™ hanging system will be available exclusively on Church Hill Classics' diploma and certificate frames through the www.diplomaframe.com site.

According to President, Lucie Voves, "The Level-Lock™ hanging system is a great improvement over anything we have seen in the marketplace. It's great to be able to easily hang your picture or credential frames so that they are level—and stay that way."


The Level-Lock™ hanging system can be added to any existing wood picture or diploma frame and it is available for purchase online at www.level-lock.com. Six Level-lock sets (to hang 6 pictures) sell for $9.99, 12 sets for $17.99, or 24 sets for $29.99. Shipping is $2.95 per order. For written instructions and a video demonstrating the use the Level-Lock hanging system, visit www.level-lock.com. The system is recommended for framed pieces weighing up to 50 lbs.


About Church Hill Classics
Church Hill Classics (CHC) offers volume and contract picture framing services. The company specializes in diploma, credential, and photo frames for hundreds of institutions of higher education, professional associations, military, corporate and Greek organizations. Church Hill Classics maintains partnerships with hundreds of colleges and universities across the U.S., where the company's frames are often sold through the local campus store or bookseller. CHC is a 2006 winner of the prestigious International Torch Award for Marketplace Ethics, awarded by the Council of Better Business Bureaus. Most recently, Church Hill Classics was named by Inc Magazine as the 95th fastest growing privately-held consumer products company in the U.S. for 2007. More information on Church Hill Classics can be found at
/
.