Contact Information
Church Hill Classics
diplomaframe.com
Contact: Katie Gargano
594 Pepper Street
Monroe, CT 06468
800-477-9005
KatieG@diplomaframe.com
Monroe, CT – November 24, 2009 – Nancy Miller, Customer Service Representative at Church Hill Classics (CHC), has been awarded the Connecticut Better Business Bureau's Superior Service Award for 2009. Church Hill Classics is a leading manufacturer in the collegiate diploma frame industry, and this prestigious award honors Ms. Miller's dedication to providing exceptional service to the company's customers.
The Connecticut Better Business Bureau (CT BBB) presents a Superior Service Award to the employee of a member firm. The employee must demonstrate a daily commitment to providing exceptional service to their company's customers and illuminate the importance of establishing a positive reputation and public image for the company they represent. According to Martha Travis, Customer Service Manager of Church Hill Classics, "Nancy has a knack of calming down even the most irate customer by listening well and providing solutions that ultimately turn them into a fan of our company. While she has only been with Church Hill for one year, her impact on our customer relations and our internal "can-do" culture has been significant."
An awards ceremony was held on October 29, 2009 at the Aqua Turf Club in Southington, Connecticut. This was the CT BBB's 81st Annual Meeting & Awards Banquet to honor a special recognition ceremony for the Superior Service Award as well as other awards including the CT Torch Award for Marketplace Excellence, Web Site Marketing Message Award, and the Business/Consumer Education Award.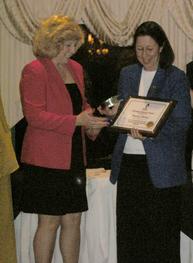 Nancy Miller (right) being presented with the 2009 Connecticut Better Business Bureau's Superior Service Award by CT BBB President, Paulette Scarpetti (left)
About the Connecticut Better Business Bureau
Founded in 1928, Connecticut BBB is an unbiased non-profit organization that sets and upholds high standards for fair and honest business behavior. BBB offers objective advice and a wide range of education on topics affecting marketplace trust. BBB also offers complaint and dispute resolution support for consumers and businesses. Today, 128 BBBs serve communities across the U.S. and Canada, evaluating and monitoring more than three million local and national businesses and charities. For more advice on finding companies and businesses, start your search with trust at
www.bbb.org
.
About Church Hill Classics
Church Hill Classics, a woman-owned business, was founded in 1991 by Lucie Voves. The company manufactures its custom diploma, credential and photo frames in the United States, for hundreds of institutions of higher education, military and professional associations, and corporate clients. For 2009, the company was named by Inc. Magazine as the 3rd fastest-growth company for the consumer products industry in Connecticut, and also ranked 190th nationally on the Inc. 5000 list of America's fastest-growing companies within the consumer products industry. Church Hill Classics is also known for their unique scholarship opportunity, the "Frame My Future" Scholarship Contest, open to students across the country. More information on Church Hill Classics can be found at
https://www.diplomaframe.com
.