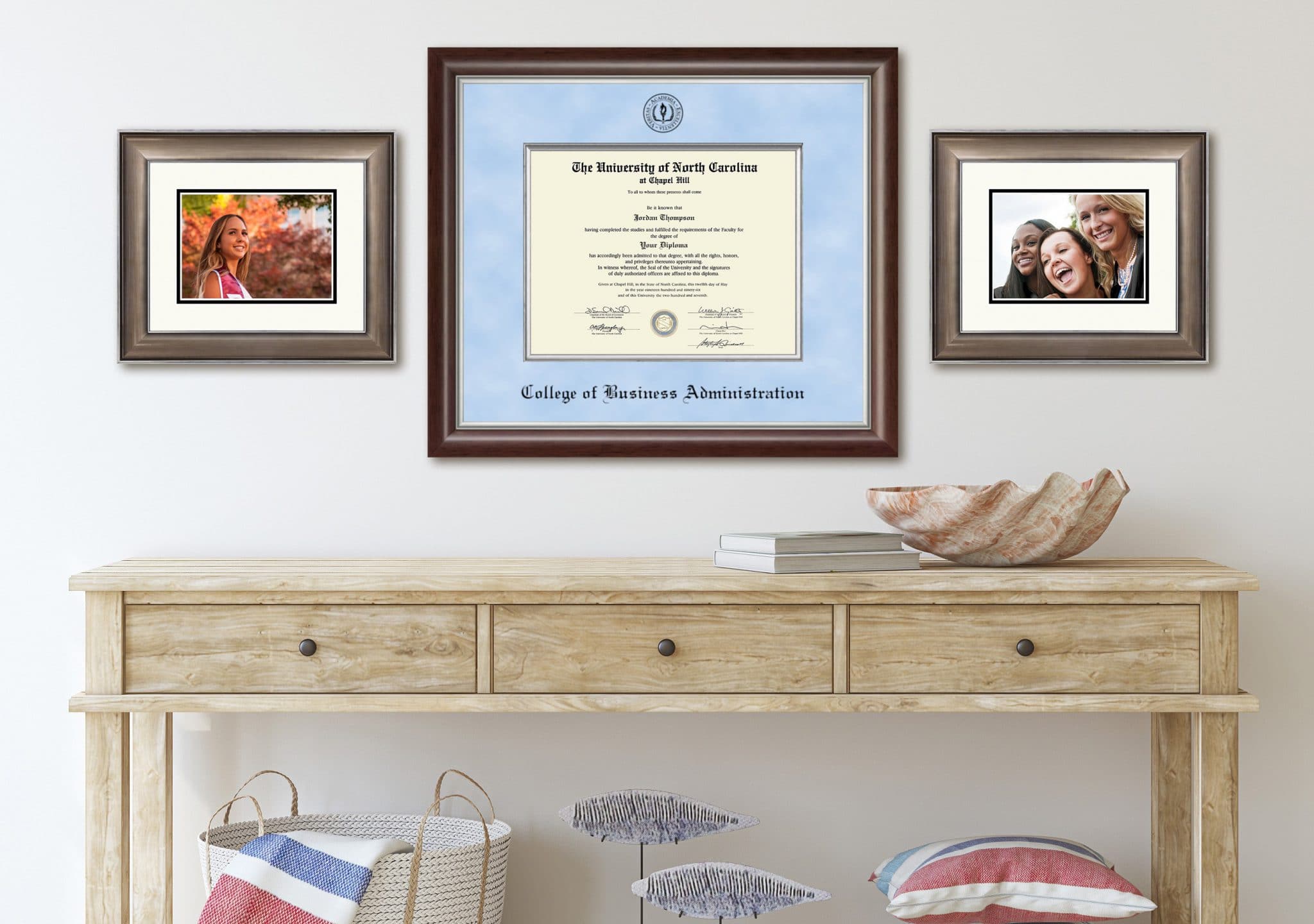 At Church Hill Classics, we know that no matter what, it's important to celebrate life's special moments. Church Hill Classics was started by Lucie Voves as a home-based business back in 1991. Back then, she handcrafted each and every frame for her customers in her basement workshop. While we've grown to become a trusted leader in the custom framing industry, our values, our dedication to high-quality American-made frames, as well as top-notch customer service, remain unchanged. We know our handcrafted frames are focal points and a source of pride in our customers' homes, offices, and workplaces. As you shop for presents, let family, friends, recent graduates, and loved ones know that you are proud of their accomplishments with custom frames and gifts for special occasions.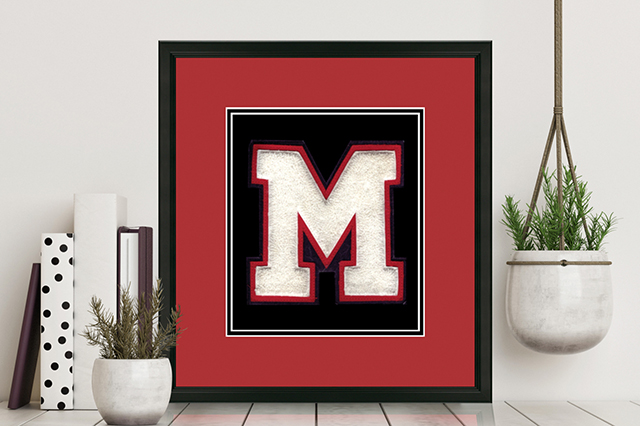 1.) Gifts for Recent Grads
You've planned the perfect graduation celebration, so all that's missing is the perfect gift for your grad. We offer a large selection of officially licensed school frames so college graduates can put their alumni pride on display for years to come! For the athletes in your life, our varsity letter frames allow them to reminisce about their glory days. Recent high school grads are sure to love creating a custom keepsake with an autograph picture frame.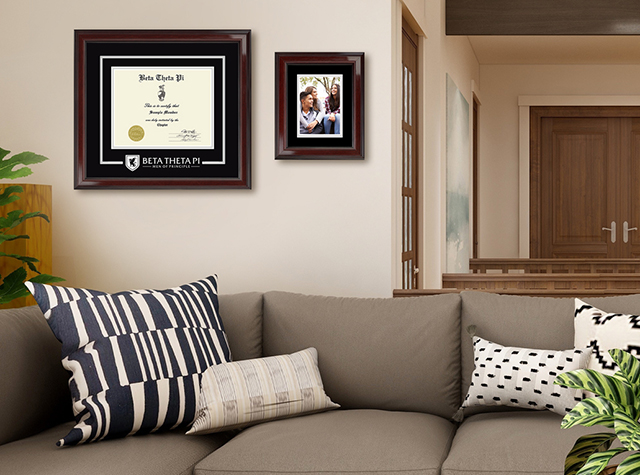 2.) Gifts for Unique Accomplishments
Everyone has something to celebrate! Help a fraternity brother or sorority sister show off their membership with a Greek life frame. Perhaps you're shopping for someone who took a class or earned a unique certification this year? Our document frames are perfect for yoga certifications, coding class diplomas, marathon bibs, and so much more. Looking for unique picture frames, double document frames, or portrait and certificate frames? Or, start designing on our Create-A-Frame page to make a customized picture frame that's as unique as the person or accomplishment you're celebrating.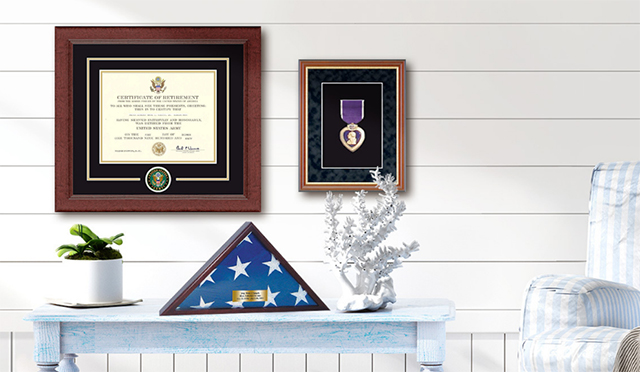 3.) Gifts for Military Service Members
Every American is thankful to military members and their dedication to our country. Honor their service with a retirement certificate frame, memorialize a loved one with a flag case, or showcase an active duty member's valor with a medal display. Our website allows you to easily shop our proudly American-made frames by U.S. Military branch. Shop certificate and medal frames for veterans of the Army, Navy, Air Force, Marine Corps, Coast Guard, and Air National Guard.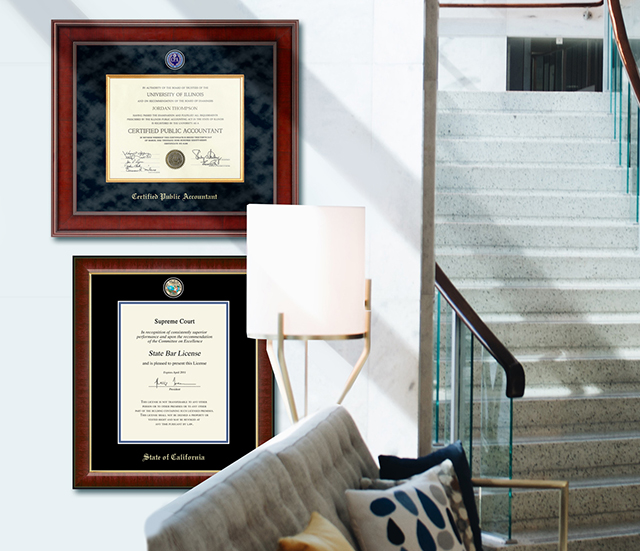 4.) Gifts for Professional Successes
You know that promotions, certifications, accreditations, and licenses take hours of effort, studying, and preparation. Commend their hard work and toast to their growth this year! Help them showcase their credentials or membership to a professional association with a certificate frame featuring their organization's officially licensed logo and wordmarks. Or, featuring the official seals of all 50 states and the District of Columbia, our state certificate frames are perfect for putting state bar licenses, real estate credentials, business permits, and professional awards on display.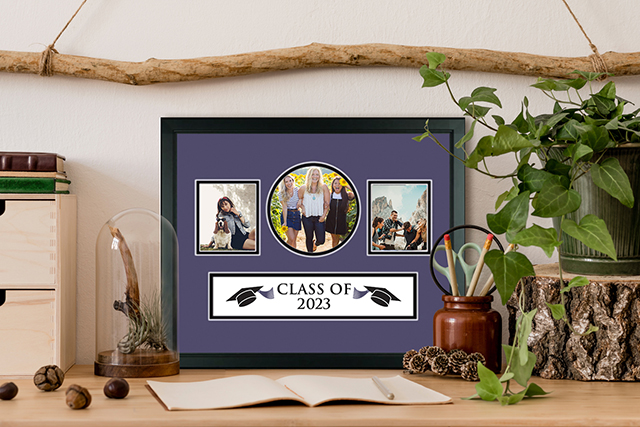 5.) Gifts for Loved Ones
A custom, personalized gift is a special way to show someone you care. With a wide range of price points and styles, you can gift everyone a stunning custom framed picture this year, selecting the mat colors, insignias, and mouldings to suit each gift recipient's individual tastes. These handcrafted picture frames are a wonderful way to make the holidays special even if you cannot be together in person. For families entering a new chapter this year, smile at all the good times with our "Class of" Photo Frames.
Find Something Special for Everyone On Your List
If you need more ideas or assistance, our customer service team is here to help via email, phone or live chat. We look forward to working with you this holiday season and helping with all your diploma frame needs year-round.