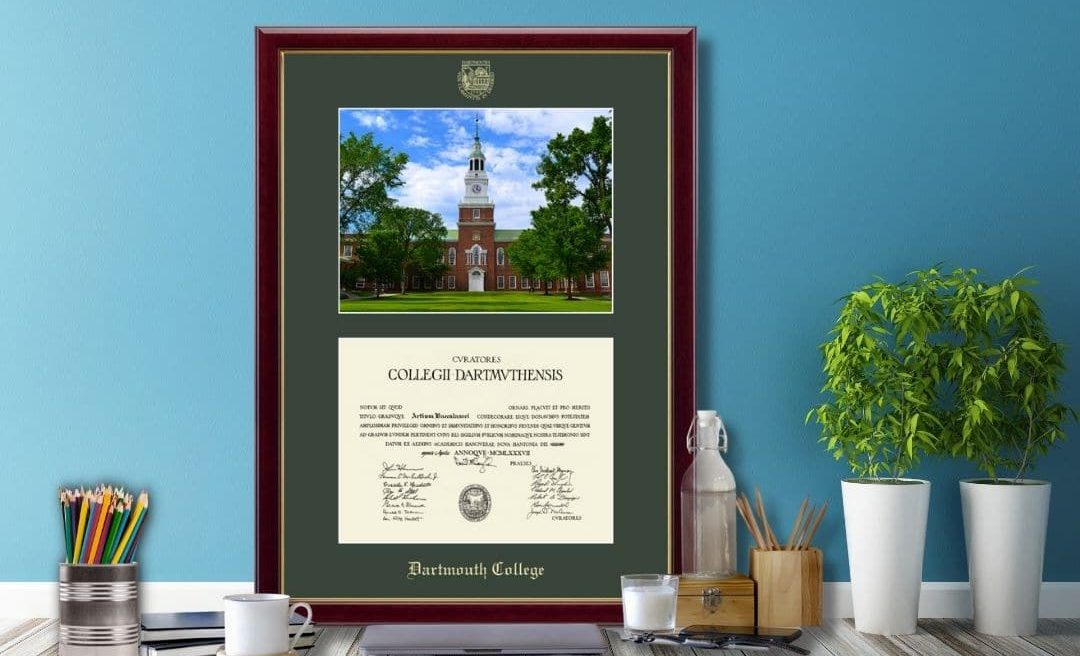 When I started Church Hill Classics 30 years ago, I didn't set out to create college diploma frames. In fact, my original intention was purely nostalgic: to find a framed illustration of a building that was near and dear to my heart, Dartmouth Hall. My husband Joe and I were college sweethearts. With so many amazing memories of our years at Dartmouth College, I really wanted something special to hang in my first corporate office. When I couldn't find a print of Dartmouth Hall, I decided to commission the artwork myself in 1991.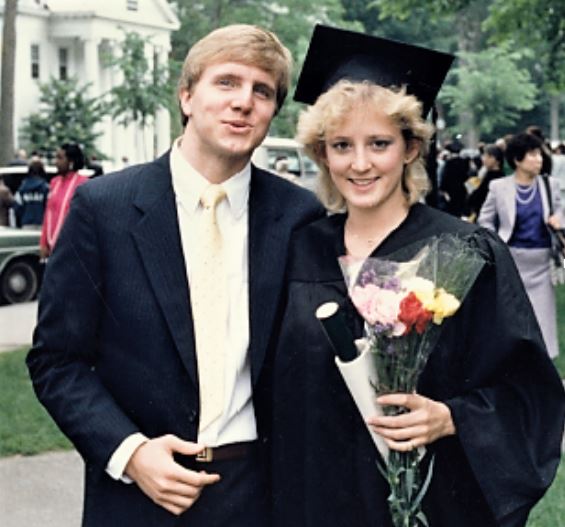 It got me thinking that there had to be other Dartmouth alumni with the same sentimental desire, so I printed 500 lithographs, took a crash course in picture framing, and set up a makeshift tabletop booth on a street corner at Dartmouth College over graduation weekend. The response was incredible! In fact, the artwork sold so well that other town merchants complained that we were cutting into their sales. I knew we were onto something.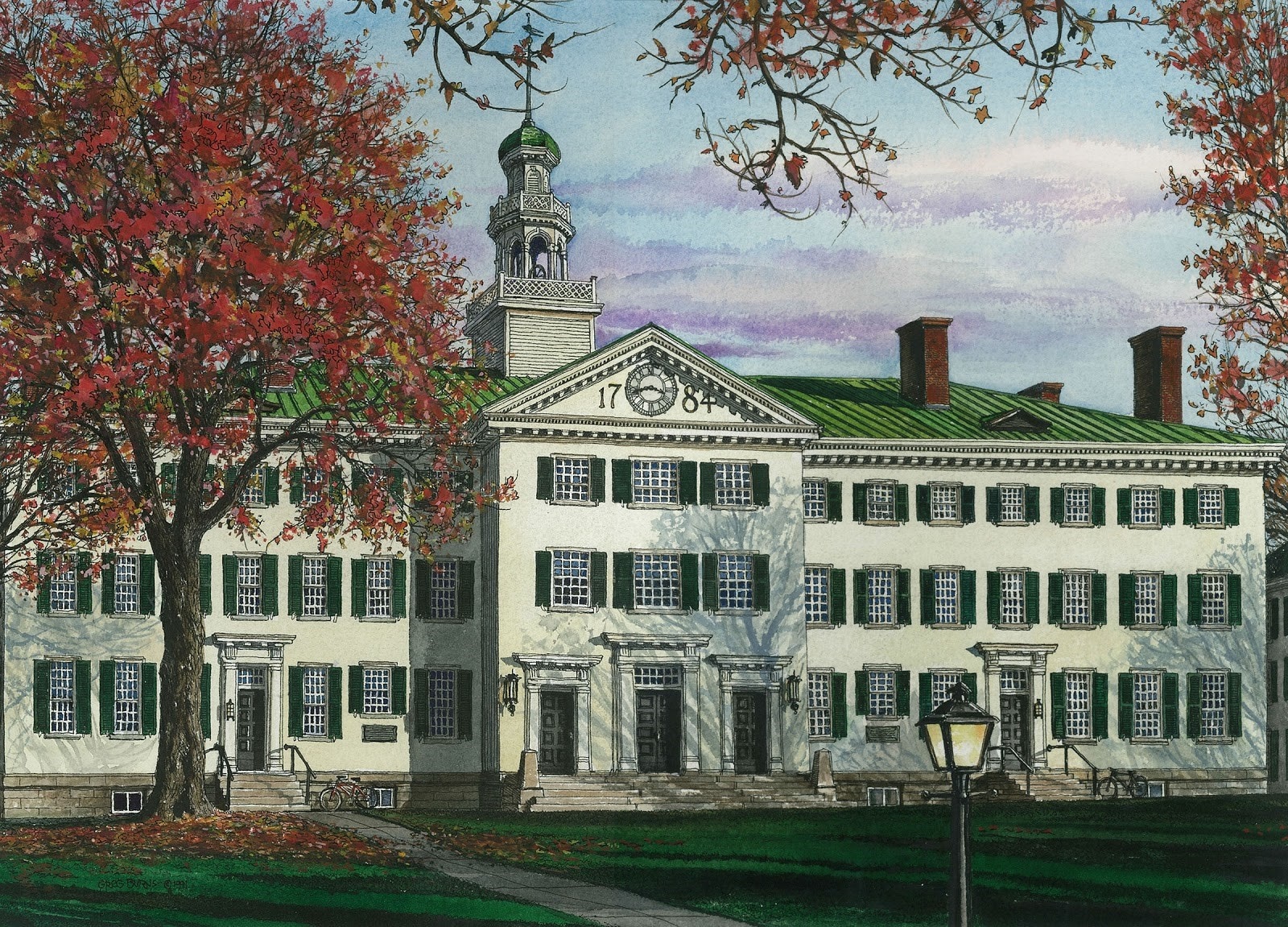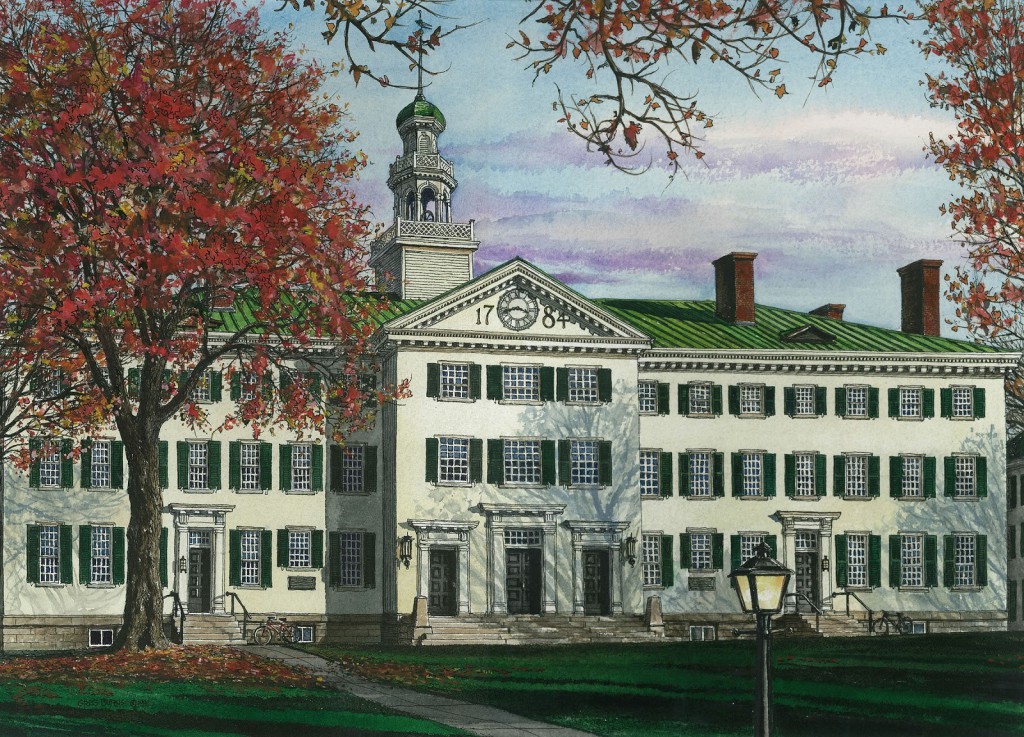 The commissioned art of Dartmouth Hall that started our business in 1991
Our framed art grew in popularity, and we added other campus views when we started selling at The Dartmouth Co-op. Along the way, we heard from consumers who loved our art and asked if we would frame their diploma to match. I created my first diploma frames for Dartmouth, and shortly thereafter expanded to Williams College, Princeton, UConn, Yale, and Syracuse.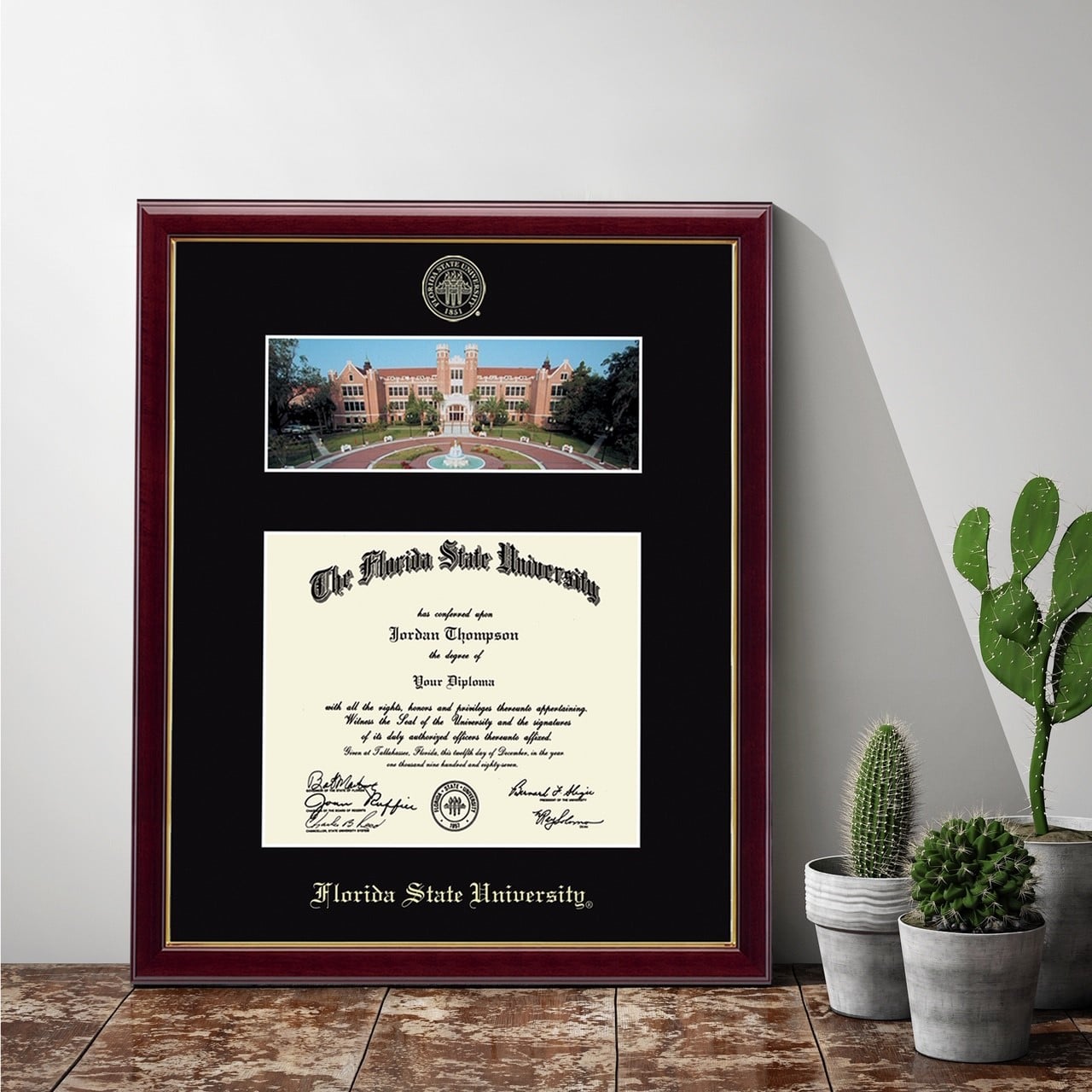 Today, we carry a wide array of document and diploma frame styles for thousands of colleges, high schools, honor societies, and professional institutions. While our core business began when we started selling those first few diploma frames back at Dartmouth, we've never forgotten about the artwork that helped to capture our favorite campus memories. And, in keeping with our company's roots, two of our most popular diploma frame styles incorporate stunning images of notable campus landmarks and collegiate landscapes: Campus Cameo and Campus Scene diploma frames.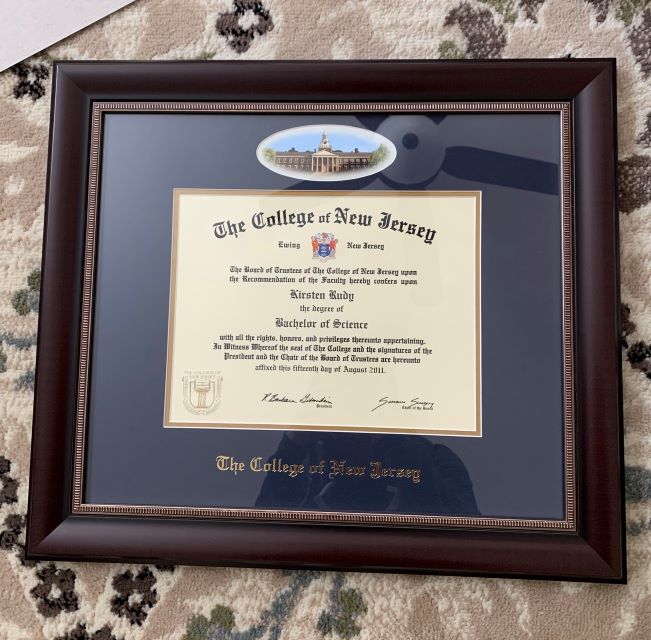 Campus Cameo frames feature colorful, picturesque scenes of familiar university landmarks or notable college landscapes in oval mat openings above your diploma. Presented in double archival-quality matting, the Campus Cameo frame is typically showcased in Chateau moulding, which boasts a rich French walnut finish and coordinating inner lip accent, although you can customize the look with any of our Premium moulding styles.
The Campus Scene diploma frame features a professional photograph, full-color illustration, or black-and-white lithograph of a favorite campus view or location. The artwork is mounted in single or double museum-quality matting, above or alongside your diploma. Choose from an interesting array of stunning, high-quality, professional photographs of your school's campus landmark or building, be it in a panoramic wide view or full view format.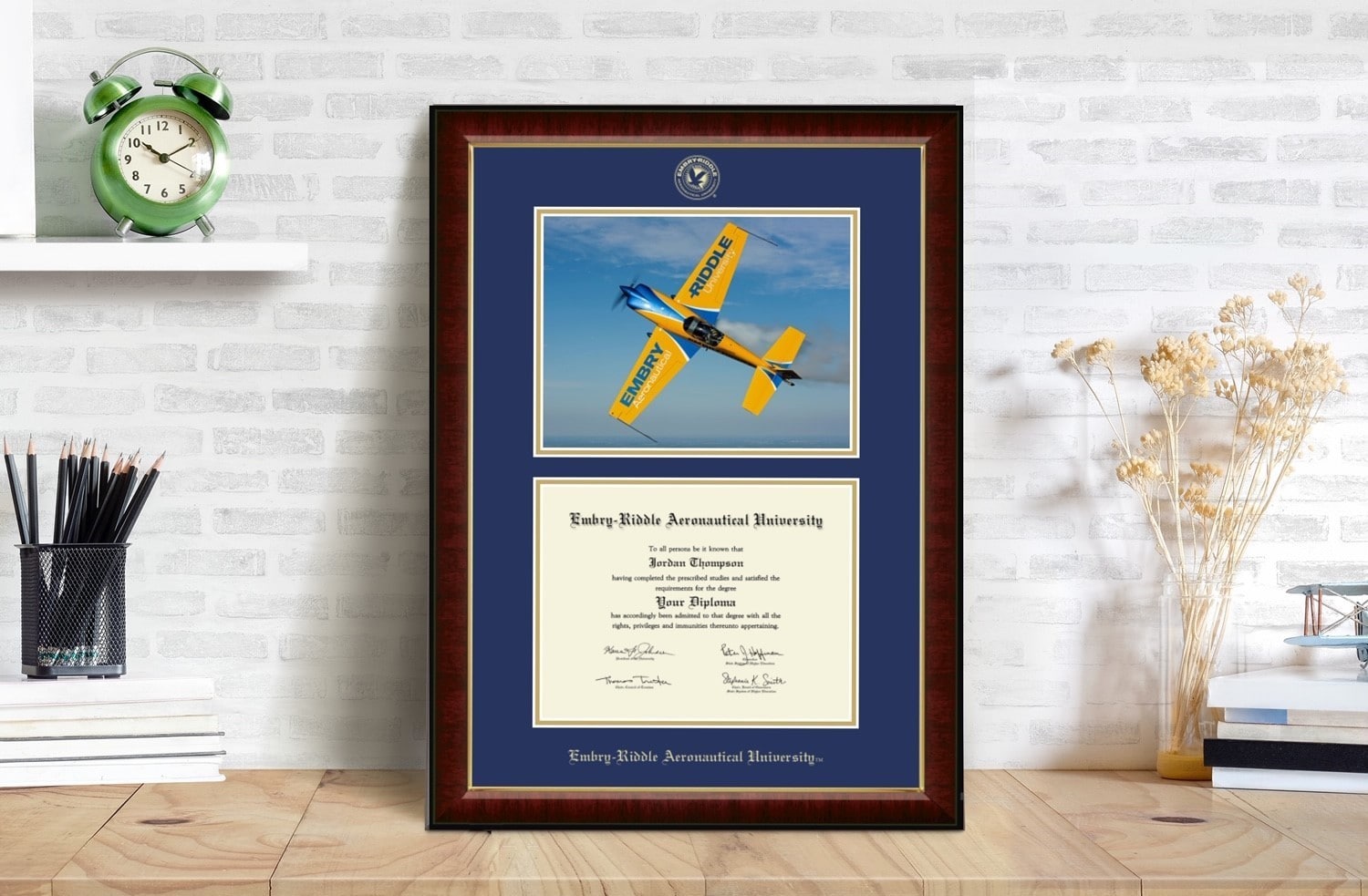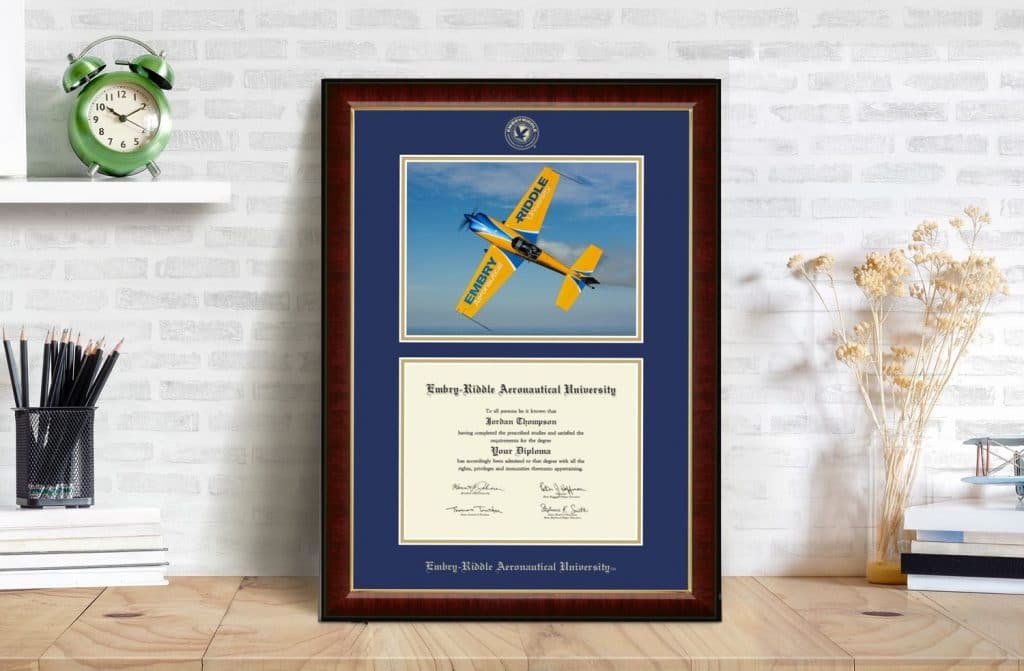 Why Choose Church Hill Classics Diploma Frames?
When you choose Church Hill Classics you're opting for premium frames made of archival-quality materials and professional quality framing. Built and assembled by hand in the USA by experts in made-to-order framing, each custom campus scene diploma frame is specially made for you, according to your unique preferences and requirements.
As a leading U. S. manufacturer of custom diploma frames and insignia products, we offer a diverse array of products including Create-A-Frame customizable diploma, certificate, and picture frames; US military frames and shadow boxes; varsity letter frames; insignia paperweights featuring customized medallions; autograph frames; and a line of custom-made photo frames. No matter what product you order, rest assured that it is individually crafted to meet your specific needs and meets our highest-quality standards.
For many of us, our college campus will always be our "home away from home." Images of school landmarks have a way of instantly transporting us to the memorable events and friendships that shaped our young adulthood. Whether it's a stadium teeming with cheering fans or a historic building flanked by vibrant fall foliage, the images featured on our Campus Cameo and Campus Scene diploma frames truly capture alumni pride and college community spirit. Best of all, they remind me of how I met my college sweetheart—and created a sweetheart of a business!