Contact Information
Church Hill Classics
diplomaframe.com
Contact: Katie Gargano
594 Pepper Street
Monroe, CT 06468
800-477-9005
KatieG@diplomaframe.com
Church Hill Classics Announces Frame My Future Scholarship Contest 2009 Winners

Monroe, CT – May 22, 2009 – Church Hill Classics (CHC), a leading manufacturer in the collegiate diploma frame industry, has announced the five winners in their "Frame My Future" Scholarship Contest which were chosen from over 3,300 entries from all across the country. Each of the winners will receive a $1,000 scholarship for the 2009-2010 academic year.


The Grand Prize Winner, Benjamin Hutto of Tallahassee, Florida, has also won a $1,000 donation to his college's scholarship endowment fund. Benjamin's entry was a collection of photographs that creatively depicts all the characteristics of who he will become in the future. He plans on pursuing a career as a nurse anesthetist. He is currently attending Tallahassee Community College in Florida, and expects to graduate in 2012.


Winners also include:
Ashley Heidler of Shippenville, Pennsylvania, submitted an essay about becoming a Registered Nurse. Her heart-warming essay explains that only after caring for her grandmother, did she realize that the nursing profession is what she was meant to do. She left a successful career in corporate America to pursue her goal of becoming an R.N. She currently attends Clarion University in Pennsylvania and plans to attend Villanova University in Pennsylvania in the 2009-2010 academic year. She expects to graduate in 2010.


Dmitriy Podlog of Old Bridge, New Jersey, submitted an illustration that represents his desire to become a Physicist. He creatively exemplifies how physics is involved in daily life. He would like to help advance modern knowledge and technology in order to contribute to the advancement in the medical field so it benefits communities worldwide. He will attend Cornell University in Ithaca, New York, in the fall of 2009, and expects to graduate in 2013.


Sara Coursin of Pewaukee, Wisconsin, submitted a mixed media piece that depicts her desire to become a dentist. She expressed that she wants others to have a positive experience at the dentist, as well as a sense of pride in their dental health. She currently attends St. Norbert College and is expected to graduate in 2012.

Christine O'Rourke of Houston, Texas, submitted a photograph of herself and two children she met during a missionary trip to Mbale, Uganda. The children from Uganda, who are her inspiration, taught her many valuable lessons and influenced her decision to become a teacher. She will be attending The University of Alabama in the 2009-2010 academic year and expects to graduate in 2013.


The top five winners' entries, as shown below, are featured along with all 19 finalists' entries on the company's diplomaframe.com website. Establishing this scholarship contest has enabled the company to give back to students interested in pursuing their dreams of a college education. These top five winners will each receive a $1,000 scholarship. In January, CHC also added a bonus for the entry receiving the most votes. Their attended college/university for the 2009-2010 school year will receive a matching $1,000 donation for the school's scholarship endowment fund, in their name. This top award goes to Benjamin Hutto of Tallahassee, Florida and the $1,000 donation goes to Tallahassee Community College.


The "Frame My Future" Scholarship Contest, which is the first of an ongoing annual scholarship program, was established to help success-driven students finance their college education. The national contest asked students to submit a "creation" on an 8.5" x 11" piece of paper that expresses what they hope to achieve in their personal and professional life after college. The space could be used to create a photograph, essay, collage, drawing, painting, or other creative pieces. The entry needed to communicate: This is how I "Frame My Future." Submissions were accepted from September 1, 2008, through March 31, 2009.


The scholarship contest received an overwhelming response with over 3,300 entries. We received entries from every state in the U.S. from students who will be attending college in the 2009-2010 school year. The sheer number of creative, quality entries made the selection process very difficult. CHC employees made the finalist selection in a company-wide voting process, which yielded 24 Finalists and 30 Honorable Mentions. The 24 Finalists moved onto the next stage, where they were placed online for public vote from April 15-May 15. The public's votes decided the five $1,000 Scholarship Winners, including the one Grand Prize Winner.


Lucie Voves, owner of Church Hill Classics states, "We hit a nerve with kids across the country who invested hours of work and abundant creativity to complete their amazing vision of their own future. As a company, we are proud to be giving back in our own way, and I hope that we can motivate other small businesses to give a little, because the result can be a great deal gained. These amazing young people are an inspiration. By creating visions for themselves, they are laying a thoughtful path for their own success and future contributions to our society. In a time when much of what you read and hear is discouraging, my hope is that you too will be inspired by the remarkable entries."


This is the first year of the "Frame My Future" Scholarship, and we hope to make it an ongoing program. We encourage students in college now and those who are college bound in 2010 to view our winners' and finalists' entries on the CHC website, at http://www.framemyfuture.com and to consider submitting an entry in next year's contest, which begins in Fall 2009. You can sign up to receive information about next year's scholarship by filling out this online form: /contests


---
Benjamin Hutto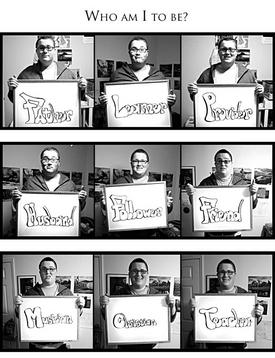 Tallahassee, Florida
Tallahassee Community College
"My entry piece depicts all the characteristics of who I will become in the future. Each characteristic is equally important to me, so I have put them in their own frame. My love for music helps me to be a follower, leader and teacher in my Christian faith. I am an eager learner that will help me to accomplish my goal of becoming a nurse anesthetist. In doing this, I will be a provider for my future best friend and wife. Then lastly to become a great father."
---
Ashley Heidler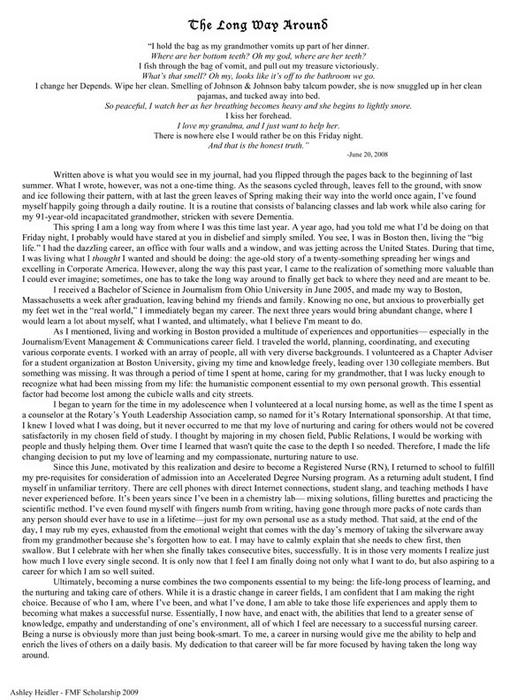 Shippenville, Pennsylvania
Villanova University

"My essay, "The Long Way Around," explains my decision as to why I decided to go back to school to become a Registered Nurse (and receive my BSN). After caring for my 91-year-old grandmother stricken with Dementia, and leaving a successful career in Corporate America, I realized what I was meant to do- Nursing. This essay explains how along the way this past year, I came to the realization of something more valuable than I could ever imagine; sometimes, one has to take the long way around to finally get back to where they need and are meant to be."
---
Dmitriy Podlog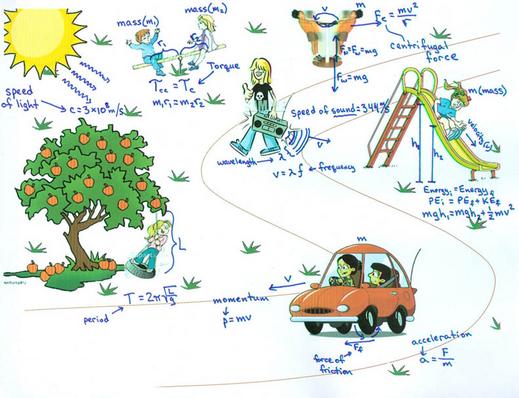 "Whether we realize it or not, physics is all around us all the time. My picture illustrates just several examples in which physics is involved in daily life. Majoring in physics, I hope to work in research facilities with biologists and chemists to advance modern knowledge and technology. New findings would not only succeed in providing answers to still unknown phenomena, but they would also contribute to the advancement in medical fields, benefiting communities worldwide."
---
Sara Coursin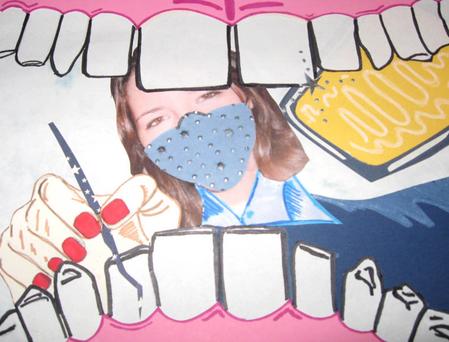 Pewaukee, Wisconsin
Saint Norbert College
"I was never the kid that was afraid of going to the dentist. In fact I was quite the contrary, because I loved the feeling of cleanliness on my teeth when I left. I would always leave with a sense of pride knowing that I had no cavities in my mouth, which meant no fillings. To me my mouth felt so fresh and pretty that I would walk out of the office smiling and showing off my pearly whites to who ever would look. I want other children and adults to experience that same feeling I always had when I left my dentist. That is why I chose to make a scene depicting me working on a patient as a dentist. It is my goal to get a degree in biology and then go onto dental school. Who knows in the future I could be your dentist, just look for the red nail polish beneath the gloves. Open wide."
---
Christine O'Rourke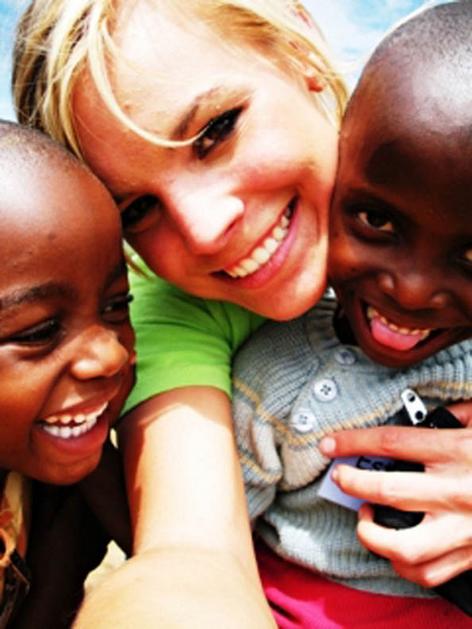 The University of Alabama
"Lulwanda Children's Home, to me, is home away from home. This summer, I spent three weeks as a missionary from my church, evangelizing and teaching basic hygiene to the villagers of Mbale, Uganda. This was the greatest experience of my life. The children of Uganda have taught me the most valuable lessons one could ever learn. Unconditional love, patience, happiness, and humility. Despite the hardships they are faced with in their daily lives, the children are probably the happiest people I have ever known. God's will shines through each and every child with compassion and truth. I believe that these children have dreams and have hopes for their futures, and I want to do whatever I can to help them achieve. One day, I aspire to teach at Lulwanda, and from there, outreach throughout Uganda and into other third-world countries and construct orphanages to love, care, and support the children. I am currently trying to construct an organization at my high school to help benefit Lulwanda Children's Home, and surrounding orphanages. Fundraisers, T-shirt sales, bake sales, even child sponsorships are all great ways to become involved. People don't know exactly where their money is going when they join a major organization such as Invisible Children, but with Lulwanda, I truly believe that a helping hand will go far, and you will see the smiles on their faces as their dreams become reality."


About Church Hill Classics
Church Hill Classics, a woman-owned business, was founded in 1991 by Lucie Voves. The company manufactures custom diploma, credential and photo frames, as well as a line of desk accessories for hundreds of institutions of higher education, military and professional associations and corporate clients. For 2008, the company was named by Inc. Magazine as the 5th fastest-growth company for the consumer products industry in Connecticut, and also ranked 180th nationally on the Inc. 5000 list of America's fastest-growing companies within the consumer products industry. More information on Church Hill Classics can be found at
https://www.diplomaframe.com
.