Contact Information
Church Hill Classics
diplomaframe.com
Contact: Katie Gargano
594 Pepper Street
Monroe, CT 06468
800-477-9005
KatieG@diplomaframe.com
Australian Rotary Club visits Church Hill Classics in Monroe, CT
Monroe, CT – May 13, 2010 – The Australian Rotary Group Study Exchange Team arrived in the U.S. for a month of visiting sights in the southern half of Connecticut, and recently toured the custom framing facilities of Church Hill Classics (CHC).


According to Dave Wolfe of the Rotary Club of Monroe (Rotary District 7980), "Each week the team is hosted by local Rotarians in different part of the District. During their third week they will be hosted in the area that includes Monroe. The team visits various Rotary clubs and sights in each area. A "vocational" day is designated each week for the team to meet with those in their own vocation."


The tour of CHC, a leading manufacturer and online retailer in the collegiate diploma frame industry, as well as with Professional Associations and the Military, went well.


"They were all very impressed with the operations, technology, and workflow," said Helen Taylor, National Sales Manager, who led the tour.


The Australian group was made up of four young professionals and non-Rotarians from the Sydney (Australia) area (Rotary District 9750), along with a Rotarian leader.


Mr. Wolfe gave some background regarding the team. He said that Rotarian Howard Davy, a retired insurance executive, is leading the Australian team. Other members are Sophie Hunter, a police officer; Rebekah Schultz, library manager; Dr. Zoe Terpening, clinical neuropsychologist; and Perri Calderwood, assistant principal (special education).

After the tour, the Australian Rotary Group attended a barbeque that evening at the home of a Rotarian from Monroe.


The Rotary "is a worldwide organization of business and professional leaders." Its stated purpose is to provide humanitarian service and encourage high ethical standards in all vocations.


In particular, "The Rotary Foundation's Group Study Exchange (GSE) program is a unique cultural and vocational exchange opportunity for business people and professionals between the ages of 25 and 40 who are in the early stages of their careers," according to the Rotary International website. "The program provides travel grants for teams to exchange visits in paired areas of different countries. For four to six weeks, team members experience the host country's culture and institutions, observe how their vocations are practiced abroad, develop personal and professional relationships, and exchange ideas."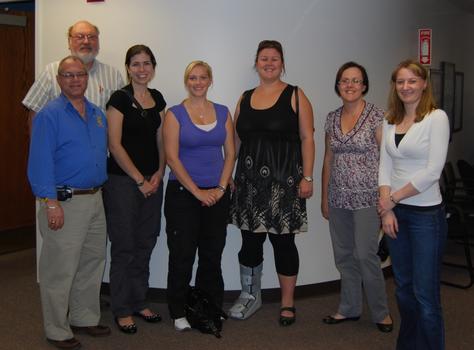 L to R: David Wolfe (Monroe Rotary), Phil Lindstrom (Monroe Rotary); Team Members: Zoë Terpening, Sophie Hunter, Perri Calderwood, Rebekah Schulz; Helen Taylor (Church Hill Classics National Sales Manager)
About Church Hill Classics
Church Hill Classics manufactures custom diploma frames, certificate frames, and photo frames, as well as a line of desk accessories for thousands of institutions of higher education, the military, professional associations and corporate clients. Products and
framing online
are offered through their e-commerce site at diplomaframe.com™ or through their partner affiliates. Church Hill Classics is a woman-owned business, founded in 1991 by Lucie Voves. The company was named for the 3rd time in 2009 by Inc. Magazine as one of the fastest-growing consumer product companies. More information on Church Hill Classics can be found at
https://www.diplomaframe.com
.