Contact Information
Church Hill Classics
diplomaframe.com
Contact: Katie Gargano
594 Pepper Street
Monroe, CT 06468
800-477-9005
KatieG@diplomaframe.com
Church Hill Classics Introduces The Heirloom Edition Diploma Frame
Monroe, CT – January 19, 2010 - Church Hill Classics (CHC), a custom frame manufacturer of insignia diploma, certificate and specialty frames and gifts, introduces the new Heirloom Edition diploma frame.


The Heirloom Edition showcases all new design elements including medallion, mat and frame moulding along with the superior quality CHC is known for. The black engraved medallion with gold or silver accents set into a jewelry-quality 23K gold-plated or silver-plated bezel is exclusively available from CHC. The edition also features a new rich khaki suede mat with black embossing, and a distinctive Ashford frame made of solid hardwood moulding with a detailed profile in a walnut burl finish.

This frame edition, like other frames designed by Church Hill Classics, is a great way to preserve your hard earned document and meets The Library of Congress conservation and archival frame standards. It's also a great neutral design option to decorate a home or office.


The Heirloom Edition is also available in alternate medallion, mat and frame moulding options. It's easy for college bookstores and alumni associations to design and select the perfect combination to offer to their customers or members. In addition to the new black medallion, an exclusive Navy medallion with gold accents set in a 23K gold-plated bezel is available. Additional matting choices include navy suede with gold embossing or black suede with gold or silver embossing. Alternate frame mouldings include the handsome Oynx solid hardwood moulding finished in a high-gloss black lacquer with gold or silver accent.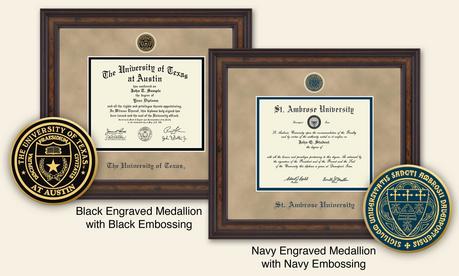 About Church Hill Classics
Church Hill Classics, a woman-owned business, was founded in 1991 by Lucie Voves. The company manufactures custom diploma, credential and photo frames, as well as a line of desk accessories for hundreds of institutions of higher education, military and professional associations and corporate clients. All frames are made in the United States. Contract Framing, Fulfillment Services and Hospitality framing services are also available. For 2009, the company was named for the 3rd time by Inc. Magazine as one of the fastest-growing companies within the consumer products industry. More information on Church Hill Classics can be found at
https://www.diplomaframe.com
.